2nd Menorca Open R6: Aryan Chopra emerges sole leader
GM Pranav Venkatesh had a well contested draw against GM D Gukesh. GM Aryan Chopra denied a hat-trick to GM Raja Rithvk R. After scoring two fantastic wins, Rithvik faltered against Aryan in the endgame. He made an incorrect choice to exchange a bunch of pieces and landed himself in a lost rook endgame. Aryan is currently the sole leader 5.5/6. Eight players including four Indians - Gukesh, Pranav V, Harsha and Prraneeth are trailing by a half point at 5/6 each. IM Prraneeth Vuppala defeated GM Visakh N R in a sharp skirmish. Asian Continental 2022 Silver medalist GM Harsha Bharathakoti got the better of the reigning National Senior 2022 champion, GM Karthik Venkataraman in a rematch from their last event. Round 7 starts today at 10 a.m. local time, 1:30 p.m. IST. Photo: Menorca Chess Open
Pranav Venkatesh, Gukesh, Harsha and Prraneeth in pursuit
IM Vantika Agrawal is currently the highest scoring female player in the field at 4/6.
Aryan - Raja Rithvik
GM Aryan Chopra (2607) is a very strong player. Even a tiny inaccuracy against him will cost a lot. GM Raja Rithvik R (2472) made a positional mistake 28...Bc4. Instead, 28...Nb3 would have kept the game going and things would have remained in balance. 29.Nxc4 Qxc4 30.Qxc4 Rxc4 31.Bxa5 bxa5 32.Rxa5 Rb4 33.g4 the resultant rook endgame is winning for White. He just needed to bring his king to the queenside, attack the rook, capture the a7-pawn and it is over, which is what happened in the game.
Pranav Anand - Jorden: 0-1
The reigning World Under-16 Open champion, GM Pranav Anand (2525) got himself a great opportunity against the Netherlands no.2 GM Jorden van Foreest (2680).
34.e7 allowed Black to get back in the game Rxd4 35.exf8Q+ Kxf8 36.Rf2 Rd5. Instead, White needed to go 34.d7 Rxd4 35.Rf2. The key difference is, White needs to gain a few pawns as he is inevitably going to lose both center passed pawns after gaining the exchange. Not gaining any pawn while taking the exchange is what turned out to be the decisive mistake for White.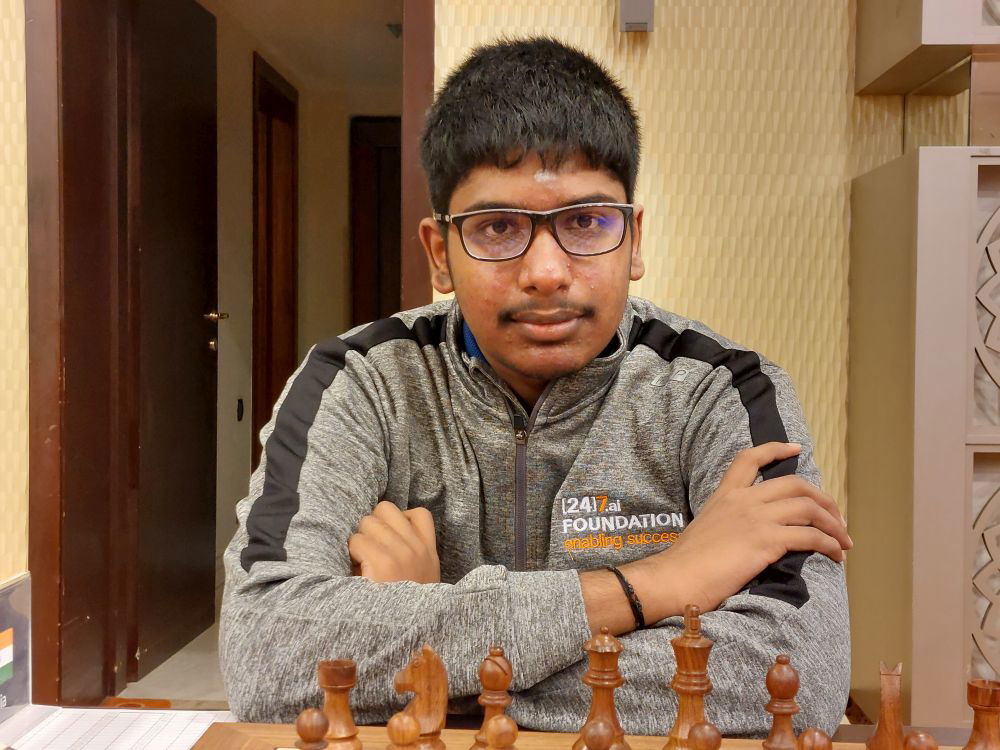 Prraneeth - Visakh
IM Prraneeth Vuppala's (2437) response to GM Visakh N R's (2552) 20...Bxh3 was 21.Nfg5. Computer recommends Black to give up the exchange 21...Bf5 22.Nxf7+ Qxf7 23.Bxf4 exf4 24.Qxf4 and Black is doing fine. However, Black opted for 21...Bxg5 22.Bxg5 Nb7 23.gxh3 h6 24.Kxh2 hxg5 25.Rg1 Rg7 26.Rg4 Qxd5 27.Qe2 White obviously declines the queen exchange. 27...Qe6 28.Rag1 and White's extra material turned out to be quite strong against the vulnerable black king.
Round 6 results
GM Pranav Venkatesh - GM D Gukesh: 0.5-0.5
GM Aryan Chopra - GM Raja Rithvik R: 1-0
GM Karthik Venkataraman - GM Harsha Bharathakoti: 0-1
IM Prraneeth Vuppala - GM Visakh N R: 1-0
GM Brandon Jacobson (USA) - Sanket Chakravarty: 0.5-0.5
FM Vedant Panesar - IM P Shyam Nikhil: 0.5-0.5
FM Mahitosh Dey - IM Padmini Rout: 0.5-0.5
A total of 200 players including 37 GMs, 30 IMs, 3 WGMs and 6 WIMs are taking part from 38 countries across the world in Group A (>1750). The six day nine-round Swiss League Rating tournament is organized by Chess Menorca from 11th to 16th April 2023 at Ciutadella in Menorca, Spain. The time control of the tournament is 90 minutes + 30 seconds increment from move no.1.
Replay Round 6 games
Round 6 results
Standings after Round 6
| | | | | | | | | | | |
| --- | --- | --- | --- | --- | --- | --- | --- | --- | --- | --- |
| Rk. | SNo | | | Name | FED | Rtg | Pts. | TB1 | TB2 | TB3 |
| 1 | 10 | | GM | Aryan Chopra | IND | 2607 | 5,5 | 22,5 | 19,5 | 18,5 |
| 2 | 22 | | GM | Pranav V | IND | 2545 | 5 | 25 | 22 | 19 |
| 3 | 3 | | GM | Van Foreest Jorden | NED | 2680 | 5 | 25 | 21,5 | 18,5 |
| 4 | 1 | | GM | Gukesh D | IND | 2730 | 5 | 23,5 | 20,5 | 18 |
| 5 | 5 | | GM | Nguyen Thai Dai Van | CZE | 2649 | 5 | 22,5 | 20 | 18,5 |
| 6 | 9 | | GM | Harsha Bharathakoti | IND | 2608 | 5 | 22 | 19 | 17 |
| 7 | 17 | | GM | Sanal Vahap | TUR | 2582 | 5 | 21 | 18 | 17 |
| 8 | 16 | | GM | Albornoz Cabrera Carlos Daniel | CUB | 2586 | 5 | 20,5 | 18 | 18,5 |
| 9 | 54 | | IM | Prraneeth Vuppala | IND | 2437 | 5 | 19,5 | 18,5 | 16 |
| 10 | 41 | | GM | Raja Rithvik R | IND | 2472 | 4,5 | 23,5 | 21,5 | 18 |
| 11 | 4 | | GM | Fedoseev Vladimir | FID | 2674 | 4,5 | 23,5 | 20,5 | 17,5 |
| 12 | 11 | | GM | Warmerdam Max | NED | 2605 | 4,5 | 22,5 | 20 | 16 |
| 13 | 37 | | IM | Chen Qi B | CHN | 2493 | 4,5 | 22,5 | 19,5 | 16 |
| 14 | 33 | | GM | Xu Yi | CHN | 2505 | 4,5 | 22 | 19,5 | 17 |
| 15 | 7 | | GM | Chigaev Maksim | FID | 2617 | 4,5 | 22 | 19 | 15,5 |
Round 7 pairings
Links
---