Aleksandrov takes sole lead, Pranesh brilliant in 18th Delhi GM Open 2020 Day 4
Five Indians are at 5.0/6 each, a full point behind GM Aleksej Aleksandrov who is at 6.0/6. They are - GM Karthik Venkataraman, GM Diptayan Ghosh, GM Visakh N R, IM Himal Gusain and FM Pranesh M. Karthik lost his lead after losing to Aleksandrov. Himal keeps his norm hopes alive by beating GM Rodrigo Schroeder, 14-year old Pranesh had a fantastic day by beating GM Stanislav Bogdanovich and IM Nguyen Van Huy. Four players finished at unbeaten 9.0/10, local lad Himanshu Moudgil won the Category 'B' due to a better tie-break score. 11-year old Md. Imran continued his phenomenal run and finished at second place and another local player Chandan Mandal also finishing at 9.0/10 secured third position. Photo: Niklesh Jain
Five Indians are at 5.0/6
Karthik Venkataraman takes joint lead after Round 5
Karthik Venkataraman got a pleasant position out of the opening against Jose Eduardo Martinez Alcantara. First he gave up a pawn to free his knight and then he lost another.
Martinez - Karthik, Round 5
Martinez played 24.Qd2 and the c5-pawn was completely lost. However, Karthik decided to play 24...d4 first and then take on c5. White lost one pawn too many and eventually the game too.
Aleksej Aleksandrov scored a clinical victory over Ziaur Rahman arising out of Noteboom.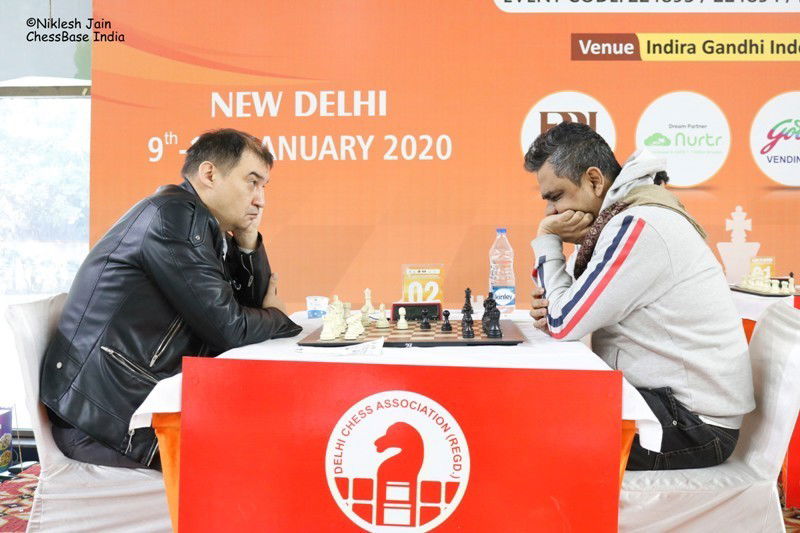 IM C R G Krishna made a short draw with GM Ivan Rozum.
Giant killer IM Al Muthaiah beat his third GM of the tournament by winning against GM Karthikeyan Murali.
Muthaiah - Murali, Round 5
In a seemingly equal position, Murali made an inexplicable aggressive move 25...f5 which actually does more harm to black's king than white's.
Even though the position was in complete favor of white, Black needed to retreat his rook to e8 to safeguard the king and keep chances alive.
IM Neelash Saha held GM Nodirbek Yakubboev to a hard fought draw.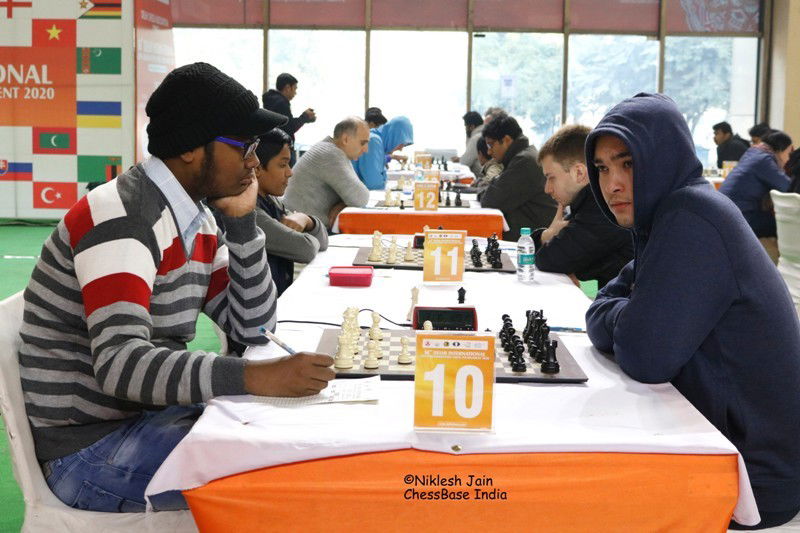 15-year old Manish Anto Cristiano beat GM Aleksey Goganov.
FM Ameya Audi scored a lucky draw against Georgian GM Mikheil Mchedlishvili as the latter did not accept a queen sacrifice when in fact it was just a blunder. He also got several more winning chances but he took none.
Mchedlishvili - Audi, Round 5
14-year old FM Pranesh M played fantastic chess to beat GM Stanislav Bogdanovich.
Bogdanovich - Pranesh, Round 5
Aleksandrov beats Karthik in Round 6
Karthik had a few missed chances against Aleksandrov.
Karthik - Aleksandrov, Round 6
Karthik took an aggressive stance on the queen side by launching all his pawns, but suddenly pressed the breaks on them. His attack lost all momentum until he got another half chance which was much less than the initial one.
Instead of going all-in with his attack white made a very slow move 16.Nfd2 which allowed black to have the time to shift his king from queen side to the king side. After that Karthik never got any chance to put a dent on Black's armor.
GM Jose Eduardo Martinez made a short work of IM C R G Krishna in just 27 moves.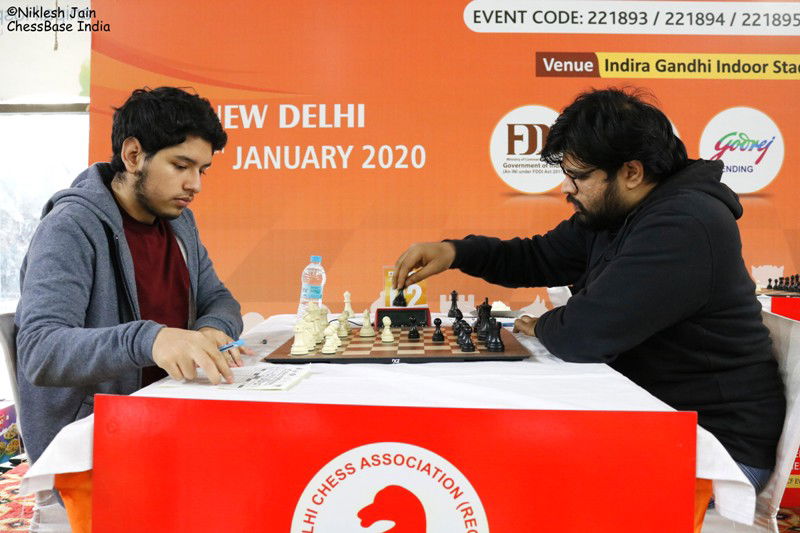 IM P Shyamnikhil made a solid draw against GM Abhijeet Gupta. However he missed a very good chance at the end.
Abhijeet - Shyamnikhil, Round 6
Black continued with 49...Qe5 which helped him gain the e4 pawn at the cost of the exchange of queens and eventually the game ended up in a draw.
IM Himal Gusain scored a fine victory over GM Rodrigo Schroeder.
Pranesh continued his impressive run as this time he defeated IM Nguyen Van Huy by playing another fantastic game.
Himanshu Moudgil wins 18th Delhi International Open 'Category B'
Four players finished at unbeaten 9.0/10. Local lad Himanshu had the best tie-break score, he clinched the championship and won ₹300000 cash prize along with a huge trophy. 11-year old Md. Imran of Andhra Pradesh continued his phenomenal form and secured runner-up position scoring 9.0/10. Five days ago he won IIFL Open Below 2051 category. He received ₹200000 cash prize and a huge trophy. Another local player, Chandan Mandal also finished at 9.0/10 and he was placed third according to his tie-break score. He got ₹100000 cash prize and a beautiful trophy.
Total 747 players participated from seven countries - Bangladesh, India, Japan, Malaysia, Nepal, Sri Lanka and Uzbekistan in this four-day ten-round Swiss League event.
Final Standings in Category 'B'
| | | | | | | | | | | |
| --- | --- | --- | --- | --- | --- | --- | --- | --- | --- | --- |
| Rk. | SNo | | Name | FED | Rtg | Club/City | Pts. | TB1 | TB2 | TB3 |
| 1 | 91 | | Himanshu Moudgil | IND | 1731 | Del | 9,0 | 0,0 | 66,5 | 71,0 |
| 2 | 54 | | Md Imran | IND | 1782 | AP | 9,0 | 0,0 | 62,0 | 67,0 |
| 3 | 31 | | Chandan Mandal | IND | 1814 | Del | 9,0 | 0,0 | 60,5 | 64,5 |
| 4 | 22 | | Aansh Gupta | IND | 1828 | Del | 9,0 | 0,0 | 59,0 | 63,0 |
| 5 | 280 | | Sailesh R | IND | 1542 | TN | 8,5 | 0,0 | 64,5 | 68,0 |
| 6 | 45 | | Phatak Aanjaneya | IND | 1791 | Mah | 8,5 | 0,0 | 57,0 | 61,5 |
| 7 | 319 | | Prithwi Sinha | IND | 1502 | Wes | 8,0 | 0,0 | 64,0 | 68,5 |
| 8 | 12 | | Devesh Mukherjee | IND | 1859 | Raj | 8,0 | 0,0 | 63,5 | 69,5 |
| 9 | 3 | | Ayan Pal | IND | 1885 | Wes | 8,0 | 0,0 | 63,0 | 68,0 |
| 10 | 71 | | Nayak Sanjeeban | IND | 1755 | Ori | 8,0 | 0,0 | 63,0 | 67,5 |
| 11 | 37 | | Chudasama Ankit | IND | 1805 | Guj | 8,0 | 0,0 | 63,0 | 67,5 |
| 12 | 171 | | Roshan S | IND | 1652 | TN | 8,0 | 0,0 | 63,0 | 67,0 |
| 13 | 9 | | Sai Kiran Y | IND | 1868 | AP | 8,0 | 0,0 | 62,5 | 67,0 |
| 14 | 36 | | Rahul Kumar | IND | 1809 | Bih | 8,0 | 0,0 | 62,5 | 66,5 |
| 15 | 27 | | Anup Shankar R | IND | 1821 | TN | 8,0 | 0,0 | 59,5 | 65,0 |
| 16 | 169 | | Adithya Ramesh | IND | 1654 | TN | 8,0 | 0,0 | 59,0 | 63,0 |
| 17 | 88 | | Saurav Agarwal | IND | 1737 | Del | 8,0 | 0,0 | 58,5 | 63,0 |
| 18 | 103 | | Dhanvij Ansh | IND | 1725 | Mah | 8,0 | 0,0 | 57,0 | 62,0 |
| 19 | 79 | | Ranjith R.K. | IND | 1746 | TN | 8,0 | 0,0 | 56,0 | 60,0 |
| 20 | 28 | | Baig Akram | IND | 1819 | Del | 8,0 | 0,0 | 55,5 | 58,5 |
| 21 | 32 | | Gajanan Vijay Jayade | IND | 1813 | Mah | 8,0 | 0,0 | 55,0 | 59,5 |
| 22 | 130 | | Pujjam Bansod | IND | 1694 | Mah | 8,0 | 0,0 | 52,0 | 56,5 |
| 23 | 11 | | Bhosale Shriraj | IND | 1862 | Mah | 7,5 | 0,0 | 65,0 | 69,5 |
| 24 | 121 | | Makwana Ashvin K | IND | 1704 | Guj | 7,5 | 0,0 | 63,0 | 67,5 |
| 25 | 2 | | Sayan Banik | IND | 1890 | Wes | 7,5 | 0,0 | 61,0 | 66,5 |
| 26 | 34 | | Sivathanujan S | SRI | 1812 | SRI | 7,5 | 0,0 | 60,0 | 63,5 |
| 27 | 52 | | Thiyagarajan Tamilselvi | IND | 1783 | TN | 7,5 | 0,0 | 59,5 | 64,5 |
| 28 | 288 | | Khagokpam Bishwajit Singh | IND | 1532 | NEMan | 7,5 | 0,0 | 58,5 | 63,0 |
| 29 | 33 | | Suthershun A | IND | 1813 | TN | 7,5 | 0,0 | 58,5 | 62,5 |
| 30 | 20 | | Chavan Nameet | IND | 1830 | Mah | 7,5 | 0,0 | 57,5 | 62,0 |
Replay all games
Round 5 results
Round 6 results
Round 7 pairings
---