World Youth 2019 R02+03: Exchange French, Pawn Endgames and some brilliant play
A double round in a day always speeds up an event. After the first day, we had two rounds on the second day of the World Youth 2019. In all the sections we have five or less than five players on perfect score. In the under-18 girls section we already have a sole leader! In this report we analyze the win of Honorata Kucharska, the sole leader in girls under-18 and try to improve our understanding of the Exchange French. We also have two very interesting games by the highest rated player in the event Shant Sargsyan (2580) and lastly we look at two pawn endgames that were complex enough for strong players to solve them over the board! A detailed round 2+3 report from Mumbai by IM Sagar Shah and Amruta Mokal.
Double round days are always very hectic. I met a player at the end of the day who said, "I played ten hours of chess today and lost both the games!" Brutal. The good news is that this was the first and the last double round day of the event. After three rounds, there is no section where we have more than five players who are on a perfect 3.0/3 score. In fact in the girls under-18 section we already have a sole leader.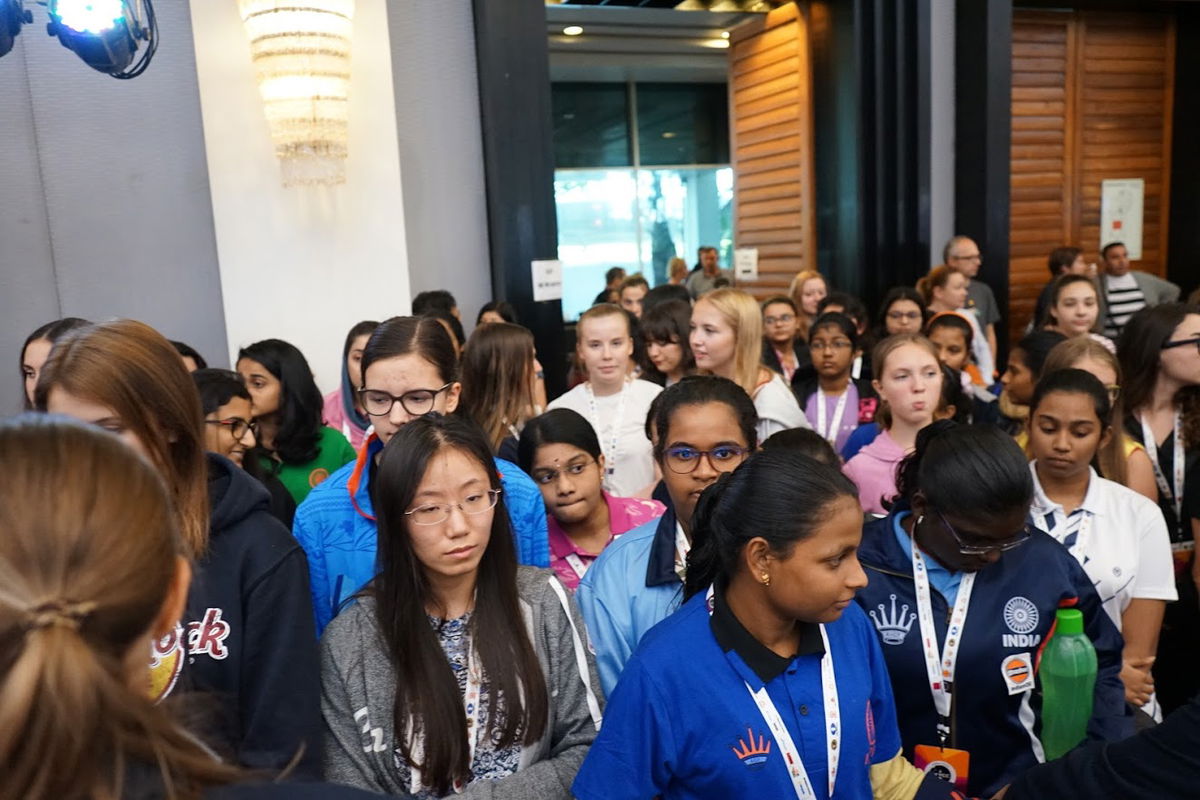 Understanding the exchange French
The sole leader in the girls under-18 section is Honorata Kucharska. She is rated 2114 and in the third round was facing the former under-16 girls world champion Annmarie Muetsch.
Annmarie Muetsch vs Honorata Kucharska
Annmarie who is the higher rated player went for the Exchange French! Why would she do that, you may ask. Well, first of all the opening isn't as drawish as one would imagine. But more importantly it could be quite possible that Honorata is an aggressive player and against attacking players Exchange French often is a very potent weapon.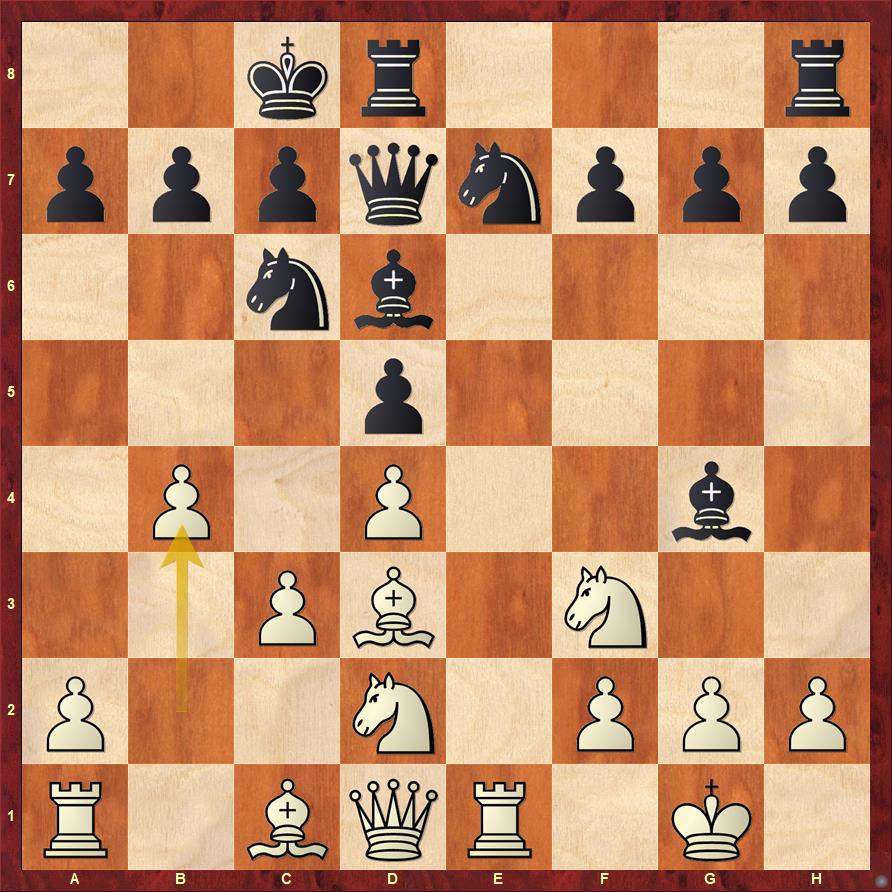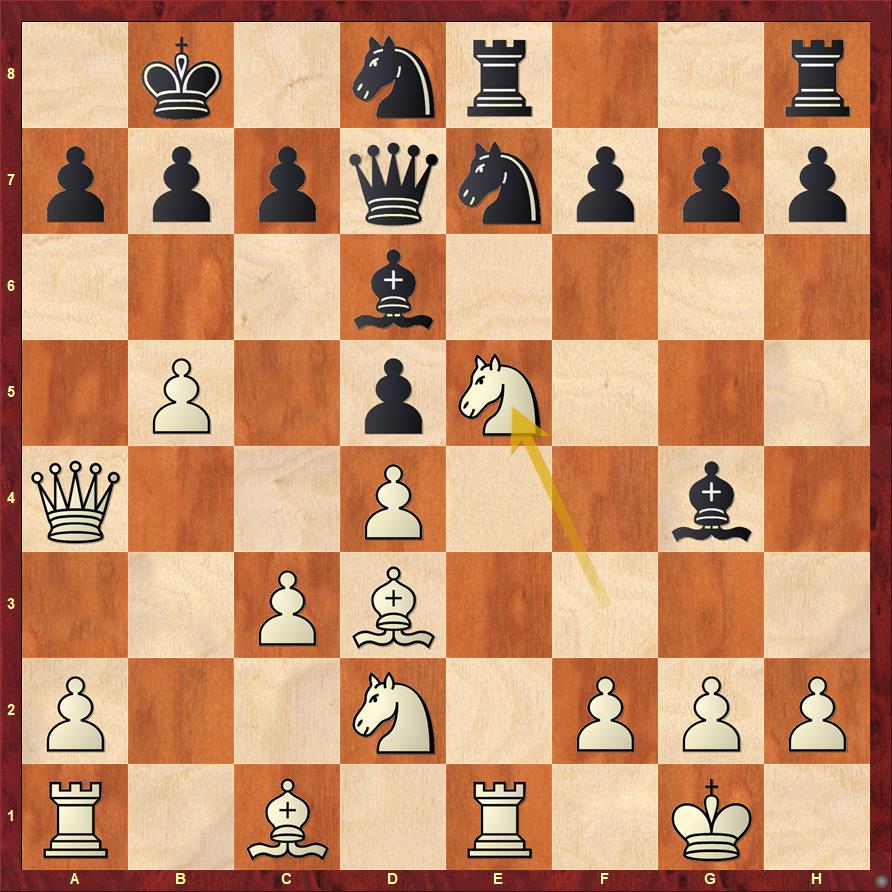 As White went wrong, Black managed to get his pieces near White's king:
Sargsyan's brilliant play in round two and miss in round three
Shant Sargsyan should have ended the day with 3.0/3. He played a nearly flawless game in round two to beat his opponent Wang Shixu. He made great use of his knight and pawns to overpower his opponent's rook.
In the third round, Shant was pitted against Mumbai's young talent IM Aditya Mittal (2430). Aditya played not so well in the opening and soon landed in a lost position.
Shant Sargsyan vs Aditya Mittal, round 3
Praggnanandhaa's Fischer like play
Do you recollect the game Fischer versus Benko? Well, if you don't then try solving this position:
Fischer vs Benko
Fischer wanted to play e5 in order to unleash a mate on h7. However, e5 is met with f5 and the mate is averted. Hence, it is important to block the f-pawn. Fischer began with the powerful Rf6!! blocking the f-pawn and after e5 it's a mate! A brilliant concept!
Praggnanandhaa vs Antoni Kozak, round 2
Tale of two complex pawn endgames
Two pawn endgames that were reached on day two, one in round two and one in round three are especially instructive. Let's have a look at both of them carefully and learn from them.
Vatsal Sighania vs Manu David, round 3
White has a clear edge because of his queenside majority. Black cannot do anything with his central majority because a move like ...f5 is met with f3 and there is no way to make progress on that wing. One would imagine that white would win in just about anyway he plays. My recommendation is to take this position against an engine and try to win with white. Mind you, it is not trivial. The white player in the game, Vatsal Singhania, learnt in the hard way.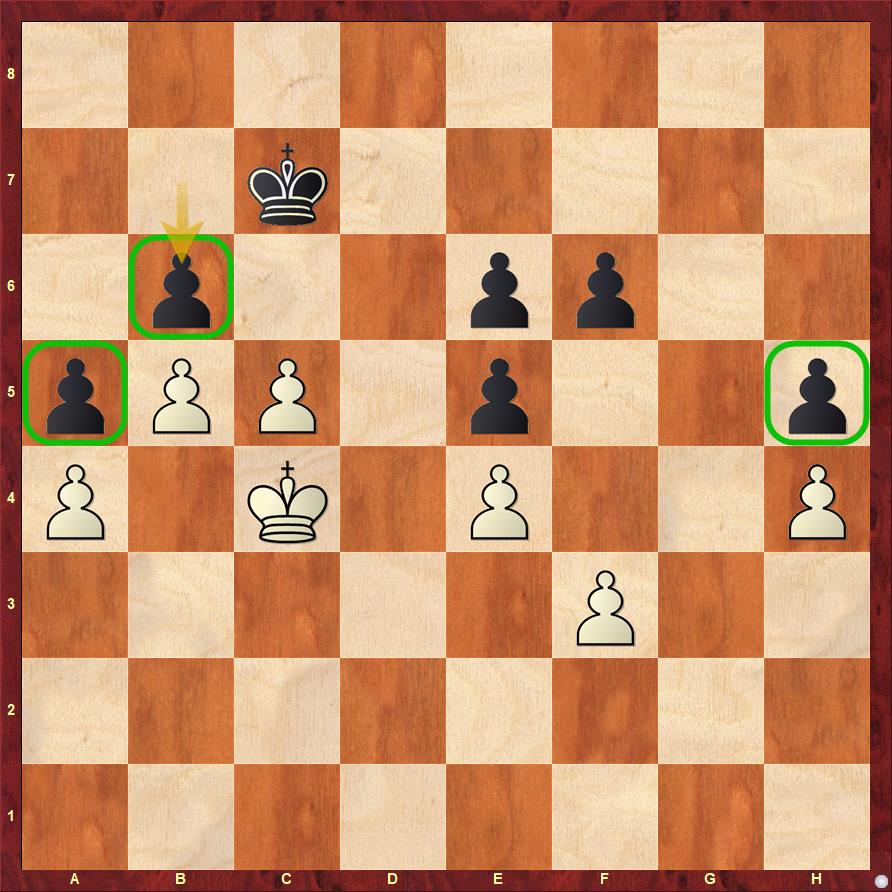 Vantika Agrawal vs Aashna Makhija
Vantika Agrawal vs Aashna Makhija round 2
Playing the rook to h8 would not be a good idea because after 65...Kg7 66.Rc8 Bxh4 67.Rxc7, the position is a theoretical draw! Vantika played the correct move in the above position with Rg5+!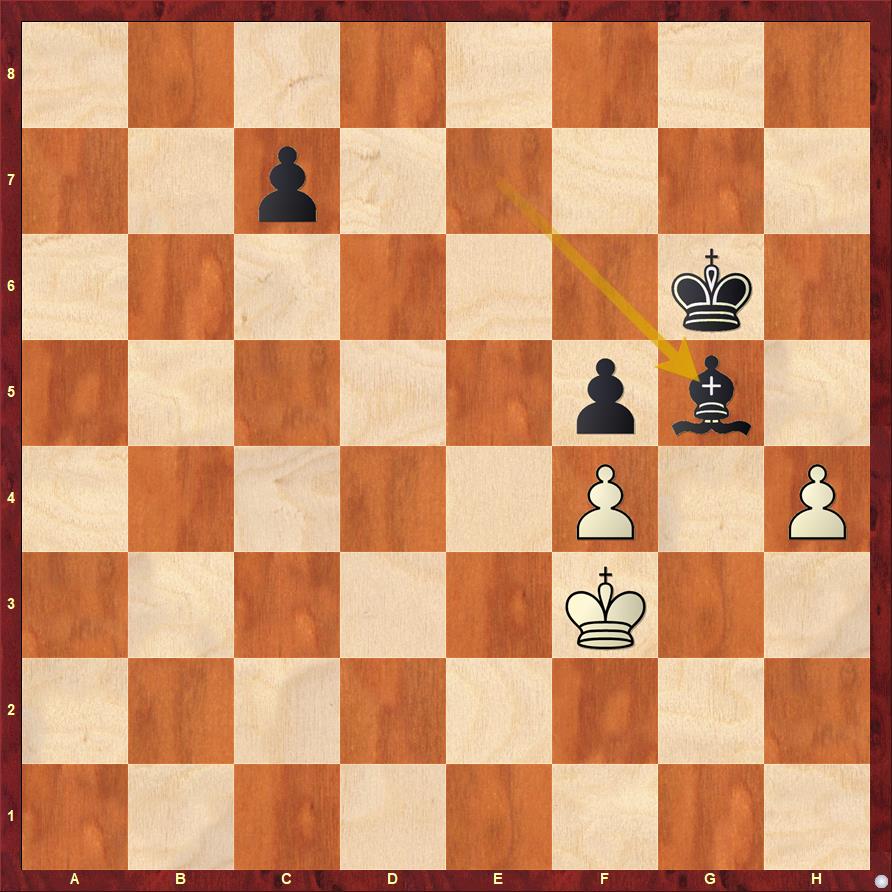 Photo gallery:
Under-14 open:
| | | | | | | | | | | | | |
| --- | --- | --- | --- | --- | --- | --- | --- | --- | --- | --- | --- | --- |
| Rk. | SNo | | | Name | FED | Rtg | Pts. | TB1 | TB2 | TB3 | TB4 | TB5 |
| 1 | 3 | | IM | Suleymanli Aydin | AZE | 2426 | 3,0 | 0,0 | 4,0 | 6,0 | 1 | 3 |
| 2 | 12 | | FM | Srihari L R | IND | 2283 | 3,0 | 0,0 | 4,0 | 5,5 | 2 | 3 |
| 3 | 19 | | | Colbow Collin | GER | 2148 | 3,0 | 0,0 | 4,0 | 5,5 | 1 | 3 |
| 4 | 17 | | | Kolay Alex | USA | 2164 | 3,0 | 0,0 | 3,5 | 4,5 | 1 | 3 |
| 5 | 1 | | FM | Sreeshwan Maralakshikari | IND | 2449 | 3,0 | 0,0 | 3,0 | 4,0 | 1 | 3 |
| 6 | 16 | | FM | Flores Quillas Diego Saul Rodri | PER | 2164 | 2,5 | 0,0 | 4,5 | 6,5 | 2 | 2 |
| 7 | 55 | | | Abinandhan R | IND | 1830 | 2,5 | 0,0 | 4,5 | 6,5 | 1 | 2 |
| 8 | 14 | | FM | Aaryan Varshney | IND | 2239 | 2,5 | 0,0 | 4,0 | 5,5 | 2 | 2 |
| 9 | 5 | | FM | Pranav Anand | IND | 2351 | 2,5 | 0,0 | 4,0 | 5,5 | 1 | 2 |
| 10 | 6 | | | Samant Aditya S | IND | 2334 | 2,5 | 0,0 | 4,0 | 5,0 | 2 | 2 |
Under-14 girls:
| | | | | | | | | | | | | | |
| --- | --- | --- | --- | --- | --- | --- | --- | --- | --- | --- | --- | --- | --- |
| Rk. | SNo | | | Name | sex | FED | Rtg | Pts. | TB1 | TB2 | TB3 | TB4 | TB5 |
| 1 | 14 | | | Kurmangaliyeva Liya | w | KAZ | 1936 | 3,0 | 0,0 | 4,0 | 5,0 | 2 | 3 |
| 2 | 5 | | | Roebers Eline | w | NED | 2083 | 3,0 | 0,0 | 4,0 | 5,0 | 1 | 3 |
| | 21 | | WCM | Ince Safiye Oyku | w | TUR | 1840 | 3,0 | 0,0 | 4,0 | 5,0 | 1 | 3 |
| 4 | 9 | | WFM | Dhyana Patel | w | IND | 1995 | 3,0 | 0,0 | 4,0 | 4,0 | 1 | 3 |
| 5 | 7 | | | Poliakova Varvara | w | BLR | 2042 | 3,0 | 0,0 | 3,0 | 3,5 | 1 | 3 |
| 6 | 12 | | | Wikar Martyna | w | POL | 1969 | 2,5 | 0,0 | 4,5 | 5,5 | 2 | 2 |
| 7 | 1 | | WIM | Divya Deshmukh | w | IND | 2358 | 2,5 | 0,0 | 4,5 | 5,5 | 1 | 2 |
| | 11 | | | Hakobyan Astghik | w | ARM | 1978 | 2,5 | 0,0 | 4,5 | 5,5 | 1 | 2 |
| | 13 | | WCM | Ghomi Parnian | w | IRI | 1948 | 2,5 | 0,0 | 4,5 | 5,5 | 1 | 2 |
| 10 | 2 | | WIM | Rakshitta Ravi | w | IND | 2310 | 2,5 | 0,0 | 4,5 | 5,0 | 2 | 2 |
Under-16 open:
| | | | | | | | | | | | | |
| --- | --- | --- | --- | --- | --- | --- | --- | --- | --- | --- | --- | --- |
| Rk. | SNo | | | Name | FED | Rtg | Pts. | TB1 | TB2 | TB3 | TB4 | TB5 |
| 1 | 7 | | IM | Makarian Rudik | RUS | 2386 | 3,0 | 0,0 | 4,0 | 5,5 | 1 | 3 |
| 2 | 10 | | IM | Sankalp Gupta | IND | 2369 | 3,0 | 0,0 | 4,0 | 5,0 | 2 | 3 |
| 3 | 34 | | | Tomiello Lucas Costamilan | BRA | 2107 | 3,0 | 0,0 | 3,5 | 3,5 | 2 | 3 |
| 4 | 8 | | CM | Aronyak Ghosh | IND | 2380 | 3,0 | 0,0 | 3,0 | 4,0 | 1 | 3 |
| 5 | 5 | | FM | Daghli Arash | IRI | 2387 | 2,5 | 0,0 | 4,5 | 5,5 | 1 | 2 |
| 6 | 1 | | IM | Niemann Hans Moke | USA | 2439 | 2,5 | 0,0 | 4,0 | 5,5 | 1 | 2 |
| 7 | 4 | | FM | Gharibyan Mamikon | ARM | 2388 | 2,5 | 0,0 | 4,0 | 5,0 | 2 | 2 |
| 8 | 3 | | IM | Avila Pavas Santiago | COL | 2406 | 2,5 | 0,0 | 4,0 | 5,0 | 1 | 2 |
| 9 | 20 | | CM | Kushagra Mohan | IND | 2309 | 2,5 | 0,0 | 3,5 | 4,5 | 2 | 2 |
| 10 | 17 | | FM | Moksh Amit Doshi | IND | 2328 | 2,5 | 0,0 | 3,5 | 4,5 | 1 | 2 |
Under-16 girls:
| | | | | | | | | | | | | | |
| --- | --- | --- | --- | --- | --- | --- | --- | --- | --- | --- | --- | --- | --- |
| Rk. | SNo | | | Name | sex | FED | Rtg | Pts. | TB1 | TB2 | TB3 | TB4 | TB5 |
| 1 | 28 | | WFM | Lakshmi C | w | IND | 1859 | 3,0 | 0,0 | 4,0 | 5,5 | 2 | 3 |
| 2 | 1 | | WCM | Garifullina Leya | w | RUS | 2330 | 3,0 | 0,0 | 4,0 | 5,5 | 1 | 3 |
| 3 | 4 | | WFM | Nurgali Nazerke | w | KAZ | 2194 | 3,0 | 0,0 | 4,0 | 5,0 | 2 | 3 |
| 4 | 11 | | WFM | Salonika Saina | w | IND | 2051 | 3,0 | 0,0 | 3,0 | 4,0 | 1 | 3 |
| 5 | 2 | | WFM | Beydullayeva Govhar | w | AZE | 2289 | 2,5 | 0,0 | 4,5 | 6,0 | 2 | 2 |
| 6 | 22 | | WFM | Demchenko Svitlana | w | CAN | 1953 | 2,5 | 0,0 | 4,0 | 5,0 | 2 | 2 |
| 7 | 7 | | WFM | Mahdian Anousha | w | IRI | 2103 | 2,5 | 0,0 | 3,5 | 4,5 | 1 | 2 |
| 8 | 10 | | | Zhang Xiao | w | CHN | 2053 | 2,5 | 0,0 | 3,0 | 4,5 | 2 | 2 |
| 9 | 15 | | | Djidjeli Sarah | w | FRA | 2017 | 2,5 | 0,0 | 3,0 | 4,5 | 1 | 2 |
| 10 | 13 | | WFM | Jain Nityata | w | IND | 2029 | 2,5 | 0,0 | 3,0 | 4,0 | 1 | 2 |
Under-18 open:
| | | | | | | | | | | | | |
| --- | --- | --- | --- | --- | --- | --- | --- | --- | --- | --- | --- | --- |
| Rk. | SNo | | | Name | FED | Rtg | Pts. | TB1 | TB2 | TB3 | TB4 | TB5 |
| 1 | 3 | | IM | Gholami Aryan | IRI | 2554 | 3,0 | 0,0 | 4,0 | 5,5 | 1 | 3 |
| 2 | 5 | | GM | Iniyan P | IND | 2509 | 3,0 | 0,0 | 4,0 | 5,0 | 1 | 3 |
| 3 | 13 | | IM | Petriashvili Nikoloz | GEO | 2441 | 3,0 | 0,0 | 3,5 | 4,5 | 1 | 3 |
| 4 | 1 | | GM | Sargsyan Shant | ARM | 2580 | 2,5 | 0,0 | 4,5 | 6,5 | 1 | 2 |
| 5 | 14 | | IM | Zarubitski Viachaslau | BLR | 2435 | 2,5 | 0,0 | 4,5 | 6,0 | 2 | 2 |
| 6 | 2 | | GM | Praggnanandhaa R | IND | 2567 | 2,5 | 0,0 | 4,5 | 5,5 | 2 | 2 |
| 7 | 29 | | FM | Garidmagnai Byambasuren | MGL | 2327 | 2,5 | 0,0 | 4,5 | 5,5 | 1 | 2 |
| 8 | 16 | | IM | Aditya Mittal | IND | 2430 | 2,5 | 0,0 | 3,5 | 4,5 | 2 | 2 |
| 9 | 17 | | IM | Davtyan Artur | ARM | 2418 | 2,5 | 0,0 | 3,5 | 4,5 | 1 | 2 |
| 10 | 7 | | IM | Pultinevicius Paulius | LTU | 2503 | 2,5 | 0,0 | 3,0 | 4,5 | 1 | 2 |
Under-18 girls:
| | | | | | | | | | | | | | |
| --- | --- | --- | --- | --- | --- | --- | --- | --- | --- | --- | --- | --- | --- |
| Rk. | SNo | | | Name | sex | FED | Rtg | Pts. | TB1 | TB2 | TB3 | TB4 | TB5 |
| 1 | 18 | | WFM | Kucharska Honorata | w | POL | 2114 | 3,0 | 0,0 | 3,0 | 4,0 | 2 | 3 |
| 2 | 8 | | WFM | Radeva Viktoria | w | BUL | 2277 | 2,5 | 0,0 | 4,5 | 5,5 | 2 | 2 |
| | 12 | | WFM | Shpanko Nadiia | w | UKR | 2213 | 2,5 | 0,0 | 4,5 | 5,5 | 2 | 2 |
| | 14 | | WIM | Cervantes Landeiro Thalia | w | USA | 2176 | 2,5 | 0,0 | 4,5 | 5,5 | 2 | 2 |
| 5 | 1 | | WIM | Shuvalova Polina | w | RUS | 2412 | 2,5 | 0,0 | 4,5 | 5,5 | 1 | 2 |
| | 7 | | WGM | Obolentseva Alexandra | w | RUS | 2282 | 2,5 | 0,0 | 4,5 | 5,5 | 1 | 2 |
| | 13 | | WFM | Serikbay Assel | w | KAZ | 2208 | 2,5 | 0,0 | 4,5 | 5,5 | 1 | 2 |
| | 17 | | WFM | Tarini Goyal | w | IND | 2128 | 2,5 | 0,0 | 4,5 | 5,5 | 1 | 2 |
| 9 | 2 | | WIM | Munkhzul Turmunkh | w | MGL | 2332 | 2,5 | 0,0 | 4,0 | 4,5 | 2 | 2 |
| 10 | 6 | | WIM | Vantika Agrawal | w | IND | 2283 | 2,5 | 0,0 | 3,5 | 5,0 | 2 | 2 |
---