World Teams 2019 Round 2: Adhiban's blitzkrieg not enough as India held to 2-2 draw against Iran
Day two of the World Team Championships 2019 was quite exciting. Adhiban scored an excellent win on board 1 against Parham Maghsoodloo. Sasikiran lost his game against Idani Pouya. Ganguly had excellent chances of winning his game against Amin Tabatabaei, but he wasn't able to convert it. Sethuraman drew his game against Firouzja. India had to settle for a 2-2 draw against Iran. In the women's section the top two boards ended in a draw. Padmini slumped to a second straight defeat, but this was compensated by Bhakti's win. The biggest news of the round was surely USA beating China in the men's section. We have pictures, game analysis and videos from Astana, Kazakhstan.
Sethuraman was under slight pressure throughout the game against Alireza Firouzja, but he managed to hold the draw.
Ganguly played quite brilliantly and got a close to winning position, but in the end young Amin Tabatabaei defended with all his might and ensured that the match ends in a 2-2 deadlock.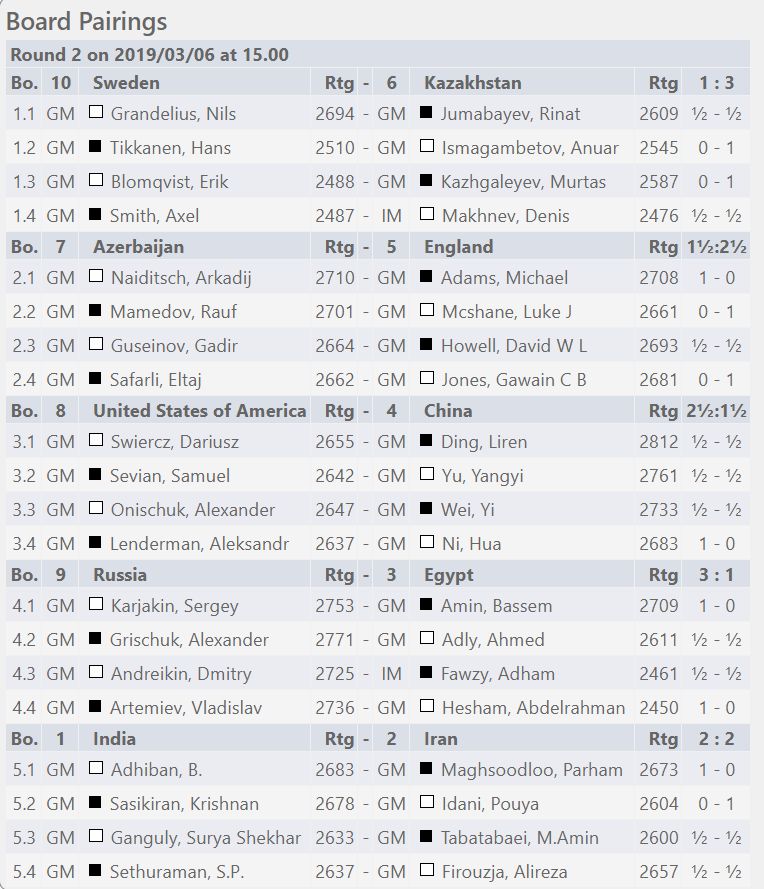 No one really gave USA the chance to win against China. However, the Americans held their fort on the first three boards and on the fourth board Aleksandr Lenderman was able to score an excellent victory!
Women's section:
The Indian women's team made their draw in as many rounds, when they were halted by the young Kazakh team. Padmini's loss to Bibisara Assaubayeva was balanced by Bhakti's win over Dauletova.
Here's Padmini's loss against Bibisara Assaubayeva:
Bhakti managed to provide the much needed win for the Indian team on board 4.
Thus the match between India and Kazakhstan was tied at 2-2.
USA demolished Hungary 3-1, China managed to score a nice win against Georgia - these two were the most important results of the round.
Karjakin special:
Sergey Karjakin faced the King's Indian Defence against Bassem Amin in round two of the World Team Championships 2019. In this interview with GM Yannick Pelletier Karjakin reveals some subtle and deep points in this thinking that will surely benefit both King's Indian players and those who face the opening with white in future.
Watch round three live from 2.30 p.m. onwards
---