Western Asian 2019 final day: Medals galore for India!
The inaugural edition of the Western Asian Youth Chess Championship ended with medals galore for India. Combining all three formats - standard, rapid, and blitz - the country bagged a whopping total of 125 medals. In the classical event it was only Uzbekistan's Abdimalik Abdisalimov (under-20) and Kazakhstan's Abilmansur Abdikhair (under-16) who went back home clinching gold medals, while Indians claimed 41 out of 48 medals at stake. In the Blitz tournament too the domination prevailed as there also 41 medals were clinched by India itself. The nation also found its latest Internationational Masters in two young lads from West Bengal, Srijit Paul and Rajdeep Sarkar. In this final report we bring you photos, analyses, and much more from the last day of the event.

India finishes with a sweeping domination
The Western Asian Youth and Junior Championship 2019 came to a successful completion on the 10th of September (Tuesday) with an enlivening Blitz tournament. Overall, the event turned out to be quite special for many Indian players. In the classical section a total of 41 out of 48 medals at stake, were clinched by India and this included 14 out of the 16 gold.
Medals Tally (Classical)
| | | | | |
| --- | --- | --- | --- | --- |
| | GOLD | SILVER | BRONZE | TOTAL |
| INDIA | 14 | 14 | 13 | 41 |
| UZBEKISTAN | 1 | 0 | 2 | 3 |
| KAZAKHSTAN | 1 | 0 | 0 | 1 |
| SRI LANKA | 0 | 1 | 0 | 1 |
| TAJIKISTAN | 0 | 1 | 0 | 1 |
| KYRGYZSTAN | 0 | 0 | 1 | 1 |
| BANGLADESH | 0 | 0 | 0 | 0 |
| IRAN | 0 | 0 | 0 | 0 |
| NEPAL | 0 | 0 | 0 | 0 |
| UAE | 0 | 0 | 0 | 0 |
Particularly noteworthy were the achievements of Srijit Paul and Rajdeep Sarkar. The duo from West Bengal became the country's latest International Masters. Srijit won both under-18 classical and Blitz tournaments, while Rajdeep finished second in under-20 classical with final score same as the champion's. Thus, according to the tournament regulations - which dictated that Gold medallists of Under-18 categories and 1st equal players (best 3 after tie break) in Under-20s shall be awarded the title of International Master - they were both proclaimed as IMs!
Elsewhere, in under-18 girls, Mrudul Dehankar won the gold and was rewarded with the title of Woman International Master for her sparkling performance. The winner of under-20 girls event, Sakshi Chitlange, also made a Woman Grandmaster norm.
Speaking of the games now, in under-20 open Rajdeep Sarkar and Leon Mendonca defeated compatriots Harshal Shahi and Divya Deshmukh to make their way to the podium. In under-18 open the top boards drew their respective games, while in under-18 girls Priyanka K registered a fine victory against Nandini Mudaliar to cement her place on the top.
Rajdeep had the white pieces against Harshal and the game started off with the 1...e6 variation of the English opening. The former chose a solid approach going for the kingside bishop fianchetto but things soon started heating up as Black opted a queenside pawn expansion which ultimately led to some crucial opening of lines for White.
Rajdeep Sarkar - Harshal Shahi, Round 9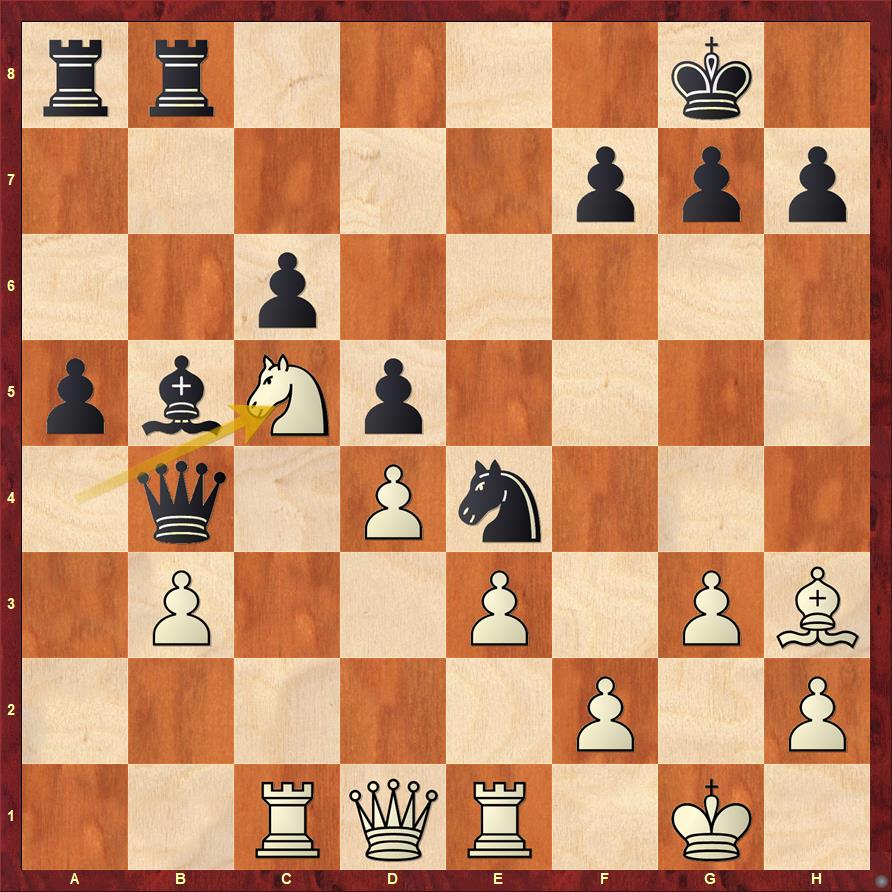 Well, the game followed 28.bxa4 Bxa4 29.Nxa4 Rxa4 30.Re2 and now Black's problem became apparent. He had to move his knight on d2 and leave the guard of b1 square after which White could simply play Rb1 with devastating effect!
Harshal accepted his fate and went with 30...Nf3+ 31.Kg2 Ng5 32.Rb1 in the game. But it must be noted that 30...Ne4, blocking the bishop's line and preventing Rb1, is no good either because in this case White gets a very powerful passed pawn after 30... Ne4 31.Bxe4 dxe4 32.Rec2 Ra6 33.d5 Rd8 34.Qf1 Qb6 35.dxc6 etc (see diagram below)
Analysis diagram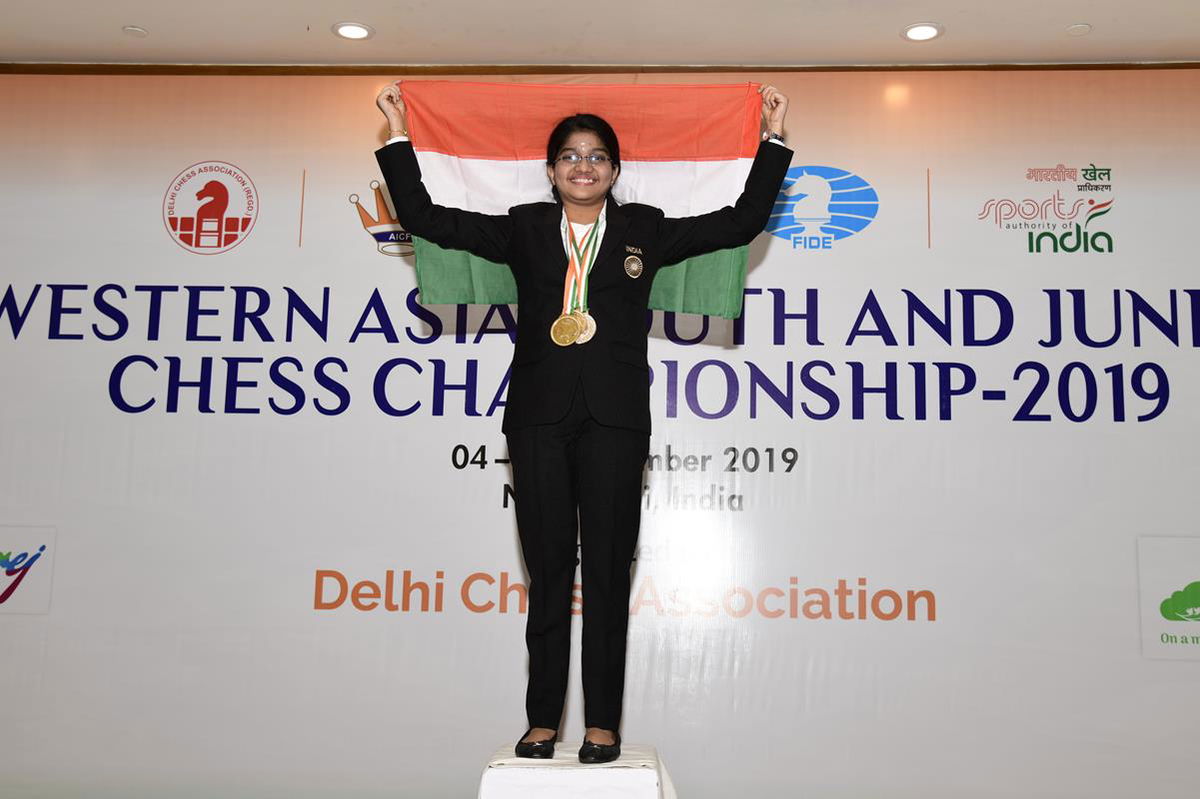 Priyanka employed the King's Indian defense against Nandini's queen's pawn opening. The latter chose an unusual eighth move which led to the evaluation of the position tilt towards Black.
Nandini Mudaliar - Priyanka K, Round 9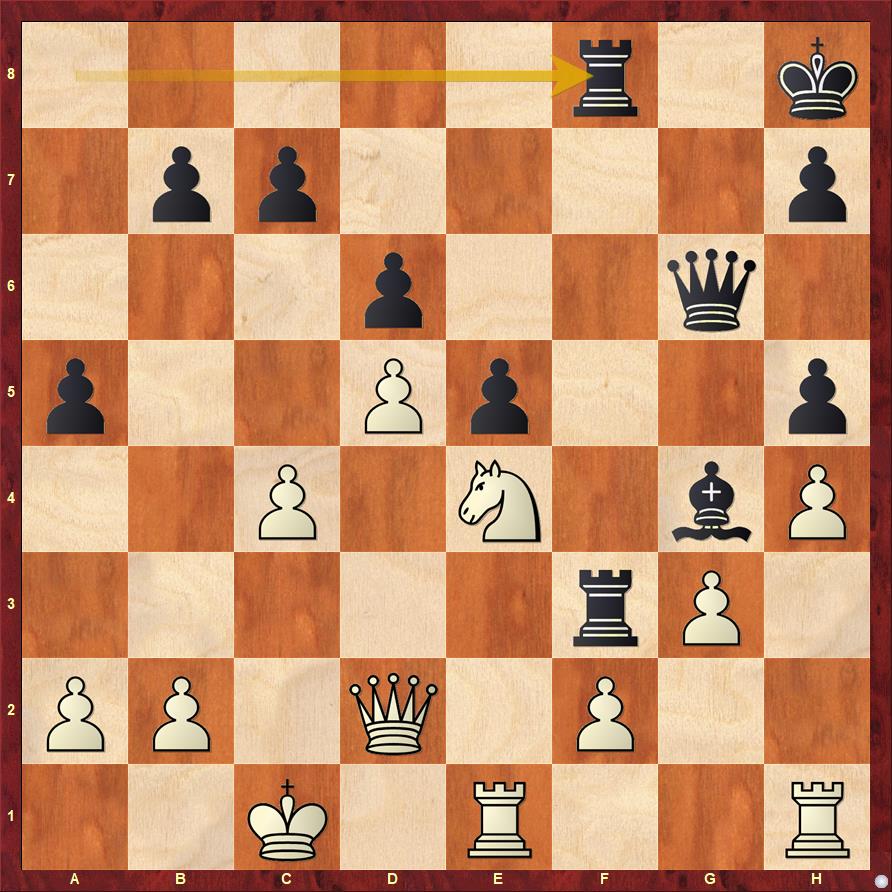 Another important performance from the junior groups worth mentioning came from under-12 girls where Tejaswini G bounced back in the last round to win her game and also the event.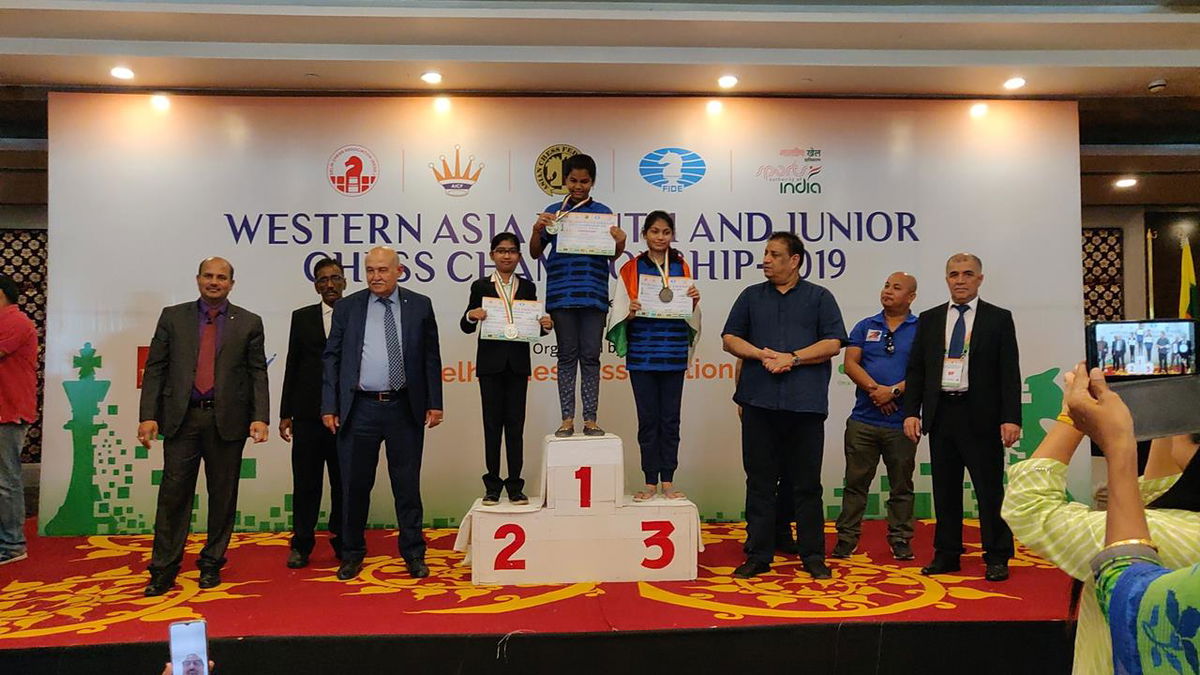 In the final round Tejaswini beat Kheerthi Ganta, the sole leader after the penultimate round, with the black pieces. Below is the critical moment from the game where the tables were turned:
Kheerthi Ganta - Tejaswini G, Round 9
Complete list of medal winners
Under-20 Open
| | | | | | |
| --- | --- | --- | --- | --- | --- |
| Medal | | Name | FED | Rtg | Pts. |
| Gold | FM | Abdisalimov Abdimalik | UZB | 2409 | 7.5 |
| Silver | FM | Rajdeep Sarkar | IND | 2364 | 7.5 |
| Bronze | IM | Mendonca Leon Luke | IND | 2385 | 6.5 |
Under-20 Girls
| | | | | | |
| --- | --- | --- | --- | --- | --- |
| Medal | | Name | FED | Rtg | Pts. |
| Gold | WIM | Chitlange Sakshi | IND | 2159 | 7 |
| Silver | WIM | Vantika Agrawal | IND | 2304 | 6.5 |
| Bronze | WIM | Abdusattorova Bakhora | UZB | 2109 | 6.5 |
Under-18 Open
| | | | | | |
| --- | --- | --- | --- | --- | --- |
| Medal | | Name | FED | Rtg | Pts. |
| Gold | | Srijit Paul | IND | 2310 | 7 |
| Silver | FM | Thilakarathne G M H | SRI | 2397 | 6 |
| Bronze | FM | Abdurakhmonov Mukhammadali | UZB | 2288 | 6 |
Under-18 Girls
| | | | | | |
| --- | --- | --- | --- | --- | --- |
| Medal | | Name | FED | Rtg | Pts. |
| Gold | WCM | Mrudul Dehankar | IND | 2198 | 8 |
| Silver | | Priyanka K | IND | 2169 | 7.5 |
| Bronze | | Pandey Srishti | IND | 1928 | 6 |
Under-16 Open
| | | | | | |
| --- | --- | --- | --- | --- | --- |
| Medal | | Name | FED | Rtg | Pts. |
| Gold | FM | Abdilkhair Abilmansur | KAZ | 2189 | 6.5 |
| Silver | | Mohamed Anees M | IND | 2038 | 6 |
| Bronze | | Ajay Karthikeyan | IND | 2206 | 6 |
Under-16 Girls
| | | | | | |
| --- | --- | --- | --- | --- | --- |
| Medal | | Name | FED | Rtg | Pts. |
| Gold | | Greeshma Anand Dhumal | IND | 2042 | 7 |
| Silver | WFM | Salonika Saina | IND | 2100 | 6.5 |
| Bronze | WCM | Chinnam Vyshnavi | IND | 1668 | 6.5 |
Under-14 Open
| | | | | | |
| --- | --- | --- | --- | --- | --- |
| Medal | | Name | FED | Rtg | Pts. |
| Gold | | Jain Kashish Manoj | IND | 1870 | 7 |
| Silver | | Karthik Sai Ch | IND | 2033 | 7 |
| Bronze | | Bhavesh Mahajan | IND | 2085 | 6.5 |
Under-14 Girls
| | | | | | |
| --- | --- | --- | --- | --- | --- |
| Medal | | Name | FED | Rtg | Pts. |
| Gold | | Bhagyashree Patil | IND | 1744 | 8 |
| Silver | | Abrorova Sabrina | TJK | 1687 | 7 |
| Bronze | | Velpula Sarayu | IND | 1692 | 6.5 |
Under-12 Open
| | | | | | |
| --- | --- | --- | --- | --- | --- |
| Gold | | Chilukuri Sai Varshith | IND | 1813 | 6.5 |
| Silver | | Sahib Singh | IND | 1556 | 6 |
| Bronze | | Bagwe Gaurang | IND | 1788 | 5.5 |
Under-12 Girls
| | | | | | |
| --- | --- | --- | --- | --- | --- |
| Medal | | Name | FED | Rtg | Pts. |
| Gold | | Tejaswini G | IND | 1553 | 6.5 |
| Silver | | Sai Mahati A | IND | 1281 | 6.5 |
| Bronze | | Kheerthi Ganta | IND | 1490 | 6.5 |
Under-10 Open
| | | | | | |
| --- | --- | --- | --- | --- | --- |
| Medal | | Name | FED | Rtg | Pts. |
| Gold | | Mayank Chakraborty | IND | 1751 | 7.5 |
| Silver | | Daakshin Arun | IND | 1691 | 7 |
| Bronze | | Aakash G | IND | 1655 | 6.5 |
Under-10 Girls
| | | | | | |
| --- | --- | --- | --- | --- | --- |
| Medal | | Name | FED | Rtg | Pts. |
| Gold | | Palak Mohapatra | IND | 1406 | 5.5 |
| Silver | | Pournami S | IND | 1325 | 5 |
| Bronze | | Sachi Jain | IND | 1282 | 5 |
Under-8 Open
| | | | | | |
| --- | --- | --- | --- | --- | --- |
| Medal | | Name | FED | Rtg | Pts. |
| Gold | | Vivaan Vijay Saraogi | IND | 1498 | 8 |
| Silver | | Rosh Jain | IND | 1616 | 8 |
| Bronze | | Nimay Agrawal | IND | 1152 | 6.5 |
Under-8 Girls
| | | | | | |
| --- | --- | --- | --- | --- | --- |
| Medal | | Name | FED | Rtg | Pts. |
| Gold | | Aggarwal Tashna | IND | 1110 | 7 |
| Silver | | Sequeira Jennica | IND | 0 | 6.5 |
| Bronze | | Kolagatla Alana Meenakshi | IND | 1066 | 6 |
Under-6 Open
| | | | | | |
| --- | --- | --- | --- | --- | --- |
| Medal | | Name | FED | Rtg | Pts. |
| Gold | | Madhvendra Pratap Sharma | IND | 1084 | 7 |
| Silver | | Nijesh R | IND | 0 | 6.5 |
| Bronze | | Joshi Aditya Shripad | IND | 0 | 6.5 |
Under-6 Girls
| | | | | | |
| --- | --- | --- | --- | --- | --- |
| Medal | | Name | FED | Rtg | Pts. |
| Gold | | Diya Digamber Sawal | IND | 0 | 8 |
| Silver | | Aadya Ranganath | IND | 0 | 7.5 |
| Bronze | | Sharabidinova Aliia | KGZ | 0 | 6 |
---