The Unpublished Games of Nigel Short
Before the era of digital board and computers, the only way to keep a game safe was to save the physical score sheet. While most of the games are available on Mega Database, there are a few games of strong players which are not published anywhere. Some of the games of Nigel Short were discovered by the man himself. We decided to compile all games of former World Championship finalist and current FIDE vice President, which are unpublished in Mega Database along with a few photos of his score sheets and some of the literature he possessed all these years. Photo: Shahid Ahmed
'The missing games' of the British Legend
It goes without saying that we are all quite familiar with the 'Greatest British Chess Player of the 20th century' GM Nigel Short. For those who are unaware, let me tell you why the moniker of 'Greatest British Chess Player of the 20th century' seems apropos. He is the first British player to become a World Championship Candidate, the only Grandmaster to have won a tournament in six continents of the world. He has done everything there is to do, from being a Columnist to various leading newspapers, journals to a Commentator. His last role as a Commentator was in the Women's World Championship held in January this year.
This article is not about all the accomplishments of the legend, it is about the missing games, the unpublished games of his career.
Short has played and beaten a plethora of World Champions - Tigran Petrosian (Simul), Boris Spassky (Rapid), Vassily Smyslov, Mikhail Tal, Anatoly Karpov, Garry Kasparov, Vishy Anand, Veselin Topalov, Vladimir Kramnik, Ruslan Ponomariov, Alexander Khalifman, Rustam Kasimdzhanov, Magnus Carlsen (Blitz) and more.
Short's short work
Here is a 17-move miniature by Short against B Kimber in 1975
He did not always have it easy
9-year old Short as a boy got thrashed by Michael Conroy in just 23 moves.
Sharpshooter Short
18-year old Short showed his sharpness in a Merseyside vs Lancashire match against John Carleton.
Carleton - Short, 1983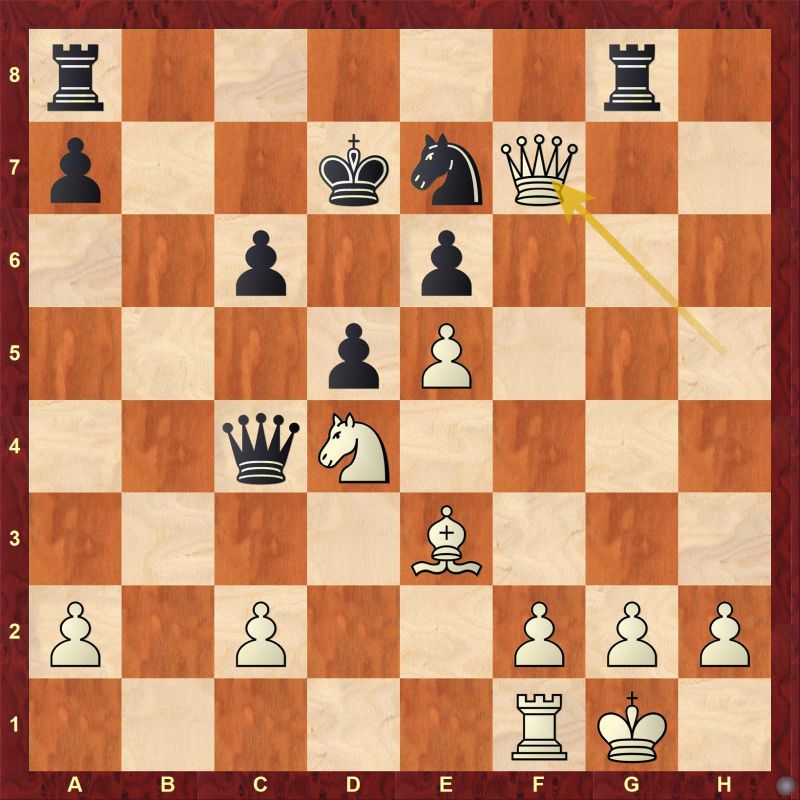 Find out how black finished off the game after 17.Qxf7
In 1986, Short had a pretty finish against G Pieterse
Pieterse - Short, Lugano Open 1986
Can you find the pretty finish for black here after 38.Ndc4 ?
Against N Smith at Manchester Open, Short invaded his opponent's territory and finished the game with a simple tactical shot.
Short - Smith
The lore with the legends
Nigel Short has not only faced a multitude of World Champions but he has also faced various legends of the game. In 1983, the former British no.1 faced Pia Cramling who became World no.1 in January 1984 FIDE Rating list. Pia Cramling is the only other GM apart from Judit Polgar who has never competed for the Women's World Championship. The unpublished encounter between Short and Cramling ended up in a draw.
If you have ever made a quick draw with someone, then don't regret it, well unless it's against John Nunn - then you will always look back at it as a good memory.
It is quite surprising that a game against Samuel Reshevsky went under the radar for all these years. Reshevsky has played against Akiba Rubinstein, Bobby Fischer, Emmanuel Lasker, Jose Raul Capablanca, Miguel Najdorf, Mikhail Botvinnik, Tigran Petrosian and Vlastimil Hort among the legendary players.
Pawn Power
The Power of Pawns by Jorg Hickl is quite a popular book in chess literature. Short showcased the power of pawns against R Erikson in CUCA Open 2011 at Luanda, Angola.
Exchange Sacrifice and Exploiting Color Weakness
Short has a versatile style. He can play very sharp or take sound positional decisions if and when required. Here is a game between Oliver Jackson and Nigel Short from an unknown tournament and timeline.
Jackson - Short
Queen trap
It is always fun to trap your opponent's queen. Here are a couple of unpublished games where Short managed to trap his opponent's queen.
King Hunt
We all love a good king hunt, chasing our opponent's king from one side to the another never seems to cease to amuse us.
Endgame Magic
Short is quite enterprising in the endgame too. Here is a game against Keith Arkell in ARC Masters 1983.
Photo Gallery
Replay Short's all unpublished games
Links
---