Tata Steel Asian Junior 2023: Grebnev & Tejaswini clinch Gold, Aswath & Bristy Silver, Rohith & Mounika Bronze
Tejaswini G drew against WIM Mounika Akshaya to clinch the Gold at Tata Steel Asian Junior 2023 Girls. She scored an unbeaten 7.5/9, finished a half point ahead of the field, became India's latest Woman International Master and also secured her maiden WGM-norm. WCM Bristy Mukherjee defeated the top seed WIM Nazerke Nurgali (KAZ) to win the Silver medal 7/9. She also finished a half point ahead of the field and earned her maiden WIM-norm. Mounika got the Bronze medal 6.5/9. In the Open section, top seed IM Aleksey Grebnev defeated Alekhya Mukhopadhyay to clinch the Gold 7/9. FM Aswath S won against IM Sambit Panda to secure Silver 7/9 and also became India's latest International Master. FM Ayush Sharma drew against IM S Rohith Krishna. Rohith won a Bronze medal scoring 6.5/9. Photos: Himank Ghosh
Aswath becomes India's latest IM, Tejaswini WIM
Tata Steel Asian Junior Open and Women 2023 Championships has been a phenomenally successful event. Not only, India won 15 out of 18 possible medals combining Classical, Rapid and Blitz events, India also got its latest International Master and Woman International Master in the form of Aswath S and Tejaswini G. Both of them are reigning National Sub-Junior (Under-15) 2022 champions. Tejaswini also scored her maiden WGM-norm. WCM Bristy Mukherjee her first WIM-norm. Blitz report will be published in a separate article.
Classical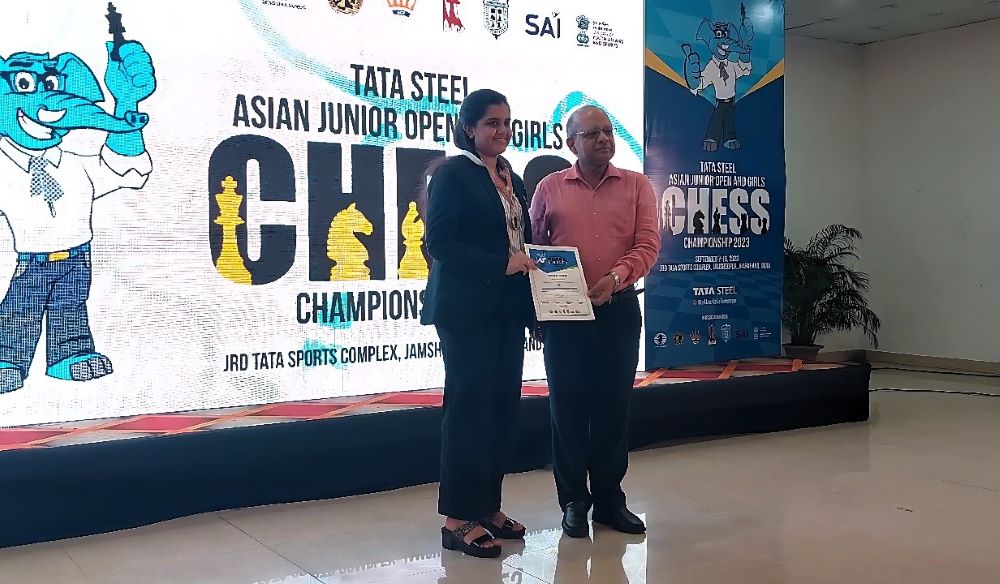 Ayush - Rohith
It was an extremely sharp queen and bishop vs queen and rook endgame. IM S Rohith Krishna (2429) made a tiny inaccuracy 50...Qc5 51.f7 Rf2 52.Bc4. FM Ayush Sharma (2371) needed to find 52.Qe8+ Ka7 53.Bd3 Qa5+ 54.Kb1 Qc5 55.Qe6. It was certainly not easy to play that. The game soon ended in a draw.
Aswath - Sambit
IM Sambit Panda (2395) erred 22...Bd4 his opponent, FM Aswath S (2335) correctly seized his opportunity 23.Nc3! Bxf2+ 23.Kh1 and White converted his decisive advantage smoothly into a win.
Brishti - Nazerke
WIM Nazerke Nurgali (KAZ, 2268) needed to get rid of the d4-pawn as quickly as possible. 38...g6?? allowed her opponent, WCM Bristy Mukherjee (1858) to save it 39.Bb5 Re7 40.Rg1 Bf3 41.d5 Rxd5 42.Rxd5 Bxd5 43.Rd1 even though Black gained the pawn, White managed to get the control of the open d-file and forced the exchange of rooks. 43...Bb3 44.Rd7 Rxd7 45.Bxd7 the resultant bishop endagme is winning for White.
For more Round 9 and Prize distribution ceremony photos, please click at the respective links.
Rapid
The Rapid event got over on the first day. Check out the report for more details.
Replay Round 9 Open games
Replay Round 9 Girls games
Schedule
Classical - Open and Girls from 9:30 a.m. IST from 10th to 15th September. There were double rounds on 10th and 12th September.
Blitz - Open and Girls on 15th September 2023 from 3 p.m. IST.
Time Control
Rapid: 10 minutes + 5 seconds increment
Classical: 90 minutes + 30 seconds increment
Blitz: 3 minutes + 2 seconds increment
Round 9 Open results
| | | | | | | | | | | | | | | | | | | |
| --- | --- | --- | --- | --- | --- | --- | --- | --- | --- | --- | --- | --- | --- | --- | --- | --- | --- | --- |
| Bo. | No. | | | Name | FED | Rtg | Club/City | Pts. | Result | Pts. | | Name | FED | Rtg | Club/City | | No. | PGN |
| 1 | 11 | | FM | Ayush, Sharma | IND | 2371 | India | 6 | ½ - ½ | 6 | IM | Rohith, Krishna S | IND | 2429 | India | | 3 | PGN |
| 2 | 1 | | IM | Grebnev, Aleksey | FID | 2486 | FIDE | 6 | 1 - 0 | 5½ | | Alekhya, Mukhopadhyay | IND | 2149 | India | | 26 | PGN |
| 3 | 13 | | FM | Aswath, S | IND | 2335 | India | 6 | 1 - 0 | 5½ | IM | Panda, Sambit | IND | 2395 | India | | 9 | PGN |
| 4 | 22 | | | Ajay, Santhosh Parvathareddy | IND | 2184 | India | 5½ | ½ - ½ | 5½ | IM | Manish, Anto Cristiano F | IND | 2372 | India | | 10 | PGN |
| 5 | 21 | | | Srihari, L | IND | 2207 | India | 5½ | 0 - 1 | 5½ | CM | Mayank, Chakraborty | IND | 2329 | India | | 14 | PGN |
| 6 | 7 | | FM | Liyanage, Ranindu Dilshan | SRI | 2407 | Sri Lanka | 5 | ½ - ½ | 5 | FM | Bizhigitov, Zhangir | KAZ | 2233 | Kazakhstan | | 20 | PGN |
| 7 | 15 | | FM | Zia, Tahsin Tajwar | BAN | 2321 | Bangladesh | 5 | 1 - 0 | 5 | | Dhyey, Agarwal | IND | 2178 | India | | 23 | PGN |
| 8 | 2 | | IM | Srihari, L R | IND | 2444 | India | 5 | ½ - ½ | 4½ | IM | Kushagra, Mohan | IND | 2410 | India | | 6 | PGN |
| 9 | 5 | | IM | Hari, Madhavan N B | IND | 2425 | India | 4½ | 1 - 0 | 4½ | | Vrashank, Chouhan | IND | 1985 | India | | 32 | PGN |
| 10 | 8 | | IM | Harshavardhan, G B | IND | 2397 | India | 4½ | 1 - 0 | 4½ | | Bharadia, Yash | IND | 2000 | India | | 31 | PGN |
Final standings
| | | | | | | | | | | | | | | | |
| --- | --- | --- | --- | --- | --- | --- | --- | --- | --- | --- | --- | --- | --- | --- | --- |
| Rk. | SNo | | | Name | Typ | sex | FED | Rtg | Club/City | Pts. | TB1 | TB2 | TB3 | TB4 | TB5 |
| 1 | 1 | | IM | Grebnev, Aleksey | U18 | | FID | 2486 | FIDE | 7 | 49 | 54 | 0 | 2312 | 5 |
| 2 | 13 | | FM | Aswath, S | U16 | | IND | 2335 | India | 7 | 42 | 44 | 0 | 2197 | 6 |
| 3 | 3 | | IM | Rohith, Krishna S | U18 | | IND | 2429 | India | 6,5 | 47 | 51,5 | 0 | 2277 | 4 |
| 4 | 11 | | FM | Ayush, Sharma | U18 | | IND | 2371 | India | 6,5 | 44,5 | 46,5 | 0 | 2217 | 4 |
| 5 | 14 | | CM | Mayank, Chakraborty | U16 | | IND | 2329 | India | 6,5 | 40,5 | 41,5 | 0 | 2102 | 5 |
| 6 | 10 | | IM | Manish, Anto Cristiano F | U18 | | IND | 2372 | India | 6 | 47 | 51 | 0 | 2247 | 4 |
| 7 | 15 | | FM | Zia, Tahsin Tajwar | U18 | | BAN | 2321 | Bangladesh | 6 | 40,5 | 44 | 0 | 2012 | 5 |
| 8 | 22 | | | Ajay, Santhosh Parvathareddy | U16 | | IND | 2184 | India | 6 | 39,5 | 42,5 | 0 | 2061 | 5 |
| 9 | 9 | | IM | Panda, Sambit | | | IND | 2395 | India | 5,5 | 45 | 49 | 0 | 2281 | 3 |
| 10 | 27 | | FM | Krishnan, Ritvik | U16 | | IND | 2062 | India | 5,5 | 45 | 48,5 | 0 | 2211 | 5 |
Round 9 Girls results
| | | | | | | | | | | | | | | | | |
| --- | --- | --- | --- | --- | --- | --- | --- | --- | --- | --- | --- | --- | --- | --- | --- | --- |
| Bo. | No. | | | Name | FED | Rtg | Pts. | Result | Pts. | | Name | FED | Rtg | | No. | PGN |
| 1 | 3 | | WIM | Bommini, Mounika Akshaya | IND | 2096 | 6 | ½ - ½ | 7 | | Tejaswini, G | IND | 1905 | | 11 | PGN |
| 2 | 13 | | WCM | Bristy, Mukherjee | IND | 1858 | 6 | 1 - 0 | 6 | WIM | Nurgali, Nazerke | KAZ | 2268 | | 1 | PGN |
| 3 | 4 | | WIM | Mrudul, Dehankar | IND | 2059 | 5½ | ½ - ½ | 5½ | WIM | Salonika, Saina | IND | 2140 | | 2 | PGN |
| 4 | 9 | | | Kaldarova, Ayaulym | KAZ | 1933 | 5½ | 0 - 1 | 5½ | | Mrittika, Mallick | IND | 2059 | | 5 | PGN |
| 5 | 15 | | | Ivanova, Anastasia S. | FID | 1840 | 5½ | 0 - 1 | 5 | | Rindhiya, V | IND | 1918 | | 10 | PGN |
| 6 | 20 | | AFM | Shubhi, Gupta | IND | 1761 | 5 | ½ - ½ | 5 | WFM | Bhagyashree, Patil | IND | 1879 | | 12 | PGN |
| 7 | 32 | | | Keerti, Shree Reddy | IND | 1580 | 5 | ½ - ½ | 5 | | Poorna, Sri M.K | IND | 1821 | | 17 | PGN |
| 8 | 26 | | | Vakcheri, Mohitha | IND | 1653 | 4½ | ½ - ½ | 4½ | WIM | Sultanbek, Zeinep | KAZ | 2022 | | 6 | PGN |
| 9 | 27 | | | Pragnya, H G | IND | 1624 | 4½ | 1 - 0 | 4½ | WFM | Wadifa, Ahmed | BAN | 1833 | | 16 | PGN |
| 10 | 37 | | | Sherali, Pattnaik | IND | 1478 | 4½ | 0 - 1 | 4½ | | Sachi, Jain | IND | 1756 | | 21 | PGN |
Final standings
| | | | | | | | | | | | | | | |
| --- | --- | --- | --- | --- | --- | --- | --- | --- | --- | --- | --- | --- | --- | --- |
| Rk. | SNo | | | Name | Typ | sex | FED | Rtg | Pts. | TB1 | TB2 | TB3 | TB4 | TB5 |
| 1 | 11 | | | Tejaswini, G | F16 | w | IND | 1905 | 7,5 | 48 | 52 | 0 | 1944 | 6 |
| 2 | 13 | | WCM | Bristy, Mukherjee | | w | IND | 1858 | 7 | 44,5 | 48 | 0 | 1751 | 6 |
| 3 | 3 | | WIM | Bommini, Mounika Akshaya | | w | IND | 2096 | 6,5 | 46 | 50,5 | 0 | 1884 | 4 |
| 4 | 5 | | | Mrittika, Mallick | F16 | w | IND | 2059 | 6,5 | 45 | 49,5 | 0 | 1774 | 5 |
| 5 | 2 | | WIM | Salonika, Saina | | w | IND | 2140 | 6 | 46,5 | 50,5 | 0 | 1805 | 4 |
| 6 | 1 | | WIM | Nurgali, Nazerke | | w | KAZ | 2268 | 6 | 46,5 | 49,5 | 0 | 1777 | 4 |
| 7 | 10 | | | Rindhiya, V | | w | IND | 1918 | 6 | 44 | 47,5 | 0 | 1734 | 5 |
| 8 | 4 | | WIM | Mrudul, Dehankar | | w | IND | 2059 | 6 | 40,5 | 44,5 | 0 | 1735 | 4 |
| 9 | 32 | | | Keerti, Shree Reddy | F16 | w | IND | 1580 | 5,5 | 47 | 52 | 0 | 1932 | 4 |
| 10 | 20 | | AFM | Shubhi, Gupta | F16 | w | IND | 1761 | 5,5 | 46 | 49,5 | 0 | 1814 | 3 |
Links
---