Shahil Dey scores his second IM-norm in consecutive tournaments
Shahil Dey scored his maiden IM-norm in GM Round Robin "Orbis-1 2021" Paracin on 11th February 2021. He started playing IM Mix Swiss "Orbis-2 2021" Paracin on the following day 12th February. The 14-year-old boy from Assam who moved to Kolkata made a blitzkrieg start with 4.0/4, however two consecutive losses caused a setback to score his maiden GM-norm. He finished 6.0/9, secured third place and in the process scored his second IM-norm in consecutive tournaments within a week. Photo: Domi Dervieux
Two IM-norms in two weeks
CM Shahil Dey scored his maiden IM-norm in GM Round Robin "Orbis-1 2021" Paracin, Serbia on 11th February 2021. On the following day, he started playing IM Mix Swiss "Orbis-2 2021". He made a fantastic 4.0/4 start but then lost the next two games and finished with 6.0/9. Thus he missed a GM-norm by a whisker but he secured his second IM-norm.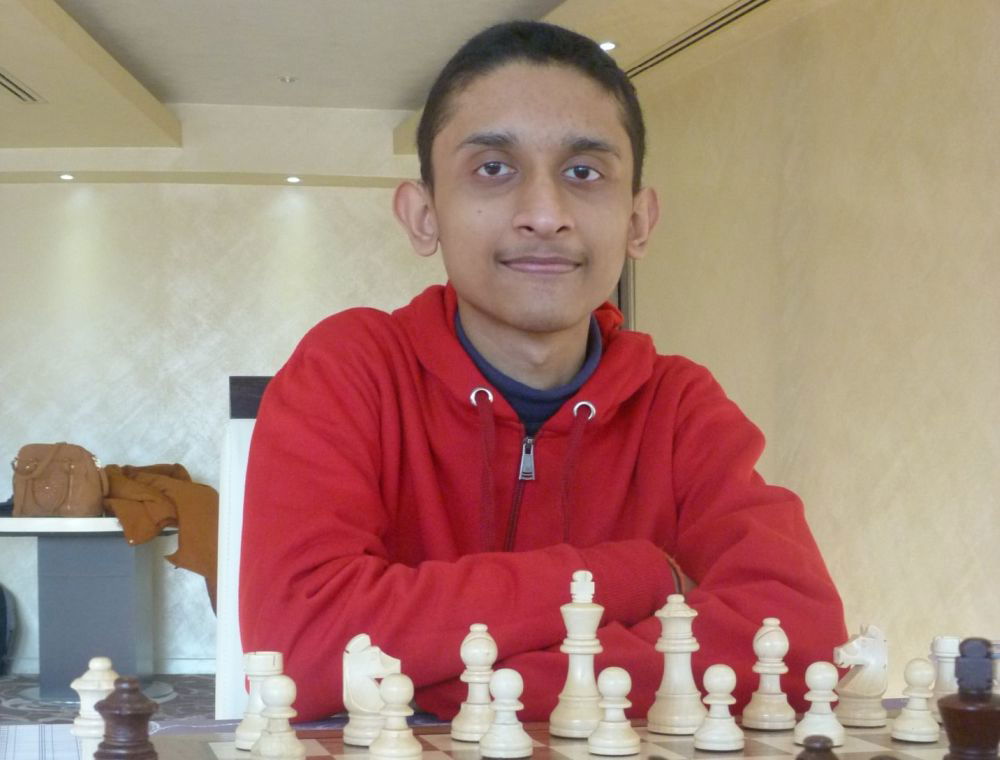 In the first round, Shahil was up against FM Aron Pasti. Shahil had a good position, but a couple of inaccuracies gave his opponent the upper hand. It was Pasti who made the final mistake.
Pasti - Shahil, Round 1
Position after 26.Ng3
26.Ng3 is a huge blunder, Shahil had no trouble finding his opponent's mistake. What was the better move white should have played instead.
Shahil faced compatriot IM Moksh Amit Doshi in the second round where the latter misjudged the magnitude of Shahil's attack on the kingside.
Shahil - Moksh, Round 2
23...Bc6 doesn't add anything to black's position. In fact it only delays black's defense on his kingside. Find out the correct plan for white.
Shahil scored a fine victory over veteran Serbian GM Suat Atalik. The 14-year-old boy from Assam played the Rook ending correctly to walk away with a full point.
A player's good form is denoted by how confidently he plays fantastic moves. Computer may not say it's the best move in that particular position but only a human can spot and appreciate it.
Shahil - Teodora, Round 4
Try to think like Shahil and find a beautiful move for white after 12...b5.
How should white deal with 37...Qf2+ ? After missing a quicker win, Shahil eventually managed to force his opponent to resign in an interesting Queen-Rook endgame.
Replay all games of Shahil
Final Standings
| | | | | | | | | | | | | |
| --- | --- | --- | --- | --- | --- | --- | --- | --- | --- | --- | --- | --- |
| Rk. | SNo | | | Name | FED | Rtg | Pts. | TB1 | TB2 | TB3 | K | rtg+/- |
| 1 | 1 | | GM | Sanal Vahap | TUR | 2563 | 7,5 | 42,5 | 0,0 | 6 | 10 | 7,5 |
| 2 | 2 | | GM | Atalik Suat | SRB | 2504 | 6,5 | 43,5 | 0,0 | 6 | 10 | 4,5 |
| 3 | 5 | | CM | Shahil Dey | IND | 2376 | 6,0 | 43,5 | 0,0 | 5 | 20 | 31,2 |
| 4 | 3 | | GM | Kosic Dragan | MNE | 2443 | 5,5 | 45,0 | 0,0 | 3 | 10 | 1,1 |
| 5 | 8 | | IM | Moksh Amit Doshi | IND | 2332 | 5,5 | 40,5 | 0,0 | 4 | 20 | 9,8 |
| 6 | 11 | | FM | Vetokhin Savva | RUS | 2309 | 5,5 | 34,5 | 0,0 | 5 | 20 | 8,2 |
| 7 | 12 | | CM | Dev Shah | IND | 2254 | 5,0 | 41,5 | 0,0 | 4 | 20 | 22,6 |
| 8 | 9 | | IM | Brankovic Dejan | SRB | 2315 | 5,0 | 40,0 | 0,0 | 4 | 10 | 1,4 |
| | 13 | | | Ivanovic Marko | SRB | 2251 | 5,0 | 40,0 | 0,0 | 4 | 20 | 23,4 |
| 10 | 10 | | WIM | Injac Teodora | SRB | 2314 | 4,5 | 44,5 | 0,0 | 4 | 20 | 4,8 |
---