Assam's Shahil Dey becomes the first International Master of North-East India
It is not easy to play chess in the middle of the Covid-19 pandemic. After scoring his first and second IM-norm early this year, Shahil was struck with Covid-19 virus, but he managed to beat it and score his final IM-norm in First Saturday GM June 2021 on 13th June at Budapest, Hungary. Thus, he became the first International Master from Assam and North-East India. He already had the CM title. It is a matter of great pride for the North-East as there has never been a dearth of talent but hitting the next level and achieving a significant title has always been the dream which Shahil has finally made true come true for his state and the entire North-East India.
Shahil scores three IM-norms in just a little over four months
Shahil Dey scored his first IM-norm in GM Round Robin "Orbis-1 2021" Paracin at the beginning of February this year. Then he scored his second IM-norm in consecutive event at IM Mix Swiss "Orbis-2 2021" Paracin. He also crossed 2400 in the same and was well on his way to score his final IM-norm. Then he got struck with the deadly Covid-19 virus. It was a wrench in his plan and he had to wait a few months to recover completely. This time he went to Budapest, Hungary in May, took a tournament to adjust himself and acclimatize. In the very next event - First Saturday GM June 2021, he scored his final IM-norm. Shahil is calm as always and happy to score his final IM-norm and earn the IM title. He will now be able to concentrate freely towards the coveted GM-title. We will have a detailed interview with him soon.
Shahil started with a solid draw against GM Paul Velten of France. In the second round, he faced compatriot IM Bharath Subramaniyam H. He got a good position out of the opening.
Shahil - Bharath, Round 2
Black needed to play 20...Nb6 to avoid any further damage. 20...f6 gave White the opportunity to wreck black's kingside. The game continued 20.g5 f5 and then 21.Qh5+ was played which is not the best way to continue the attack. What was the better continuation? White missed it and the game ended up in a draw.
Shahil drew his third round game against WFM Zsoka Gaal of Hungary. Then he beat IM Rafat Issa of Jordan in the fourth round. Shahil got in a bit of trouble in the middlegame but he managed to get out of it.
Issa - Shahil, Round 4
21...exd5 leads to a loss as 22.e6 proves to be devastating and black is left without a decent reply. Shahil chose to play 21...Qc7. The game continued 22.Bg5 Bg7 23.Be4 cxd4 24.f4 and now it was time for the 13-year-old boy to turn things in his favor 24...h6.
25.Bh4 g5! and Black has the complete upper hand. This game shows Shahil's tenacity. Even if you have a difficult position, just wait for your opponent to make a bigger mistake, and you can still get back in the game and go for a win.
FM Manish Anto Cristiano F blundered in a seemingly equal endgame in the fifth round.
Shahil - Manish, Round 5
Where should black move the king? Black misplaced the king and blundered a piece in the next move which allowed Shahil to score a victory against another boy from India.
Shahil made two solid draws in the next rounds against IM Souhardo Basak and IM Abhimanyu Mishra in Round 6 and 7 respectively. In Round 7, Shahil showed his endgame knowledge.
Shahil - Abhimanyu, Round 7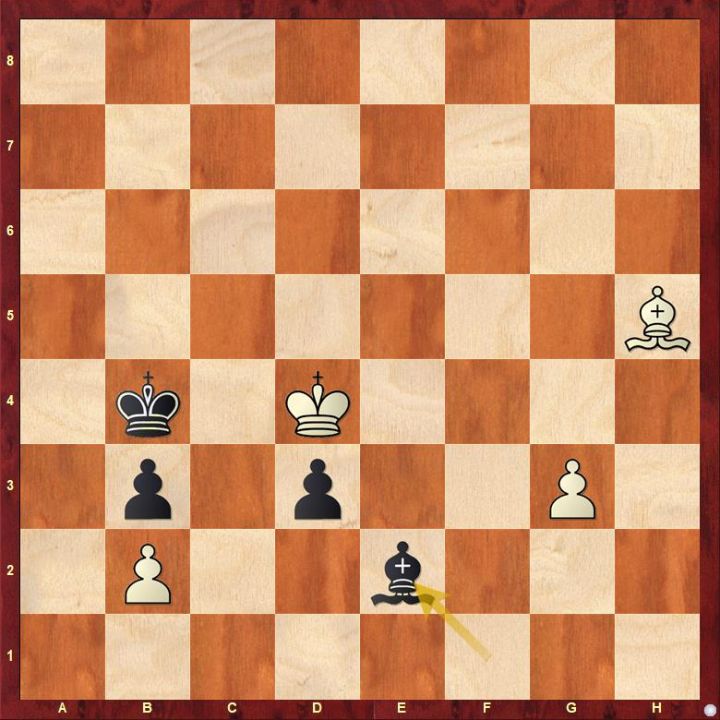 A lot of kids these days spend a lot of time for opening preparation but not enough for the endgame. That is not the case with Shahil. Those who are familiar with the theory here can find what white should do here in a matter of few seconds. When you are playing at a tournament, knowing this theory can help you determine the correct plan for white even if you are down on time. Shahil found it and managed to make a draw. Give it a thought and try to find out the best continuation for White.
Shahil was paired against GM Gergely Aczel of Hungary in Round 8. He needed a draw in the final two rounds of the event to score his final IM-norm and become the latest IM of the country.
Aczel - Shahil, Round 8
37.Bf3 at a first glance may seem to be an unassuming move, but a careful inspection reveals that it only facilitates Black's plan. Find out the correct plan for Black and what White should have done instead.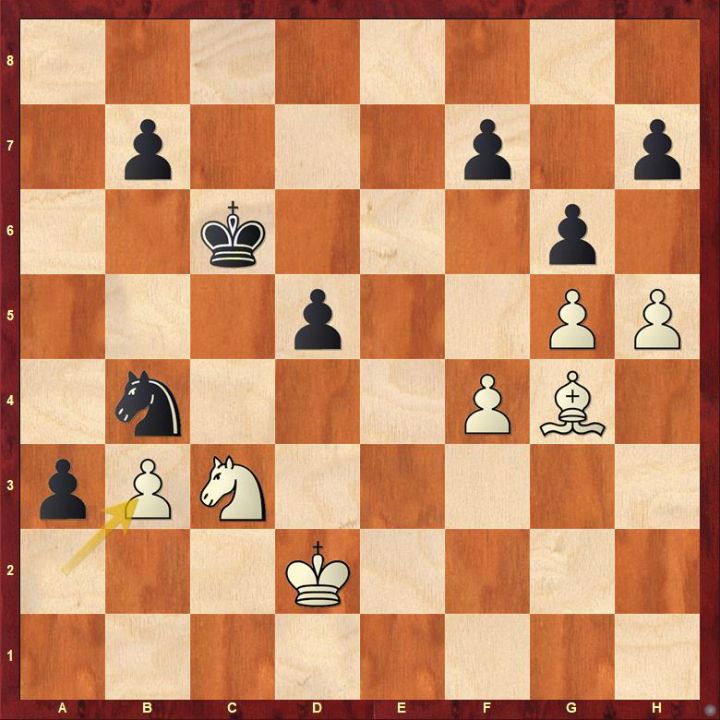 Black made the mistake of pushing the a-pawn a bit early 43...a2. The better move was obviously 43...d4 which would have given Black a full point. The game eventually ended up in a draw and Shahil scored his final IM-norm.
Shahil did not slow after becoming an IM, he beat his final round opponent GM Milan Pacher of Slovakia in just 21 moves.
Shahil - Pacher, Round 9
Black had to play either 12...Bg6 or c5. 12...Bf6 is a mistake. Find out why.
15...h5 did not stop anything, in fact it only invited further trouble for Black's king. What is the best continuation for White? Shahil found it and took only six more moves to finish the game.
Shahil is almost always the first to hand in the homework. He is active in all classes and even showed up in classes once his games had finished in the tournament. I sponsored him in 2017 when I first met him in Guwahati, so he could play his first out-of-state tournament in Chennai. Since then, many people helped him, not just us. He was in my camp in Chennai in 2018 and also joined online classes I gave in 2018-2019. He has developed a lot. I have spent 100s of hours with him by now. But certainly, other people have helped him too. There is enough credit to go around!
It gives me a certain satisfaction when my students play and perform decently, and (kind of) what I expect from them. So, first I am really happy with Shahil's performance, for him and his parents. He already had IM strength for quite some time, but did not get enough tournaments (we all know why). So it was just a matter of time. What I like in him the most is his simplicity and his smiling face (results of the game doesn't change that). When he sits at board it's quite the opposite though, extreme complication gives him peace. :) Very hardworking and always ready to work or discuss chess! His life has taught and made him more of a practical human being rather than an emotional one. And that often reflects in his games too! Wish him a successful trip and hope to see some entertaining chess in coming tournaments.
Shahil had received Rs.50,000 as a scholarship amount from Ashwin Subramanian who has instituted the pursue your chess scholarship. Speaking to ChessBase India Ashwin mentioned, "I'm absolutely delighted that Shahil became an IM - it's great to see his discipline, commitment and hard work be rewarded with this wonderful result/milestone! My hearty congratulations to him and it's very gratifying indeed to be able to be a part of his journey! My best wishes for his future plans and hope to see him as a GM soon!" Shahil's mother Mithu Dey wrote to ChessBase India, " The scholarship which Shahil received from ChessBase India Foundation was used in his coaching with Roktim sir. It was a helping hand which push us and made us believe that we can go and continue our journey. The biggest satisfaction was not just money but also the recognition that he was selected as a winner of the scholarship based on his past performances. I would like to thank Mr. Ashwin Subramanian for his kind support."
Next from North-East
North-East India has a bright future as there are more young talents coming up, and they are hungry to prove themselves. Few notable ones are:
Replay Shahil's games
Final Standings
| | | | | | | | | | | | | | | | |
| --- | --- | --- | --- | --- | --- | --- | --- | --- | --- | --- | --- | --- | --- | --- | --- |
| Rk. | SNo | | | Name | FED | Rtg | TB1 | TB2 | TB3 | n | w | we | w-we | K | rtg+/- |
| 1 | 2 | | GM | Aczel Gergely | HUN | 2542 | 8,0 | 0,0 | 7 | 9 | 8 | 6,18 | 1,82 | 10 | 18,2 |
| 2 | 7 | | CM | Shahil Dey | IND | 2434 | 6,0 | 0,0 | 3 | 9 | 6 | 4,80 | 1,20 | 10 | 12,0 |
| 3 | 1 | | IM | Mishra Abhimanyu | USA | 2485 | 5,5 | 1,0 | 4 | 8 | 5,5 | 4,82 | 0,68 | 10 | 6,8 |
| 4 | 5 | | IM | Bharath Subramaniyam H | IND | 2437 | 5,5 | 0,0 | 3 | 8 | 4,5 | 4,23 | 0,27 | 10 | 2,7 |
| 5 | 3 | | GM | Pacher Milan | SVK | 2406 | 4,5 | 0,0 | 1 | 8 | 3,5 | 3,87 | -0,37 | 10 | -3,7 |
| 6 | 4 | | GM | Velten Paul | FRA | 2482 | 4,0 | 1,0 | 1 | 8 | 3 | 4,78 | -1,78 | 10 | -17,8 |
| 7 | 9 | | | Souhardo Basak | IND | 2382 | 4,0 | 0,0 | 1 | 7 | 3 | 3,22 | -0,22 | 20 | -4,4 |
| 8 | 8 | | FM | Manish Anto Cristiano F | IND | 2349 | 3,0 | 0,0 | 1 | 8 | 2 | 3,18 | -1,18 | 20 | -23,6 |
| 9 | 6 | | WFM | Gaal Zsoka | HUN | 2233 | 2,5 | 0,0 | 2 | 9 | 2,5 | 2,23 | 0,27 | 40 | 10,8 |
| 10 | 10 | | IM | Issa Rafat | JOR | 2364 | 1,0 | 0,0 | 1 | 4 | 1 | 1,69 | -0,69 | 10 | -6,9 |
Links
---