Sandipan Chanda wins EKA IIFL wealth GM Open 2019-20
The 5th EKA IIFL Investment Managers Grandmaster Chess Tournament ended in a tie between Sandipan Chanda and Deepan Chakkravarthy both of whom finished with a score of 7.5 points at the end of nine rounds. However Sandipan, who managed to remain unbeaten and impressively won all his games in the last six rounds, became the champion overtaking Deepan in the tie-breaks. Vaibhav Suri, Kirill Stupak, and Rishi Sardana scored 7.0/9 each and took the third, fourth, and fifth places respectively. The event therefore came to a conclusion with the Indians dominating as the top three prizes were all clinched by the host country.

Smooth sailing for Sandipan in the last six rounds
A tournament win was long due for Sandipan Chanda. The recently concluded National Senior Championship too saw glimpses of his brilliance where he started off with four consecutive wins and even managed to beat players like Lalith Babu MR and Vaibhav Suri. But unfortunately the Bengal Grandmaster's efforts fell short in the last two rounds there and he finished 11th with a sombre 7.5/11 points.
However, the fifth EKA IIFL Wealth GM Open turned out to be a completely different story for Sandipan where he began slow with three draws in the first three rounds but wound up emphatically with six victories in a row. The 37-year-old rampaged through after three rounds by beating talented youngsters like Rajesh VAV, Al Muthaiah, and Mohammad Fahad Rahman, and to cap it all off registered a fine victory against the in-form Uzbek star Yakubboev Nodirbek.
Yakubboev, who recently became the winner of Bhopal International GM Open, was in excellent form going into the last round of the event having won five games back-to-back before that. But the enormously experienced Sandipan showed his class in the final game and crushed his young opponent with his oft-used Dutch opening.
Yakubboev Nodirbek - Sandipan Chanda, Round 9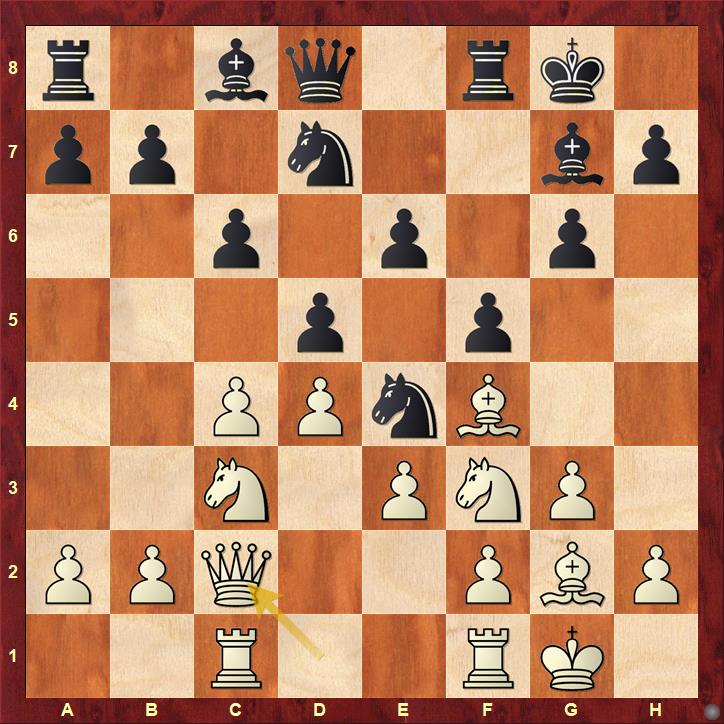 White should have considered playing h4 quickly here stopping g6-g5. After something like 11.h4 h6 12.Be5 Nxe5 13.Nxe5 Nxc3 14.Rxc3 Bxe5 15.dxe5 White comfortably maintains his edge but in the game Yakubboev's hesitation enabled Black to open up lines.
Deepan's forceful comeback
After making a decent start Deepan Chakkravarthy was held to a draw by IM Sayantan Das in round four and in the very next round was defeated by GM Hesham Abdelrahman. But much like Sandipan, Deepan too cruised in the final half of the event.
Deepan employed the English opening with the white pieces in the last two rounds against Gupta and Bogdanovich and in both games he was slightly worse out of the opening but that hardly deterred him from fighting it out till the very end. The Madurai born Grandmaster endured and patiently waited for his opponents to go wrong, which eventually when they did, he converted the full point flawlessly. In both these games Deepan's endgame technique was impeccable.
Photo Gallery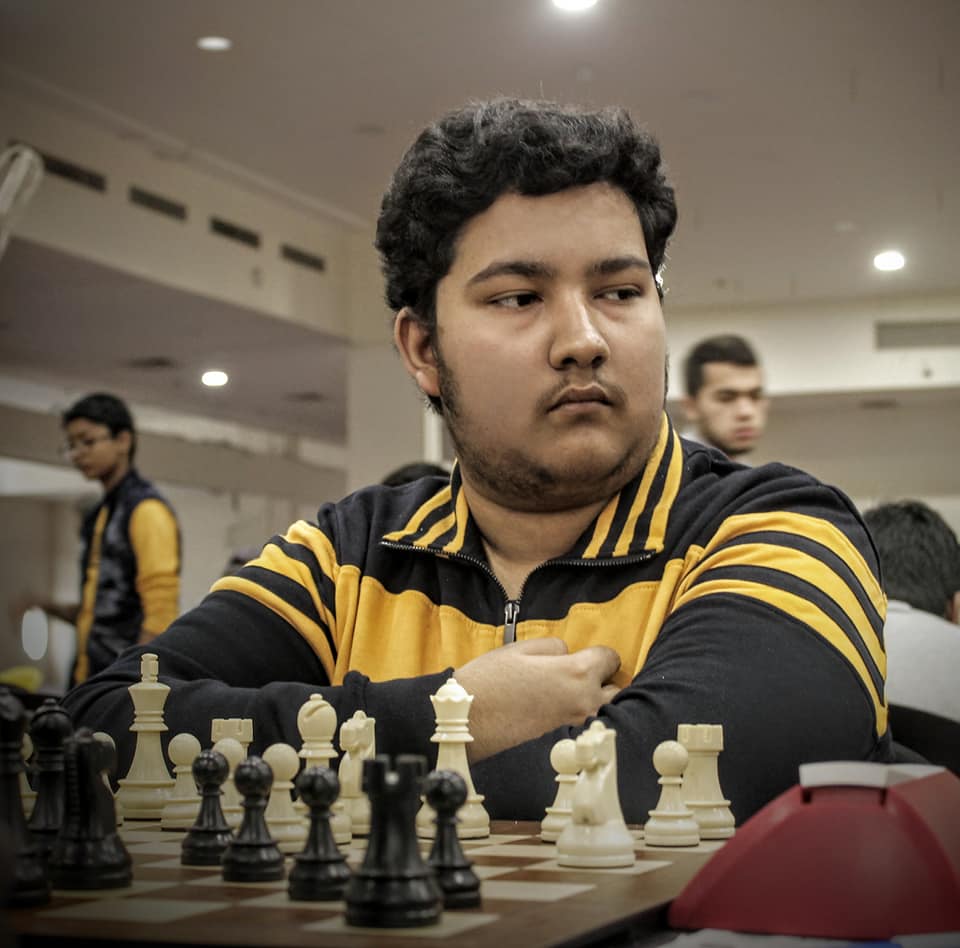 Video Gallery
Final Standings
| | | | | | | | | | | | | |
| --- | --- | --- | --- | --- | --- | --- | --- | --- | --- | --- | --- | --- |
| Rk. | SNo | | | Name | FED | Rtg | Pts. | TB1 | TB2 | TB3 | TB4 | TB5 |
| 1 | 9 | | GM | Chanda Sandipan | IND | 2545 | 7,5 | 0,0 | 43,0 | 47,0 | 40,25 | 6 |
| 2 | 12 | | GM | Deepan Chakkravarthy J. | IND | 2535 | 7,5 | 0,0 | 42,0 | 45,5 | 38,25 | 7 |
| 3 | 2 | | GM | Vaibhav Suri | IND | 2597 | 7,0 | 0,0 | 44,0 | 47,0 | 35,50 | 5 |
| 4 | 13 | | GM | Stupak Kirill | BLR | 2529 | 7,0 | 0,0 | 43,0 | 47,5 | 36,50 | 5 |
| 5 | 29 | | IM | Sardana Rishi | AUS | 2428 | 7,0 | 0,0 | 39,5 | 42,5 | 31,75 | 6 |
| 6 | 6 | | GM | Bogdanovich Stanislav | UKR | 2562 | 6,5 | 0,0 | 48,5 | 53,0 | 36,75 | 6 |
| 7 | 1 | | GM | Gupta Abhijeet | IND | 2611 | 6,5 | 0,0 | 44,0 | 48,0 | 33,25 | 5 |
| 8 | 4 | | GM | Yakubboev Nodirbek | UZB | 2592 | 6,5 | 0,0 | 41,5 | 44,5 | 29,50 | 6 |
| 9 | 5 | | GM | Puranik Abhimanyu | IND | 2580 | 6,5 | 0,0 | 41,0 | 45,0 | 31,50 | 6 |
| 10 | 10 | | GM | David Alberto | ITA | 2545 | 6,5 | 0,0 | 41,0 | 44,5 | 31,75 | 5 |
| 11 | 133 | | | Dere Pushkar | IND | 2061 | 6,5 | 0,0 | 36,0 | 39,5 | 27,50 | 6 |
| 12 | 68 | | IM | Mohammad Fahad Rahman | BAN | 2294 | 6,0 | 0,0 | 50,0 | 52,0 | 32,00 | 5 |
| 13 | 8 | | GM | Tukhaev Adam | UKR | 2552 | 6,0 | 0,0 | 46,0 | 50,0 | 31,25 | 5 |
| 14 | 44 | | IM | Muthaiah Al | IND | 2363 | 6,0 | 0,0 | 44,5 | 47,0 | 28,75 | 4 |
| 15 | 55 | | IM | Kulkarni Vikramaditya | IND | 2328 | 6,0 | 0,0 | 43,5 | 46,5 | 27,50 | 5 |
| 16 | 19 | | IM | Taher Yoseph Theolifus | INA | 2469 | 6,0 | 0,0 | 43,0 | 47,5 | 30,25 | 4 |
| 17 | 21 | | GM | Neverov Valeriy | UKR | 2460 | 6,0 | 0,0 | 43,0 | 46,5 | 28,00 | 5 |
| 18 | 52 | | IM | Girinath P.D.S. | IND | 2330 | 6,0 | 0,0 | 42,5 | 46,5 | 29,75 | 5 |
| 19 | 37 | | IM | Abdisalimov Abdimalik | UZB | 2394 | 6,0 | 0,0 | 42,0 | 45,0 | 27,00 | 6 |
| 20 | 3 | | GM | Aleksandrov Aleksej | BLR | 2592 | 6,0 | 0,0 | 41,5 | 45,0 | 27,50 | 5 |
| 21 | 46 | | IM | Neelash Saha | IND | 2356 | 6,0 | 0,0 | 41,5 | 44,5 | 25,00 | 6 |
| 22 | 27 | | GM | Rahman Ziaur | BAN | 2440 | 6,0 | 0,0 | 39,0 | 42,5 | 26,25 | 4 |
| 23 | 24 | | IM | Nguyen Van Huy | VIE | 2457 | 6,0 | 0,0 | 38,5 | 41,5 | 28,00 | 5 |
---