Adam Tukhaev and Hesham Abdelrahman lead the IIFL WEALTH GM Open
The IIFL WEALTH International Chess Tournament is taking place from the 30th of December 2019 to 7th of January 2020 at the Cuffe Parade-colaba in Mumbai. The open event this year has attracted more than 150 players from as many as 23 different countries including 25 Grandmasters and 28 International Masters. Abhijeet Gupta, Vaibhav Suri, Abhimanyu Puranik, Sandipan Chanda are some of the big names competing from India; while Aleksej Aleksandrov, Yakubboev Nodirbek, Alexei Fedorov, and Adam Tukhaev are among the prominent foreigners vying for the championship title. Five rounds of the tournament are already over and in this pictorial article we bring you the highlights of the latest happenings.

The EKA IIFL Investment Managers 5th Mumbai International Grandmasters Chess Tournament is a nine-round Swiss event following a time control of 90 minutes for the first 40 moves followed by 30 minutes for the rest of the game plus a 30 seconds increment from move 1. The eye-catching prize fund of rupees 17 lakh in the open section this year has attracted several strong players from the country and abroad.
The tournament is already halfway through and has found leaders in Adam Tukhaev of Ukraine and Hesham Abdelrahman of Egypt both of whom have scored 4.5/5 points each. Abhijeet Gupta and Vaibhav Suri of India who started off as the first and second seed respectively were both surprisingly held to draws in the opening round itself and therefore they are trailing behind with 4.0/5 each.
Abhijeet pushed very hard in both the first and second round games against his opponents Saurabh Anand and Vatsal Singhania respectively but fell short of cracking their defenses. Particularly in the second round encounter he found a clear winning opportunity against Vatsal, who critically blundered on move 55 in a complex knight ending, but still failed to convert the full point.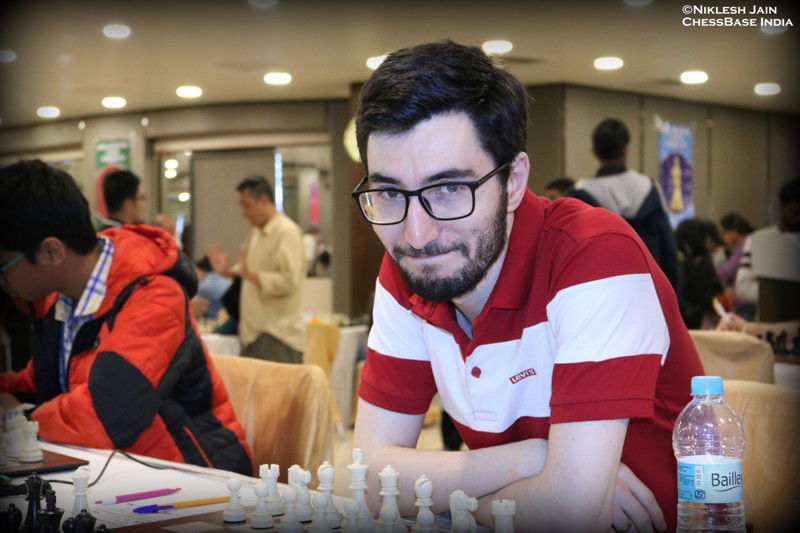 Adam clinched an edge against Bogdanovich early on in the encounter playing the white pieces but took an erroneous decision on move 27 by giving up his queen for a rook and two minor pieces. This brought back the balance in the position but Adam managed to outplay his opponent even from here and won the game.
Results of round five
Standings after five rounds
| | | | | | | | | | | | | |
| --- | --- | --- | --- | --- | --- | --- | --- | --- | --- | --- | --- | --- |
| Rk. | SNo | | | Name | FED | Rtg | Pts. | TB1 | TB2 | TB3 | TB4 | TB5 |
| 1 | 8 | | GM | Tukhaev Adam | UKR | 2552 | 4,5 | 0,0 | 11,5 | 13,0 | 12,00 | 4 |
| 2 | 32 | | GM | Hesham Abdelrahman | EGY | 2416 | 4,5 | 0,0 | 11,0 | 13,0 | 11,75 | 4 |
| 3 | 19 | | IM | Taher Yoseph Theolifus | INA | 2469 | 4,0 | 0,0 | 14,0 | 16,5 | 12,50 | 3 |
| 4 | 6 | | GM | Bogdanovich Stanislav | UKR | 2562 | 4,0 | 0,0 | 14,0 | 16,0 | 11,50 | 4 |
| 5 | 16 | | GM | Yudin Sergei | RUS | 2497 | 4,0 | 0,0 | 13,0 | 15,0 | 11,25 | 3 |
| | 28 | | IM | Das Sayantan | IND | 2440 | 4,0 | 0,0 | 13,0 | 15,0 | 11,25 | 3 |
| 7 | 68 | | IM | Mohammad Fahad Rahman | BAN | 2294 | 4,0 | 0,0 | 12,5 | 13,5 | 10,00 | 4 |
| 8 | 42 | | GM | Czebe Attila | HUN | 2374 | 4,0 | 0,0 | 12,0 | 14,0 | 10,25 | 3 |
| 9 | 2 | | GM | Vaibhav Suri | IND | 2597 | 4,0 | 0,0 | 12,0 | 13,5 | 10,75 | 3 |
| 10 | 36 | | IM | Mendonca Leon Luke | IND | 2398 | 4,0 | 0,0 | 12,0 | 13,5 | 9,50 | 3 |
Complete results and standings
---