Saina Salonika becomes the latest Woman International Master of India
Saina Salonika scored her final WIM-norm at IM Mix Third Saturday 277 at Novi Sad, Serbia. She scored 4.5/9, performed at 2269 to become India's latest Woman International Master. After Padmini Rout and Kiran Manisha Mohanty, Saina became the third WIM of Odisha at the age of 18 years. Her rating is now 2205, one point less than her peak rating. Covid-19 pandemic delayed her an opportunity to score her final WIM-norm, as she scored two WIM-norms and crossed 2200 in the live ratings by December 2019. However, she kept working on her game and bagged two Silver medals in Western Asia and Asian Youth Under-18 Girls 2021. Her journey continues towards the WGM title. Photo: Balkanchess
Third WIM from Odisha
Saina Salonika had to wait 17 months after scoring her second WIM-norm and crossing 2200 rating in December 2019. She won Odisha State Senior Women Championship 2022 in February this year. She lost 20.6 Elo rating points at National Senior Women 2022. Almost 3.5 months later, she bounced back and scored her final WIM-norm at IM Mix Third Saturday 277 to become a Woman International Master.
First WIM norm
Saina scored her first WIM-norm at 2nd Goa GM Open in June 2019. She drew with her statemate, GM Debashis Das in the very first round. She also drew with GM Karthikeyan P and defeated WGM Olga Babiy (UKR). The teenager scored 5.5/10, performed at 2303 and gained 84.8 Elo rating points.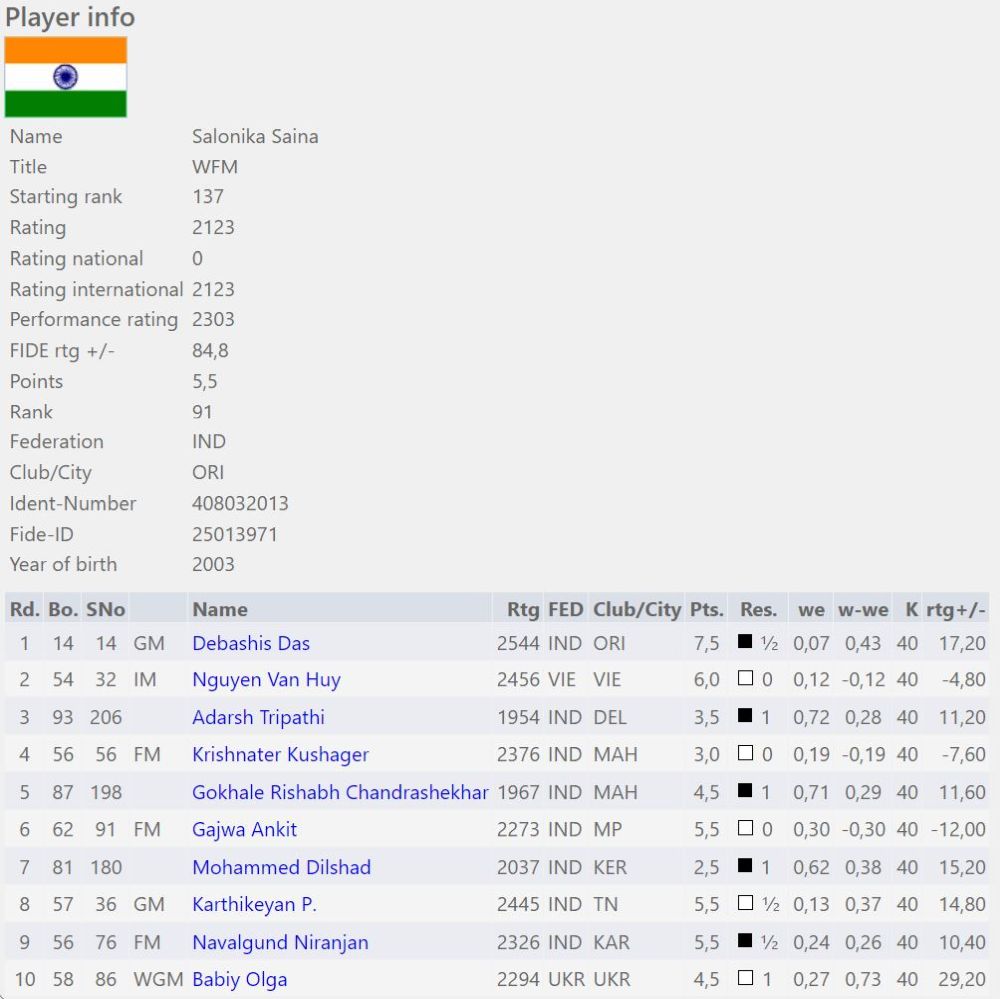 Second WIM norm
The second WIM-norm was scored at IM Round Robin, Orbis-3 at Paracin, Serbia in December 2019. Saina scored 5/9, performed at 2300. She defeated IM Slavisa Milanovic (MNE), drew with IM Ivan Sredojevic (SRB) and IM Nikola Ostojic (SRB).
Slavisa - Saina, Orbis 3 2019
29.Bxf3 is a mistake. 29.Bf1 would have retained the advantage for White. Black correctly spotted the mistake and seized her opportunity 29...g4!
Third WIM norm
Saina scored her final WIM-norm at IM Mix Third Saturday 277 at Novi Sad, Serbia. She defeated IM Branimir Maksimovic (SRB), drew with GM Sinisa Drazic (SRB) and GM Milko Popchev (BUL). She scored 4.5/9, performed at 2269 and gained 20.2 Elo rating points.
Saina Salonika with her third WIM-norm certificate | Photo: Sports Odisha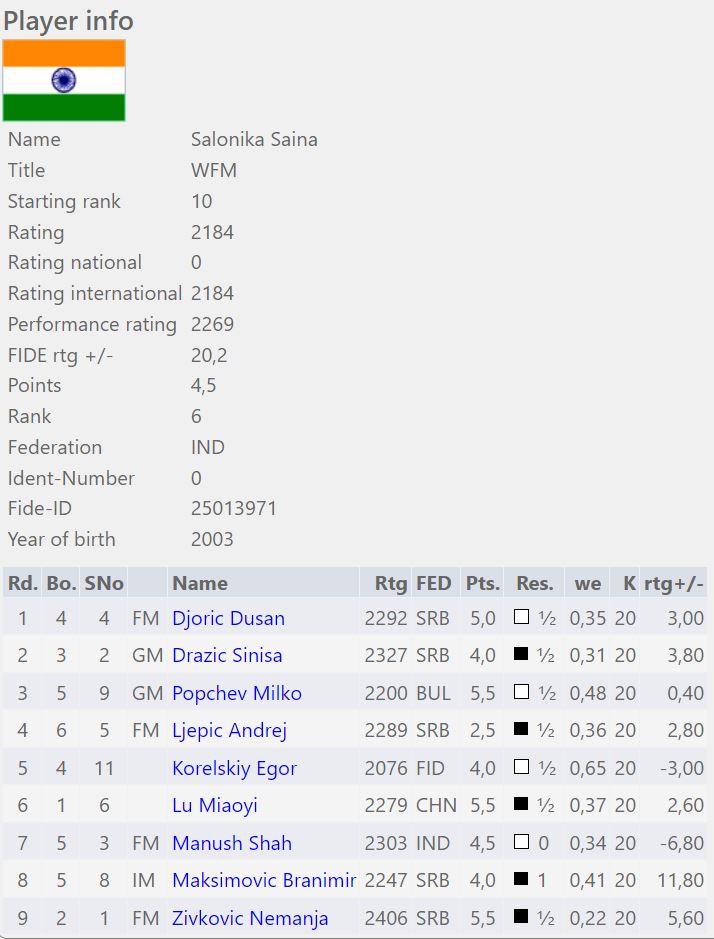 Photo Gallery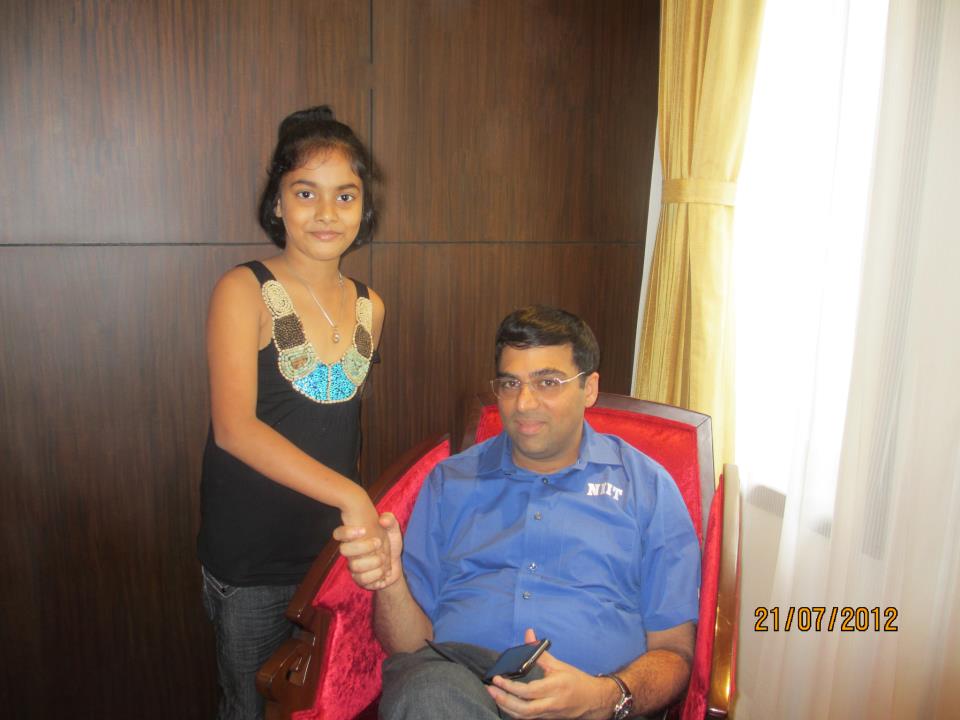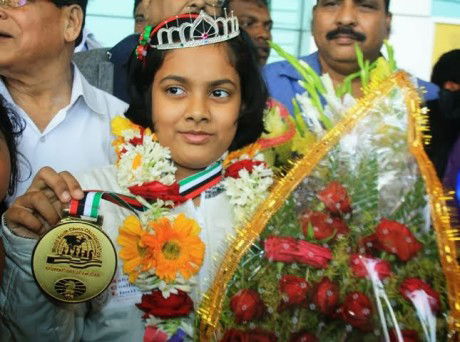 Saina's Best Achievements
Saina Salonika has won a lot of accolades in her chess career so far. Here are the best ones:
• Champion in National Under-7 Girls 2010
• Gold in Asian Schools Under-7 Girls 2010
• Bronze in World Youth Under-8 Girls 2011
• Champion in National Schools Under-9 Girls 2012
• Gold in Asian Schools Under-9 Girls Classical and Blitz 2012
• Gold in World Youth Under-10 Girls 2013
• Runner-up in 2nd Bhubaneswar Below 1899 Rating 2014
• Champion in Odisha State Under-11 Girls 2014
• 3rd in National Under-11 Girls 2014
• Recipient of National Child Award for Exceptional Achievements in 2014 from then President of India
• Champion in Odisha State Under-13 Girls 2015
• Gold in 16th ASEAN Under-12 Blitz 2015
• Silver in Commonwealth Under-12 Girls 2015
• Silver in World Youth Mind Sports Under-12 Girls Blitz 2015
• Bronze in World Youth Under-12 Girls 2015
• Runner-up in National Under-13 Girls 2016
• Runner-up in Odisha State Junior (Under-19) Girls 2017
• Champion in Odisha State Under-15 Girls 2016
• Gold in Asian Youth Under-16 Girls Rapid 2018
• Champion in Odisha State Under-17 Girls 2019
• Runner-up in National Under-17 Girls 2019
• Gold in Western Asian Youth and Junior Under-16 Girls Blitz 2019
• Silver in Western Asian Youth and Junior Under-16 Girls Classical 2019
• Champion in Odisha State Women Online 2021
• Runner-up in Odisha State Junior (Under-20) Girls Online 2021
• Silver in Western Asia Youth Under-18 Girls Online 2021
• Silver in Asian Youth Under-18 Girls Online 2021
• Champion in Odisha State Senior Women 2022
Replay Saina's games
---