Rahul Srivasthav shares first place at US Masters 2021, wins US$ 3750
IM Rahul Srivasthav P won the Telangana State Senior early this year. He joined the undergraduate program as part of the chess program of University of Texas, Dallas in USA. He took a couple of tournaments to get himself adjusted. After a small gain of Elo rating points at Houston Fall Championship 2021, Rahul got to his true form as he scored an unbeaten 7.0/9 to finish shared first along with GM Jose Eduardo Martinez Alcantara (PER) in US Masters 2021. He was placed second according to tie-breaks, scored his fourth GM-norm, gained 17.2 Elo rating points and earned US$ 3750 (approx. ₹2.8 lacs). His present rating is 2466 which means he is just 34 points away from becoming India's next Grandmaster. Photo: Niklesh Jain
Rahul scores his fourth GM-norm
Rahul scored his first GM-norm at Chania International Open in September 2019. He scored his second and third GM-norms in December 2019 within a span of three weeks at GM Round Robin Orbis-4 2019 Paracin and 4th Chess Festival Montebelluna - Vergani Cup. He had a peak rating of 2474 in February 2020. Now, once again he aims to touch the 2500 in the live ratings to become India's latest GM.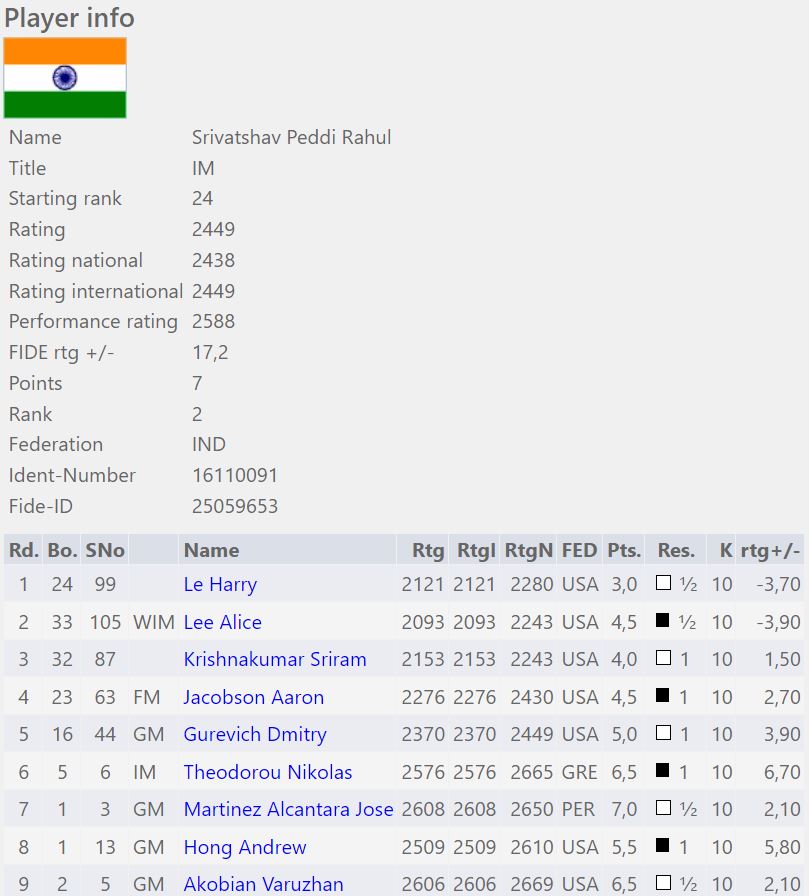 Rahul has scored a couple of exciting victories in US Masters 2021. Let's take a look at them
Round 6: Theodorou - Rahul: 0-1
Rahul won a wild game against IM Nikolas Theodorou (GRE) in the sixth round.
The only way White can survive this is via 23.Qxf7+ Kxd6 24.Qxg7 Qb1+ 25.Ne1 and so on. Of course, this is not easy to find. White played the humane 23.Nxb7 which diminished the attack and Black got a decisive advantage.
White attempts one final trick 32.Be4+. Black is forced to take it as 32...Kg4 leads to a checkmate in multiple ways. 32...Nxe4 33.g4+ Kf4 34.Qxb4 Rh1+ 35.Ke2 Bc3 36.g3+ Kxg4 37.f3+ Kxg3 38.fxe4 Re1#.
Round 8: Hong - Rahul: 0-1
After drawing with the third seed and the eventual winner of the tournament, GM Jose Eduardo Martinez Alcantara (PER), Rahul won another exciting game in the eighth round. This time it was against GM Andrew Hong (USA).
The position is absolutely crazy, right? A careful observation reveals that Black clearly has the upper hand. Find out the beautiful combination for Black here.
The tournament took place at Hilton Charlotte University Place, Charlotte, North Carolina in USA from 24th to 28th November 2021. The nine-round Swiss league tournament had a time control of 100 minutes plus a 30 second increment from move 1.
Replay Rahul's games
Final Standings
Links
---