Nationals 2018 Round 8: Vaibhav Suri's beautiful middlegame play
The National Championship 2018 consists of such great players that there are beautiful games being played in each round. It's quite a difficult task to choose the best game of the day, but in the eighth round it was clearly GM Vaibhav Suri who took the honours with some fantastic middlegame play and showing great alertness to beat his strong opponent Swapnil Dhopade. We now have four players in the lead GM Vaibhav Suri, Aravindh Chithambaram, Stany GA and Deep Sengupta. They are followed by seven players on 6.0/8. Specially to note is the performance of veteran GM Pravin Thipsay. An illustrated report from Jammu on round 8 of the National Championship 2018.
Swapnil Dhopade vs Vaibhav Suri, Round 8
Black is a pawn up, but White's play is very easy. Mainly because the black pawns are very weak and the bishop on e6 is passive. White plays his pieces on dark squares and puts a lot of pressure on Black's position. But breaking through is not easy. In the above position Vaibhav found an excellent combination starting with e4!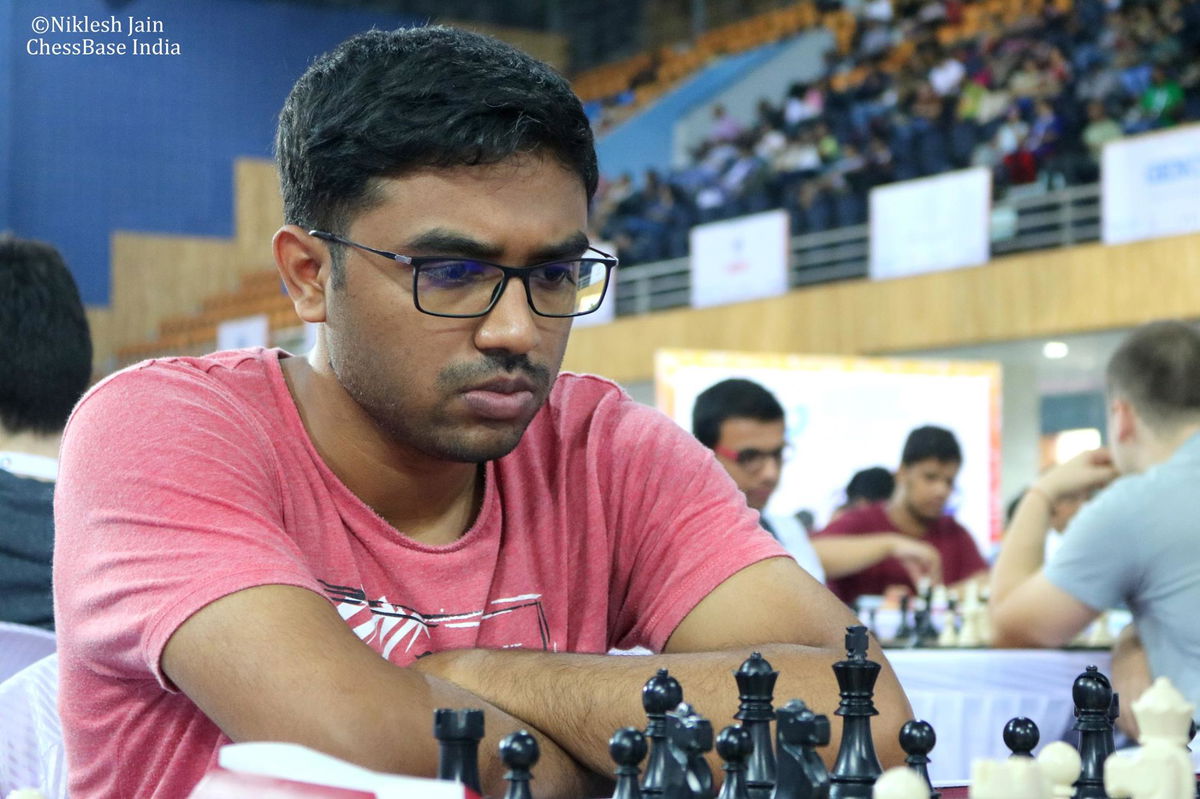 Results of round 8:
Standings after round 8:
Rk.
SNo
Name
FED
Rtg
Club/City
Pts.
TB1
TB2
TB3
1
4
GM
Aravindh Chithambaram Vr.
IND
2584
TN
6,5
0,0
39,0
42,5
2
12
IM
Stany G.A.
IND
2509
AAI
6,5
0,0
38,5
42,5
3
3
GM
Vaibhav Suri
IND
2589
PSPB
6,5
0,0
37,5
41,5
4
5
GM
Sengupta Deep
IND
2565
PSPB
6,5
0,0
37,5
41,0
5
13
GM
Anurag Mhamal
IND
2491
GOA
6,0
0,0
38,5
42,5
6
1
GM
Gupta Abhijeet
IND
2597
PSPB
6,0
0,0
38,0
41,5
7
10
GM
Vishnu Prasanna. V
IND
2518
TN
6,0
0,0
37,5
40,0
8
7
GM
Deepan Chakkravarthy J.
IND
2550
RSPB
6,0
0,0
36,0
39,5
9
27
GM
Thipsay Praveen M
IND
2400
MAH
6,0
0,0
35,5
39,0
10
20
IM
Nitin S.
IND
2450
RSPB
6,0
0,0
32,0
35,5
11
24
GM
Bakre Tejas
IND
2433
AI
6,0
0,0
32,0
35,0
12
66
Harshavardhan G B
IND
2163
TN
5,5
0,0
37,5
40,5
13
15
IM
Karthikeyan P.
IND
2482
RSPB
5,5
0,0
36,5
40,0
14
25
GM
Neelotpal Das
IND
2412
PSPB
5,5
0,0
36,0
39,5
15
14
GM
Swapnil S. Dhopade
IND
2490
RSPB
5,5
0,0
36,0
39,0
16
36
IM
Rathnakaran K.
IND
2366
RSPB
5,5
0,0
35,5
38,5
17
55
FM
Navalgund Niranjan
IND
2240
KAR
5,5
0,0
35,5
38,0
18
34
Sammed Jaykumar Shete
IND
2378
MAH
5,5
0,0
35,0
38,0
19
22
IM
Akash G
IND
2443
TN
5,5
0,0
33,0
36,5
20
9
GM
Karthik Venkataraman
IND
2527
AP
5,5
0,0
32,5
35,0
---