MPL 58th National Senior R3-4: Koustav Chatterjee shocks Sethuraman
IM Koustav Chatterjee (WB) had a fantastic second day. He drew with the top seed B Adhiban (PSPB) in Round 3 and then he defeated former Asian Continental champion Sethuraman (PSPB) in Round 4. Arjun Erigaisi (TEL), D Gukesh (TN) and Aryan Chopra (DEL) emerged as the leaders 4.0/4 in MPL 58th National Senior Chess Championship 2022. Gukesh will face Arjun Erigaisi in Round 5 and Aryan Chopra will go against Lalit Rohit. Aditya Mittal, Aronyak Ghosh and Koustav are the only three IMs at 3.5/4 each. IM Srihari L R (TN) drew with GM Lalit Rohit (PSPB) and GM Deep Sengupta (PSPB). Round 5 starts at 10:00 a.m. IST today. Photo: Aditya Sur Roy
Arjun Erigaisi, Gukesh and Aryan Chopra in a three-way lead
Three games ended decisively among the eight leaders in Round 4. Two of them were won by the black pieces against the only two untitled leaders.
Round 3: Adhiban - Koustav: 0.5-0.5
IM Koustav Chatterjee (WB) started the second day of the tournament with a well-fought draw against the top seed, GM B Adhiban (PSPB).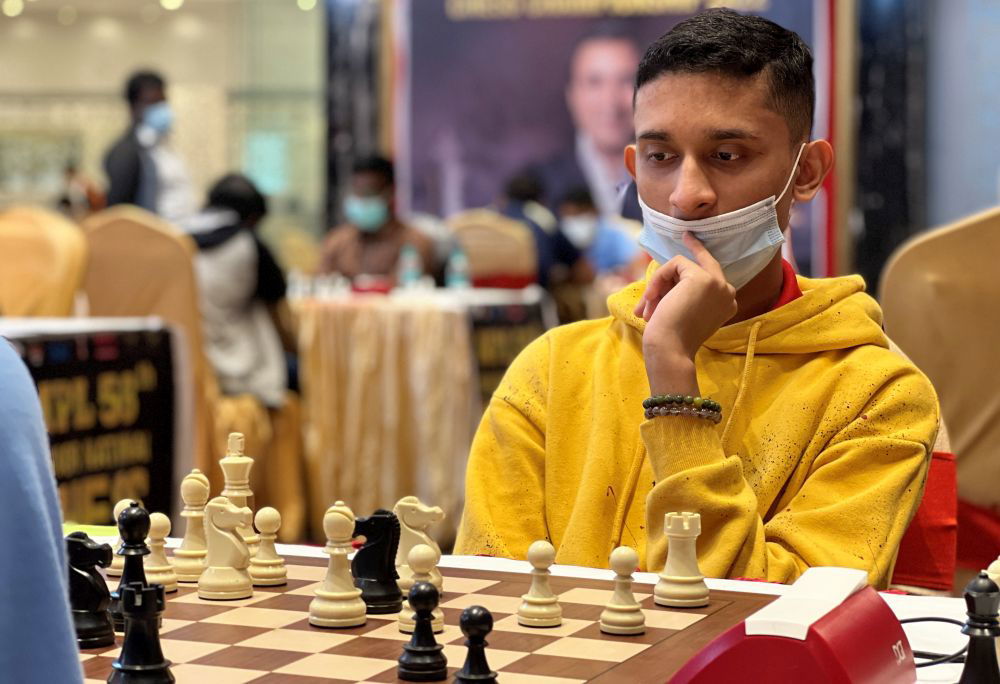 Srihari - Lalit: 0.5-0.5
IM Srihari L R (TN) got a very good chance in the final moments against GM Lalit Rohit (PSPB).
There is no doubt that the game was heading towards a draw. However, 33...f6 created a winning opportunity for White which both players missed. 34.exf6 gxf6 35.Rxb5 f5 and Black escaped with a draw. Find out what White should have done instead of 35.Rxb5.
Ritviz - Mitrabha: 0.5-0.5
Ritviz Parab (Goa) got himself a good opportunity against the defending National champion, GM Mitrabha Guha (WB) after the latter missed a chance of his own.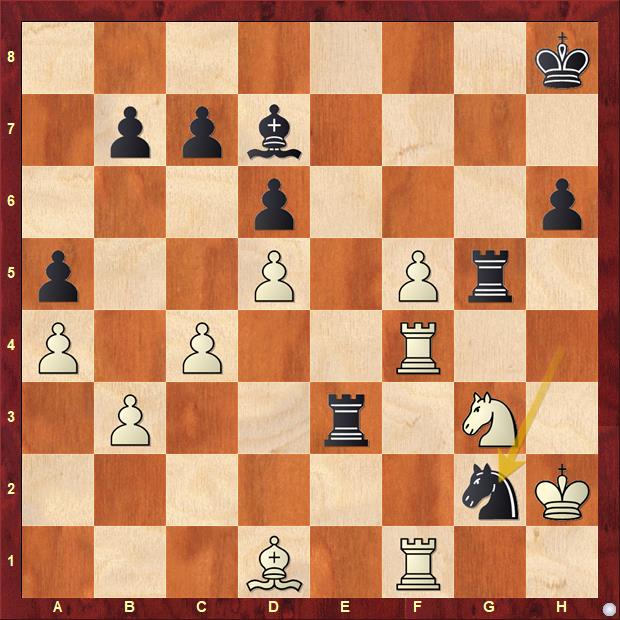 53...Rexg3 54.Rxh4 Rd3 would have been balanced for both sides. 53...Ng2 allowed White to gain material. Find out how.
Swapnil - Utsab: 0-1
GM Swapnil Dhopade (RSPB) made a paltry mistake against Utsab Chatterjee (WB).
17.Be2 Qf5 18.Bd3 Qh5 19.Nxc6 bxc6 20.Ne4 would have put White in a commanding position. Instead White blundered 17.Na4. Find out the correct continuation for Black.
Arpan Das (WB), Vedant Pimpalkhare (MAH), Sharsha Backer (KER), Ashutosh Kumar (BIH) defeated IM Neelash Saha (WB), IM Harshavardhan G B (TN) and GM Sriram Jha respectively. IM P Saravana Krishnan (TN), FM Aradhya Garg (DEL), Shreyansh Daklia (CHT), Rahul Gurung (SIK), Nilsu Pattnayak (ODI), Arnav Maheshwari (TN), Anilkumar OT (KER) and Sparsh Khandelwal (MP) drew with GM Sankalp Gupta (MAH), IM C R G Krishna (RSPB), IM Nitin S (RSPB), IM Pranesh M (TN), IM Nubairshah Shaikh (MAH), IM Sai Agni Jeevitesh (RSPB), IM Rahul Sangma (RSPB) and IM D K Sharma (LIC).
For more Round 3 photos, click here.
Round 4: Arjun Erigaisi - Ravi Teja: 1-0
GM Arjun Erigaisi (TEL) played enterprising chess to beat former National Challenger champion, IM Ravi Teja S (RSPB).
To beat a strong player like Ravi, Arjun brought out a strong weapon of his. He did a rook lift 7.Rh4, 11.Rf4 and in four moves he sacrificed an exchange 15.Rxf6 which gave him a decisive advantage.
Utsab - Gukesh: 0.5-0.5
Utsab Chatterjee (WB) fought well against GM D Gukesh (TN). He just faltered while making a critical decision.
It would have taken a computer-like precision for White to survive this position. 34.fxe4 fxe4 35.Kh1 f3 36.Qf1 is the line suggested by the machine. However, it is certainly not easy to play for a human especially when your opponent is battle hardened Gukesh. 34.Bc3 Re7 35.Be1 Rg7 36.Rd2 h5 and it's all over for White.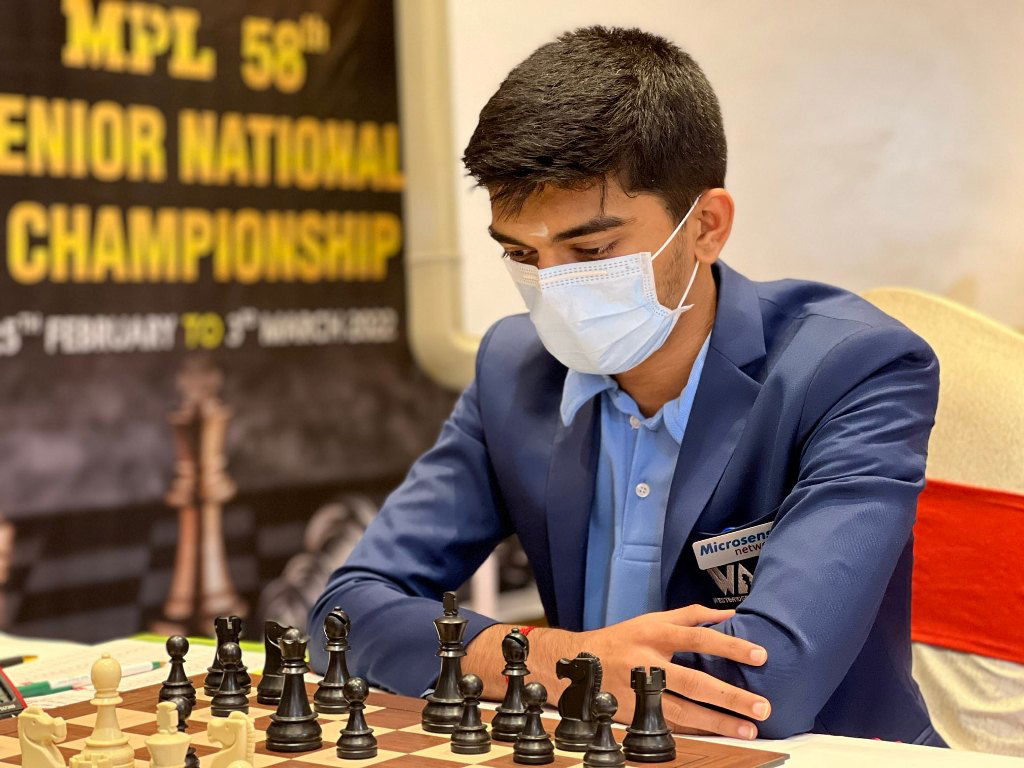 Anustoop - Aryan: 0-1
GM Aryan Chopra (DEL) brought his opponent Anustoop Biswas's (WB) great momentum to a screeching halt. The latter's pawn sacrifice in the Closed Sicilian to get an initiative on the kingside backfired. It was the GM who was able to launch a successful attack on the kingside which White was hoping for.
Srijit - Adhiban: 0-1
IM Srijit Paul (WB) suffered a tragic loss in a 14-move miniature against the top seed of the tournament, GM B Adhiban.
Koustav - Sethuraman: 1-0
IM Koustav Chatterjee (WB) continued his great form as he seized his opportunity against GM Sethuraman S P (PSPB).
Black lost some valuable time in retreating his rook 49...Ree8 when he should have shuffled the other rook into action 49...Rd8 and then 50...Ree8 or Re7. It allowed White to launch his attack quickly 50.g4 Rd8 51.Bb2. Direct 51.f5 would have been fine too. He might have wanted to make sure that d4 does not create any issue, thus 51.Bb2 d4 52.f5 Qd5 53.Qg3 and White's pawns are much more menacing than Black's. Koustav won the game in another five moves.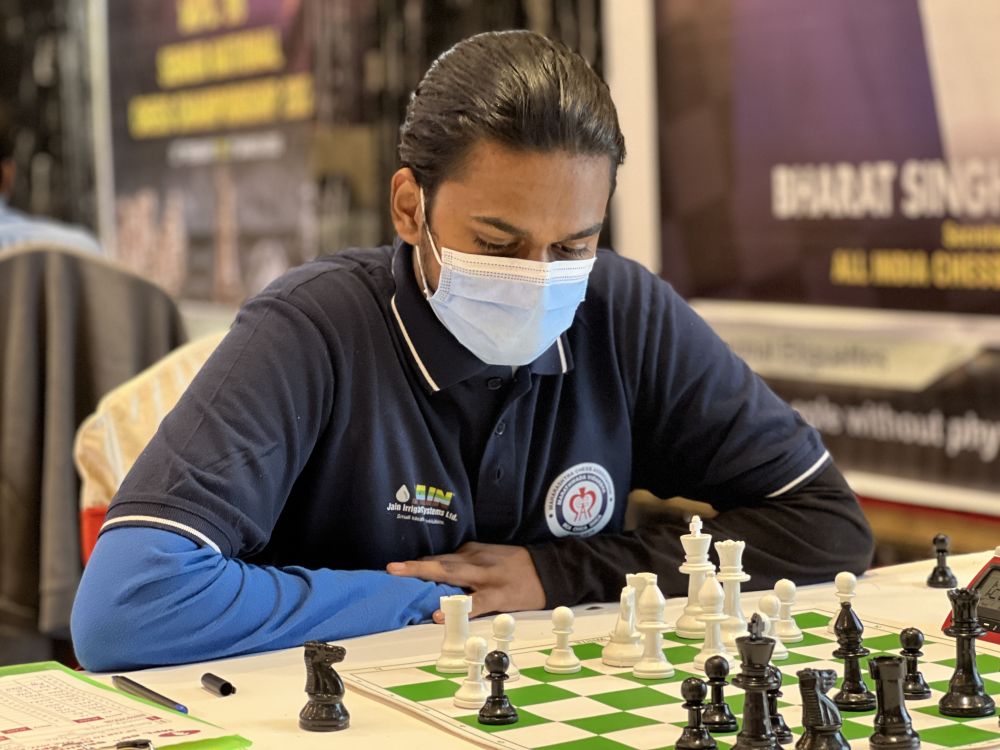 CM Ojasva Singh (MP), Shreyansh Daklia (CHT), Sambit Panda (ODI) and Nilsu Pattnayak (ODI) defeated IM Raahul V S (TN), IM C R G Krishna (RSPB), IM P Saravana Krishnan (TN) and IM Pranesh M (TN) respectively. Sudarshan Bhat (KAR) and Srihari L (PON) drew with IM P Shyam Nikhil (RSPB) and IM Sammed Jaykumar Shete (MAH) respectively.
For more Round 4 photos, click here.
A total of 184 players including 22 GMs and 30 IMs are taking part in this tournament organized by UP Chess Sports Association. The event is taking place at Ganges Club at Kanpur, Uttar Pradesh from 25th February to 3rd March 2022. The eleven-round Swiss league tournament has a time control of 90 minutes + 30 seconds increment from move no.1
National Championship Contest
Your task is to guess the winner in both Open and Women's section correctly. Three winners will be chosen and given some exciting ChessBase India goodies!
1st Prize - Chess Course by FA FT Praful Zaveri (7 books) worth ₹4999
2nd Prize - ChessBase India Premium Chess Set worth ₹1999
3rd Prize - ChessBase India Round Neck T-Shirt worth ₹599.55
Replay Round 3-4 games
Round 4 results
Round 5 pairings
---