Kumar Gaurav dominates 1st Mungeli Trophy Rating Open 2023
Second seeded Kumar Gaurav scored a staggering 9.5/10 to win 1st Mungeli Trophy Rating Open 2023. He finished a whopping 1.5 points ahead of the field. Despite drawing his third round game, he won the next seven games to become a clear champion. Kamad Mishra made sole 8/9 to finish second. Five players scored 7.5/9. Out of them, Mobin Farooque was adjudged third according to tie-breaks. The total prize fund of the tournament was ₹150000. The top three prizes were ₹21101, ₹15101 and ₹10000 along with a trophy each. A total of 101 players took part from various part of India. Photo: Subodh Kumar Singh
Kumar makes a fantastic start in 2023
The top three seeds of the tournament, changed their order in the final standings. The reigning Bihar State champion in Classical format, Kumar Gaurav won the first tournament he started in 2023. He went on to win State Team, State Rapid and finished as the runner-up in the State Blitz event. Kumar is a strong player who won five tournaments last year - three Classical out of them two were rated open, one rapid and one blitz open event. He has made a strong start to 2023 by winning three tournaments in the first month itself.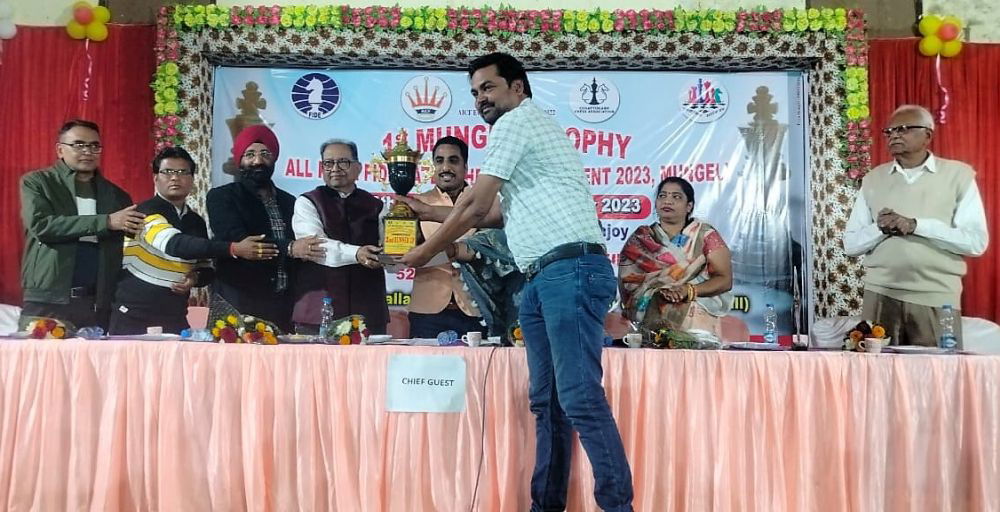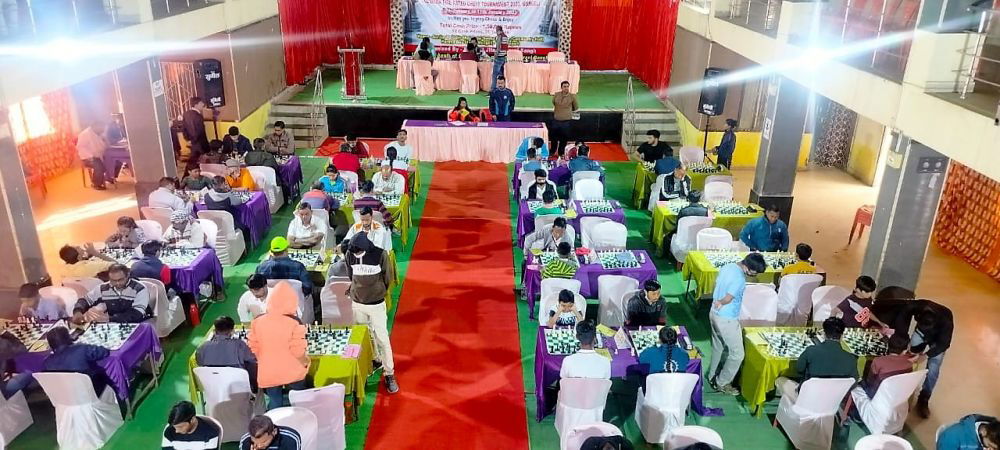 Thanks to Subodh Kumar Singh, Joint Secretary Chhattisgarh Pradesh Shatranj Sangh for sharing the photos.
A total of 101 players took part from various states across the country. The six-day ten-round Swiss league Rating tournament was organized by Mungeli Jila Shatranj Sangh at Sardar Vallabh Bhai Patel Sabha Bhavan, Mungeli, Chhattisgarh from 6th to 11th January 2023. The time control of the tournament was 90 minutes + 30 seconds increment from move no.1.
Final standings
| | | | | | | | | | | | | |
| --- | --- | --- | --- | --- | --- | --- | --- | --- | --- | --- | --- | --- |
| Rk. | SNo | | Name | FED | Rtg | Club/City | Pts. | TB1 | TB2 | TB3 | TB4 | TB5 |
| 1 | 2 | | Kumar Gaurav | IND | 2046 | Bihar | 9,5 | 60,5 | 65 | 61,00 | 0 | 9 |
| 2 | 3 | | Mishra Kamad | IND | 1699 | Madhya Pradesh | 8 | 64,5 | 67 | 50,00 | 0 | 7 |
| 3 | 1 | | Mobin Farooque | IND | 2121 | Chhattisgarh | 7,5 | 65 | 69,5 | 48,50 | 0 | 6 |
| 4 | 5 | | Avinya Mohan Singh | IND | 1526 | Haryana | 7,5 | 62 | 65 | 44,75 | 0 | 7 |
| 5 | 11 | | Sharma Rahul | IND | 1325 | Chhattisgarh | 7,5 | 61,5 | 66 | 46,75 | 0 | 7 |
| 6 | 4 | | Buxy Rajanikant | IND | 1541 | Chhattisgarh | 7,5 | 58,5 | 63,5 | 47,50 | 0 | 7 |
| 7 | 6 | | Sonker Santosh Kumar | IND | 1491 | Chhattisgarh | 7,5 | 54,5 | 59,5 | 42,00 | 0 | 7 |
| 8 | 12 | | Ram Kumar Thakur | IND | 1312 | Chhattisgarh | 7 | 59 | 60 | 38,50 | 0 | 6 |
| 9 | 8 | | Akshat Mahobiya | IND | 1471 | Chhattisgarh | 7 | 58,5 | 63,5 | 41,00 | 0 | 7 |
| 10 | 14 | | Gupta R K | IND | 1279 | Rajasthan | 7 | 57 | 62 | 39,50 | 0 | 7 |
| 11 | 9 | | Abhilash Sen Gupta | IND | 1356 | Delhi | 7 | 57 | 60,5 | 38,50 | 0 | 7 |
| 12 | 17 | | Sapan Kumar | IND | 1242 | Chhattisgarh | 7 | 56,5 | 59,5 | 38,00 | 0 | 6 |
| 13 | 19 | | Ishwar Lal Patel | IND | 1240 | Chhattisgarh | 7 | 55 | 58 | 38,00 | 0 | 7 |
| 14 | 95 | | Tamesh Kumar | IND | 0 | Chhattisgarh | 6,5 | 61 | 66 | 38,75 | 0 | 5 |
| 15 | 24 | | Devraj Vande | IND | 1155 | Chhattisgarh | 6,5 | 57 | 60 | 34,75 | 0 | 6 |
| 16 | 10 | | Dewangan Yogesh | IND | 1349 | Chhattisgarh | 6,5 | 54,5 | 58,5 | 36,25 | 0 | 6 |
| 17 | 18 | | Lokesh Pandey | IND | 1241 | Chhattisgarh | 6,5 | 54 | 55 | 30,50 | 0 | 5 |
| 18 | 13 | | Kishan Sonkar | IND | 1281 | Chhattisgarh | 6,5 | 53,5 | 56,5 | 32,50 | 0 | 6 |
| 19 | 37 | | Abdul Aziz Beg | IND | 0 | Chhattisgarh | 6,5 | 53 | 56,5 | 32,75 | 0 | 6 |
| 20 | 23 | | Madhav Prasad Nishad | IND | 1172 | Chhattisgarh | 6,5 | 50,5 | 53,5 | 30,75 | 0 | 6 |
---