Chhattisgarh CM Trophy GM Masters R2: Arjun Tiwari is on a roll
Arjun Tiwari defeated the second consecutive IM he faced at Chhattisgarh Chief Minister Trophy GM Masters 2022. He certainly possesses an IM-like strength. His peak rating has been 2354. Thus, these two win is no surprise at all. Double IM-norm holder, FM Aaryan Varshney drew with Mongolia no.3 GM Tsegmed Batchuluun. WIM Mahalakshmi M held IM Nubairshah to a draw. 21 players are at 2/2. 44th Olympiad individual Bronze medalist, WGM Divya Deshmukh is the sole female player to have made a perfect start. Round 3 starts today at 3 p.m. IST. Photo: Chhattisgarh Pradesh Shatranj Sangh
Aaryan Varshney splits the point with Mongolia no.3
A strong line-up means a lot of interesting matches. Utsab Chatterjee, Arjun Tiwari and Chidvilash Sai Surapaneni are the only three untitled players who are at 2/2 each.
Kushagra - Anees: 0-1
IM Kushagra Mohan (2431) had a complex rook ending against FM Mohamed Anees (2204).
At the critical moment, White made the difficult choice of moving his king. 36.Kc1 Rxh2 and White went on to lose the game. Find out what White could have done instead to get a draw minimum.
Sammed - Arjun Tiwari: 0-1
Arjun Tiwari (2034) made an interesting thematic knight sacrifice for two pawns against IM Sammed Jaykumar Shete (2387).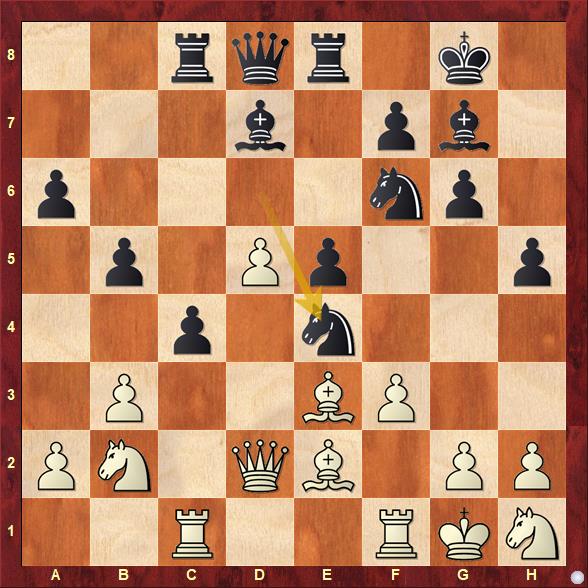 20...Ndxe4! is absolutely sound. The reason is simple 21.fxe4 Nxe4 22.Qe1 c3 23.Nd1 b4 White's pieces are cramped and even though White can take the a6-pawn 24.Bxa6 Ra8 25.Be2 Rxa2. Black's position is quite promising and he won the positional battle comfortably.
Round 2 results
WIM Mahalakshmi M - IM Nubairshah Shaikh: 0.5-0.5
Srihari L - GM Valeriy Neverov (UKR): 0.5-0.5
Jinan Jomon - GM Duc Hoa Nguyen (VIE): 0.5-0.5
GM Luka Paichadze (GEO) - CM Ravi Kumar: 0.5-0.5
WIM Srishti Pandey - IM Rajesh Vav: 0.5-0.5
Kedar Morvekar - IM Ratnakaran K: 0.5-0.5
For more Round 2 photos, please click here.
A total of 127 players including 15 GMs, 23 IMs, 3 WGMs and 11 WIMs are taking part from 14 countries across the world including India in the Masters section. The tournament is organized by Chhattisgarh Pradesh Shatranj Sangh from 19th to 28th September 2022 at Hotel Grand Imperia in Raipur, Chhattisgarh. The ten-round Swiss league tournament has a time control of 90 minutes for 40 moves + 30 minutes with 30 seconds increment from move 1.
Replay Round 2 games
Round 2 results
Round 3 pairings
---