Chhattisgarh CM Trophy GM Masters R7: Six-pack in pursuit
Levan Pantsulaia (GEO) maintained his sole lead 6.5/7 at Chhattisgarh Chief Minister Trophy GM Masters 2022. He made a quick draw with Mongolia no.3 Tsegmed Batchuluun. Six players are in the chase at 5.5/7 each. They are - IM Tahbaz Arash (IRI), GM Batchuluun, IM Himal Gusain, IM Ajay Karthikeyan, IM Nubairshah Shaikh and IM Sammed Jaykumar Shete. Sammed scored an impressive win against GM Venkatesh M R. Utsab Chatterjee also scored a big win over GM Luka Paichadze (GEO). WGM Divya Deshmukh defeated IM D K Sharma. She is currently the highest scorer among female participants. Round 8 starts today at 3 p.m. IST. Photo: Chhattisgarh Pradesh Shatranj Sangh
Sammed and Utsab score big wins
IM Rajesh Vav, IM Chakravarthi Reddy, Srihari L, Praloy Sahoo and Kaivalya Sandip Nagare drew with GM Deepan Chakkravarthy, GM Saptarshi Roy, IM Ratnakaran K, IM Viani Antonio Dcunha and WIM Mahalaxmi M. Ilamparthi A R and Harshit Pawar defeated WGM Varshini V and WIM Mrudul Dehankar.
Venkatesh - Sammed: 0-1
GM Venkatesh (2481) got an advantage out of the Sicilian Pelikan opening. However, his opponent IM Sammed Jaykumar Shete (2387) waited for his opportunity to turn the tables.
Instead of taking on h5, White needed to prevent the rook invasion on the f-file. Thus, 24.Raf1 instead of gxh5 was a safer choice. 24...Rxf1 25.Nxf1 Qe8+ 26.Nde3 and White would have done fine. 24,gxh5 Ne5 25.Qe4 Rf2+ 26.Kd1 Qh8! what a beautiful queen maneuver. White cannot even prevent Qh5 by any means. 27.hxg6 Qh5+ 28.Kc1 Raf8 and Black's attack is too strong for White to defend.
Utsab - Luka: 1-0
Utsab Chatterjee (2332) got a pleasant position out of the Caro-Kann Exchange variation against GM Luka Paichadze (GEO, 2560).
Black needed to play 18...h6 to defend the d5-pawn. Instead, 18...Qc7 dropped it 19.Nb3 Na4 20.Qxd5+ e6 21.Qd2 Rfd8 22.Qf2 White played a bit cautiously but he managed to win the game nevertheless.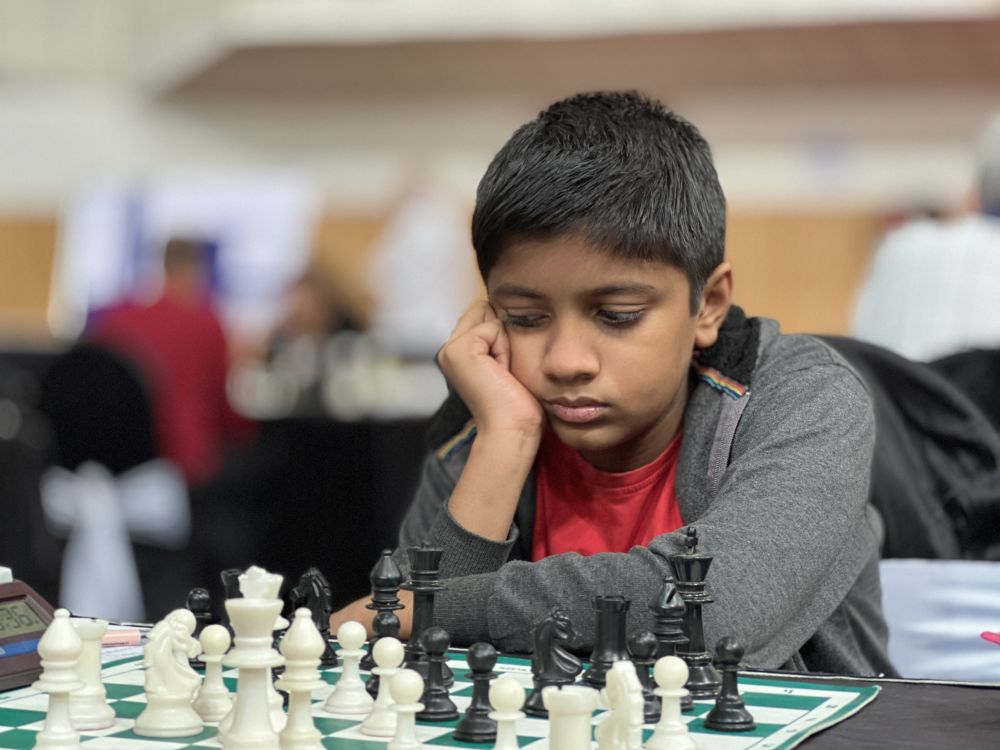 For more Round 7 photos, please click here.
A total of 127 players including 15 GMs, 23 IMs, 3 WGMs and 11 WIMs are taking part from 14 countries across the world including India in the Masters section. The tournament is organized by Chhattisgarh Pradesh Shatranj Sangh from 19th to 28th September 2022 at Hotel Grand Imperia in Raipur, Chhattisgarh. The ten-round Swiss league tournament has a time control of 90 minutes for 40 moves + 30 minutes with 30 seconds increment from move 1.
Replay Round 7 games
Round 7 results
Round 8 pairings
---