Kishan Kumar wins 3rd Aparna Dutta Memorial Rating Open 2023
Kishan Kumar and Iftikar Alom Mazumdar scored an unbeaten 8.5/10 each at 3rd Aparna Dutta Memorial Rating Open 2023. Kishan won the tournament due to better tie-breaks, Iftikar was placed second. 12-year-old Oishik Mondal scored sole 8/10 to secure third place. Kishan faced Iftikar in the sixth round which ended in a draw. The total prize fund of the tournament was ₹301000. The top three prizes were ₹40000, ₹30000 and ₹20000 along with a trophy each respectively. This is Kishan's third overall, second rating tournament triumph of the year after winning Chess for Everyone in Sagar, Madhya Pradesh nearly five and a half months ago. Photos: FM FT FA Prasenjit Dutta/Matrix Chess Academy
Kishan's third tournament triumph in 2023
Kishan Kumar, Souradip Deb and Iftikar Alom Mazumder were in a three-way lead 7.5/9 heading into the final round. Iftikar defeated Souradip and Kishan won against Arshiya Das. Thus, Kishan became champion on tie-breaks, Iftikar second. Oishik Mondal scored a victory against Debankur Banerjee to finish third. He is the only teenager to make a podium finish.
Gaurav - Kishan, Round 9
Kishan Kumar (1720) found a nice breakthrough 28...b3! White had to take it 29.axb3 a4 30.Ne3 axb3 31.Nd5 bxc2+ 32.Rxc2 Rxc2 33.Nxe7+ Kf7 and Black won.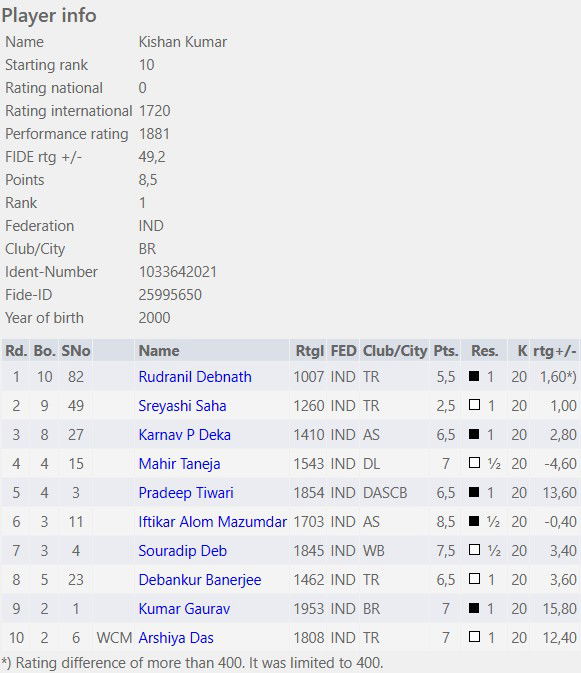 Mr. Bapi Dey, MD of Manoranjan Dey Trust, was the Chief Guest of the opening ceremony. Along with Mr. Dey, the patron of Matrix Chess Academy, Mr. Prabodh Ranjan Dutta, Secretary, All Tripura Chess Association, Mr. Dipak Saha, President of All Tripura Chess Association, Mr. Prasanta Kundu, Treasurer of All Tripura Chess Association, Mr. Mithu Debnath were present at the ceremony.
The Chief Guest at the Prize distribution ceremony was Mr. Bapi Dey, MD of Manoranjan Dey Trust. Mr. Sumanta Dey, Secretary Agiye Chalo Sangha, Mr. Probodh Ranjan Dutta, Patron, Matrix Chess Academy were also present.
Thanks to FM FT FA Prasenjit Dutta, Tournament Director for sharing the photos and info about the tournament.
A total of 132 players took part from various states across the country and one from Bangladesh in this tournament. The six-day ten-round Swiss League Rating Open tournament was organized by Matrix Chess Academy at NSRCC Yoga Hall in Agartala, Tripura from 1st to 6th November 2023. The time control of the event was 90 minutes + 30 seconds per move starting from move no.1.
Replay all available games
Final standings
| | | | | | | | | | | | | | | | | | |
| --- | --- | --- | --- | --- | --- | --- | --- | --- | --- | --- | --- | --- | --- | --- | --- | --- | --- |
| Rk. | SNo | | Name | Typ | sex | Gr | FED | RtgI | Club/City | Pts. | TB1 | TB2 | TB3 | TB4 | TB5 | K | rtg+/- |
| 1 | 10 | | Kishan Kumar | | | | IND | 1720 | BR | 8,5 | 61,5 | 66 | 54,50 | 0 | 7 | 20 | 49,2 |
| 2 | 11 | | Iftikar Alom Mazumdar | | | NE | IND | 1703 | AS | 8,5 | 59,5 | 64,5 | 53,75 | 0 | 7 | 20 | 58,2 |
| 3 | 14 | | Oishik Mondal | U14 | | | IND | 1566 | WB | 8 | 57 | 62 | 48,50 | 0 | 8 | 40 | 99,2 |
| 4 | 4 | | Souradip Deb | | | | IND | 1845 | WB | 7,5 | 62,5 | 67,5 | 48,50 | 0 | 6 | 20 | -24,4 |
| 5 | 7 | | Ajay Kumar Rai | | | | IND | 1806 | DASCB | 7,5 | 59,5 | 64 | 45,75 | 0 | 7 | 20 | 1 |
| 6 | 1 | | Kumar Gaurav | | | | IND | 1953 | BR | 7 | 62 | 66,5 | 42,75 | 0 | 6 | 20 | -31,2 |
| 7 | 2 | | Dangmei Bosco | | | NE | IND | 1904 | MN | 7 | 61 | 66 | 43,50 | 0 | 6 | 20 | -30 |
| 8 | 6 | WCM | Arshiya Das | U14 | w | NE | IND | 1808 | TR | 7 | 57,5 | 61,5 | 40,75 | 0 | 6 | 40 | -78,8 |
| 9 | 15 | | Mahir Taneja | U12 | | | IND | 1543 | DL | 7 | 57,5 | 60 | 39,00 | 0 | 5 | 40 | 60 |
| 10 | 25 | | Himanshu Moudgil | | | | IND | 1448 | DASCB | 7 | 54,5 | 58 | 39,25 | 0 | 4 | 20 | 34,4 |
| 11 | 5 | | Singh Soram Rahul | | | NE | IND | 1839 | AS | 6,5 | 64 | 68,5 | 42,75 | 0 | 5 | 20 | -18 |
| 12 | 3 | | Pradeep Tiwari | | | | IND | 1854 | DASCB | 6,5 | 61 | 66 | 39,50 | 0 | 5 | 20 | -47,2 |
| 13 | 23 | | Debankur Banerjee | | | NE | IND | 1462 | TR | 6,5 | 59,5 | 63 | 35,75 | 0 | 6 | 40 | 68,4 |
| 14 | 27 | | Karnav P Deka | U14 | | NE | IND | 1410 | AS | 6,5 | 58 | 63 | 37,25 | 0 | 5 | 40 | 0,8 |
| 15 | 19 | | Piyal Roy Chowdhury | | | NE | IND | 1499 | AS | 6,5 | 58 | 61,5 | 38,25 | 0 | 5 | 20 | -16,4 |
| 16 | 22 | | Aahil Patra | U12 | | | IND | 1462 | WB | 6,5 | 57,5 | 62,5 | 38,25 | 0 | 5 | 40 | 55,2 |
| 17 | 12 | AFM | Vandan Alankar Sawai | U12 | | | IND | 1688 | DL | 6,5 | 55 | 58,5 | 35,50 | 0 | 5 | 40 | -69,6 |
| 18 | 32 | | Shreyas Mishra | U12 | | | IND | 1357 | UP | 6,5 | 54 | 59 | 36,25 | 0 | 6 | 40 | 7,2 |
| 19 | 24 | | Chaarvi Choudhury | U14 | w | NE | IND | 1456 | AS | 6,5 | 54 | 58,5 | 36,50 | 0 | 5 | 40 | -3,2 |
| 20 | 48 | | Debarati Dey | U12 | w | NE | IND | 1263 | AS | 6,5 | 54 | 58,5 | 36,25 | 0 | 5 | 40 | 59,2 |
---