Kazakhstan vs World Day 1: Team World leads 18.5-13.5
One of the side events of the ongoing FIDE World Championship Match is a Women's rapid rating team event. It is played in Scheveningen format which means each player faces all members of their opponent's team. GM Harika Dronavalli representing team World and GM Zhansaya Abdumalik (KAZ) are the only two players who remained undefeated on the first day. The encounter between them ended in a draw. Although, Harika at one point had a substantial advantage against her opponent. At the conclusion of the four rounds, team World is currently leading 18.5-13.5 against team Kazakhstan. The only other Indian taking part in this event is India's latest WGM Savitha Shri B. She scored 2/4 so far. Match no.5 starts today at 2 p.m. local time, 1:30 p.m. IST. Photo: FIDE/Stev Bonhage
Harika and Zhansaya make an unbeaten start
Team World won the first three matches on the first day, Kazakhstan ended the day on a winning note. Match #1 and #4 were closely fought 4.5-3.5. Team World won the second and third match convincingly: 5.5-2.5 and 3-5 respectively.
Harika - Dinara, Match #2
IM Dinara Saduakassova (KAZ, 2441) couldn't get out of the gate against GM Harika Dronavalli (2447). She went wrong early in the opening 12...Nc5. After 13.Bb5+ it was over for Black. 13...Bc6 14.Bxc6+ Nxc6 15.Rd1 Qc8 16.e5 Ne7 17.Nb5 Nf5 18.g4 a6 19.gxf5 axb5 20.f6 gxf6 21.Rxh7 Ke7 22.exf6+ Kxf6 23.Qd2 Rg8 24.Qf4+ and White checkmates in the next move.
Harika - Zhansaya, Match #3
29...Rf8 would have been fine for Black. However, GM Zhansaya Abdumalik (KAZ, 2454) erred 29...Qf6 allowing 30.Rxc4! Black obviously cannot take on c4 as Qxc4+ costs her material. 30...Rad8 31.Bxe5 Qe6 32.Rc6?! instead 32.Rc7 would have been a better way to maintain the pressure and decisive advantage. 32.Rc6 allowed Black to equalize Rd1. White could not regain her advantage and the game ended in a draw. The outcome of the match did not affect as Kazakhstan lost to the World 3-5.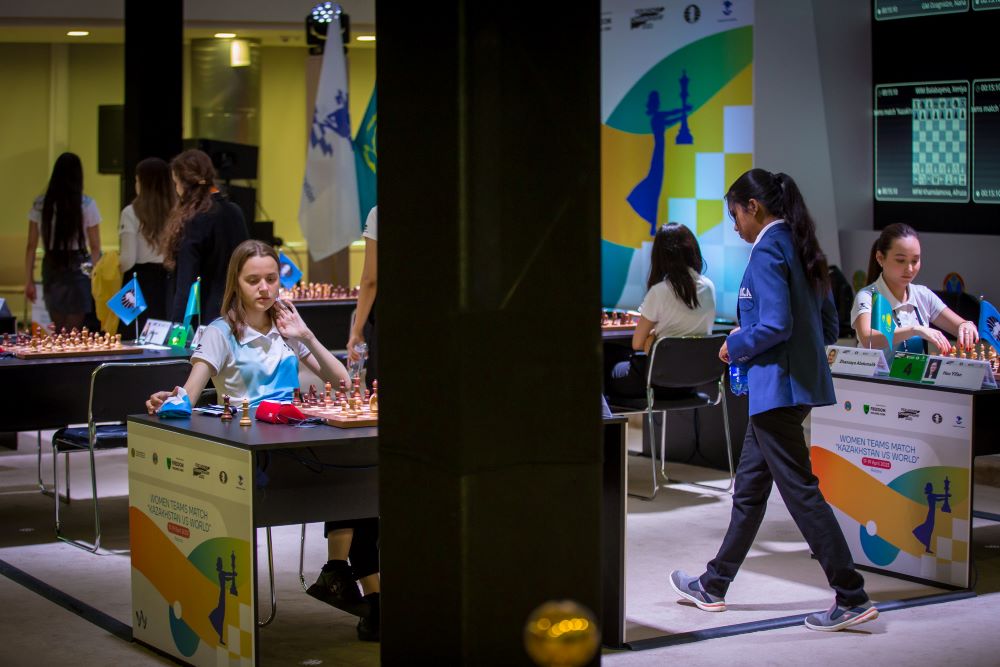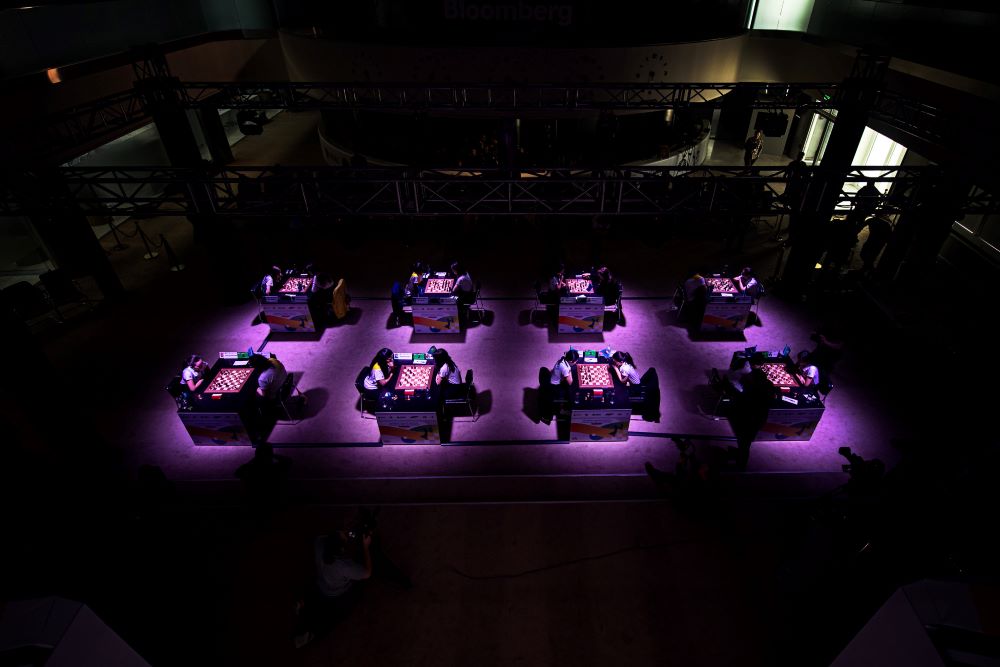 Replay Match 1-4 games
Match 1-4 results
Round 1 on 2023/04/17 at 15-00
No.
Team
Team
Res.
:
Res.
1
Kazakhstan
World
3½
:
4½
Round 2 on 2023/04/17 at 16-00
No.
Team
Team
Res.
:
Res.
1
World
Kazakhstan
5½
:
2½
Round 3 on 2023/04/17 at 17-30
No.
Team
Team
Res.
:
Res.
1
Kazakhstan
World
3
:
5
Round 4 on 2023/04/17 at 18-30
No.
Team
Team
Res.
:
Res.
1
World
Kazakhstan
3½
:
4½
Standings after Match 4
Links
---