Harika and Savitha set to battle in Kazakhstan vs World, a team match starting today
One of the side events of the FIDE World Championship Match will be a match featuring the best female players of Kazakhstan against a team of international top stars representing the world. India no.2 GM Harika Dronavalli and India no.4 WIM Savitha Shri B will be the only two Indian playing for the team - World. Each team will consist of eight players, with four of them representing the age groups U20, U18, U16, and U14. The team 'World' will have World no.1 GM Hou Yifan (CHN) along with GM Nana Dzagnidze (GEO), IM Gunay Mammadzada (AZE), IM Nurgyul Salimova (BUL), WIM Zsoka Gaal (HUN) and WFM Afruza Khamdamova (UZB) along with the aforementioned Harika and Savitha. Match 1 starts today at 3 p.m. local time, 2:30 p.m. IST. Photo: FIDE
Kazakhstan vs World: Best female players will face off in Astana
One of the side events of the 2023 FIDE World Championship Match will be... another match, where best female players from Kazakhstan will face off with the team of the world.
Kazakhstan is known for the strength of its female players. They have conquered many pinnacles in the recent years. 19-year-old prodigy Bibisara Assaubayeva is the reigning two-time Women's World Blitz Chess Champion. Dinara Saduakassova brought home silver from the 2022 FIDE Women's World Rapid Chess Championship. Zhansaya Abdumalik won 2021 FIDE Women's Grand Prix in Gibraltar with 8½/11, finishing in clear first by 1½ points and meeting the requirements for the Grandmaster title.
One of the measures of country's strength is the average rating of its top-10 players. In the women's list, Kazakhstan is currently number 10, led by an ambitions powerhouse of GM Zhansaya Abdumalik (2497), IM Bibisara Assaubayeva (2440), and IM Dinara Saduakassova (2434).
The time has come to test Kazakhstan's muscles against the strongest female players from all over the world! The ladies will clash in rapid on 17-18 April and blitz on 19 April.
Each team will consist of eight players, a combination of youth and experience as four of them must fall into age groups of U20, U18, U16, and U14. Girls will play against girls in corresponding age groups, and four women will meet other four women in all-play-all Scheveningen format. The final result of the match is defined, counting all the individual points together. In case of an equal number of points the result is draw.
The lineups boast the strongest female players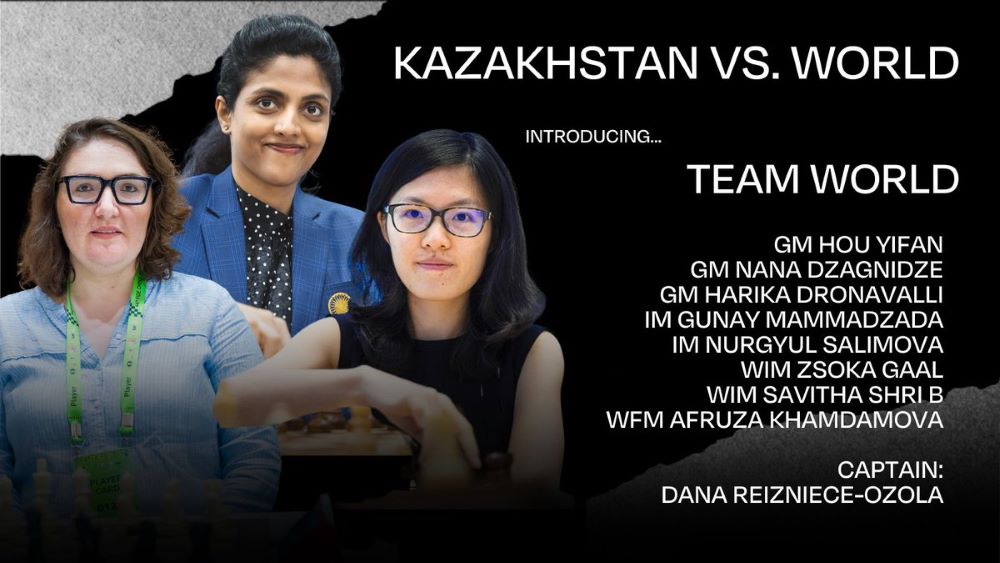 TEAM WORLD (rapid rating)
1. GM Hou Yifan (China, 2618)
2. GM Nana Dzagnidze (Georgia, 2462)
3. GM Harika Dronavalli (India, 2447)
4. IM Gunay Mammadzada (Azerbaijan, 2348)
5. U20 IM Nurgyul Salimova (Bulgaria, 2347)
6. U18 WIM Zsoka Gaal or Savitha Shri B (Hungary, 2187/ India, 2281)
7. U16 WIM Zsoka Gaal or Savitha Shri B
8. U14 WFM Afruza Khamdamova (Uzbekistan, 2135)
Team Captain: WGM Dana Reizniece-Ozola, Deputy Chair of Management Board, FIDE
TEAM KAZAKHSTAN (rapid rating)
1. GM Zhansaya Abdumalik (2454)
2. IM Dinara Saduakassova (2402)
3. IM Bibisara Assaubayeva (2359)
4. WIM Meruert Kamalidenova (2273)
5. U20 WIM Liya Kurmangaliyeva (2152)
6. U18 FM Kseniya Balabaeva (2111)
7. U16 WIM Alua Nurmanova (2193)
8. U14 WFM Zarina Nurgalieva (2070)
Team Captain: WGM Gulmira Dauletova, Executive Director, Kazakhstan Chess Federation
Kurmangaliyeva and Balabaeva came out on top of the special qualification event that was held to determine the spots in the team for this prestigious match.
Team-Composition
1. Kazakhstan (RtgAvg:2255 / TB1: 0 / TB2: 0)
Bo.
Name
Rtg
FED
FideID
Pts.
Games
1
GM
Abdumalik, Zhansaya
2454
KAZ
13703544
0
0
2
IM
Saduakassova, Dinara
2441
KAZ
13700090
0
0
3
IM
Assaubayeva, Bibisara
2359
KAZ
13708694
0
0
4
WIM
Kamalidenova, Meruert
2273
KAZ
13712802
0
0
5
FM
Kurmangaliyeva, Liya
2152
KAZ
13725831
0
0
6
WIM
Balabayeva, Xeniya
2111
KAZ
13719688
0
0
7
WIM
Nurmanova, Alua
2193
KAZ
13729390
0
0
8
WFM
Nurgaliyeva, Zarina
2053
KAZ
13730096
0
0
2. World (RtgAvg:2347 / TB1: 0 / TB2: 0)
Bo.
Name
Rtg
FED
FideID
Pts.
Games
1
GM
Hou, Yifan
2618
CHN
8602980
0
0
2
GM
Dzagnidze, Nana
2462
GEO
13601903
0
0
3
GM
Dronavalli, Harika
2447
IND
5015197
0
0
4
IM
Mammadzada, Gunay
2348
AZE
13403729
0
0
5
IM
Salimova, Nurgyul
2347
BUL
2915138
0
0
6
WIM
Gaal, Zsoka
2187
HUN
777765
0
0
7
WIM
Savitha, Shri B
2228
IND
35061887
0
0
8
WFM
Khamdamova, Afruza
2135
UZB
14210444
0
0
Links
Source: Press Release
---