Gukesh and Mitrabha magnificent at World Rapid 2021
GM D Gukesh played brilliantly at the World Rapid 2021. Despite a slow start 2.0/4, Gukesh bounced back strong and finished at ninth place scoring an impressive 9.0/13 and became the top performer among Indians at the event. He defeated Gelfand, Jobava and was almost on the verge of defeating the eventual champion Abdusattorov. India's latest GM Mitrabha on the other hand made a stellar debut at the event. He scored 8.5/13 to secure 15th place. Both of them finished ahead of Dubov, Vachier-Lagrave, Firouzja, Gelfand, Korobov, Giri and Artemiev. They are the only two Indians to finish in top 30. IM Vaishali R was impressive in her debut at the World Rapid Women 2021 among the Indian women. Photo: Anna Shtourman/FIDE
Mitrabha Guha makes a scintillating debut at the World Rapid
Since 2014, when FIDE World Rapid became an annual event in the calendar, India's 72nd GM Mitrabha Guha has had the best debut at the World Rapid among Indian players. This was also the biggest and strongest tournament he has ever played and he showed no signs of jittery.
D Gukesh 9.0/15
India's youngest GM in history, D Gukesh scored an outstanding 9.0/15 to finish ninth, highest among Indian players. This is the best performance by an Indian player since Anand won the World Rapid in 2017. Previous best before Anand's triumph was Vidit's eighth place finish in 2016. Among the top players, Gukesh beat Tigran L Petrosian (ARM), Boris Gelfand (ISR) and Baadur Jobava (GEO), drew with Gabriel Sargissian (ARM), the eventual champion Nodirbek Abdusattorov (UZB) and three-time World Blitz champion, Alexander Grischuk (RUS). Gukesh's best win was against Gelfand in tenth round.
Gukesh - Gelfand, Round 10
21.Nf4 with a future plan of Nxg6 if an opportunity arises. Little did Gukesh expect that the opportunity would arise immediately as Black went 21...Ng5 22.Nxg5 Qxg5 23.Nxg6 and White gains a healthy and important pawn. It is not over but it definitely gave White a much needed edge. Eventually Gelfand blundered in time scramble and lost the game.
Gukesh's next best win, perhaps more exciting one was in the following round against Jobava.
Jobava - Gukesh, Round 11
23.Nxg7 occured in one of those situations where you feel like it's almost over, so let's throw everything you have, if it sticks then it's good, kind of opposite of a desperado. White had to give up an exchange a couple of moves ago because the rook fell into the crosshairs of both bishops and there was no escape from them. The primary reason 23.Nxg7 sacrifice does not work is because White has too few pieces left to continue the attack and there is nothing definitive. Well there wasn't a better alternative for White either so might as well go all-in. Gukesh accepted the sacrifice 23...Kxg7 and eventually went on to win the game and move to 8.0/11.
Gukesh had a wild game against the eventual champion, Nodirbek Abdusattorov in Round 12.
Gukesh - Abdusattorov, Round 12
23...Nxe5 is definitely the biggest mistake made by Black in the game. Much to his delight, his opponent Gukesh made a bigger one, thus the Uzbek did not have to pay a heavy price for his error. 24.Nxe5 Qxg2+ 25.Ke1 Qg1+ 26.Bf1 Rd5 27.Nf3 Qg7 28.Rc1 Rhd8 29.c6 Qb2 and we get the following position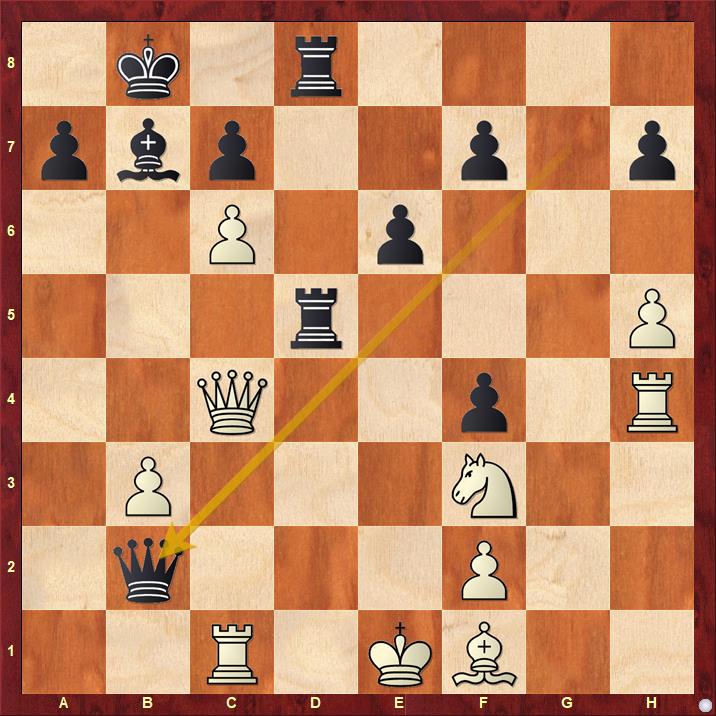 Being down to the last few seconds on the clock, the volatile position was not easy to calculate and White played 30.cxb7 which allowed Black to escape with a draw. Find out how. Also, what was the better continuation for White.
Gukesh had a well-fought draw against Grischuk in the final round of Rapid.
Replay Gukesh's games
Mitrabha Guha 8.5/13
Mitrabha made a slow start 1.0/3 as he mentioned in the post-event interview. He was directly coming from Colombo, Sri Lanka after finishing his Asian Junior 2021 championship with a Silver medal finish. He finished the first day with a modest 50% score 2.5/5, which is not bad considering the circumstances and this was his first appearance at the big leagues. On the second day, he scored 3.5/4, including wins over Aryan Tari (NOR), Rinat Jumabayev (KAZ), Alexandr Predke (RUS) and a draw with none other than World Rapid 2012 champion, Sergey Karjakin (RUS) himself. He defeated Volodymyr Onyschuk (UKR) and Baadur Jobava (GEO) on the final day and finished the event with a draw against Daniil Dubov (RUS).
Mitrabha - Predke, Round 8
There are a lot of pieces on White's queenside, a lot of things are going on. The obvious threat is Bxf2+. Keeping that in mind, find out the best continuation for White.
Apart from several big victories, Mitrabha's two draws against two former World Rapid champions - Sergey Karjakin (RUS) and Daniil Dubov (RUS) was definitely impressive.
Gukesh and Mitrabha's performance despite their rapid rating, raised Sergey Karjakin's eyebrows, who first opined for a solution and later suggested one of his own.
Replay Vidit's games
Replay Abhimanyu Puranik's games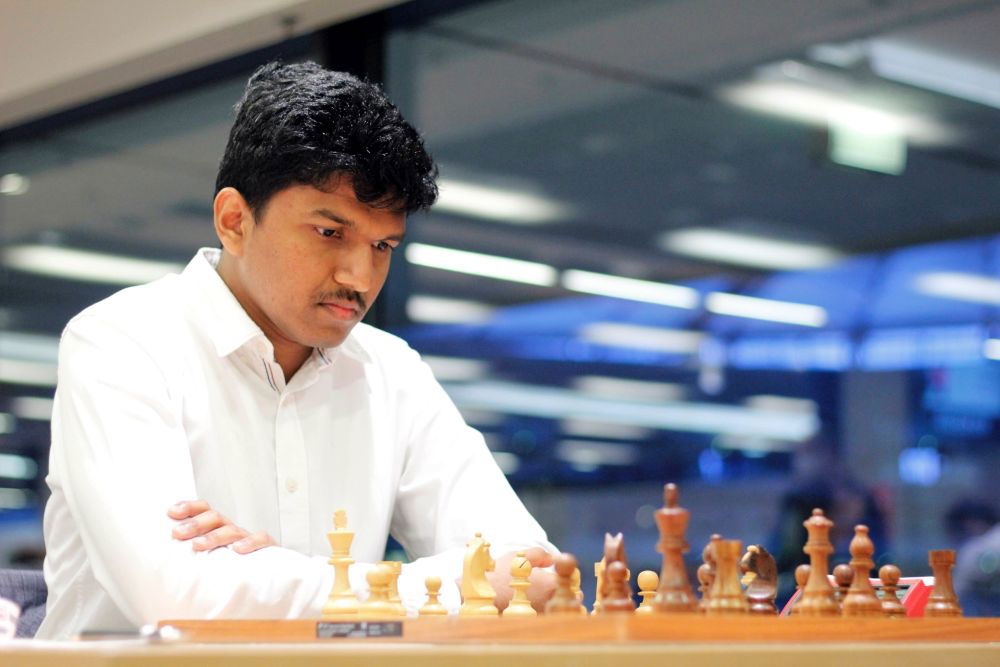 Harsha had a wonderful 3.0/3 start, defeated Mamedov, Kovalev, Onyschuk, Dreev and Adly, drew with Movsesian, Paravyan, Matlakov and Artemiev among notable players. He was also the first Indian to play against Magnus Carlsen at World Rapid 2021 in Round 4. Harsha performed at 2706 and gained 73.6 Elo rating points.
Replay Harsha's games
GM Narayanan S L also made his debut in the FIDE World Rapid. He scored 7.0/13, suffered only two losses, won against Alexander Riazantsev (RUS), Vidit Gujrathi and Giga Quparadze (GEO). He drew eight games in total. The notable ones are against - Anton Korobov (UKR), Ivan Saric (CRO), Anton Demchenko (RUS), Jaime Santos Latasa (ESP), David Howell (ENG) and Pavel Ponkratov (RUS).
Replay Narayanan S L's games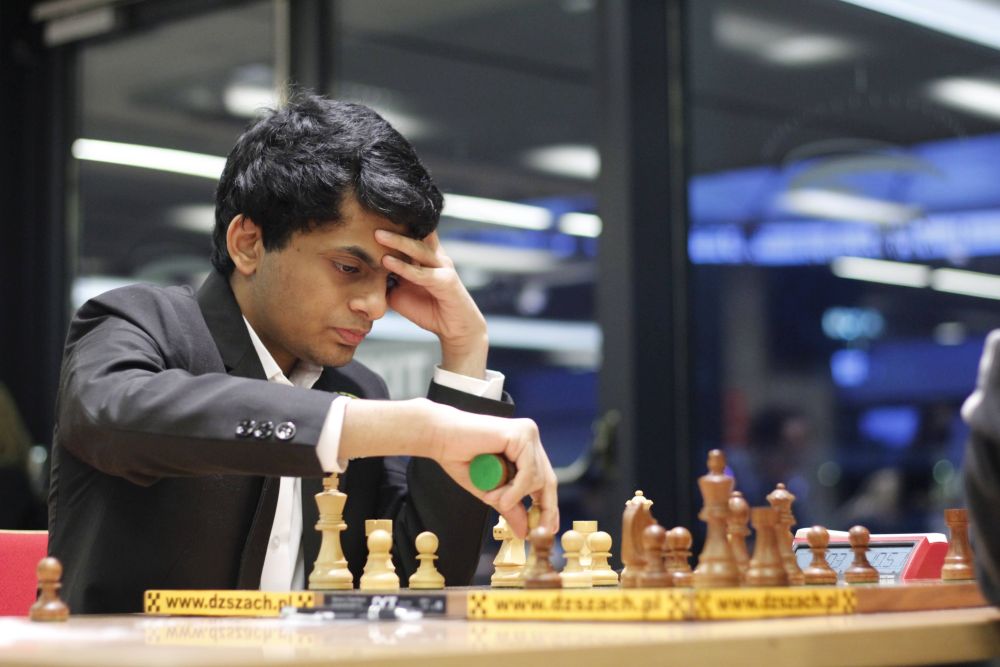 Replay Nihal's games
Sankalp scored an impressive 7.0/13, considering this was his World Rapid debut and he suffered only three losses. He defefeated bullet specialist, GM Andrew Tang (USA) and India no.3 Pentala Harikrishna, drew with Vahap Sanal (TUR), Mateusz Bartel (POL) and Samvel Ter-Sahakyan (ARM) among the notable ones.
Replay Sankalp's games
Replay Harikrishna's games
Arjun Erigaisi made an impressive start 2.5/3, including a draw against the legendary Boris Gelfand (ISR) in the third round. Then he lost his way after suffering four consecutive losses and could not make a comeback.
Replay Arjun Erigaisi's games
Raunak defeated Viktor Erdos (GER), drew with Anton Demchenko (RUS), Aleksey Dreev (RUS), David Howell (ENG), Matthias Bluebaum (GER) and Samvel Ter-Sahakyan (ARM).
Replay Raunak's games
IM Aditya Mittal had a tough debut at the event. He only managed to score 4.0/13 including wins over GM Vadim Zvjaginsev (RUS), GM Darcy Lima (BRA), drew with GM Grzegorz Gajewski (POL) and GM Andrew Tang (USA) among the notable ones.
Replay Aditya Mittal's games
Koneru Humpy 7.5/11
Defending champion Koneru Humpy scored an unbeaten 7.5/11 to finish sixth, highest among Indian women.
Replay Humpy's games
Vaishali R 7.0/14
IM Vaishali R has remained India no.3 among women and did consistently well in various over-the-board and online events for a reason, she has strengthened herself a lot. Her best win was certainly against former Women's World champion, GM Mariya Muzychuk (UKR). She drew with GM Nino Batsiashvili (GEO), GM Elina Daniellan (ARM), GM Antoaneta Stefanova (BUL), GM Aleksandra Goryachkina (RUS) and GM Olga Girya (UKR). Vaishali performed at 2442 and gained 72 Elo rating points.
Vaishali - Mariya, Round 4
21...Qf4 allows White to transpose into a favorable endgame. Find out how.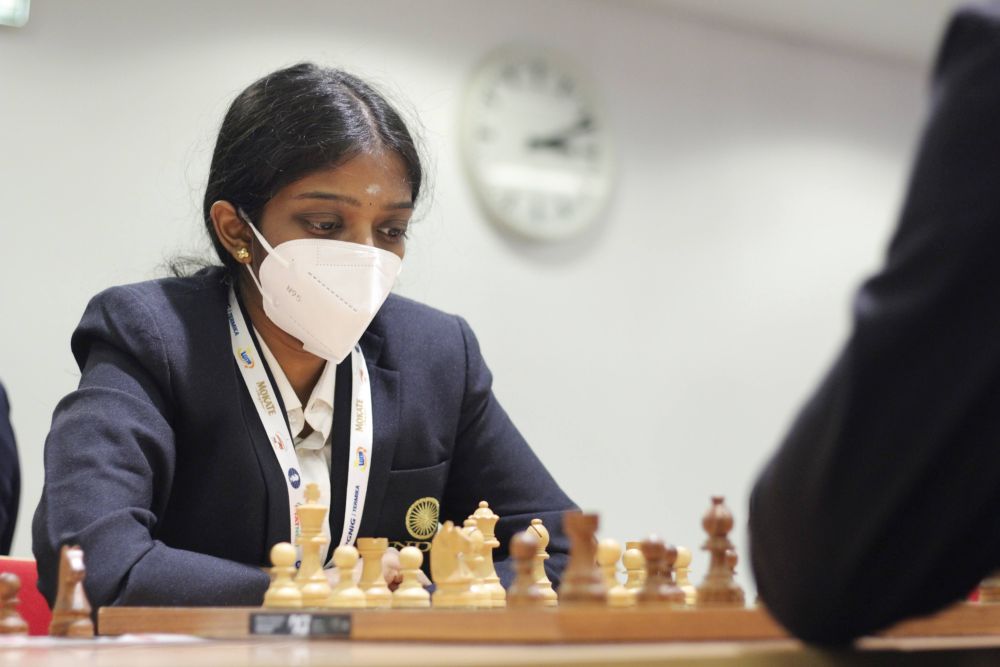 Replay Vaishali's games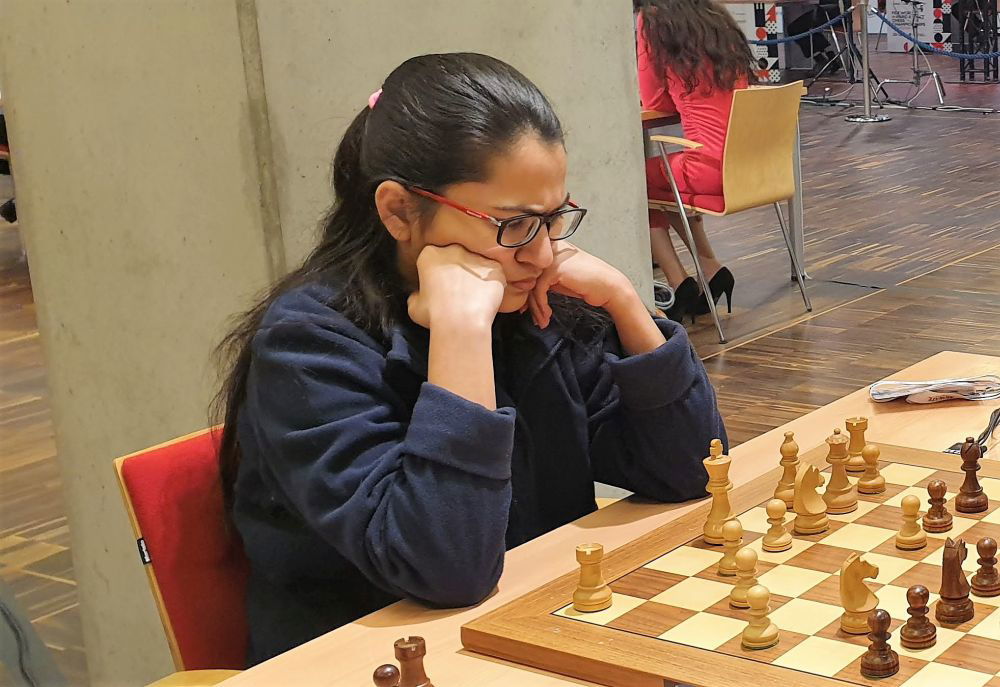 WGM Vantika Agrawal had a great debut at World Rapid Women 2021. She scored 6.0/11, performed at 2283 and gained 111.6 Elo rating points. She beat IM Joanna Dworakowska (POL), IM Klaudia Kulon (POL), IM Evgenija Ovod (RUS) and drew with GM Monika Socko (POL) and IM Anastasia Bodnaruk (RUS).
Replay Vantika's games
Replay Padmini's games
Final standings of all Indian players at World Rapid 2021
| | | | | | | | | | | | | | | | | | | | | |
| --- | --- | --- | --- | --- | --- | --- | --- | --- | --- | --- | --- | --- | --- | --- | --- | --- | --- | --- | --- | --- |
| SNo | | Name | Rtg | FED | 1 | 2 | 3 | 4 | 5 | 6 | 7 | 8 | 9 | 10 | 11 | 12 | 13 | Pts. | Rk. | Group |
| 18 | GM | Harikrishna Pentala | 2705 | IND | 0 | ½ | ½ | 1 | 0 | 0 | ½ | 1 | ½ | 0 | 1 | ½ | 1 | 6,5 | 99 | Open |
| 44 | GM | Vidit Santosh Gujrathi | 2629 | IND | 1 | 1 | 0 | 1 | ½ | 0 | ½ | 0 | ½ | ½ | ½ | 1 | 1 | 7,5 | 45 | Open |
| 107 | GM | Nihal Sarin | 2500 | IND | ½ | ½ | 1 | 1 | 0 | 0 | ½ | ½ | ½ | 1 | 1 | ½ | 0 | 7,0 | 65 | Open |
| 110 | GM | Harsha Bharathakoti | 2484 | IND | 1 | 1 | 1 | 0 | ½ | ½ | 0 | 1 | ½ | ½ | 0 | 1 | 0 | 7,0 | 60 | Open |
| 111 | GM | Narayanan.S.L | 2482 | IND | ½ | ½ | ½ | 1 | ½ | ½ | ½ | 1 | 0 | ½ | 1 | ½ | 0 | 7,0 | 64 | Open |
| 113 | GM | Puranik Abhimanyu | 2472 | IND | ½ | 0 | ½ | ½ | 1 | 0 | 1 | 1 | 1 | 1 | 0 | 0 | 1 | 7,5 | 55 | Open |
| 119 | GM | Sadhwani Raunak | 2454 | IND | ½ | 0 | 1 | ½ | ½ | ½ | 0 | 1 | 0 | ½ | 1 | 0 | 0 | 5,5 | 127 | Open |
| 141 | GM | Erigaisi Arjun | 2397 | IND | 1 | 1 | ½ | 0 | 0 | 0 | 0 | 1 | ½ | 0 | ½ | 1 | ½ | 6,0 | 110 | Open |
| 165 | IM | Sankalp Gupta | 2266 | IND | ½ | 0 | ½ | 0 | 0 | 1 | 1 | 1 | ½ | 1 | 0 | ½ | 1 | 7,0 | 70 | Open |
| 173 | IM | Mitrabha Guha | 2107 | IND | 0 | 1 | 0 | 1 | ½ | 1 | 1 | 1 | ½ | 1 | 0 | 1 | ½ | 8,5 | 15 | Open |
| 174 | GM | Gukesh D | 2050 | IND | 1 | 0 | 1 | 0 | 1 | ½ | ½ | 1 | 1 | 1 | 1 | ½ | ½ | 9,0 | 9 | Open |
| 176 | IM | Aditya Mittal | 1488 | IND | 1 | 0 | 0 | ½ | 1 | 0 | 0 | 0 | 0 | ½ | ½ | ½ | 0 | 4,0 | 164 | Open |
| 7 | GM | Koneru Humpy | 2483 | IND | ½ | ½ | 1 | ½ | 1 | 1 | 1 | ½ | ½ | ½ | ½ | | | 7,5 | 6 | Women |
| 8 | GM | Harika Dronavalli | 2475 | IND | 0 | 0 | 0 | 0 | 0 | 0 | 0 | 0 | 0 | 0 | 0 | | | 0,0 | 102 | Women |
| 25 | IM | Padmini Rout | 2337 | IND | ½ | 1 | 0 | ½ | ½ | ½ | 1 | 1 | 0 | ½ | 0 | | | 5,5 | 49 | Women |
| 49 | IM | Vaishali R | 2201 | IND | 1 | ½ | 1 | 1 | 0 | ½ | ½ | 1 | ½ | ½ | ½ | | | 7,0 | 14 | Women |
| 98 | WGM | Vantika Agrawal | 1729 | IND | 1 | 0 | 1 | ½ | 0 | 0 | 1 | 1 | 1 | 0 | ½ | | | 6,0 | 38 | Women |
Links
Tournament Regulations: Open and Women
---