World Blitz 2021 Day 1: Arjun Erigaisi draws with Magnus Carlsen, Vaishali and Humpy eye the title
Arjun Erigaisi and Vaishali R are the Indian players who had a fantastic first day in World Blitz 2021 Open and Women's section respectively. While Arjun scored a uber impressive 8.5/12, Vaishali was no less 7.5/9. She is just a half point behind the leader IM Bibisara Assaubayeva (KAZ). Humpy is also in the title fray 7.0/9. She will face the newly crowned World Women's Rapid 2021 winner, Kosteniuk in the next round. Magnus has already lost three games. The last time he lost three or more games at World Blitz was back in 2015 which Grischuk won. Abhimanyu Puranik is so far the only person who has beaten the sole leader, Levon Aronian 10.0/12. Who do you think will win World Blitz 2021 in Open and Women's section? Final day of World Blitz 2021 starts today at 6:30 p.m. IST. Photo: Anna Shtourman/FIDE
Arjun Erigaisi is now World no.10 in Blitz
Arjun Erigaisi finally got an opportunity to play against Magnus Carlsen in over-the-board. He did not squander his opportunity. In fact, he was very impressive in his draw against the world champion. Magnus' World Blitz title is in serious jeopardy as he is 1.5 points behind the sole leader Aronian and has only nine rounds to catch up.
Arjun Erigaisi 8.5/12
India no.1 in Blitz, GM Arjun Erigaisi was clearly the best Indian performer of the day as he scored 8.5/12, suffering only one loss against GM Samvel Ter-Sahakyan (ARM), most importantly drew with the reigning World Classical and Blitz champion, Magnus Carlsen (NOR) in the final round of the day. Arjun was never in any real danger, and he managed to hold his own against the world champion, in their first ever over-the-board encounter.
Nihal Sarin 7.5/12
Nihal Sarin might have scored a good 7.5/12, however he is yet to show a spark he is known for, or face a stiff challenge in the Blitz event so far. Day 2 might change that. His best win so far was against Sanan Sjugirov in Round 11.
Vidit Gujrathi 7.5/12
Vidit's highlight of the day would definitely be to beat France no.2 Maxime Vachier-Lagrave
Vidit - Vachier-Lagrave, Round 4
24...Nc7 is the minute yet decisive mistake made by Black. Can you find out why? 24...Ne7 would have kept Black in the game slightly longer.
Pentala Harikrishna 7.0/12
Harikrishna made a steady start 7.0/12 including a draw with Hikaru Nakamura in Round 6.
Harsha Bharathakoti 6.5/12
Last edition's top Indian performer at World Blitz 2019, GM Harsha Bharathakoti had an impressive day at the office. Among the top players, he defeated Richard Rapport (HUN) and Kirill Shevchenko (UKR), drew with the newly crowned World Rapid 2021 champion, Nodirbek Abdusattorov (UZB).
The win against Kirill Shevchenko in Round 10 is a must-see for French Defense players. One must take every opportunity they get.
Shevchenko - Harsha, Round 10
Black showed that there is nothing to worry about 17.Nd6+ as Bxd6 18.exd6 Qa5 19.Qb3 Nxb1 gains an exchange and White does not have enough compensation for it. 19.Bd2 Nxd1 20.Bxa5 was still a better choice for White.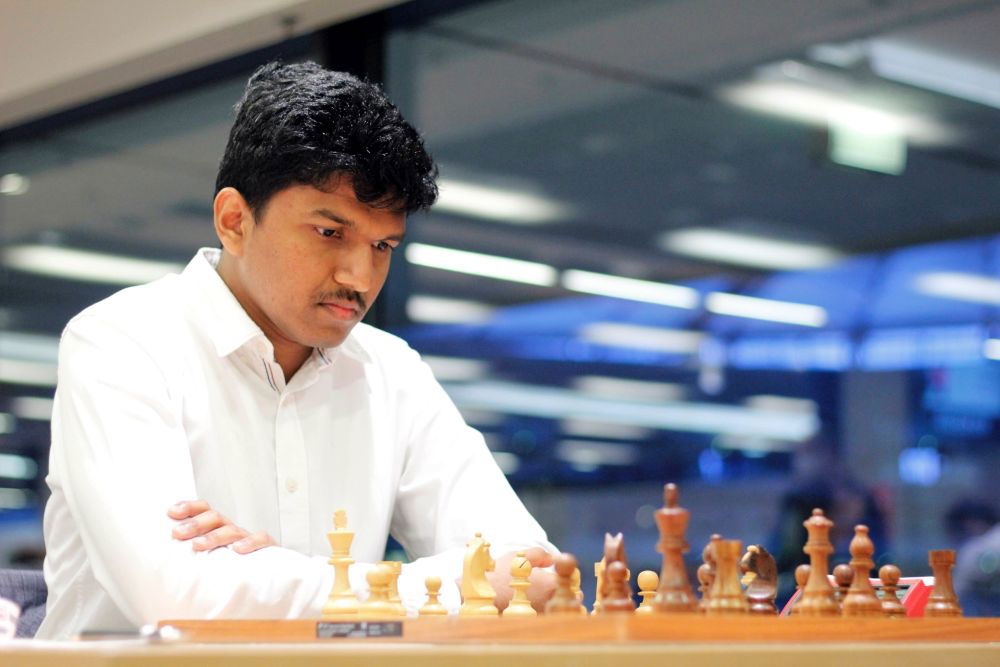 Gukesh 6.5/12
After a fantastic ninth place finish in Rapid, Gukesh made a slow start in Blitz, scoring only 2.0/7. Although among those two wins, one of them was against Spain no.3 David Anton Guijjaro. In the last five rounds of the day, he scored 4.5 points including wins over Aryan Tari (NOR) and Mikhail Demidov (RUS), also a draw with Baadur Jobava (GEO).
Abhimanyu Puranik 6.5/12
Abhimanyu made a brilliant start 4.5/5. He is the only person to beat the tournament sole leader, Levon Aronian (USA) in Round 5. He also defeated Anish Giri (NED), drew with Hikaru Nakamura (USA) and Baadur Jobava (GEO).
Abhimanyu - Aronian, Round 5
If 19...f6 created a chink in Black's armor, then 21..f5 just removed it completely. White started grabbing a bunch of pawns starting with 22.Bxc6 Qxc6 23.cxb6 axb6 24.Rxe5 and eventually he ended up having two extra pawns which was enough to beat Aronian.
Vaishali R 7.5/9
IM Vaishali R had a fantastic day as she scored 7.5/9 and now just a half point behind the leader Bibisara 8.0/9. Her wins include against former Women's World Champion, GM Mariya Muzychuk, GM Valentina Gunina & IM Polina Shuvalova. She checkmated Gunina in just 20 moves.
Koneru Humpy 7.0/9
Humpy scored 7.0/9, suffering only one loss and drew two games. Her best win of the day has to be against Aleksandra Goryachkina (RUS) in Round 9.
Video Gallery
Replay Blitz Open Round 1-12 games
Replay Blitz Women Round 1-9 games
Round 12 results Blitz Open
Round 13 pairings Blitz Open
Round 9 results Blitz Women
Round 10 pairings Blitz Women
Replay the Live Stream
Links
Tournament Regulations: Open and Women
---