Harika wins $15,000 at Belt and Road Women Open 2019 in China
Harika made a strong comeback in Belt and Road Women Open 2019 and won the Bronze. She did not have the perfect start. In fact after six rounds she was only on 3.5 points. Then she turned things around and won her seventh and eighth round games. Her best came against former Women's World champion GM Alexandra Kosteniuk in the penultimate round. In the last round, she made a quick draw against the eventual champion who is also a former Women's World champion GM Antoaneta Stefanova. Among the other Indians, IM Soumya Swaminathan scored 5.0/9 and finished 11th, WIM Pratyusha Bodda finished at 19th by scoring 4.5/9 and WIM Rucha Pujari netted 3.5/9 securing 28th place. Photo: Harika's fb
Harika's harmonic finish at the Belt and Road Women's 2019
India no.2 GM Harika Dronavalli did not have the perfect start as she made five consecutive draws from round 2 to 5. However that did not stop the fighter in Harika to make a strong comeback and finish 3rd, bagging home US$15000 at the Belt and Road Women's tournament 2019 in China.
Speaking to ChessBase India after the tournament was over Harika said, "It's something new to play, a women open tournament. That's already a good news for women's chess especially with such a huge prize money. Organization was just brilliant. I hope this tradition continues every year." After five draws how did Harika get into the groove to score two wins against strong playes like Gulrukhbegim and Kosteniuk? "I got really tired of draws. It's not like I didn't take risk but even if it was winning or losing, finally it used to end up in a draw. After rest day, I started afresh and played it like a new tournament. Luckily everything worked in my favor."
SA: Which is your best game of the tournament?
HD: Definitely Kosteniuk game is best but I also like the finish of the game with Tokhirjonova.
Here are the best games of Harika, annotated by IM Sagar Shah.
Harika vs Kosteniuk, Round 8
The move played by Harika was 24.e6! A beautiful case of interference. The rooks cannot take it as the bishop on d5 would be hanging. But at the same time, taking it with the pawn is impossible as the rook on e8 is hanging. Bxe6 is met with d5 as in the game and Harika finished the game with a flourish.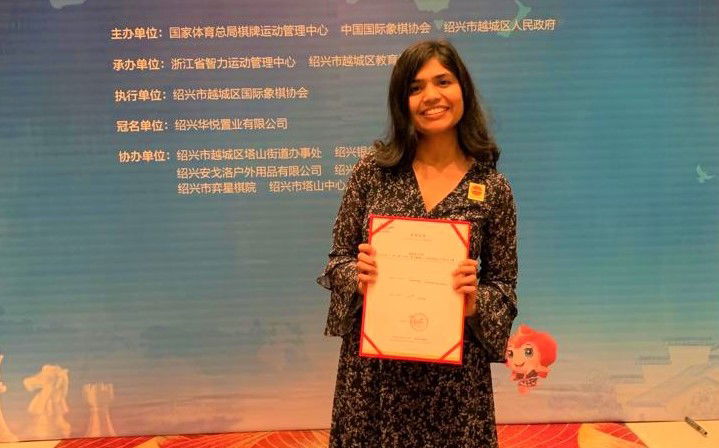 Here is Soumya's final round win against Li Xueyi:
Soumya vs Li Xueyi, round 9
Stefanova vs Girya, round 7
Of course, ....Qf5 is the right move. White has the initiative for the pawn but nothing more. In the game something quite weird happened.
Round 9 results
Final Standings
| | | | | | | | | | | | |
| --- | --- | --- | --- | --- | --- | --- | --- | --- | --- | --- | --- |
| Rk. | SNo | | Name | sex | FED | Rtg | Pts. | TB1 | TB2 | TB3 | TB4 |
| 1 | 7 | GM | Stefanova Antoaneta | w | BUL | 2474 | 7,0 | 2428 | 37,5 | 46,5 | 5 |
| 2 | 17 | IM | Guo Qi | w | CHN | 2375 | 6,0 | 2479 | 38,0 | 47,0 | 3 |
| 3 | 5 | GM | Harika Dronavalli | w | IND | 2492 | 6,0 | 2409 | 34,5 | 46,0 | 3 |
| 4 | 13 | IM | Munguntuul Batkhuyag | w | MGL | 2412 | 6,0 | 2391 | 35,5 | 46,0 | 4 |
| 5 | 10 | GM | Ushenina Anna | w | UKR | 2448 | 5,5 | 2461 | 36,0 | 45,0 | 2 |
| 6 | 9 | WIM | Zhu Jiner | w | CHN | 2454 | 5,5 | 2438 | 36,5 | 48,0 | 3 |
| 7 | 1 | GM | Kosteniuk Alexandra | w | RUS | 2517 | 5,5 | 2431 | 37,5 | 47,0 | 3 |
| 8 | 8 | WGM | Girya Olga | w | RUS | 2457 | 5,5 | 2401 | 36,0 | 47,5 | 3 |
| 9 | 2 | GM | Dzagnidze Nana | w | GEO | 2511 | 5,5 | 2361 | 35,5 | 45,5 | 3 |
| 10 | 14 | WGM | Ni Shiqun | w | CHN | 2407 | 5,0 | 2421 | 35,5 | 46,0 | 2 |
| 11 | 15 | WGM | Soumya Swaminathan | w | IND | 2402 | 5,0 | 2407 | 36,0 | 46,0 | 3 |
| 12 | 3 | GM | Tan Zhongyi | w | CHN | 2511 | 5,0 | 2391 | 35,0 | 44,5 | 3 |
| 13 | 6 | IM | Khademalsharieh Sarasadat | w | IRI | 2481 | 5,0 | 2341 | 32,0 | 40,5 | 3 |
| 14 | 16 | WFM | Munkhzul Turmunkh | w | MGL | 2386 | 5,0 | 2334 | 31,0 | 38,0 | 4 |
| 15 | 4 | GM | Lei Tingjie | w | CHN | 2505 | 5,0 | 2318 | 32,0 | 41,0 | 3 |
| 16 | 11 | GM | Batsiashvili Nino | w | GEO | 2433 | 5,0 | 2246 | 28,0 | 36,0 | 3 |
| 17 | 18 | | Li Xueyi | w | CHN | 2330 | 4,5 | 2435 | 36,5 | 47,0 | 3 |
| 18 | 26 | | Zhang Lanlin | w | CHN | 2195 | 4,5 | 2413 | 34,5 | 42,0 | 4 |
| 19 | 21 | WIM | Pratyusha Bodda | w | IND | 2265 | 4,5 | 2402 | 33,5 | 43,0 | 3 |
| 20 | 12 | WGM | Tokhirjonova Gulrukhbegim | w | UZB | 2422 | 4,5 | 2398 | 33,5 | 43,5 | 4 |
---