Belt and Road Women Open Round 1-3: Four-way lead
WGM Gulrukhbegim Tokhirjonova, GM Antoaneta Stefanova, IM Batkhuyag Munguntuul and WIM Zhu Jiner are in a four-way lead having 2.5/3 at the conclusion of round 3 in Belt and Road Women International Open held in Shaoxing, China. Among the Indians, IM Soumya held GM Harika to a draw in round 3, before that she drew with former Women's World Champion GM Stefanova to a draw in round 2. WIM Pratyusha Bodda defeated IM Sara Khadem in round 3 after the latter made a tactical blunder. Pratyusha also defeated GM Lei Tingjie in round 1. WIM Rucha Pujari made a brilliant start of the tournament by defeating former Women's World Champion GM Tan Zhongyi. Photos: Misty Pine/China Intelligence Sports Network
Soumya and Pratyusha make a good start
Soumya drew with former Women's World Champion GM Antoaneta Stefanova in round 2 and she held her compatriot GM Harika Dronavalli to a draw in round 3 after Soumya thwarted Harika's all attempts to stir up trouble for her.
Round 1
In Two-Knight's Defence, Rucha decided to opt for a pawn sacrifice to gain initiative.
Tan Zhongyi - Rucha Pujari, Round 1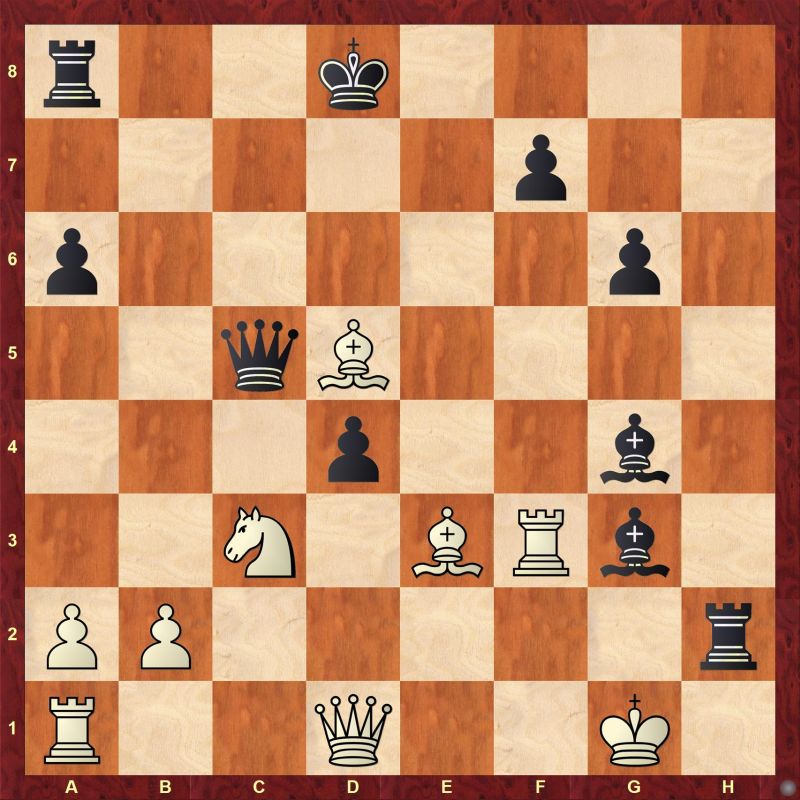 Pratyusha played a very simple and solid game against Tingjie in Nimzo-Indian Defence. She capitalized on the tiny but fatal mistake made by Tingjie in the endgame and the converted it into a win with ease.
Pratyusha - Tingjie, Round 1
Round 2
Soumya opted for Scotch Game with white pieces and looked to create opportunities against the much experienced Stefanova, she did not budge and the game eventually ended up in a draw with both sides having a lone rook each.
Round 3
In Queen's Gambit Declined, Pratyusha kept pushing and Sara made sure no damage occur, until she made a tactical error.
Pratyusha - Sara, Round 3
The tournament is taking place at Shoaxing city in China from 8th July and it will get over on 17th July with 14th July being the rest day. Every day one round of game is played 2 p.m. local time (11:30 a.m. IST). Total Prize fund is $119000.
Round 3 results
Round 4 pairings
---