GCT Paris Day 3: Anand finishes joint fourth; So leads going into the blitz
Just like in Leuven, Wesley So managed to finish on top of the leaderboard in the rapid section of the Grand Chess Tour in Paris. Scoring 12/18, So is ahead of his nearest rivals, Hikaru Nakamura and Sergey Karjakin, by a one-point margin. Meanwhile, Vishy Anand played some really enterprising chess to finish joint fourth on the leaderboard. He finished with two draws and a loss out of his three games but his games were entertaining and hard-fought, especially the one against Nakamura. We have a report with games and pictures.
Wesley dominates the rapids again
On the final day of Rapid chess at the Paris leg of the Grand Chess Tour, tournament leader, Wesley So drew all of his games. This allowed a lot of his chasers to come extremely close to catching up with him. But a final round draws by Hikaru Nakamura and Sergey Karjakin – who were his nearest rivals – ensured that the Filipino-American grandmaster kept his lead with a minimal margin of one point.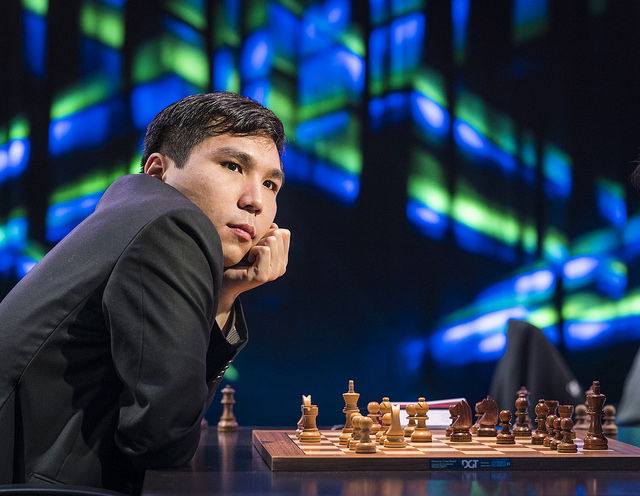 In the meanwhile, Viswanathan Anand scored only one point to finish tied for the fourth place. In his three games of the day, Anand scored two draws and lost a game to Hikaru Nakamura in the penultimate round.
Anand's adventures
Anand, who had played almost all of his games in a slightly uninspired manner on the second day, tried hard to not only spice up his games but also carve out a few wins to improve his overall standing. It's not right to say he was successful in scoring wins, but his games were indeed much more entertaining.
In the first round of the day, however, Anand was caught in some nice opening preparation by Alexander Grischuk in the topical Anti-Berlin. Anand did not react well and could have ended up in a seriously worse position had he not bailed out by giving up an exchange. And even despite this desperate attempt, Anand's position wasn't fully safe. But in his subsequent moves, Grischuk also made some inaccuracies, giving Anand more than just enough piece play to compensate for his material disadvantage. By the 30th move, Grischuk was forced to give back the exchange in order to avoid getting mated. Grischuk also traded his two bishops for Anand's active knights eventually and liquidated to a pure rook endgame where he had an extra pawn. Anand, however, defended precisely and a draw was agreed on the 52nd move
Round eight, the penultimate round, pitted Anand against Hikaru Nakamura, with whom he was sharing the joint fourth spot since the end of day 2. A decisive result would have meant one player getting ahead of the other and this turned out to be an utterly fascinating encounter.
With black, Nakamura Opened with a Pirc Defence which eventually transposed into a King's Indian. Anand played very enterprisingly in the middle game, giving up an exchange on his 26th turn and then his queen for a rook and a knight on move 30.
Practically, the exchange sacrifice was a good one but the immediate queen sacrifice that followed took the sting out of white's attack. Anand still had a nice passed pawn on the queen's file and his subsequent play clearly indicated that the Indian ace wanted to find the perfect piece setup before pushing the pawn with decisive effect. His big problem, however, was that his king was too weak. Anand found a clever solution to this in walking his king all the way to the other side of the board. Nakamura, realizing that his compensation might evaporate, plunged in with his king on the kingside to harvest some pawns.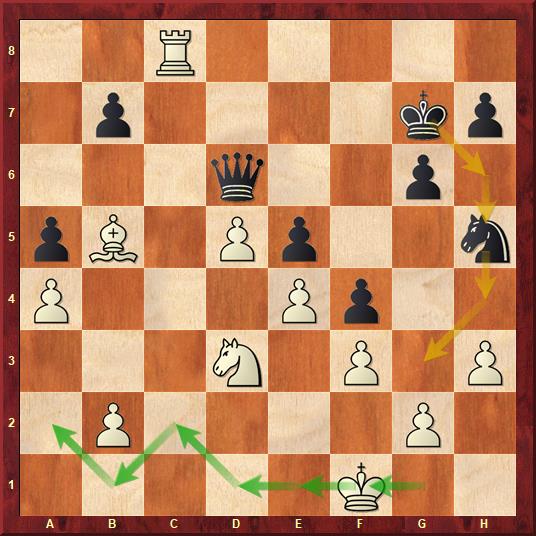 Vishy, in the meantime, had made all preparations to get his pawns rolling but made a big error on his 45th move by taking Nakamura's pawn one move too early. This gave Nakamura a chance to generate a strong checkmating attack against the white king with his with his queen and his queenside pawns. Anand tried to defend with his pieces but, in doing so, lost his passed queen's pawn. The resulting position had left Nakamura completely winning. Anand's passer was hacked off the board and now Nakamura threatened to queen his extra pawns, while also keeping an eye on the possibility of rekindling his attack on the white king. Down on material and having lost all his trumps, Anand could do very little. He resigned immediately after losing his queen's pawn.
After the game, Nakamura said that the endgame was really double edged: "At some point he was winning, but it was very tricky to play for both sides, as I think. So, a little bit lucky but I felt that I defended pretty well. So, I think I did pretty well."
In the finale, the Indian ace was to go head to head against the tournament leader, Wesley So. The result of this game had the potential to completely change the leaderboard standings. Anand seemed to be very well prepared from the very start and was seen blitzing out his moves with the black pieces in the opening phase of a London System. But as play progressed most pieces were simply hacked off the board. Before move 25, everything except a knight, a bishop and a few pawns was traded off. Players played the ensuing endgame for another 25 moves but the result of the game was never in doubt.
With this draw, Anand finished tied for fourth while Wesley retained his pole position going into the blitz. Wesley is a full point ahead of his nearest rivals but, as was seen in Leuven, things could change really fast in the blitz. Moreover, So doesn't have the humongous three point advantage that he did in Leuven. It will be interesting, therefore, to see how blitz will change the course of the tournament.
Standings
All Games
About the Author
Aditya Pai is an ardent chess fan, avid reader, and a film lover. He holds a Master's in English Literature and used to work as an advertising copywriter before joining the ChessBase India team.
Previous reports
Paris GCT Day 1: Anand beats Kramnik!
GCT Paris Day 2: Anand slips to the fifth spot with three straight draws

---