GCT Paris Day 2: Anand slips to the fifth spot with three straight draws
Viswanathan Anand was co-leading the Paris leg of the Grand Chess Tour after the first day with a nice win in the second round against Vladimir Kramnik. But on day two, the Indian ace was unable to pull out a win while his rivals sped past him in terms of score. However, Anand hasn't lost a game either; he concluded day two with three straight draws. Going into the final day of the rapids, Anand, with a score of 3.5/9, remains a full point behind leader Wesley So. Aronian and Karjakin are also half-a-point ahead of him at 4.0/10.
Day 2
Having drawn in the final round of the first day, Anand entered day two as one of the leaders of the tournament. But by the time day two came to a close, the Indian ace found himself on the fifth spot on the leaderboard, a full point behind Wesley So who was co-leading the tournament with Anand at the start of the day. It wasn't that Anand had played badly in the course of the day; his play just seemed jaded. Meanwhile, Wesley So pulled out two wins and a draw out of his three games to steer a point past Anand.
Much like in the final round of the first day, Anand's fourth-round game against Karjakin was a sedate draw. With the white pieces in a Berlin Defence, Anand avoided going into an endgame by not choosing the main line. However, queens were traded anyway on the 11th move and this was followed by the exchange of two more sets of minor pieces. The resulting position hardly offered any chances to either side. After shuffling around for a few moves, players decided to draw by mutual agreement.
The fifth round game against Caruana wasn't much different either. This game also began with an Anti-Berlin. Even though this game didn't feature an early queen trade, other pieces were traded in mass. By the seventeenth move, an equal position was reached where white had a queen and two bishops against Black's queen, bishop and knight. Caruana tried to make something of his bishop pair but the position hardly offered much. On his 39th move, Anand settled matters once and for all giving up his bishop to achieve perpetual checks.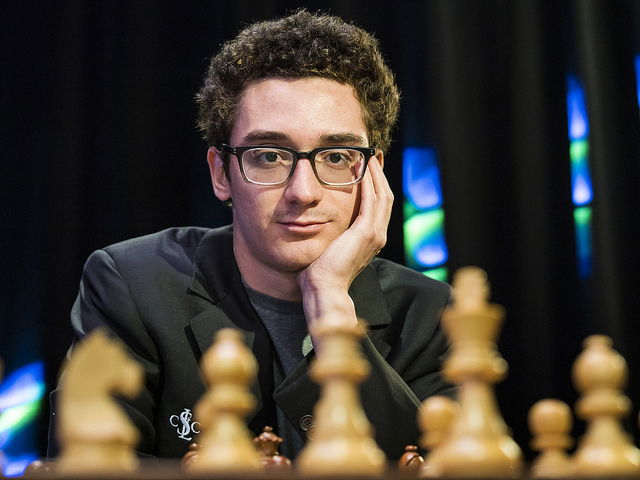 Anand had the white pieces in the final game of the day against Maxime Vachier-Lagrave. In the previous leg of the tour, Anand had lost to Vachier Lagrave. In Paris, Anand was in a much better state in terms of form. The Frenchman answered Anand's king's pawn opening with his favourite Sicilian Najdorf. And, as could have been expected, Vachier-Lagrave had some new tricks in the opening for his Indian opponent. Out of the opening, he was able to equalize and even get a better position eventually. The queen exchange induced by Anand on the 29th turn had left him with a structural weakness. And even though Anand was able to exchange another pair of rooks following this, Vachier-Lagrave was definitely the one pushing for a win.
Anand had, however, correctly assessed that this was safe. Vachier-Lagrave tried making progress by creating a passed pawn on the kingside but Anand simply gave up a pawn temporarily to hold the position to equality. In the series of moves that followed, players exchanged everything until bare kings remained on the board.
With all three of his games drawn on day two, Anand was overtaken by both of his rivals – Wesley So and Levon Aronian – as he slipped down to the number five spot. While Aronian drew two and won one to keep the second spot, Wesley So won back to back games in the first two rounds and drew his last round game to establish a half point lead over the field. Sergey Karjakin also won two games on the second day to catch Aronian in the second place while Hikaru Nakamura caught up with Anand scoring one win and two draws.
Standings
All Games
About the Author
Aditya Pai is an ardent chess fan, avid reader, and a film lover. He holds a Master's in English Literature and used to work as an advertising copywriter before joining the ChessBase India team.
Previous reports
Paris GCT Day 1: Anand beats Kramnik!

---