Paris GCT Day 1: Anand beats Kramnik!
Vishy Anand is the master of making comebacks. After not playing so well at the Leuven leg of the Grand Chess Tour and finishing at the bottom of the table, Anand came out strong in the Paris leg and after first day of rapids, he is the joint leader. Anand scored two draws and one win. The draws came against Mamedyarov and Aronian, while the win was against Vladimir Kramnik! The game between Anand and Kramnik was a tense encounter where the Indian champion managed to weave some excellent tactics around the Russian's king. In the end Kramnik blundered a rook and resigned the game.
After a pretty disappointing finish in Leuven, the current World Rapid Champion Vishy Anand was in Paris for the start of the second leg of the Grand Chess Tour. Anand has a habit of making comebacks every time he is pushed back! It came as no surprise that he played excellent chess to score four points in three rounds (a win counts for two points) and end the day one of Paris Rapid as a joint leader. On his way to joint lead Anand drew his games against Mamedyarov and Aronian and beat his long time rival Vladimir Kramnik.
Round 1: Anand draws against Mamedyarov with the black pieces
Round 2: Anand beats Kramnik
Round 3: Aronian vs Anand - Draw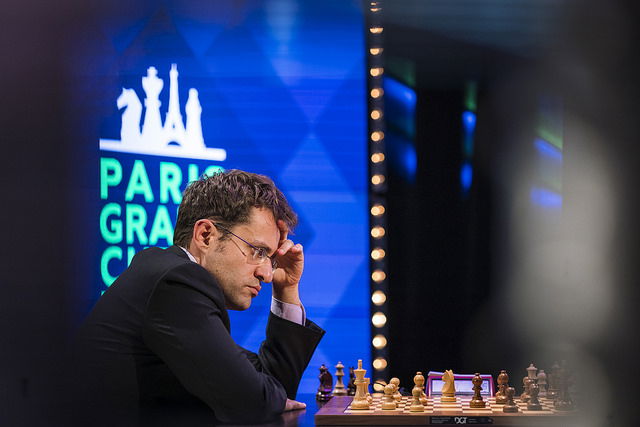 The players are all the same like the Leuven leg of the Grand Chess Tour. Just that Vladimir Kramnik has replaced Anish Giri. The tournament will be played in the format of nine rapid games, followed by 9 games of blitz. It will be interesting to see how Anand fares here! We have our fingers crossed.
Paris GCT 2018-Rapid - Table
| Rk. | | Name | Rtg. | Nt. | Pts. | n | 1 | 2 | 3 | 4 | 5 | 6 | 7 | 8 | 9 | 10 | TB | Perf. |
| --- | --- | --- | --- | --- | --- | --- | --- | --- | --- | --- | --- | --- | --- | --- | --- | --- | --- | --- |
| 1 | GM | | 2822 | | 2.0 | 3 | | | | | | | | | | | 3.25 | 2904 |
| 1 | GM | | 2795 | | 2.0 | 3 | | | | | | | | | | | 3.25 | 2931 |
| 3 | GM | | 2763 | | 2.0 | 3 | | | | | | | | | | | 1.50 | 2890 |
| 4 | GM | | 2766 | | 1.5 | 3 | | | | | | | | | | | 3.00 | 2787 |
| 5 | GM | | 2813 | | 1.5 | 3 | | | | | | | | | | | 2.50 | 2771 |
| 6 | GM | | 2775 | | 1.5 | 3 | | | | | | | | | | | 2.25 | 2800 |
| 7 | GM | | 2743 | | 1.5 | 3 | | | | | | | | | | | 2.00 | 2791 |
| 8 | GM | | 2783 | | 1.5 | 3 | | | | | | | | | | | 1.25 | 2764 |
| 9 | GM | | 2777 | | 1.0 | 3 | | | | | | | | | | | 1.00 | 2628 |
| 10 | GM | | 2753 | | 0.5 | 3 | | | | | | | | | | | 0.50 | 2501 |
Replay all the games:
---