Fagernes GM Open 2023 R7: Abhimanyu Puranik gains sole lead
GM Abhimanyu Puranik scored an emphatic victory over IM Elham Abdulrauf (NOR) in the seventh round of Fagernes GM Open 2023. He has gained a sole lead 6/7. Four players - GM Vahap Sanal (TUR), GM Samvel Ter-Sahakyan (ARM), IM Tor Fredrik Kaasen (NOR) and GM Aditya Mittal are trailing by a half point at 5.5/7 each. IM Vantika Agrawal bounced back with a victory over Shazil Shehzad (NOR). She is currently the highest scoring female player 5/7. Abhimanyu will face Tor Fredrik and Aditya will be up against Samvel in the penultimate round. IM Kushagra Mohan won the Fagernes Slow Blitz 2023. Round 8 starts today at 1 p.m. local time, 4:30 p.m. IST. Photo: Anniken Vestby/SjakkTromsø
Kushagra Mohan dominates Fagernes Slow Blitz 2023
IM Kushagra scored an unbeaten 6/7 and finished a full point ahead of the competition to win Fagernes Slow Blitz 2023. Four players scored 5/6. IM Emin Ohanyan (ARM) and FM Edvin Trost (SWE) secured second and third place according to tie-breaks. Kushagra won against both of them. All three podium finishers are teenagers. They are born between 2004 and 2007. Group A was only for players rated above 1800. The time control of the event was 5 minutes + 3 seconds increment. Hence it is called slow blitz. Fagernes Blitz II will take place today from 7:30 p.m. local time, 10:30 p.m. IST. The nine-round event will have the time control of 3 minutes + 2 seconds.
Elham - Abhimanyu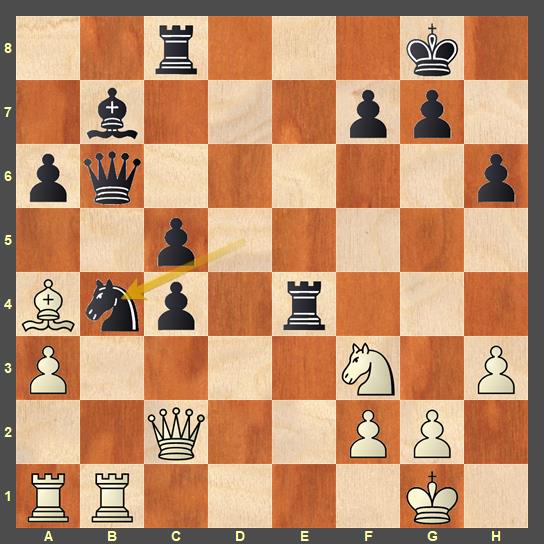 GM Abhimanyu Puranik (2599) gobbled up two pawns in consecutive moves 23...Rxe4 24.Reb1 Nxd5. Then he decided to give up his knight for another pawn and improve his pawn structure on the queenside against IM Elham Abdulrauf (2519). 25.Qc2 Nb4! 26. Qc3 Nd5 27.Qc2 Nb4 after repeating the moves to gain time, Black went 28...a5 29.Bc2 Re2. White is almost left without a choice but to take the knight. 30.axb4 cxb4 ensuring he gets the best connected pawns on the queenside and all three remain on the board. 31.Qd4 Qc7 32.Bf5 Rd8 33.Qg4 Qc5 34.Rf1 c3 35.Rac1 b3 36.Nd4 Rxd4 37.Qxe2 Qxf5 38.Rxc3 a4 Black gave up an exchange and a pawn. However, the remaining two on a4 and b3 are enough to fetch the full point. it did eventually.
Moksh - Tiger
IM Moksh Amit Doshi (2397) showed a great positional understanding by continuously improving the placement of his minor pieces. Eventually he delivered a checkmate 49.Ng6# against GM Tiger Hillarp Persson (SWE, 2513).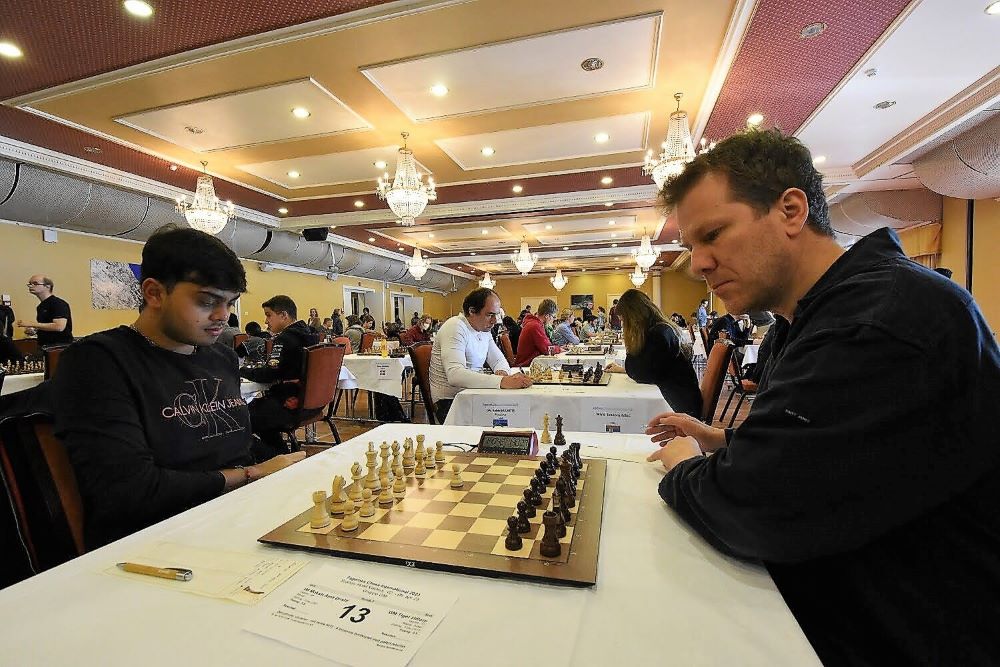 A total of 92 players including 14 GMs, 21 IMs, 2 WGMs and a WIM are taking part from 25 countries across the world in the GM (>2000) Open section. The tournament is organized by IO IA Hans Olav Lahlum in cooperation with Sotra SK and Innlandet Sjakkrets from 2nd to 9th April 2023 at Scandic Valdres hotel in Fagernes, Norway. The nine-round Swiss league tournament had a time control of 100 minutes/40 moves + 40 minutes/rest with 30 seconds increment from move no. 1.
Replay Round 7 games
Round 7 results

Standings after Round 7

Round 8 pairings
Fagernes Slow Blitz final standings
Links
---