Fagernes GM Open 2023 R3: Abhimanyu, Koustav, Savitha and Sanket make a perfect start 3/3
WIM Savitha Shri B continues her fantastic form at Fagernes GM Open 2023. She defeated IM Elham Abdulrauf (NOR) in the second round where she made a unique rook lift in the Sicilian. IM Vantika Agrawal drew against GM Eduardas Rozentalis (LTU). Sanket Chakravarty beat his second consecutive IM of the event. This time he defeated IM Jonas Hacker (GER). FM Tanmay Chopra held IM Tor Fredrik Kaasen (NOR) to a draw. GM Abhimanyu Puranik, GM Vahap Sanal (TUR), IM Koustav, WIM Savitha and Sanket are the five players to have won all three of their games. Abhimanyu vs Savitha, Koustav vs Sahap and GM Samvel Ter-Sahakyan (ARM) in Round 4 starts today at 10 a.m. local time, 1:30 p.m. IST. Photo: Anniken Vestby/SjakkTromsø
Sanket bests another IM
Today, Wednesday 5th April is the sole double round of the tournament.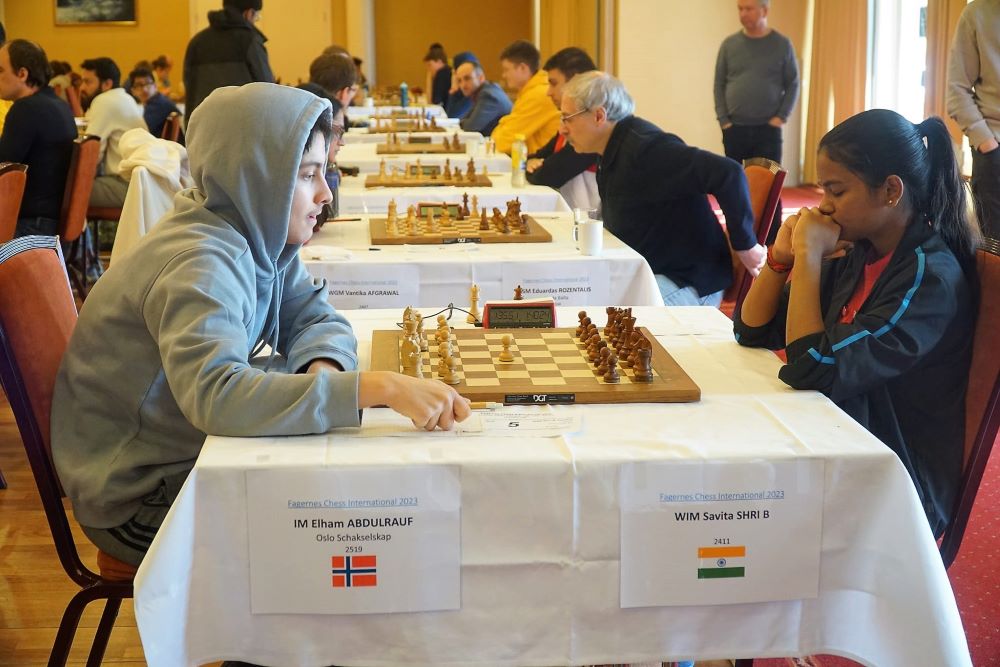 Elham - Savitha: 0-1
17-year-old IM Elham Abdulrauf (NOR, 2519) found himself in uncharted territory when WIM Savitha Shri B (2411) made a unique rook lift on the h-file in Sicilian Defense.
Computer recommends 10...dxc3 which we don't necessarily have to agree with. The idea behind 10...Rh5 is to bring it to f5 and create a doubled pawn on f-file. 11.Bf4 Rf5 12.Bg3 Bxf3 13.gxf3 now the rook cannot be displaced from f5 and it is quite annoying for White. He got his rook trapped eventually and lost the game.
Sanket - Jonas
A few incorrect decisions by IM Jonas Hacker (GER, 2455) has landed himself in a lost rook endgame. Find out the winning plan for White in the above position.
A total of 92 players including 14 GMs, 21 IMs, 2 WGMs and a WIM are taking part from 25 countries across the world in the GM (>2000) Open section. The tournament is organized by IO IA Hans Olav Lahlum in cooperation with Sotra SK and Innlandet Sjakkrets from 2nd to 9th April 2023 at Scandic Valdres hotel in Fagernes, Norway. The nine-round Swiss league tournament had a time control of 100 minutes/40 moves + 40 minutes/rest with 30 seconds increment from move no. 1.
Replay Round 3 games
Round 3 results

Standings after Round 3
Round 4 pairings
Links
---