Fagernes GM Open 2023 R6: Samvel makes it a three-way with Vahap and Abhimanyu
GM Abhimanyu Puranik drew with IM Koustav Chatterjee in the sixth round of Fagernes GM Open 2023. GM Samvel Ter-Sahakyan (ARM) handed IM Vantika Agrawal her first loss of the event. Abhimanyu, Samvel and GM Vahap Sanal (TUR) are currently in a three-way lead 5/6. Top seed of the tournament, GM Sethuraman S P defeated GM Kaido Kulaots (EST) to take his score 4.5/6. Eight players including three Indians are at 4.5/6 each. They are - GM Aditya Mittal, IM Koustav and GM Sethuraman. WGM Nandhidhaa P V scored a fine victory over IM Sammed Shete. She is now at 4/6. Round 7 starts today at 2 p.m. local time, 5:30 p.m. IST. Photo: Anniken Vestby/SjakkTromsø
Sethuraman reduces the gap
WIM Savitha Shri B defeated FM Saad Abobaker Elmi (NOR) after suffering two consecutive losses. Her, IM Vantika Agrawal and WGM Nandhidhaa P V are at 4/6 each. FM Tanmay Chopra continues his good run as he drew with Sweden no.4, GM Erik Blomqvist (SWE). WIM Rucha Pujari drew with IM Jonas Hacker (GER).
Nandhidhaa - Sammed
A series of inaccurate moves landed IM Sammed Shete (2454) in trouble against the reigning Asian Continental Women's champion, WGM Nandhidhaa P V (2362). 19...c6 followed by 23...c5? 24.Ng3 Bd7? 24.f5 just completely destroyed the position for Black. 24...gxf5 25.Nh5 Qg6 26.Nxg7 Qxg7 27.Bh6 Black not only lost an exchange but the position is also difficult for him to play. Nandhidhaa comfortably converted her advantage into a win.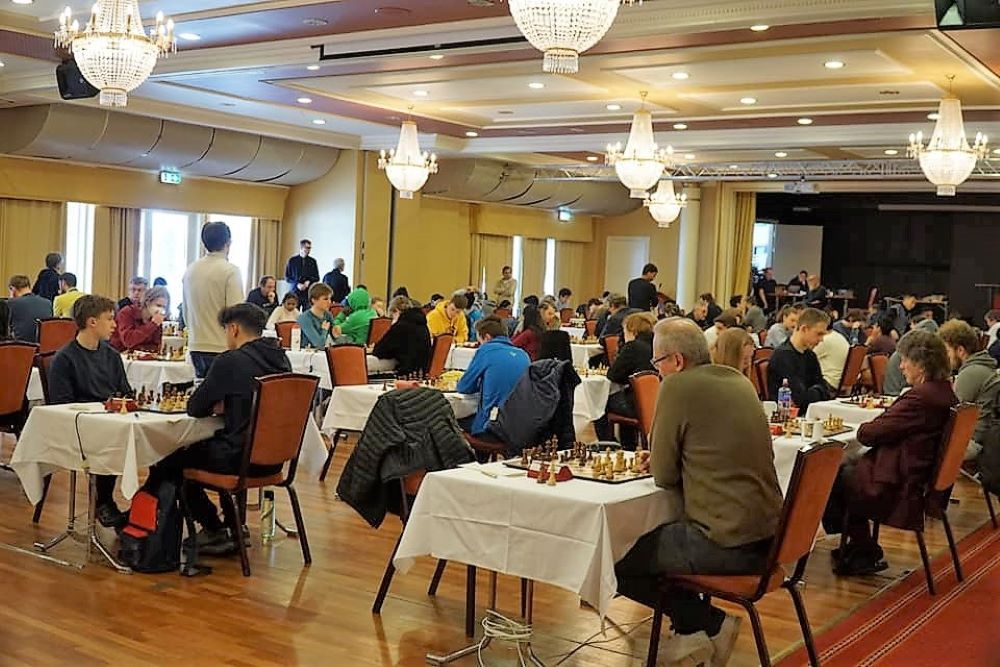 A total of 92 players including 14 GMs, 21 IMs, 2 WGMs and a WIM are taking part from 25 countries across the world in the GM (>2000) Open section. The tournament is organized by IO IA Hans Olav Lahlum in cooperation with Sotra SK and Innlandet Sjakkrets from 2nd to 9th April 2023 at Scandic Valdres hotel in Fagernes, Norway. The nine-round Swiss league tournament had a time control of 100 minutes/40 moves + 40 minutes/rest with 30 seconds increment from move no. 1.
Replay Round 6 games
Round 6 results
Standings after Round 6

Round 7 pairings

Links
---