Grand Swiss R10: Firouzja is back at the top and World no.4 once again
Firouzja survived the trial by combat against David Howell (ENG) who was having a fantastic run until the penultimate round of FIDE chess.com Grand Swiss 2021. The game had everything one could ask for. In the end, the France no.1 won the game in the endgame to reclaim his sole lead and World no.4 position. He will face Grigoriy Oparin (RUS) in the final round who beat the newly crowned Russia champion Nikita Vitiugov with a remarkable opening preparation. Firouzja needs a draw to secure his Candidates place, Caruana must win the last round to guarantee his spot in the same event. Round 11 starts today at 5:30 p.m. IST. Photo: Anna Shtourman/FIDE
Tingjie Lei wins the Women's Grand Swiss
Tingjie Lei drew with former women's world champion Mariya Muzychuk comfortably to win the first-ever Women's Grand Swiss 8.5/10 with a round to spare. She just needed a draw in the last two games, and she managed to achieve it in the penultimate round, which means the result of her final round game is immaterial as no one has any mathematical chance to tie with her score. The Chinese GM secured her place in the next FIDE Women's Candidates where she joins Aleksandra Goryachkina (RUS), Koneru Humpy, Kateryna Lagno (RUS), Alexandra Kosteniuk (RUS), Anna Muzychuk (UKR) and Zhongyi Tan (CHN). The remaining three spots will be decided by FIDE Women's Grand Prix (2) and Rating (1). D Gukesh, Surya Sekhar Ganguly, Vantika Agrawal and Divya Deshmukh were the victors among Indians in the penultimate round. Praggnanandhaa had an exciting draw against Boris Gelfand (ISR).
Firouzja - Howell: 1-0
Firouzja got himself a good position against Howell after the latter made an inaccuracy, allowing his opponent to launch an attack.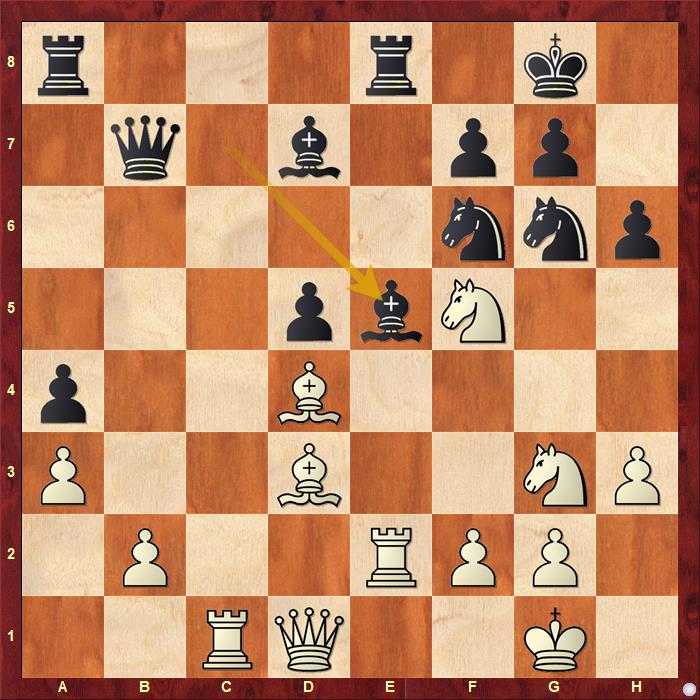 Black should not have played 26...cxd5 on the previous move. Instead, 26...Nxd5 would have been a better choice. 27.Bd4 Be5 made things difficult for Black. 28.Bxe5 would have given White a substantial advantage. However, Firouzja went for the fiery 28.Nxh6 which is also good. The game continued 28...gxh6 29.Bxg6 Bxg3 30.Rxe8+ Rxe8 31.Qf3 and we get the following position
The only way for Black to prevent Qxf6 threat is to play 31...Qc6 which Howell found having only few seconds left on the clock.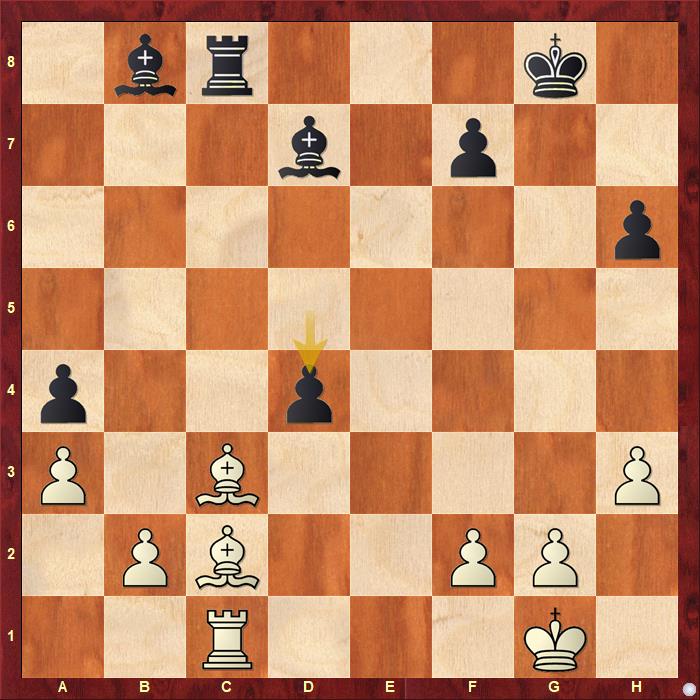 35...d4 with a meek tactical threat eventually became a weakness. After the rooks got exchanged, White went on to win the resultant double bishop endgame.
Vitiugov - Oparin: 0-1
Grigoriy Oparin (RUS) executed a unique idea against the newly crowned Russia champion, Nikita Vitiugov.
I was told by my stronger friends that this idea is recommended in the Nimzo-Indian Defence in similar structures. It is definitely something worth exploring. Oparin went on to win the game, and he will face Firouzja in the final round.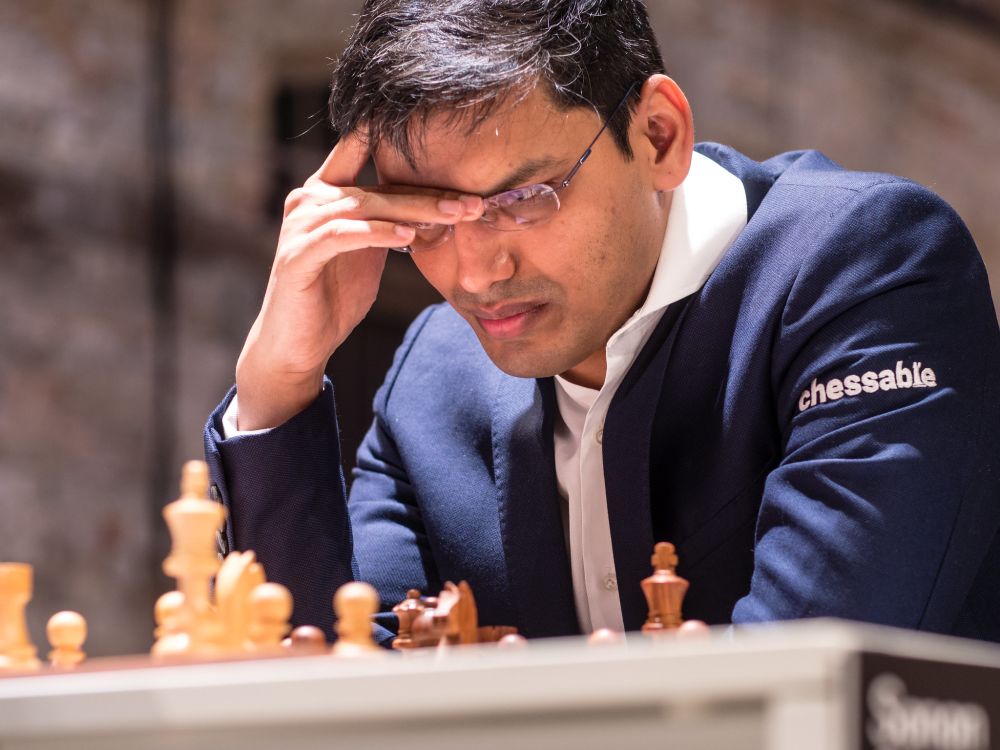 Praggnanandhaa - Gelfand: 0.5-0.5
Praggnanandhaa had an interesting game against the legendary Boris Gelfand (ISR).
Praggnanandhaa made a thematic sacrifice 20.Nxe6. After 20...fxe6 21.Qxe6+ Rf7 22.c5 Rdf8 23.Bc4 Kh8 24.Qh3 bxc5 25.b5 White got a pleasant position. Computer might say the position is equal, however in reality it is very difficult to play for Black.
White got a decisive advantage eventually. 32...Nh5 needed to be dealt with 33.Qe5 Qc4 34.Re8 Rg8 35.Rd8 and it's completely winning for White. However, the game continued 33.Qf3 which allowed Black to get back in the game 33...Qc8. White made a mistake in the next few moves, which gave Black the decisive advantage. Eventually the game ended in a draw after Black was unable to capitalize his chance.
Harika - Paehtz: 0.5-0.5
Harika had a tiny window of opportunity in the endgame against IM Elizabeth Paehtz (GER).
23.Rb1 leads to advantageous position for White in both 23...Bc3 or Bxa3 variations. Find out why. The game continued 23.Bxb2 Rxb2 24.a4 and it headed towards a draw.
Buksa - Vantika: 0-1
WGM Vantika Agrawal continues her fantastic run at the event as she defeated IM Nataliya Buksa (UKR) on her 25th birthday.
A well-timed break 29...d5 completely shifted things in Black's favor, and she went on to win the game convincingly.
Highlights
An interesting finish from Round 10
Photo Gallery
Schedule
Everyday game starts at 2 p.m. local time (4:30 p.m. IST) between 27th October and 7th November 2021. Rest day is on Tuesday 2nd November 2021.
Time Control
The time control for each game is: 100 minutes for the first 40 moves, followed by 50 minutes for the next 20 moves, followed by 15 minutes for the rest of the game with an increment of 30 seconds per move starting from move 1.
Qualification
The top two players in the open event will qualify for the FIDE Candidates 2022. The next six players will earn their spots in the FIDE Grand Prix. The Women's Grand Swiss winner will qualify to the Women's Candidates. The following four best players will qualify for the FIDE Women's Grand Prix.
Prizes
The total prize fund in the Open is US$ 425,000 with the first prize being $70,000. For Women's the total prize fund is $125,000, first prize $20,000. Total numbers of prizes are 60, Open - 40 and Women - 20.
Replay Round 10 Open games
Replay Round 10 Women games
Replay the live stream
Round 10 results
Round 11 pairings
Links
Tournament Regulations: Open and Women
---