World Youth U16 Olympiad 2023 R1: India scores an emphatic victory over Uganda 1: 3.5-0.5
Team India defeated Uganda 1 convincingly in the first round of FIDE World Youth Under-16 Olympiad 2023. Unlike the regular Olympiad, the youth is a combined event where each team must have a boy and a girl in their four member playing team. Team India comprises - Aswath S, Arjun Adireddy, FM Harsh Suresh and Tejaswini G. Arjun was held to a draw in the first round. The remaining three won their respective games comfortably. IM FT IA Neeraj Kumar Mishra is the Captain of the team. India will face the top seed Kazakhstan 1 in Round 2. Two changes were made in this edition. One, time control has been changed to 45 minutes + 10 seconds increment. The second one is, no reserve player allowed. Today is a double round day. Round 2 starts today at 10:30 a.m. local time, 2 p.m. IST. Photos: FIDE/Lennart Ootes
Team India off to a great start
India starts as the 16th seed in the FIDE World Youth Under-16 Olympiad 2023. The top two seeds are Kazakhstan 1 and China. A total of 63 teams from 47 countries across the world are taking part in this event. Kazakhstan has the highest number of teams - five, followed by the host nation, Netherlands at four.
India - Uganda 1: 3.5-0.5
Aswath S (2229), FM Harsh Suresh (2158) and Tejaswini G (1733) each scored a victory against Arthur Mwase (1504), Ajiri Nygaard (1591) and Caroline Nabirye (1287). Only CM Arjun Adireddy (1987) was held to a draw by Edwin Pido (1482).
Harsh - Ajiri
Ajiri Nygaard (1591) had an opportunity to save a half point if he played 49...Bb3 right now, instead of next move. 49...a5 50.c4 Bb3 now it is too late for Black to save the game. Try to find out the difference between playing Bb3 now and after a5.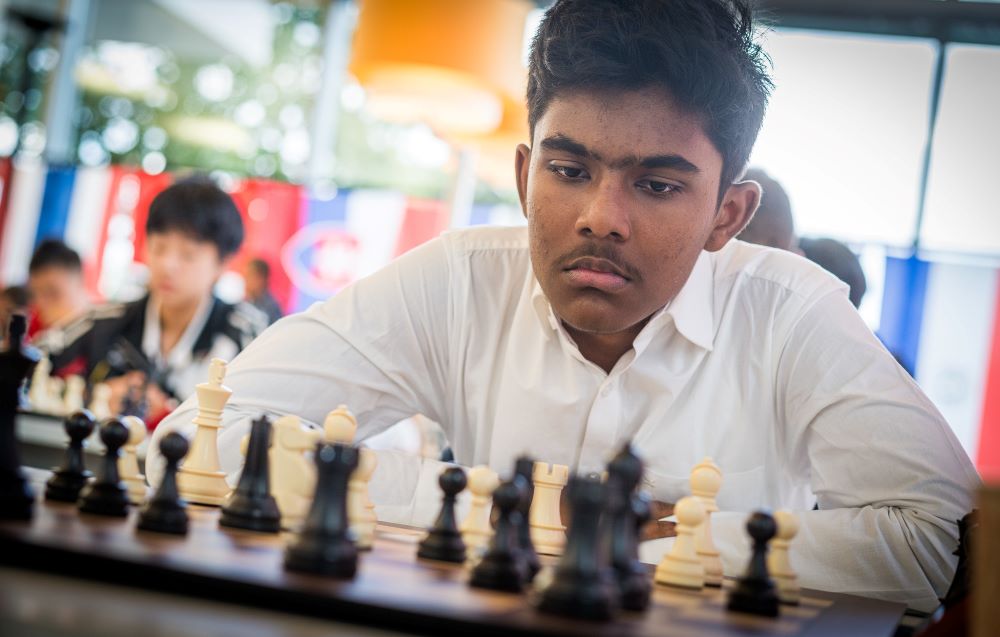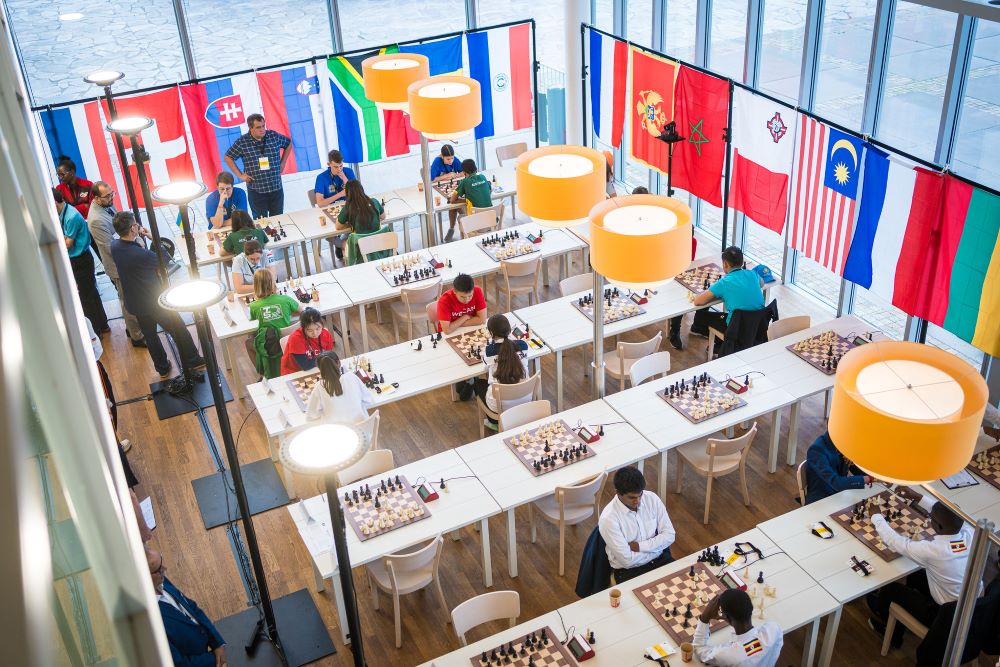 A total of 252 players including 5 IMs and 3 WIMs are representing 63 teams from 47 countries across the world. The six-day nine-round Swiss League Under-16 team event is being organized by Royal Dutch Chess Federation at High Tech Campus Eindhoven in Eindhoven, Netherlands from 13th to 18th August. The time control of the event is 45 minutes + 10 seconds increment.
Replay Round 1 games
Round 1 results
No.
Team
Team
Res.
:
Res.
1
Australia 1
Kazakhstan 1
1½
:
2½
2
China
The Netherlands 4
3½
:
½
3
Georgia
Turkiye
2
:
2
4
The Netherlands 1
Kazakhstan 5
3
:
1
5
Kazakhstan 4
Hungary
1
:
3
6
Uzbekistan
Canada 2
4
:
0
7
Paraguay
Azerbaijan
0
:
4
8
France
Morocco
3
:
1
9
Canada 3
Israel
0
:
4
10
Romania
South Africa 1
4
:
0
Standings after Round 1
Round 2 pairings
No.
Team
Team
Res.
:
Res.
1
Kazakhstan 1
India
:
2
Switzerland
China
:
3
Latvia
The Netherlands 1
:
4
Hungary
The Netherlands 2
:
5
Bulgaria
Uzbekistan
:
6
Azerbaijan
Kazakhstan 2
:
7
Greece
France
:
8
Israel
Italy
:
9
Croatia
Romania
:
10
Austria
Slovenia
:
Links
---