China on the verge of winning FIDE World Youth U16 Olympiad 2023
India lost to Uzbekistan 3.5-0.5 in the sixth round of FIDE World Youth Under-16 Olympiad 2023. Aswath S' draw against FM Khumoyun Begmuratov avoided a whitewash. Team India bounced back by winning against Italy 3-1 in the seventh round without suffering a single game loss. Aswath and FM Harsh Suresh scored the wins while, CM Arjun Adireddy and Tejaswini G drew their respective games. In the penultimate eighth round, India drew against France 2-2. Tejaswini scored the key victory for her team against Noam Patole. Aswath and Harsh drew their respective games. India will face Hungary in the final round 9 which starts at 10:30 a.m. local time, 2 p.m. IST. Photo: FIDE/Lennart Ootes
India loses against Uzbekistan, beats Italy and draws with France
China crushed Turkiye 3.5-0.5 in Round 6. Then they were held to a draw by Armenia 2-2. In the penultimate round, China scored their second whitewash of the event, against Hungary 4-0. They will face Austria in the final round where a draw is enough to win the tournament. They are now at 15/16. Turkiye is at sole second place 13/16.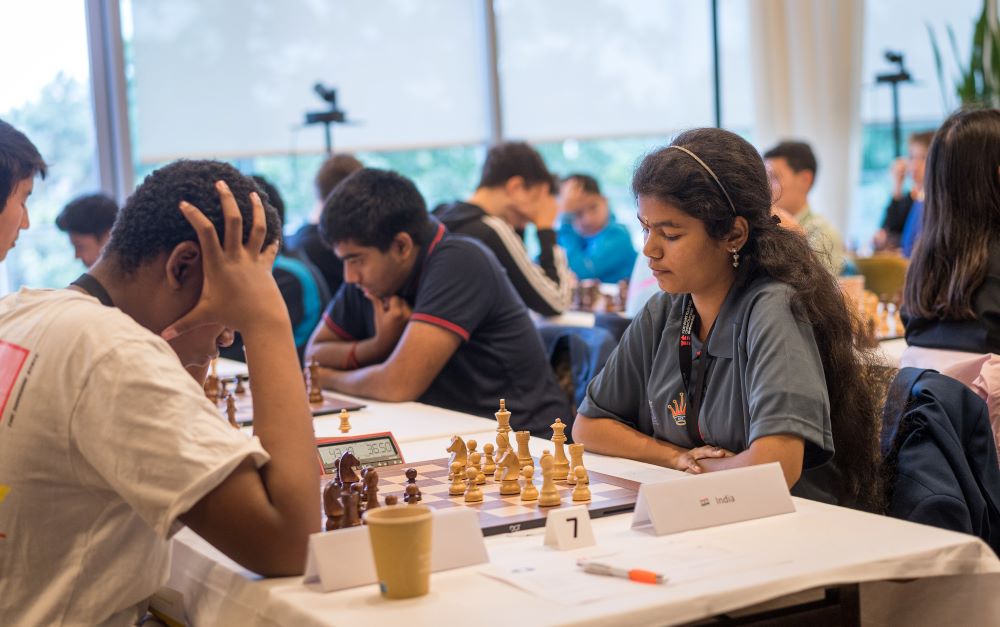 Round 6: Uzbekistan - India: 3.5-0.5
India suffered a crushing defeated Uzbekistan by 3.5-0.5. Aswath S (2229) scored the only game point of the match. He drew his game against FM Khumoyun Begmuratov (2270). CM Arjun Adireddy (1987), FM Harsh Suresh (2158) and Tejaswini G (1733) lost to FM Bakhrom Bakhrillaev (2144), Asrorjon Omonov (2051) and WFM Afruza Khamdamova (2112) respectively.
Round 7: India - Italy: 3-1
Aswath S and FM Harsh Suresh won against Nicolas Perossa (2062) and Leonardo Vincenti (2180), CM Arjun Adireddy and Tejaswini G drew with Lorenzo Candian (1922) and Enrica Zito (1625) respectively.
Round 8: France - India: 2-2
Tejaswini G scored the sole victory against Noam Patole (1916). Aswath and Harsh drew against Ewen Pichon (2194) and Bilguun Bat (2220) respectively. Arjun lost against WFM Manon Schippke (2120).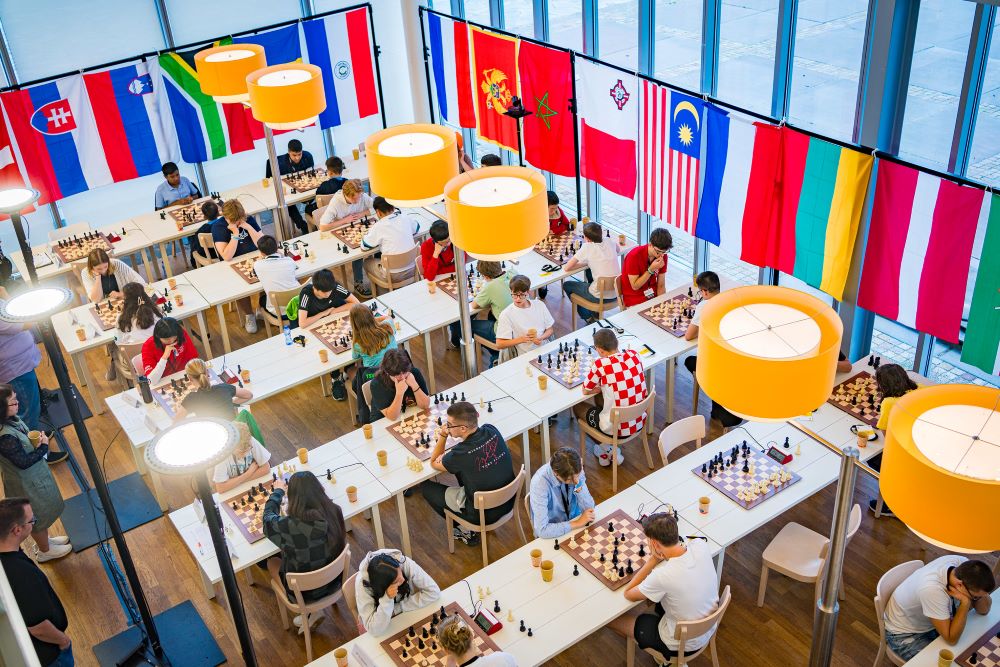 A total of 252 players including 5 IMs and 3 WIMs are representing 63 teams from 47 countries across the world. The six-day nine-round Swiss League Under-16 team event is being organized by Royal Dutch Chess Federation at High Tech Campus Eindhoven in Eindhoven, Netherlands from 13th to 18th August. The time control of the event is 45 minutes + 10 seconds increment.
Replay Round 6-8 games
Round 8 results
No.
Team
Team
Res.
:
Res.
1
China
Hungary
4
:
0
2
Kazakhstan 1
Turkiye
½
:
3½
3
Armenia
Azerbaijan
2
:
2
4
The Netherlands 1
Austria
1½
:
2½
5
Kazakhstan 2
Romania
2½
:
1½
6
Greece
Uzbekistan
2½
:
1½
7
France
India
2
:
2
8
Georgia
Ukraine
2½
:
1½
9
England
Israel
1
:
3
10
Australia 1
Canada 1
1½
:
2½
Standings after Round 8
| | | | | | | | | | | | |
| --- | --- | --- | --- | --- | --- | --- | --- | --- | --- | --- | --- |
| Rk. | SNo | | Team | Games | + | = | - | TB1 | TB2 | TB3 | TB4 |
| 1 | 2 | | China | 8 | 7 | 1 | 0 | 15 | 247,5 | 27,5 | 73 |
| 2 | 3 | | Turkiye | 8 | 6 | 1 | 1 | 13 | 193 | 22,5 | 77 |
| 3 | 15 | | Armenia | 8 | 5 | 2 | 1 | 12 | 172 | 21 | 75 |
| 4 | 22 | | Kazakhstan 2 | 8 | 5 | 2 | 1 | 12 | 168 | 19,5 | 73 |
| 5 | 11 | | Austria | 8 | 4 | 4 | 0 | 12 | 167,5 | 20 | 66 |
| 6 | 7 | | Azerbaijan | 8 | 4 | 3 | 1 | 11 | 168,5 | 21,5 | 70 |
| 7 | 35 | | Georgia | 8 | 5 | 1 | 2 | 11 | 156,5 | 21 | 66 |
| 8 | 23 | | Greece | 8 | 5 | 1 | 2 | 11 | 155 | 21 | 65 |
| 9 | 1 | | Kazakhstan 1 | 8 | 5 | 1 | 2 | 11 | 139,5 | 18 | 76 |
| 10 | 4 | | The Netherlands 1 | 8 | 5 | 0 | 3 | 10 | 153,5 | 17,5 | 78 |
Round 9 pairings
No.
Team
Team
Res.
:
Res.
1
Austria
China
:
2
Turkiye
Kazakhstan 2
:
3
Kazakhstan 1
Armenia
:
4
Azerbaijan
Greece
:
5
Georgia
The Netherlands 1
:
6
Hungary
India
:
7
Canada 1
France
:
8
Kazakhstan 5
Israel
:
9
Latvia
Romania
:
10
Kazakhstan 4
Uzbekistan
:
Links
---