Magnus Carlsen and Bibisara Assaubayeva are the World Blitz 2022 champions, Humpy Silver
Magnus Carlsen has become World Blitz champion for the sixth time in his career. He won it in 2009, 2014, 2017, 2018, 2019 and now 2022. The Norwegian also became World Triple Crown champion for the third time in his career (2014, 2019 and 2022). Unlike 2019, this time Carlsen became a clear champion by scoring 16/21, a full point ahead of Hikaru Nakamura (USA) 15/21. Haik Martirosyan (ARM) scored the same and finished third on tie-breaks. The defending champion, IM Bibisara Assaubayaeva (KAZ) won her last five games to clinch the Gold 13/17. Koneru Humpy scored a magnificent 8.5/9 in her last nine games to secure Silver 12.5/17. IM Polina Shuvalova won the Bronze 12/17. Photo: Amruta Mokal
Humpy scores 8.5/9 in her last nine games
IM Bibsara Assaubayeva became the third woman in history after GM Anna Muzychuk (UKR) and GM Kateryna Lagno to win World Blitz Women title in consecutive editions. Anna did it in 2014 and 2016, Lagno in 2018 and 2019 and now Bibisara in 2021 and 2022. Both Bibisara and Humpy made fantastic comebacks in the last few rounds. While Bibisara scored 7/8 on the second day, Humpy made 7.5/8 on the final day. The former lost to lost to the eventual Bronze medalist IM Polina Shuvalova in Round 12, the latter beat her in Round 16. The top two finishers, Bibisara and Humpy did not face each other. Pentala Harikrishna is the top Indian finisher in the Open section scoring 13/21 to finish 17th. Nihal Sarin also scored the same and he was placed 18th.
This is Humpy's first medal at World Blitz Women event. Previously she won Bronze in 2012 and Gold in 2019 at World Rapid Women Chess Championship.
No draws for Carlsen
On the final day of World Blitz 2022, Magnus Carlsen did not make a single draw. He started with a win over the eventual Bronze medalist, GM Haik Martirosyan (ARM, 2745).
Then he beat GM Richard Rapport (ROU, 2654) in an outstanding game. It is the game which Carlsen enjoyed the most in recent times as he mentioned in the post-tournament interview linked above.
Carlsen - Rapport, Round 14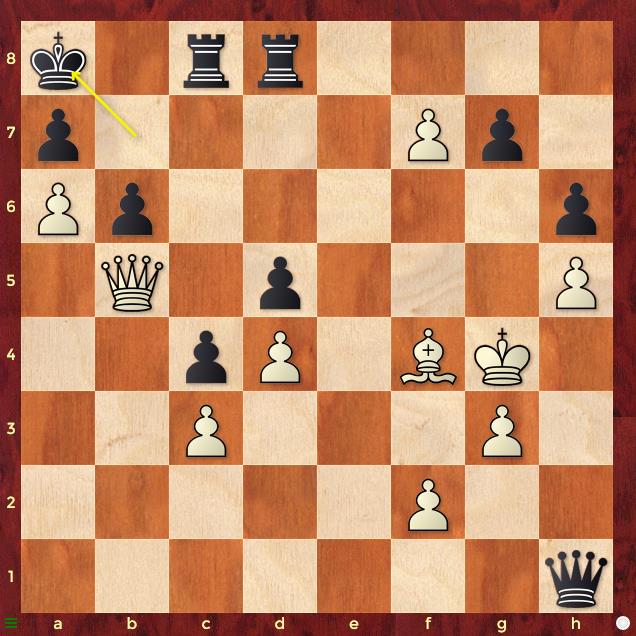 Here 39.f3 shuts the long diagonal for the queen and then f8Q in the next move is a deadly threat which Black cannot stop and keep d5-pawn protected at the same time. Carlsen missed this as he did not realize that Black has no threat in this position. He only realized 39.f3 was there afterwards.
After an exhausting win against Rapport, Carlsen lost to his former World Championship Challenger, Ian Nepomniachtchi (2782). Well, Nepo ultimately got his bargain, albeit in a different format and stakes altogether.
The World Champion struck back immediately in the next game against World Rapid 2022 Silver medalist, GM Vincent Keymer (GER, 2600).
Caruana - Carlsen, Round 17
49.g4 would have still kept the game going. 49.Ke3 allowed Carlsen to find the beautiful resource Rh8!
16-year-old IM Madaminov Mukhiddin (UZB, 2333) was unable to keep his calm and make a draw in an equal same colored bishop endgame. This win helped Carlsen gain sole lead for the first time in this event 14/18.
In Round 19, Carlsen lost to GM Alexey Sarana (2708). Having coffee before the game despite not being a coffee person, made him over excited and he suffered his second loss of the day. This one got over in just 24 moves. Sarana scored 9.5 points in his last ten games before he faced Carlsen. That is what momentum does in sports.
Carlsen was paired against the former World Rapid champion, GM Nodirbek Abdusattorov (UZB, 2666) in the final round. After an epic battle in the World Rapid 2022, the world champion had one final test to pass. He was quite okay to draw the game and was ready for Playoff. However, Abdusattorov wanted more.
Women: Bibisara retains her crown, Humpy wins Silver
IM Polina Shuvalova (2361) was leading for the better part of the tournament. The first-ever FIDE Women's World Cup winner, GM Alexandra Kosteniuk (2469) halted her momentum in Round 14.
She drew with IM Meri Arabidze (GEO, 2404) in Round 15. Polina was still leading by a half point 11.5/15. Bibisara 11/15 and Humpy 10.5/15 were close on her heels. In Round 16, Humpy struck Polina and dethroned her from the top of the leaderboard.
In the final round, Humpy beat GM Tan Zhongyi (CHN, 2510) to finish clear second. If Harika managed to hold IM Bibisara Assaubayeva (KAZ, 2404) to a draw, Humpy would have faced the defending champion in Playoffs. Unfortunately Harika lost and Humpy had to settle for Silver.
Humpy - Tan, Round 17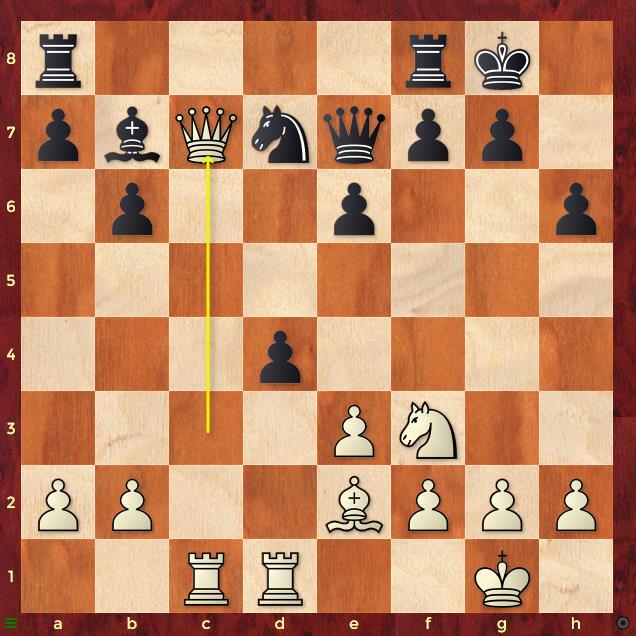 The mistake was not 16...cxd4 and overlooking 17.Qc7, it was 17...Bd5 which allowed 18.Rxd4 making deadly threats on the d-file pinned bishop and knight. Black had no choice but to go for 18...Rac8 19.Qxc8+ Rxc8 20.Rxc8+. A player of Humpy's caliber does not miss these great opportunities in crunch situation.
More game videos and interviews are coming soon, stay tuned.
Replay Blitz Open Round 13-21 games
Replay Blitz Women Round 10-17 games
Round 21 results Blitz Open
Final standings Blitz Open
| | | | | | | | | | | | |
| --- | --- | --- | --- | --- | --- | --- | --- | --- | --- | --- | --- |
| Rk. | SNo | | | Name | FED | Rtg | Pts. | TB1 | TB2 | TB3 | TB4 |
| 1 | 3 | | GM | Carlsen Magnus | NOR | 2830 | 16 | 264 | 274 | 2721 | 0 |
| 2 | 1 | | GM | Nakamura Hikaru | USA | 2909 | 15 | 272,5 | 283 | 2726 | 0 |
| 3 | 13 | | GM | Martirosyan Haik M. | ARM | 2745 | 15 | 258 | 267,5 | 2677 | 0 |
| 4 | 7 | | GM | Giri Anish | NED | 2792 | 14,5 | 268 | 277 | 2711 | 0 |
| 5 | 9 | | GM | Duda Jan-Krzysztof | POL | 2773 | 14,5 | 262,5 | 273,5 | 2698 | 0 |
| 6 | 6 | | GM | Dubov Daniil | FID | 2792 | 14,5 | 258 | 267 | 2692 | 0 |
| 7 | 18 | | GM | Sarana Alexey | FID | 2708 | 14,5 | 234,5 | 242 | 2599 | 0 |
| 8 | 15 | | GM | Fedoseev Vladimir | FID | 2733 | 14 | 256,5 | 265,5 | 2688 | 0 |
| 9 | 31 | | GM | Rapport Richard | ROU | 2654 | 14 | 247 | 255,5 | 2644 | 0 |
| 10 | 5 | | GM | Artemiev Vladislav | FID | 2803 | 13,5 | 260,5 | 270 | 2690 | 0 |
| 11 | 14 | | GM | Andreikin Dmitry | FID | 2735 | 13,5 | 251,5 | 261 | 2637 | 0 |
| 12 | 8 | | GM | Nepomniachtchi Ian | FID | 2782 | 13,5 | 250,5 | 259,5 | 2676 | 0 |
| 13 | 59 | | GM | Keymer Vincent | GER | 2600 | 13,5 | 248,5 | 257 | 2693 | 0 |
| 14 | 38 | | GM | Salem A.R. Saleh | UAE | 2633 | 13,5 | 222 | 230,5 | 2555 | 0 |
| 15 | 2 | | GM | Caruana Fabiano | USA | 2847 | 13 | 250,5 | 259,5 | 2643 | 0 |
| 16 | 116 | | GM | Lazavik Denis | FID | 2484 | 13 | 248 | 257 | 2694 | 0 |
| 17 | 46 | | GM | Harikrishna Pentala | IND | 2617 | 13 | 242 | 250 | 2601 | 0 |
| 18 | 19 | | GM | Nihal Sarin | IND | 2702 | 13 | 239,5 | 248,5 | 2606 | 0 |
| 19 | 25 | | GM | Abdusattorov Nodirbek | UZB | 2666 | 13 | 235,5 | 243,5 | 2584 | 0 |
| 20 | 103 | | GM | Dardha Daniel | BEL | 2528 | 13 | 235,5 | 242,5 | 2609 | 0 |
Round 17 results Blitz Women
Final standings Blitz Women
| | | | | | | | | | | | |
| --- | --- | --- | --- | --- | --- | --- | --- | --- | --- | --- | --- |
| Rk. | SNo | | | Name | FED | Rtg | Pts. | TB1 | TB2 | TB3 | TB4 |
| 1 | 12 | | IM | Assaubayeva Bibisara | KAZ | 2404 | 13 | 164,5 | 170,5 | 2375 | 0 |
| 2 | 4 | | GM | Koneru Humpy | IND | 2474 | 12,5 | 148,5 | 155,5 | 2260 | 0 |
| 3 | 22 | | IM | Shuvalova Polina | FID | 2361 | 12 | 171 | 178,5 | 2398 | 0 |
| 4 | 2 | | GM | Tan Zhongyi | CHN | 2510 | 12 | 169 | 175 | 2389 | 0 |
| 5 | 11 | | IM | Arabidze Meri | GEO | 2404 | 11,5 | 155,5 | 161,5 | 2326 | 0 |
| 6 | 1 | | GM | Lagno Kateryna | FID | 2522 | 11 | 165,5 | 172,5 | 2343 | 0 |
| 7 | 8 | | GM | Dzagnidze Nana | GEO | 2416 | 11 | 163 | 170,5 | 2346 | 0 |
| 8 | 23 | | IM | Badelka Olga | FID | 2337 | 11 | 161,5 | 168 | 2324 | 0 |
| 9 | 14 | | GM | Paehtz Elisabeth | GER | 2396 | 11 | 158 | 165 | 2314 | 0 |
| 10 | 17 | | IM | Mammadzada Gunay | AZE | 2383 | 11 | 155,5 | 161,5 | 2315 | 0 |
| 11 | 7 | | GM | Stefanova Antoaneta | BUL | 2427 | 11 | 155 | 162 | 2315 | 0 |
| 12 | 9 | | GM | Abdumalik Zhansaya | KAZ | 2413 | 11 | 138,5 | 145 | 2223 | 0 |
| 13 | 10 | | GM | Harika Dronavalli | IND | 2407 | 10,5 | 173 | 181 | 2391 | 0 |
| 14 | 24 | | GM | Danielian Elina | ARM | 2331 | 10,5 | 171 | 178 | 2350 | 0 |
| 15 | 5 | | GM | Kosteniuk Alexandra | FID | 2469 | 10,5 | 160,5 | 168 | 2313 | 0 |
Final standings of Indian players
| | | | | | | | | | | | | | | | | | | | | | | | | | | | | |
| --- | --- | --- | --- | --- | --- | --- | --- | --- | --- | --- | --- | --- | --- | --- | --- | --- | --- | --- | --- | --- | --- | --- | --- | --- | --- | --- | --- | --- |
| SNo | | Name | Rtg | FED | 1 | 2 | 3 | 4 | 5 | 6 | 7 | 8 | 9 | 10 | 11 | 12 | 13 | 14 | 15 | 16 | 17 | 18 | 19 | 20 | 21 | Pts. | Rk. | Group |
| 12 | GM | Erigaisi Arjun | 2750 | IND | ½ | ½ | ½ | 1 | 1 | 0 | 0 | 1 | 0 | 1 | 1 | 1 | ½ | ½ | 1 | 0 | 0 | 0 | 1 | ½ | 1 | 12 | 42 | Open |
| 19 | GM | Nihal Sarin | 2702 | IND | 1 | 1 | 1 | 0 | 1 | 0 | 0 | 1 | 0 | 1 | 1 | 1 | 0 | ½ | ½ | 1 | 1 | ½ | 0 | ½ | 1 | 13 | 18 | Open |
| 24 | GM | Vidit Santosh Gujrathi | 2669 | IND | 1 | 1 | ½ | 0 | ½ | 0 | 1 | 0 | 1 | 1 | 1 | 0 | 0 | 1 | 1 | 0 | ½ | 1 | 0 | 0 | 0 | 10,5 | 90 | Open |
| 30 | GM | Sadhwani Raunak | 2657 | IND | 1 | 0 | 1 | 1 | ½ | 1 | 0 | 1 | ½ | ½ | 1 | 1 | 0 | 0 | 1 | 0 | 0 | 0 | 0 | 1 | 0 | 10,5 | 84 | Open |
| 46 | GM | Harikrishna Pentala | 2617 | IND | 1 | 0 | ½ | ½ | 1 | 1 | ½ | ½ | 1 | ½ | 1 | ½ | ½ | 1 | ½ | ½ | 0 | ½ | 1 | ½ | ½ | 13 | 17 | Open |
| 50 | GM | Adhiban B. | 2613 | IND | 1 | 0 | 0 | 0 | 1 | 1 | ½ | 0 | 1 | 0 | 1 | 1 | ½ | 1 | 1 | 0 | 0 | 1 | 1 | 0 | 1 | 12 | 49 | Open |
| 68 | GM | Aravindh Chithambaram Vr. | 2586 | IND | 1 | 0 | 0 | ½ | ½ | 1 | 1 | 0 | 0 | 1 | 1 | 1 | 0 | 1 | 1 | 0 | 0 | ½ | 1 | 1 | 0 | 11,5 | 60 | Open |
| 87 | GM | Narayanan S.L. | 2562 | IND | 1 | 0 | 0 | 1 | 1 | 0 | 0 | 1 | ½ | ½ | 0 | 0 | 0 | 1 | 1 | 1 | 0 | 0 | ½ | 1 | 1 | 10,5 | 97 | Open |
| 101 | GM | Ganguly Surya Shekhar | 2530 | IND | 1 | 1 | 0 | 1 | 1 | 1 | 0 | 0 | 0 | 0 | 1 | 0 | 0 | 0 | 0 | 0 | 1 | 1 | 1 | 1 | 1 | 11 | 72 | Open |
| 104 | GM | Harsha Bharathakoti | 2527 | IND | 0 | 1 | 0 | 0 | 1 | 1 | 0 | ½ | 0 | 1 | ½ | 0 | 1 | 0 | 0 | ½ | 0 | 1 | 1 | 0 | 0 | 8,5 | 148 | Open |
| 112 | GM | Puranik Abhimanyu | 2506 | IND | 0 | 1 | ½ | 0 | 0 | 1 | 0 | 1 | 0 | ½ | 0 | 1 | 0 | 0 | 0 | 1 | 1 | ½ | 1 | 0 | 1 | 9,5 | 126 | Open |
| 124 | GM | Narayanan Srinath | 2459 | IND | 0 | 0 | 0 | 0 | 0 | 1 | 1 | ½ | 1 | ½ | 0 | ½ | 1 | ½ | 0 | 0 | 1 | 0 | 1 | 1 | 1 | 10 | 113 | Open |
| 125 | GM | Pranav V | 2440 | IND | 1 | 1 | 1 | 0 | 0 | 1 | 1 | 0 | 0 | ½ | 0 | ½ | ½ | 1 | 0 | 0 | 1 | 1 | 1 | 0 | 1 | 11,5 | 58 | Open |
| 128 | GM | Sankalp Gupta | 2438 | IND | 0 | 0 | 1 | 1 | 0 | 0 | 0 | 1 | 1 | 0 | 0 | 1 | 0 | 0 | 0 | 1 | 1 | 0 | 1 | 1 | 0 | 9 | 136 | Open |
| 132 | GM | Arjun Kalyan | 2426 | IND | ½ | 0 | ½ | ½ | 0 | 1 | 0 | ½ | 0 | 1 | 0 | ½ | 0 | 1 | 0 | 1 | 0 | 1 | ½ | ½ | 0 | 8,5 | 149 | Open |
| 4 | GM | Koneru Humpy | 2474 | IND | 0 | 0 | 1 | 1 | 0 | 1 | ½ | ½ | 1 | 1 | 1 | 1 | 1 | ½ | 1 | 1 | 1 | | | | | 12,5 | 2 | Women |
| 10 | GM | Harika Dronavalli | 2407 | IND | 1 | 1 | 1 | ½ | 1 | ½ | ½ | 1 | 0 | ½ | 1 | 0 | 1 | ½ | 0 | 1 | 0 | | | | | 10,5 | 13 | Women |
| 29 | WIM | Savitha Shri B | 2311 | IND | 0 | 1 | 0 | 0 | 1 | 1 | 0 | 0 | 1 | 1 | 0 | 1 | 1 | 1 | ½ | 1 | 0 | | | | | 9,5 | 34 | Women |
| 31 | IM | Tania Sachdev | 2309 | IND | 1 | 1 | 0 | 1 | 1 | 0 | 1 | ½ | ½ | 0 | 0 | 1 | 1 | 1 | ½ | ½ | 0 | | | | | 10 | 21 | Women |
| 36 | IM | Padmini Rout | 2298 | IND | 1 | 1 | 0 | 0 | 0 | 1 | 1 | 1 | 1 | 0 | 0 | 1 | 0 | 1 | ½ | 1 | 1 | | | | | 10,5 | 17 | Women |
Replay the Live Stream
Links
Tournament Regulations: Open and Women
---