World Blitz 2022 Day 1: Nakamura takes a full point lead
Raunak Sadhwani and Harika Dronavalli are the Indian players who had a great first day at World Blitz 2022. While Raunak scored an impressive 8.5/12, Harika made 6.5/9. She is a full point behind the leaders GM Valentina Gunina and IM Polina Shuvalova. IM Tania Sachdev and IM Padmini Rout are at 6/9 each. In the Open section, Hikaru Nakamura had a fantastic day. He scored 10/12 and currentlly he is a full point ahead of Anish Giri, Magnus Carlsen, Daniil Dubov, Haik Martirosyan and Richard Rapport. All of them are at 9/12 each. Who do you think will win World Blitz 2022 in Open and Women's section? Final day of action starts today at 1:30 p.m. IST. Photo: FIDE/Lennart Ootes
Harika is now World #8 in Blitz, Arjun Erigaisi World #12
Harika Dronavalli made a great stride on the first day of World Blitz 2022 Women. She was on 6.5/8. A final round loss against the tournament leader, IM Polina Shuvalova, pushed her a back momentarily. Nevertheless, there are still eight rounds left and she can easily catch up. IM Tania Sachdev scored a huge victory over former Women's World Champion, GM Alexandra Kosteniuk. Harika is now World no.8 among in Women in Blitz live ratings. After a herculean display at the World Rapid 2022, Arjun Erigaisi has made a steady start 7.5/12. He is now World no.12 in the Blitz live ratings.
Round 1: Kovalev - Carlsen: 0-1
Magnus Carlsen (NOR, 2830) played a hyperbullet match against GM Vladislav Kovalev (2556). The new World Rapid champion arrived late as he got stuck in traffic and had to rush towards his board. Despite the clock ticking down towards zero, he did not forget to shake his opponent's hands and sit down before his making first move 1...e6.
Duda - Aravindh, Round 2
GM Jan-Krzysztof Duda (POL, 2773) had a study-like finish in the opposite color bishop endgame against GM Aravindh Chithambaram (2586). 61.b5 forced Black to take with his pawn cxb5 62.Bb4 Kf7 63.Kd7 Kf6 64.Ke8 and now Black had to move the king down the board Kf5-g4 to get a draw. 64...Ke6 had the opposite effect as Black's g7 and g6 will inevitably fall.
Round 3: Pranav - Niemann: 1-0
In the third round, GM Pranav Venkatesh (2440) defeated GM Hans Niemannn (USA, 2632) to move to 3/3.
Round 4: Carlsen - Tomashevsky: 1-0
Magnus Carlsen (NOR, 2830) defeated Evgeny Tomashevsky (2698) for the second time in four days. This time the color was reversed and the world no.1 opted for Anti-Berlin where he scored a fine victory. Black did not even get an opportunity to develop his queenside rook and bishop.
Nakamura - Nihal: 1-0
When it comes to over-the-board Blitz games, GM Hikaru Nakamura (USA, 2909) showed GM Nihal Sarin (2702) that the youngster still has a lot of catching up to do.
Round 5: Duda - Carlsen: 0-1
Just when it seemed like Duda will be able to hold a draw against Carlsen in a rook and same color bishop endgame, the world champion tricked the current World Cup winnner.
Black made a checkmate threat on the back-rank. 38.g4 is the only way to get out of this predicament. It was difficult to spot as Duda was down to his last few seconds. He played 38.Kg1 Bg3 and now White is losing the h4-pawn. 39.Rc1 gxh4 and soon White lost the g-pawn and eventually the game.
Shant - Haik: 0-1
GM Haik Martirosyan's (ARM, 2745) best win so far, has to be against his fellow countryman, GM Shant Sargsyan (ARM, 2602). Even in a lost position, Haik did not give up hope and kept looking for opportunities to find a win and he just managed to achieve that.
Nepomniachtchi - S L Narayanan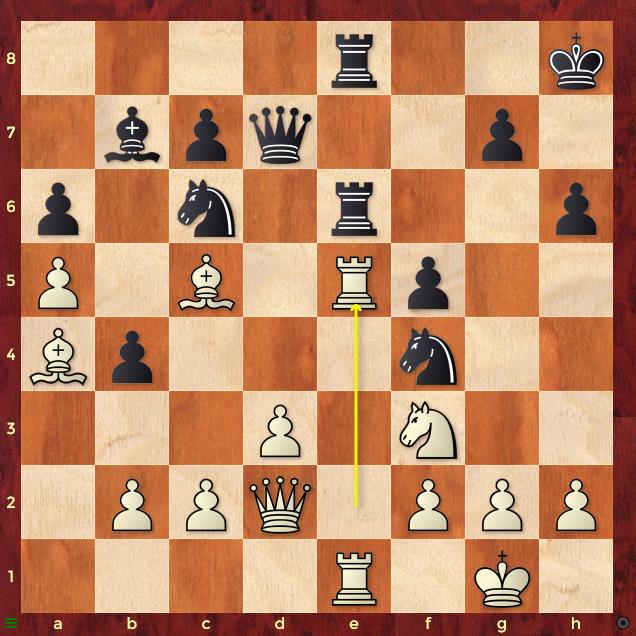 The World Championship Challenger, Ian Nepomniachtchi (2782) was in a tilt. He suffered his third consecutive loss of the day. 22.Rxe5 was a blunder and his opponent, GM S L Narayanan (2562) had no trouble punishing his mistake 22...Nxe5 23.Nxe5 Qd5 and Black won the game eventually.
Harikrishna - Svane: 1-0
Endgame expert, GM Pentala Harikrishna (2617) won a very nice Queen vs Rook, Bishop and Knight endgame against GM Fredrik Svane (GER, 2466).
Round 6: Nakamura - Caruana: 1-0
GM Hikaru Nakamura (USA, 2909) scored a fantastic victory over GM Fabiano Caruana (USA, 2847).
Giri - Carlsen, Round 7
White needed to support his b5-bishop with 24.c4. Instead, retreating it to e2 blindsided it after 24...Rxb1 25.Rxb1 c4. Rest was a strategic masterclass by the Norwegian.
Yangyi - Nakamura
The Yangyi-Nakamura had a similar finish to Giri-Carlsen. GM Yangyi Yu (CHN, 2807) made a positional mistake 52.Qd3 and let go control of the c5-g1 diagonal. 52...Qc5 53.Qd5 Qe3 54.Qc6 and White ran out of time.
Lazavik - Giri, Round 8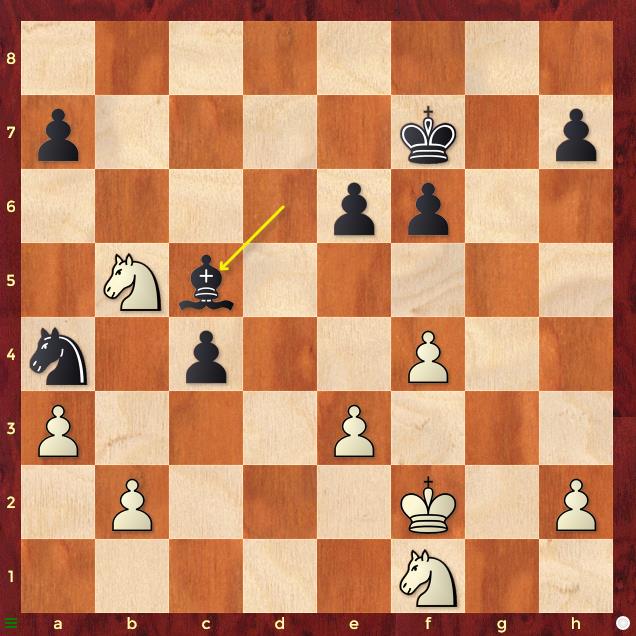 The must-see game of Round 8 is not Carlsen-Nakamura, it is between GM Denis Lazavik (2484) and GM Anish Giri (NED, 2792). Yes, computer says Black has a substantial advantage and probably should win this. However, one must try to fathom Giri's psychological condition after losing his sole opportunity against Carlsen at this event and it was the eighth round of the day, so he was emotionally drained too. Still he managed to make a comeback by playing precisely and scoring a victory. Giri is undobutedly gritty.
The Knight endgame is certainly one for the books!
Round 11: Haik - Nakamura: 0-1
Nakamura defeated Haik Martirosyan in Round 11 to gain a half point lead 9/11, over Carlsen and Fedoseev 8.5/11.
Round 12: Nakamura - Fedoseev: 1-0
Nakamura scored a victory against Fedoseev to gain a full point lead over Carlsen 10/12.
Duda - Giri
Exhaustion of playing eleven high class games set in for both Anish Giri and Jan-Krzysztof Duda. Giri blundered a mate in four when he played 33...Qb1. Find out the finish for White which both missed in the game.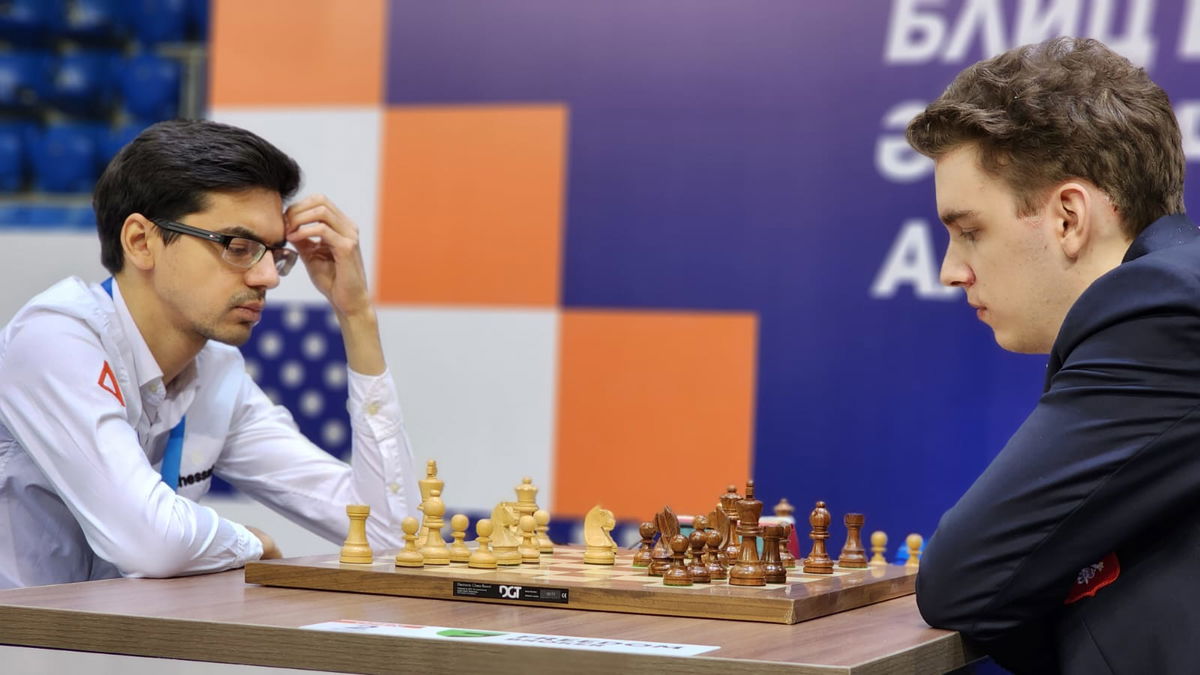 Vahap - Raunak: 0-1
GM Raunak Sadhwani (2657) ended the day with a win over GM Vahap Sanal (TUR, 2576), taking his score to an impressive 8.5/12.
Women: Polina and Gunina leads, Harika in pursuit
GM Harika Dronavalli (2407) played steady. She suffered her only loss against one of the tournament leaders, IM Polina Shuvalova (2361).
IM Padmini Rout (2298) and IM Tania Sachdev (2306) are at 6/9 each. Tania picked up one of the biggest wins of her career against the former Women's World Champion, GM Alexandra Kosteniuk (2469).
Replay Blitz Open Round 1-12 games
Replay Blitz Women Round 1-9 games
Round 12 results Blitz Open
Round 13 pairings Blitz Open
Round 9 results Blitz Women
Round 10 pairings Blitz Women
Current standings of Indian players
| | | | | | | | | | | | | | | | | | | | |
| --- | --- | --- | --- | --- | --- | --- | --- | --- | --- | --- | --- | --- | --- | --- | --- | --- | --- | --- | --- |
| SNo | | Name | Rtg | FED | 1 | 2 | 3 | 4 | 5 | 6 | 7 | 8 | 9 | 10 | 11 | 12 | Pts. | Rk. | Group |
| 12 | GM | Erigaisi Arjun | 2750 | IND | ½ | ½ | ½ | 1 | 1 | 0 | 0 | 1 | 0 | 1 | 1 | 1 | 7,5 | 35 | Open |
| 19 | GM | Nihal Sarin | 2702 | IND | 1 | 1 | 1 | 0 | 1 | 0 | 0 | 1 | 0 | 1 | 1 | 1 | 8 | 19 | Open |
| 24 | GM | Vidit Santosh Gujrathi | 2669 | IND | 1 | 1 | ½ | 0 | ½ | 0 | 1 | 0 | 1 | 1 | 1 | 0 | 7 | 56 | Open |
| 30 | GM | Sadhwani Raunak | 2657 | IND | 1 | 0 | 1 | 1 | ½ | 1 | 0 | 1 | ½ | ½ | 1 | 1 | 8,5 | 9 | Open |
| 46 | GM | Harikrishna Pentala | 2617 | IND | 1 | 0 | ½ | ½ | 1 | 1 | ½ | ½ | 1 | ½ | 1 | ½ | 8 | 21 | Open |
| 50 | GM | Adhiban B. | 2613 | IND | 1 | 0 | 0 | 0 | 1 | 1 | ½ | 0 | 1 | 0 | 1 | 1 | 6,5 | 75 | Open |
| 68 | GM | Aravindh Chithambaram Vr. | 2586 | IND | 1 | 0 | 0 | ½ | ½ | 1 | 1 | 0 | 0 | 1 | 1 | 1 | 7 | 58 | Open |
| 87 | GM | Narayanan S.L. | 2562 | IND | 1 | 0 | 0 | 1 | 1 | 0 | 0 | 1 | ½ | ½ | 0 | 0 | 5 | 123 | Open |
| 101 | GM | Ganguly Surya Shekhar | 2530 | IND | 1 | 1 | 0 | 1 | 1 | 1 | 0 | 0 | 0 | 0 | 1 | 0 | 6 | 76 | Open |
| 104 | GM | Harsha Bharathakoti | 2527 | IND | 0 | 1 | 0 | 0 | 1 | 1 | 0 | ½ | 0 | 1 | ½ | 0 | 5 | 135 | Open |
| 112 | GM | Puranik Abhimanyu | 2506 | IND | 0 | 1 | ½ | 0 | 0 | 1 | 0 | 1 | 0 | ½ | 0 | 1 | 5 | 131 | Open |
| 124 | GM | Narayanan Srinath | 2459 | IND | 0 | 0 | 0 | 0 | 0 | 1 | 1 | ½ | 1 | ½ | 0 | ½ | 4,5 | 153 | Open |
| 125 | GM | Pranav V | 2440 | IND | 1 | 1 | 1 | 0 | 0 | 1 | 1 | 0 | 0 | ½ | 0 | ½ | 6 | 79 | Open |
| 128 | GM | Sankalp Gupta | 2438 | IND | 0 | 0 | 1 | 1 | 0 | 0 | 0 | 1 | 1 | 0 | 0 | 1 | 5 | 130 | Open |
| 132 | GM | Arjun Kalyan | 2426 | IND | ½ | 0 | ½ | ½ | 0 | 1 | 0 | ½ | 0 | 1 | 0 | ½ | 4,5 | 146 | Open |
| 4 | GM | Koneru Humpy | 2474 | IND | 0 | 0 | 1 | 1 | 0 | 1 | ½ | ½ | 1 | | | | 5 | 44 | Women |
| 10 | GM | Harika Dronavalli | 2407 | IND | 1 | 1 | 1 | ½ | 1 | ½ | ½ | 1 | 0 | | | | 6,5 | 6 | Women |
| 29 | WIM | Savitha Shri B | 2311 | IND | 0 | 1 | 0 | 0 | 1 | 1 | 0 | 0 | 1 | | | | 4 | 69 | Women |
| 31 | IM | Tania Sachdev | 2309 | IND | 1 | 1 | 0 | 1 | 1 | 0 | 1 | ½ | ½ | | | | 6 | 10 | Women |
| 36 | IM | Padmini Rout | 2298 | IND | 1 | 1 | 0 | 0 | 0 | 1 | 1 | 1 | 1 | | | | 6 | 19 | Women |
Replay the Live Stream
Links
Tournament Regulations: Open and Women
---