Commonwealth Chess Championships 2022 poised for an exciting finish
GM Mitrabha Guha drew with GM M R Lalit Babu in the penultimate round of Commonwealth Chess Championships 2022. IM P Shyam Nikhil defeated Sri Lanka no.1 IM L M S T De Silva to join Mitrabha in the lead. It will be Aravindh vs Shyam and Mitrabha vs Visakh in the final round. One of these two games is highly likely to produce a champion. Vivaan Vishal Shah, Shubhi Gupta and Gaurang Bagwe secured a Gold medal each in Under-10 Boys, Under-12 Girls and Under-14 Boys category respectively. Both WIMs Sakshi Chitlange and Bhagyashree Thipsay are at 5/8 each. They are closely followed by WGM Priyanka Nutakki 4.5/8. Final Round 9 in the Open category starts today at 2 p.m. local time and IST. Photo: Chess Federation of Sri Lanka
Vivaan, Shubhi and Gaurang clinch Gold with a round to go
Both Vivaan Vishal Shah and Shubhi Gupta scored 8/8 each to secure their respective Gold medals in the Under-10 Boys and Under-12 Girls category. While, CM Gaurang Bagwe lost his penultimate round game in the Open category against IM Vignesh N R, before that he ensured his Gold medal in the Under-14 Boys by scoring 7.5/8, leaving his nearest competitor 2.5 points behind.
Open Round 7: Mitrabha - Shyam: 0.5-0.5
It is a good time to take a look at the battle between the current leaders. GM Mitrabha Guha (2474) got himself in a commanding position against IM P Shyam Nikhil (2489) in the seventh round.
The above position certainly seems to be winning for White positionally. 22...Rb8 23.Nxc8 Rxc8 24.Bg4 Rb8 25.hxg6 fxg6 26.Be6 Nhf6 27.Qe2 Bf8 28.f4 Rxe6 29.dxe6 Qe8 and now White needed to continue the attack 30.g4 instead of 30.fxe5 which fizzled out White's attack. Eventually Black got a winning chance in the knight vs bishop endgame. However, he decided to not take a chance, repeat moves and settle for a draw.
Aravindh - Deepan: 0.5-0.5
GM Aravindh Chithambaram (2625) missed a great opportunity against GM Deepan Chakkravarthy (2461) in the rook endgame.
54...Kf5/Rc1 would have kept things going. However, 54...f5 allows White to win the game. Try to find out the minute difference.
Venkatesh - Visakh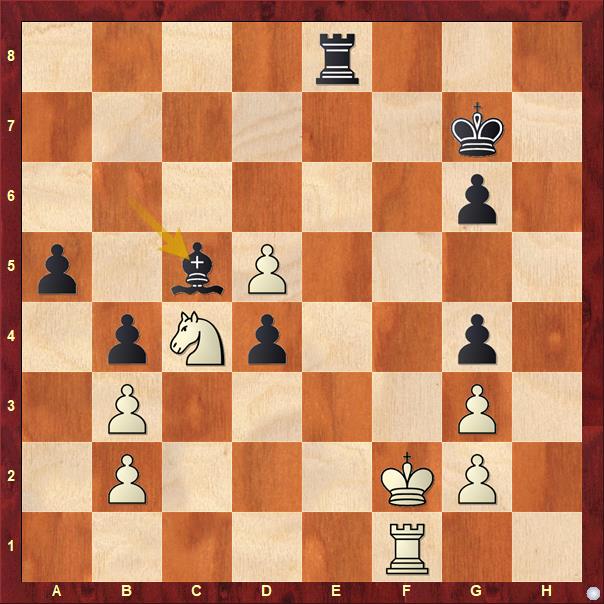 Black has laid out a very nice trap, threatening 37...d3+ and then deliver a checkmate or gain material. Find out the best defence for White.
Bhagyashree - Soham
White's attack on the kingside is devastating. Can you find out the find out the finish after 16...Ng5 ?
Round 8: Shyam - De Silva: 1-0
IM P Shyam Nikhil (2489) was playing with only one result in mind against the Sri Lanka no.1 IM L M S T De Silva (2521).
Shyam made his intentions very clear early in the game with 9.f4, 10.f5, 11.g4. Black was unable to put up any resistance against the eventual kingside attack and his position crumbled.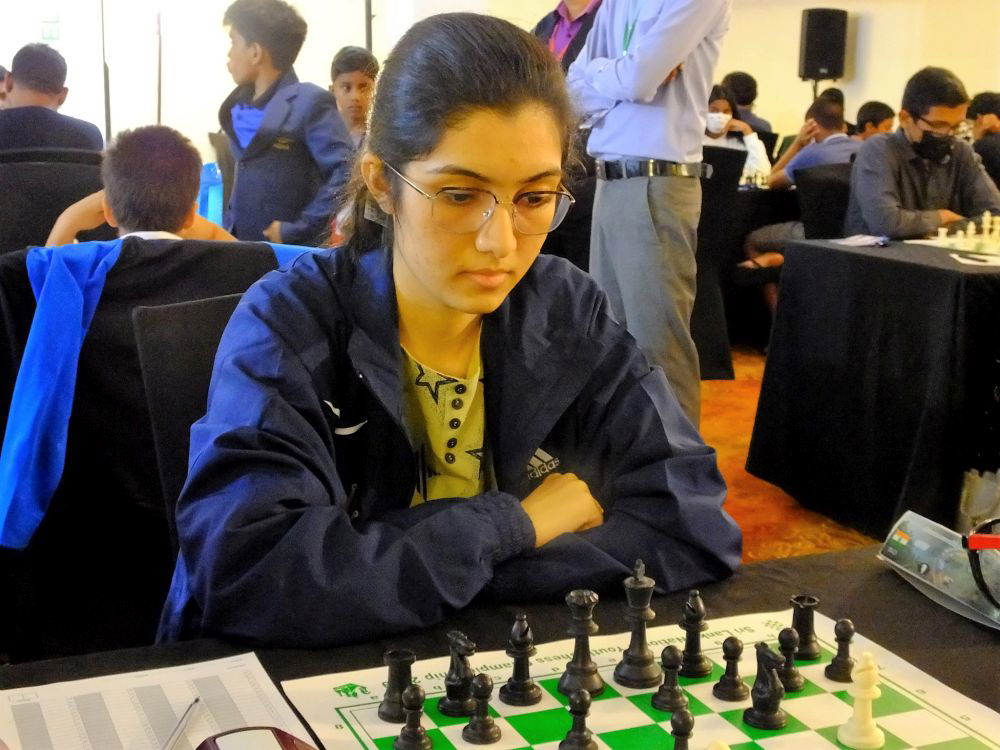 Gold with a round to spare
Vivaan Vishal Shah, Shubhi Gupta and Gaurang Bagwe have won a Gold medal each with a round to spare in Under-10 Boys, Under-12 Girls and Under-14 Boys respectively.
A total of 94 players including 12 GMs, 7 IMs, a WGM and 3 WIMs are taking part from Bangladesh, England, India, Maldives, Pakistan, South Africa and Sri Lanka in the Open category. The nine-round Swiss League tournament is organized by Chess Federation of Sri Lanka from 14th to 22nd November 2022 at Citrus Hotel in Waskaduwa, Sri Lanka. The time control of the tournament is 90 Minutes + 30 seconds increment from move no.1.
Replay Round 7-8 Open games
Round 8 results in Open
Round 9 pairings in Open
Links
Chess Federation of Sri Lanka: Official site and facebook
---