Commonwealth 2022 R1-4: Mitrabha outwits Aravindh, gains sole lead
India's 72nd GM Mitrabha Guha scored a big victory over the top seed of the tournament, GM Aravindh Chithambaram. Their rivalry started over nine years ago and so far they have had only one draw in their nine encounters. Mitrabha won an exciting battle to gain sole lead 4/4. GM-elect IM Pranesh M is one of the six players at 3.5/4. He defeated a former Commonwealth Gold medalist, GM Deep Sengupta in the fourth round. The teenager is also leading the Under-14 Open with a perfect 4/4. WGM-elect Sakshi Chitlange and veteran WIM Bhagyashree Thipsay are currently the top female scorers at 3/4 each. Round 5 in the Open section starts today at 4 p.m. local time and IST. Photo: Shahid Ahmed
Pranesh and Gaurang make an impressive start
13-year-old CM Gaurang Bagwe defeated IM P Shyam Nikhil in Round 2 and GM Enamul Hossain (BAN) in Round 4. He is currently 3/4 in the Open event and sole leader in Under-14 Open with a 3.5/4. It goes without saying that Gaurang has certainly made a great start. Except for Under-14 Girls, Indian kids are in the lead in every age group starting from Under-8 to Under-18, Under-20 also which is merged with the Open section. 48 medals are up for grabs and the total prize fund of the tournament is ₹5325000 (approxx. US$ 15000). The top three prizes in the Open section are ₹750000, ₹600000 and ₹450000 each respectively.
Open Round 4: Mitrabha - Aravindh: 1-0
GM Mitrabha Guha (2474) had an exciting game against the top seed GM Aravindh Chithambaram (2625).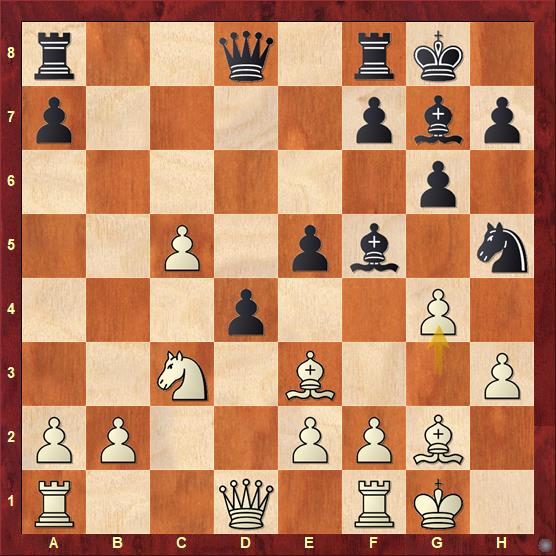 There are plenty of choices here for Black but which is the correct one? It is certainly not easy to determine. The reigning National Rapid and Blitz champion, Aravindh was puzzled. He opted for 15...Be6. After mutual inaccuracies 16.Ne4 Nf4 17.Bxf4 exf4 18.c6 Bd5 19.Rc1 White gained a substantial advantage. The correct continuation for Black was 15...dxe3 16.Qxd8 Raxd8 17.gxf5 exf2+ 18.Kxf2 e4 19.Nxe4 gxf5 20.Nd6 Bd4+ 21.Kf3 Bxc5 22.Nxf5 and Black has dodged all trouble.
Deep - Pranesh
The above endgame is certainly quite difficult to defend for White. 48.Qe2 is what White needed to play to prevent something which 48.Qf2 does not. Can you find out a nice tactic which Black could have done to finish the game a little earlier?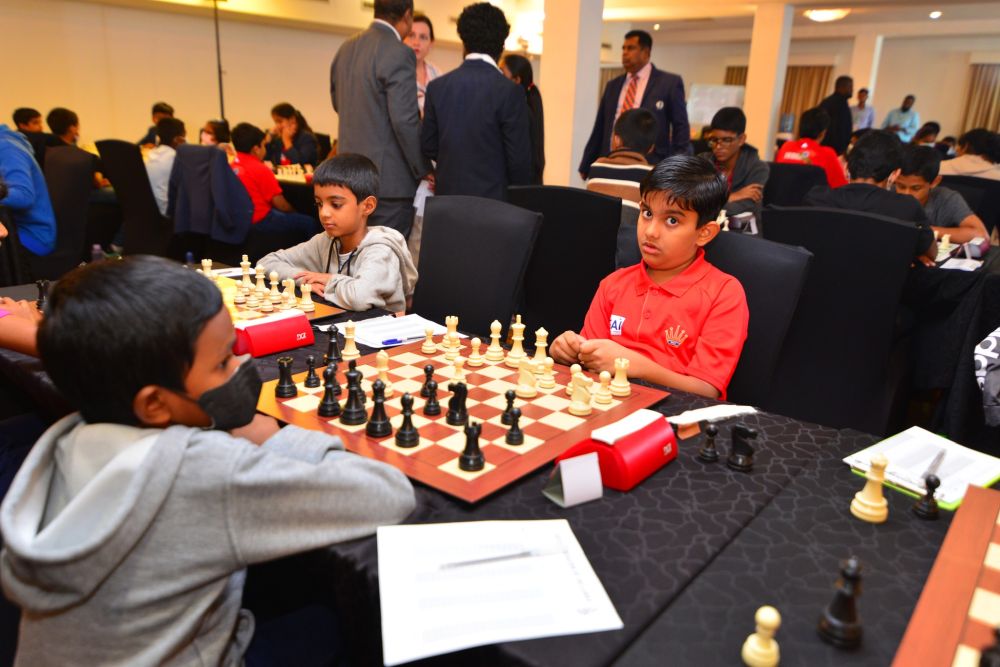 A total of 94 players including 12 GMs, 7 IMs, a WGM and 3 WIMs are taking part from Bangladesh, England, India, Maldives, Pakistan, South Africa and Sri Lanka in the Open category. The nine-round Swiss League tournament is organized by Chess Federation of Sri Lanka from 14th to 22nd November 2022 at Citrus Hotel in Waskaduwa, Sri Lanka. The time control of the tournament is 90 Minutes + 30 seconds increment from move no.1.
Replay Round 1-4 games
Round 4 results in Open
Round 5 pairings in Open
Links
Chess Federation of Sri Lanka: Official site and facebook
---