Asian Junior 2022 R1-7: Harshavardhan and Rakshitta in the lead
IM Harshavardhan G B defeated IM Utsab Chatterjee to emerge sole leader at Asian Junior Chess Championship 2022 Open after round 7. WIM Rakshitta Ravi won against WFM Mitra Asgharzadeh (IRI) to join the lead with WIM Ngoc Thuy Duong Bach (VIE). Both are at 5.5/7 each. Three players are trailing Harshavardhan with a 5/7 score. WFM Bhagyashree Patil and IM Avinash Ramesh won Silver and Bronze medal in the Rapid event in Under-18 Girls and Open category respectively. Harshavardhan will face Eric Labog Jr. (PHI) and Rakshittta will face compatriot Femil Chelladurai in the penultimate round. Round 8 starts tomorrow at 9 a.m. local time, 11:30 a.m. IST. Photo: Shahid Ahmed
Bhagyashree Silver and Avinash Bronze in Under-18 Rapid
Asian Junior Chess Championships 2022 started with the Rapid event. The National Under-17 and Under-18 Girls champion, Asian Youth and Western Asia Under-18 Girls double Gold medalist, WFM Bhagyashree Patil scored 4.5/7 to secure in the Under-18 Girls category. IM Avinash Ramesh scored 4/7 to win a Bronze medal in Under-18 Open category.
Harshavardhan - Eldiar, Round 3
38...Bd4/Qe3 would have been fine for Black. Find out why 38...e5 is a blunder. Harshavardhan spotted in correctly and won the game in the next few moves.
Harshavardhan - Utsab, Round 7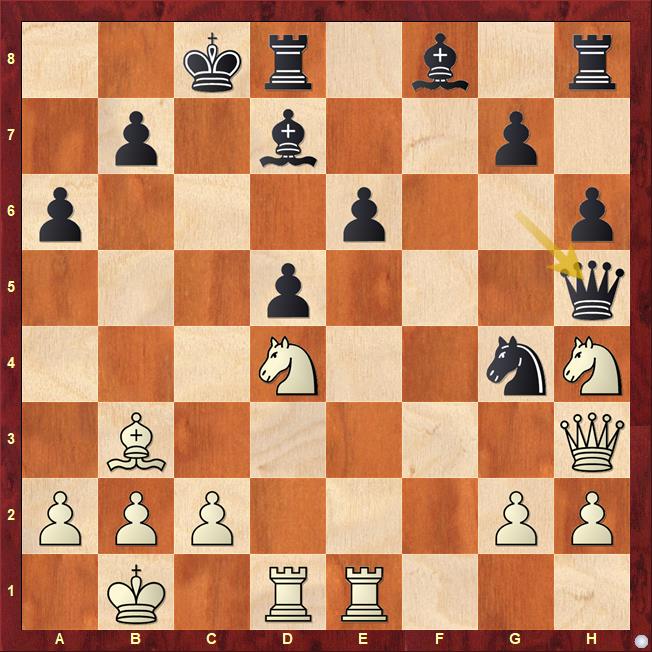 White could have taken the e6-pawn right away. 23.Nxe6 Bxe6 24.Rxe6 Nf2 25.Qc3+ Kb8 26.Rd4 and White probably would have finished the game much earlier.
Rakshitta - Anousha, Round 2
37.Qf2 works due to the fact that Black's back rank is quite weak. 37...Qc8 38.Nf3 Rd8 39.Rc1 Rc7 40.Rh5+ Kg8 41.Rxc2 Rxc2 42.Qg3+ and White went on to win the game.
Rakshitta - Asgharzadeh, Round 7
32.b6 works right away as Rxc3 33.Rc8 and White wins. White took a cautious approach 32.Nd1 Ng5 33.Be2 Nxe4 34.b6 Na6? 35.Ra8 and Black can no longer save the game.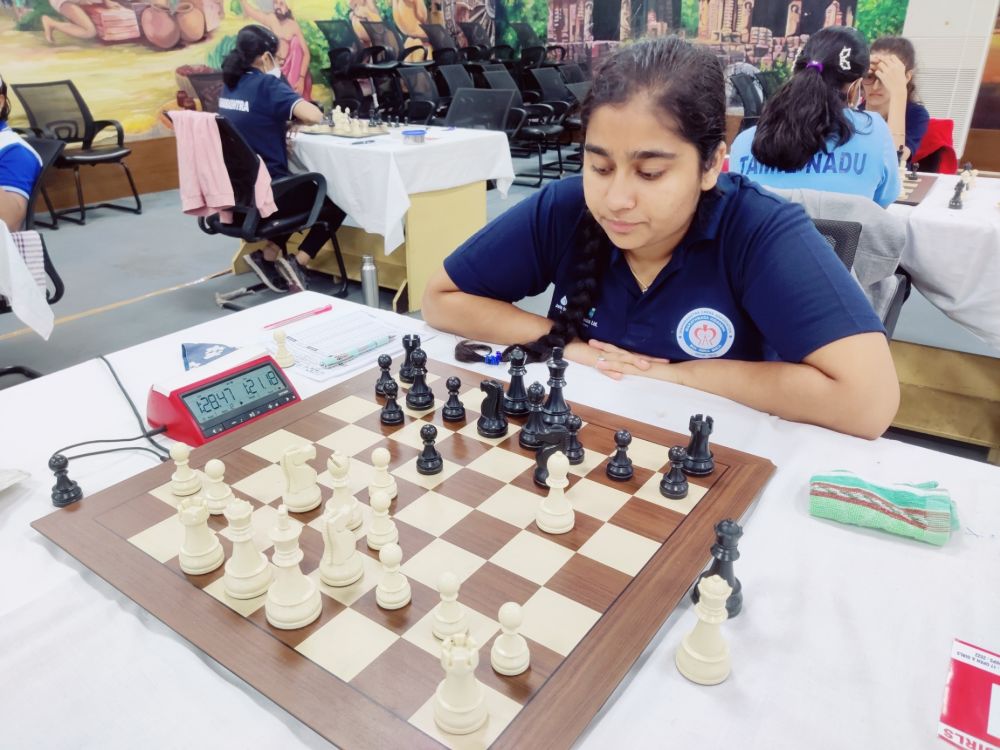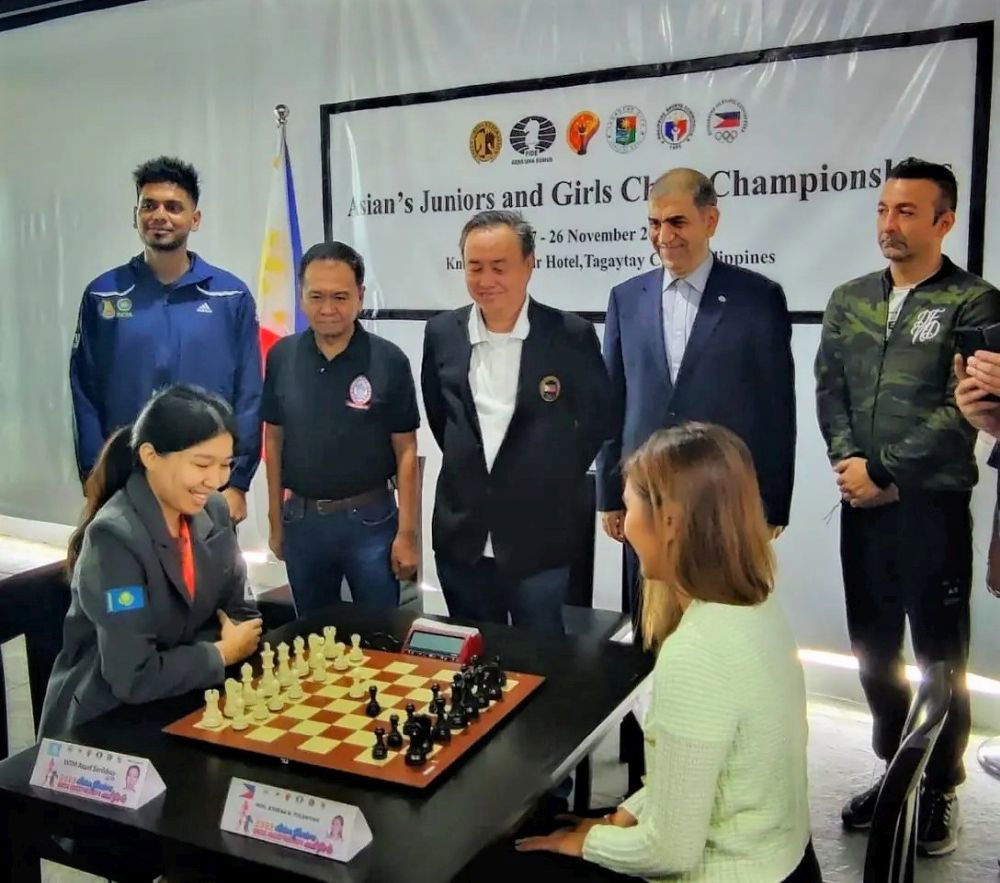 A total of 32 players including 8 IMs in the Open and 20 players including 5 WIMs are taking part from Guam, Indonesia, India, Iran, Japan, Kazakhstan, Kyrgyzstan, Malaysis, Mongolia, Philippines and Vietnam. The tournament is organized by Asian Chess Federation. It is taking place at Knights Templar Hotel in Tagaytay, Philippines from 19th to 25th November 2022.
Replay Round 1-7 Open games
Replay Round 1-7 Girls games
Round 7 Open results
Round 8 pairings
Round 7 Girls results
Round 8 Girls pairings
Final standings in Rapid Open
| | | | | | | | | | | | | | |
| --- | --- | --- | --- | --- | --- | --- | --- | --- | --- | --- | --- | --- | --- |
| Rk. | SNo | | | Name | Gr | FED | Rtg | Pts. | TB1 | TB2 | TB3 | TB4 | TB5 |
| 1 | 7 | | IM | Concio Michael Jr. | U18 | PHI | 2260 | 6,5 | 25,5 | 26,5 | 0 | 1955 | 6 |
| 2 | 10 | | FM | Orozbaev Eldiar | U16 | KGZ | 2244 | 5,5 | 27,5 | 30,5 | 0 | 2011 | 5 |
| 3 | 14 | | | Dziththauly Ramadhan | | INA | 2094 | 5 | 29 | 30 | 0 | 2086 | 4 |
| 4 | 3 | | IM | Harshavardhan G B | | IND | 2333 | 5 | 24 | 27 | 0 | 2135 | 4 |
| 5 | 5 | | IM | Gan-Erdene Sugar | | MGL | 2319 | 5 | 23,5 | 26,5 | 0 | 2038 | 5 |
| 6 | 1 | | IM | Quizon Daniel | U18 | PHI | 2354 | 4,5 | 25,5 | 28,5 | 0 | 2158 | 4 |
| 7 | 4 | | FM | Sapenov Daniyal | U16 | KAZ | 2331 | 4,5 | 23,5 | 26 | 0 | 1982 | 4 |
| 8 | 9 | | | Utsab Chatterjee | | IND | 2245 | 4 | 30 | 32 | 0 | 2184 | 3 |
| 9 | 8 | | FM | Hakemi Arman | | IRI | 2245 | 4 | 27,5 | 29,5 | 0 | 2096 | 4 |
| 10 | 12 | | IM | Raahul V S | | IND | 2233 | 4 | 27 | 29 | 0 | 2006 | 4 |
Final standings in Rapid Girls
| | | | | | | | | | | | | | |
| --- | --- | --- | --- | --- | --- | --- | --- | --- | --- | --- | --- | --- | --- |
| Rk. | SNo | | | Name | Gr | FED | Rtg | Pts. | TB1 | TB2 | TB3 | TB4 | TB5 |
| 1 | 5 | | WFM | Zahedifar Anahita | | IRI | 1996 | 5,5 | 27,5 | 30,5 | 0 | 1943 | 5 |
| 2 | 3 | | WIM | Nurgali Nazerke | U18 | KAZ | 2069 | 5,5 | 24,5 | 27,5 | 0 | 1827 | 5 |
| 3 | 4 | | WIM | Bach Ngoc Thuy Duong | | VIE | 2064 | 5 | 25,5 | 29 | 0 | 1904 | 5 |
| 4 | 2 | | WIM | Serikbay Assel | | KAZ | 2081 | 5 | 25 | 28 | 0 | 1928 | 4 |
| 5 | 8 | | WFM | Bhagyashree Patil | U18 | IND | 1881 | 4,5 | 29 | 30 | 0 | 1853 | 4 |
| 6 | 1 | | WIM | Kairbekova Amina | U18 | KAZ | 2119 | 4,5 | 27 | 30 | 0 | 1934 | 4 |
| 7 | 6 | | WFM | Mahdian Anousha | | IRI | 1981 | 4 | 27 | 30 | 0 | 1891 | 3 |
| 8 | 7 | | WFM | Asgharzadeh Mitra | | IRI | 1959 | 3,5 | 25,5 | 27,5 | 0 | 1757 | 3 |
| 9 | 15 | | | Femil Chelladurai | U18 | IND | 1462 | 3,5 | 22,5 | 23,5 | 0 | 1764 | 3 |
| 10 | 13 | | | Tan Mary Joy | | PHI | 1640 | 3,5 | 22,5 | 22,5 | 0 | 1752 | 3 |
Links
---