Soham Kamotra and Bhagyashree Patil win MPL 31st National Under-18 Open and Girls Chess Championships
CM Soham Kamotra (J&K) and WFM Bhagyashree Patil (MAH) emerged as the winners of MPL 31st National Under-18 Open and Girls Chess Championships 2022. Soham became the first player from Jammu and Kashmir to win a National championship. He scored an unbeaten 9.5/11 and finished a half point ahead of the competition. IM Srihari L R (TN) scored sole 9.0/11 to secure second place. He also remained undefeated. Ilamparthi A R (TN) and Dinesh Kumar Jaganathan (TN) scored 8.5/11 each. They were placed third and fourth according to tie-breaks. Bhagyashree dominated the Girls event. She won the tournament with a round to spare. Her final score is 10.0/11. Tamil Nadu's Rindhiya V 9.0/11 and Kanishka S 8.0/11 finished at second and third place. Photo: AICF
Soham Kamotra becomes the first player from Jammu and Kashmir to win a National championship
CM Soham Kamotra became the first player from Jammu and Kashmir to win a National Chess Championship. Last year, he secured an individual Bronze and team Silver medal for India at Asian School Online Under-17 Open Chess Championship 2021. The total prize fund of the National Under-18 championship was ₹900000. Top three prizes were ₹90000, ₹70000 and ₹58000 in each sections along with a trophy.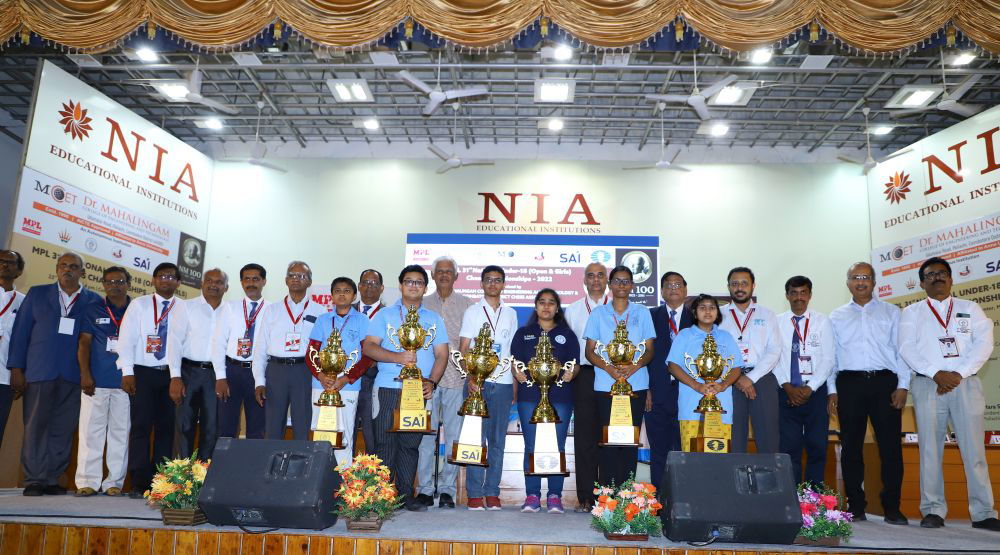 Bharath - Srihari, Round 7
White was forced to give up his queen to keep the position balanced. 26.Qxc3 Bxc3 27.Bxc3 White may have two minor pieces for a queen, however the placement of the knight at b6 and the positional bind on the queenside ensures White can continue the fight. Soon White blundered in another seven moves and things completely turned into Srihari's favor. Bharath was handed his first loss of the event.
Avinash - Soham, Round 7
Try to think like Soham and find out why 14.Nd6 is a mistake.
One of Soham's favorite win was against Vignesh B (TN, 2062) in the ninth round. Check out the game annotated by him.
Soham - John, Round 10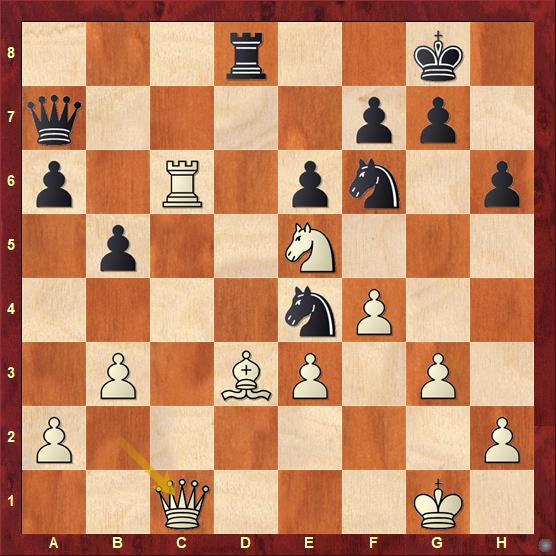 Black blundered in the above position 33...h5. Find out the winning continuation. This is also one of the favorite games of Soham. Check out his analysis.
Vyshnavi - Bhagyashree, Round 9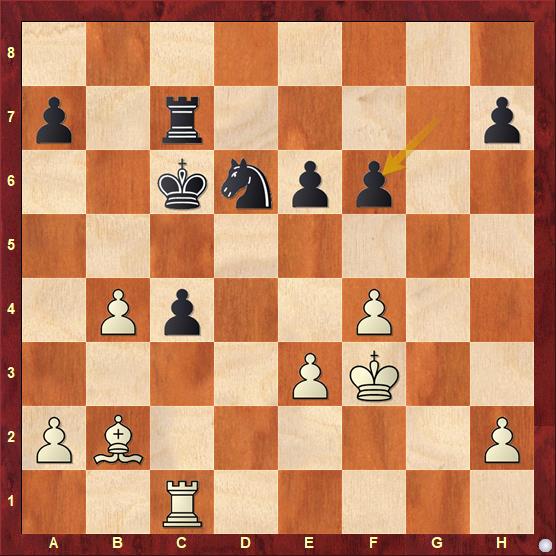 32.a4 f5 33.b5+ Kb6 34.Bd4 is one of the many ways for White to win. Taking the f6-pawn 32.Bxf6 allows Black to get back in the game 32...Kb5. Bhagyashree used her opportunity and eventually turned things around in her favor to score a victory. Vyshnavi was the toughest challenge the eventual champion had to overcome. This win gave her a 1.5 point lead which allowed her to draw the next two games to clinch the championship.
A total of 138 players including a GM and 3 IMs in the Open and 91 players in the Girls tournament took part. It was organized by Coimbatore District Chess Association at Dr. Mahalingam College of Engineering and Technology, Pollachi from 18th to 23rd April 2022. The eleven-round Swiss league tournament had a time control of 90 minutes + 30 seconds increment from move no.1.
Replay Open Round 7-11 games
Replay Girls Round 7-11 games
Open Round 11 results
Final standings
| | | | | | | | | | | | | | | | |
| --- | --- | --- | --- | --- | --- | --- | --- | --- | --- | --- | --- | --- | --- | --- | --- |
| Rk. | SNo | | Name | Typ | Gr | FED | Rtg | Club/City | Pts. | TB1 | TB2 | TB3 | TB4 | TB5 | Rp |
| 1 | 7 | CM | Soham Kamotra | | N | IND | 2159 | J&K | 9,5 | 76,5 | 81,5 | 69,25 | 0,0 | 8 | 2246 |
| 2 | 2 | IM | Srihari L R | | N | IND | 2398 | TN | 9,0 | 77,5 | 82,5 | 67,00 | 0,0 | 7 | 2172 |
| 3 | 9 | | Ilamparthi A R | | S | IND | 2122 | TN | 8,5 | 70,5 | 76,0 | 55,00 | 0,0 | 8 | 1943 |
| 4 | 13 | | Dinesh Kumar Jaganathan | | N | IND | 1937 | TN | 8,5 | 66,0 | 71,0 | 51,50 | 0,0 | 8 | 1858 |
| 5 | 5 | FM | Harshad S | | S | IND | 2272 | TN | 8,0 | 74,0 | 80,0 | 57,00 | 0,0 | 5 | 2010 |
| 6 | 18 | | Krishnan Ritvik | | S | IND | 1800 | MAH | 8,0 | 74,0 | 78,0 | 52,25 | 0,0 | 6 | 2020 |
| 7 | 28 | | Apoorv Kamble | | S | IND | 1679 | KAR | 8,0 | 73,5 | 78,5 | 54,25 | 0,0 | 7 | 2039 |
| 8 | 10 | AGM | Vignesh B | | S | IND | 2062 | TN | 8,0 | 69,5 | 73,5 | 51,25 | 0,0 | 7 | 1820 |
| 9 | 8 | IM | Manish Anto Cristiano F | | N | IND | 2129 | TN | 8,0 | 67,0 | 72,0 | 50,50 | 0,0 | 7 | 1844 |
| 10 | 3 | | Avinash Ramesh | | S | IND | 2369 | TN | 7,5 | 76,0 | 82,0 | 52,25 | 0,0 | 6 | 2012 |
| 11 | 15 | | Mahendra Teja Mekala | | N | IND | 1847 | AP | 7,5 | 70,0 | 74,5 | 47,25 | 0,0 | 7 | 1877 |
| 12 | 17 | | Chidvilash Sai Surapaneni | | N | IND | 1815 | TEL | 7,5 | 68,5 | 74,0 | 47,00 | 0,0 | 6 | 1746 |
| 13 | 16 | | Jani Kushal R | | N | IND | 1818 | GUJ | 7,5 | 66,0 | 71,0 | 45,75 | 0,0 | 7 | 1738 |
| 14 | 6 | FM | Ayushh Ravikumar | | S | IND | 2165 | TN | 7,5 | 65,5 | 70,0 | 45,00 | 0,0 | 6 | 1705 |
| 15 | 1 | IM | Bharath Subramaniyam H | | N | IND | 2503 | TN | 7,0 | 76,5 | 81,5 | 47,75 | 0,0 | 6 | 1979 |
| 16 | 27 | | John Veny Akkarakaran | | S | IND | 1687 | KER | 7,0 | 76,0 | 81,0 | 47,00 | 0,0 | 5 | 2057 |
| 17 | 11 | | Rakshith Srinivasan | | N | IND | 2011 | KAR | 7,0 | 71,0 | 75,5 | 45,75 | 0,0 | 5 | 1775 |
| 18 | 40 | | Piyush Kumar | | N | IND | 1535 | BIH | 7,0 | 69,5 | 74,0 | 44,25 | 0,0 | 5 | 1798 |
| 19 | 26 | | Dhruva Thota | | N | IND | 1694 | TEL | 7,0 | 68,5 | 73,0 | 40,75 | 0,0 | 6 | 1834 |
| 20 | 19 | | Md Bashiq Imrose | | S | IND | 1794 | TEL | 7,0 | 67,0 | 72,5 | 43,25 | 0,0 | 5 | 1745 |
Girls Round 11 results
Final standings
| | | | | | | | | | | | | | | |
| --- | --- | --- | --- | --- | --- | --- | --- | --- | --- | --- | --- | --- | --- | --- |
| Rk. | SNo | | Name | Gr | FED | Rtg | RtgI | Club/City | Pts. | TB1 | TB2 | TB3 | TB4 | TB5 |
| 1 | 2 | WFM | Bhagyashree Patil | S | IND | 1931 | 1931 | MAH | 10,0 | 77,0 | 82,5 | 74,25 | 0,0 | 9 |
| 2 | 4 | | Rindhiya V | S | IND | 1880 | 1880 | TN | 9,0 | 75,5 | 80,5 | 64,50 | 0,0 | 8 |
| 3 | 14 | | Kanishka S | N | IND | 1631 | 1631 | TN | 8,0 | 75,0 | 81,0 | 54,75 | 0,0 | 7 |
| 4 | 9 | | Sachi Jain | N | IND | 1691 | 1691 | DEL | 8,0 | 71,5 | 76,5 | 49,50 | 0,0 | 8 |
| 5 | 11 | WCM | Chinnam Vyshnavi | N | IND | 1673 | 1673 | AP | 8,0 | 70,0 | 74,0 | 49,50 | 0,0 | 6 |
| 6 | 10 | | Ishvi Aggarwal | N | IND | 1681 | 1681 | Har | 8,0 | 67,0 | 72,0 | 47,75 | 0,0 | 7 |
| 7 | 8 | | Keerti Shree Reddy | N | IND | 1706 | 1706 | TN | 7,5 | 73,5 | 79,0 | 49,25 | 0,0 | 7 |
| 8 | 20 | | Vakcheri Mohitha | S | IND | 1479 | 1479 | AP | 7,5 | 70,5 | 75,5 | 46,50 | 0,0 | 6 |
| 9 | 23 | | Sindhusree K | N | IND | 1458 | 1458 | TN | 7,5 | 67,0 | 71,5 | 45,50 | 0,0 | 7 |
| 10 | 6 | | Rebecca Jesumarian | S | IND | 1794 | 1794 | TN | 7,5 | 63,0 | 67,5 | 43,25 | 0,0 | 7 |
| 11 | 24 | | Trisha B | S | IND | 1457 | 1457 | TN | 7,5 | 56,5 | 61,0 | 40,25 | 0,0 | 7 |
| 12 | 13 | | Anupam M Sreekumar | N | IND | 1653 | 1653 | KER | 7,0 | 73,0 | 77,0 | 44,50 | 0,0 | 6 |
| 13 | 29 | | Keerthana B | S | IND | 1379 | 1379 | TN | 7,0 | 66,5 | 70,5 | 37,50 | 0,0 | 7 |
| 14 | 25 | | Tejaswi R | S | IND | 1414 | 1414 | TN | 7,0 | 64,0 | 68,0 | 38,50 | 0,0 | 7 |
| 15 | 34 | | Yashvi Jain | S | IND | 1280 | 1280 | TEL | 7,0 | 64,0 | 68,0 | 37,50 | 0,0 | 7 |
| 16 | 28 | | Jeevika S | N | IND | 1383 | 1383 | PUD | 7,0 | 63,0 | 66,5 | 39,75 | 0,0 | 5 |
| 17 | 12 | | Femil Chelladurai | S | IND | 1664 | 1664 | TN | 7,0 | 62,5 | 66,5 | 40,50 | 0,0 | 5 |
| 18 | 3 | WCM | Kheerthi Ganta | S | IND | 1909 | 1909 | TEL | 7,0 | 59,5 | 64,5 | 40,00 | 0,0 | 7 |
| 19 | 39 | | Siyona Judith C | S | IND | 1256 | 1256 | TN | 7,0 | 58,0 | 62,0 | 34,50 | 0,0 | 7 |
| 20 | 18 | | Khairmode Dhanashree | N | IND | 1511 | 1511 | MAH | 6,5 | 66,5 | 71,5 | 38,25 | 0,0 | 6 |
---