Armageddon Championship Series 2023 Grand Finale: Bibisara loses to Humpy 1-2
GM Koneru Humpy started her day with a loss against IM Bibisara Assaubayeva (KAZ). The India no.1 struck back in the must-win second game. Despite being lost for the better part of the game, Humpy persevered, waited for her opportunity and she seized it eventually. This win put her in the right mood. In Armageddon, Humpy did not give chance to her opponent and eventually managed to checkmate to win the game and match. Humpy won both of her games by delivering a checkmate. GM Nodirbek Abdusattorov (UZB) defeatd GM Richard Rapport (ROU) 2-1 in the other match of the day. Humpy will face Abdusattorov tomorrow, Sunday 17th September from 7 p.m. local time, 10:30 p.m. IST. Who do you think will win that match? Photos: Saji Mathew
Humpy checkmates Bibisara twice
GM Koneru Humpy earlier this year lost to IM Bibisara in two matches at Armageddon Championship Series: Women's Week in May. Both of them qualified to the Grand Finale via the same event in the third leg. Humpy of course remembered it and she did not want to repeat the same outcome. She showed her class and defeated Bibisara. Since it is a double elimination, Bibisara will face GM Richard Rapport (ROU) today.
Bibisara - Humpy: 1-2
GM Koneru Humpy (2460) lost the first game against the reigning two-time World Blitz champion, IM Bibisara Assaubayeva (KAZ, 2478). In a must-win game, Humpy was lost on multiple occasion.
On move no.31, Humpy played 31...Rd1+ At a first glance, it might seem that the rook is sharing d1 and d2-square. However, a closer look reveals that the intention of playing the move Rd1 as the rook occupies more of d1 and less of d2-square. Humpy went on to checkmate Assaubayeva to force Armageddon. This win gave Humpy the momentum she needed. The India no.1 won Armageddon convincingly to win the match and setup a clash against Nodirbek Abdusattorov (UZB).
Replay the live streams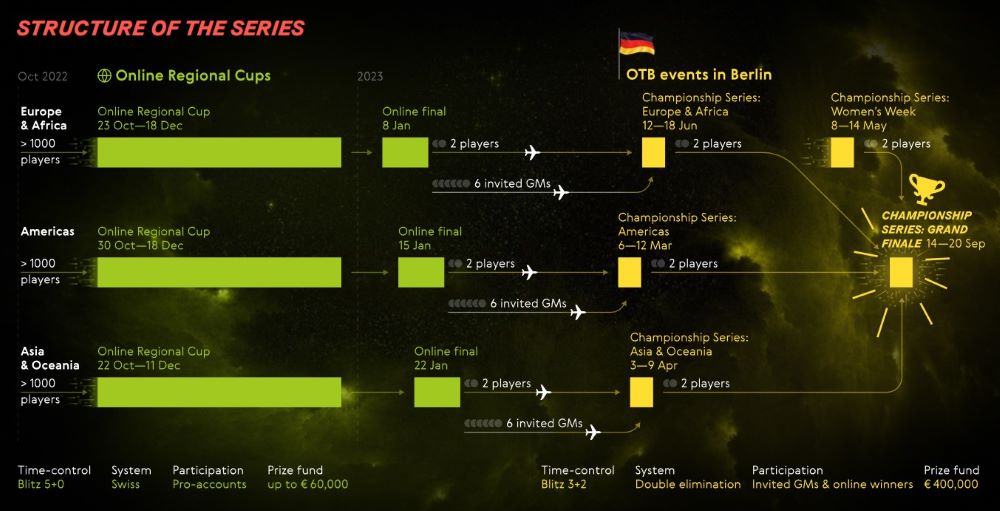 Replay Day 2 games
Prize fund
The total prize fund - €200000. Top two prizes are: €80000 and €40000 each respectively.
Grand finale brackets
Links
---