Opening Ceremony of the World Teams 2017
16th of June was the opening ceremony of the World Team Championship 2017 in Khanty Mansiysk. The games begin on 17th of June at 15.00 hours local time (15.30 hours IST). India faces Poland in the open section and Georgia in the women's section. ChessBase India will be closely covering the event round by round. For now we have some very exciting pictures from the opening ceremony.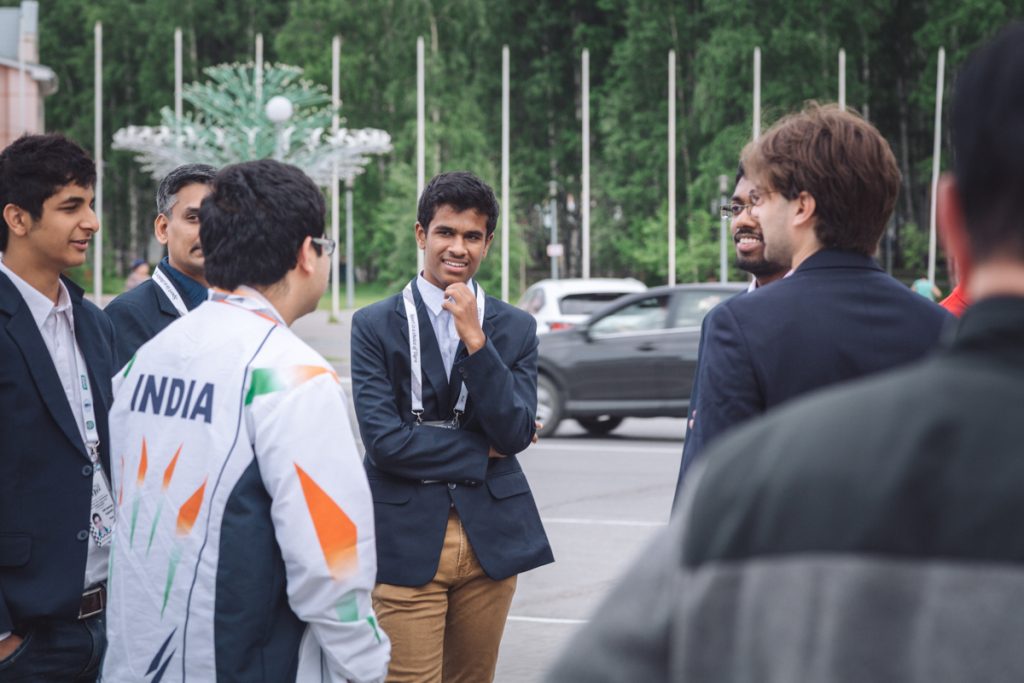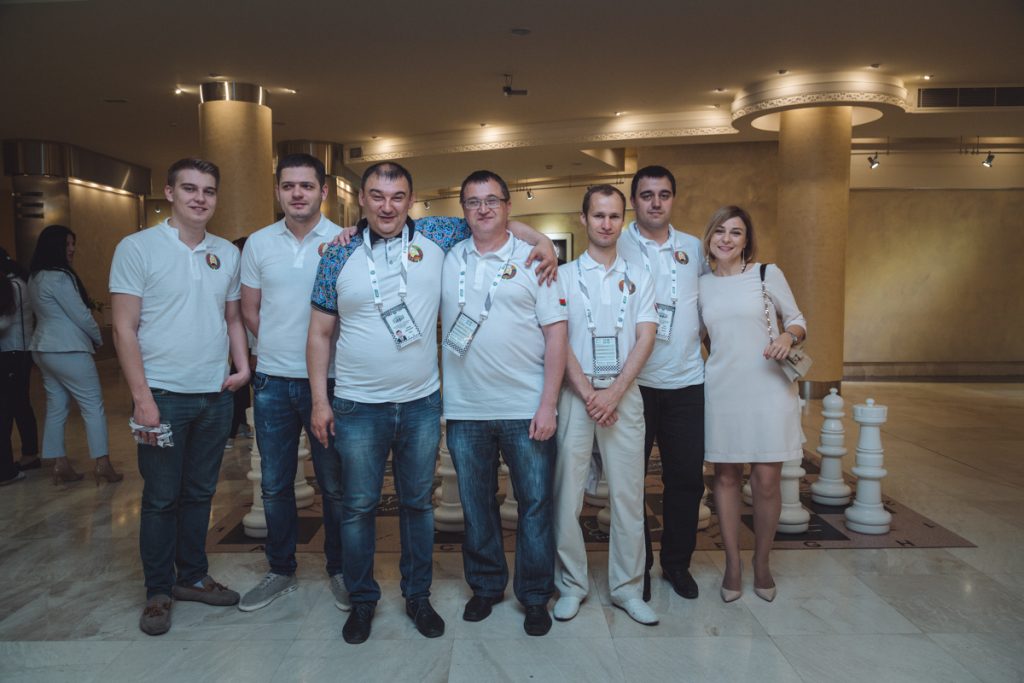 The live games begin at 3 p.m. in Khanty Mansiysk. In India that would be 3.30 p.m. (yes, Khanty is just half an hour behind us!). We will soon setup the live games page, so that you will also be able to follow the games on the ChessBase India website.
Team Pairings. Open
Round 1 on 2017/06/17 at 15:00
No.
SNo.
Team
Res.
Team
SNo.
1
1
CHINA
–
BELARUS
10
2
2
INDIA
–
POLAND
9
3
3
UNITED STATES
–
NORWAY
8
4
4
EGYPT
–
RUSSIA
7
5
5
TURKEY
–
UKRAINE
6
Round 2 on 2017/06/18 at 15:00
No.
SNo.
Team
Res.
Team
SNo.
1
10
BELARUS
–
UKRAINE
6
2
7
RUSSIA
–
TURKEY
5
3
8
NORWAY
–
EGYPT
4
4
9
POLAND
–
UNITED STATES
3
5
1
CHINA
–
INDIA
2
Round 3 on 2017/06/19 at 15:00
No.
SNo.
Team
Res.
Team
SNo.
1
2
INDIA
–
BELARUS
10
2
3
UNITED STATES
–
CHINA
1
3
4
EGYPT
–
POLAND
9
4
5
TURKEY
–
NORWAY
8
5
6
UKRAINE
–
RUSSIA
7
Round 4 on 2017/06/20 at 15:00
No.
SNo.
Team
Res.
Team
SNo.
1
10
BELARUS
–
RUSSIA
7
2
8
NORWAY
–
UKRAINE
6
3
9
POLAND
–
TURKEY
5
4
1
CHINA
–
EGYPT
4
5
2
INDIA
–
UNITED STATES
3
Round 5 on 2017/06/21 at 15:00
No.
SNo.
Team
Res.
Team
SNo.
1
3
UNITED STATES
–
BELARUS
10
2
4
EGYPT
–
INDIA
2
3
5
TURKEY
–
CHINA
1
4
6
UKRAINE
–
POLAND
9
5
7
RUSSIA
–
NORWAY
8
Round 6 on 2017/06/23 at 15:00
No.
SNo.
Team
Res.
Team
SNo.
1
10
BELARUS
–
NORWAY
8
2
9
POLAND
–
RUSSIA
7
3
1
CHINA
–
UKRAINE
6
4
2
INDIA
–
TURKEY
5
5
3
UNITED STATES
–
EGYPT
4
Round 7 on 2017/06/24 at 15:00
No.
SNo.
Team
Res.
Team
SNo.
1
4
EGYPT
–
BELARUS
10
2
5
TURKEY
–
UNITED STATES
3
3
6
UKRAINE
–
INDIA
2
4
7
RUSSIA
–
CHINA
1
5
8
NORWAY
–
POLAND
9
Round 8 on 2017/06/25 at 15:00
No.
SNo.
Team
Res.
Team
SNo.
1
10
BELARUS
–
POLAND
9
2
1
CHINA
–
NORWAY
8
3
2
INDIA
–
RUSSIA
7
4
3
UNITED STATES
–
UKRAINE
6
5
4
EGYPT
–
TURKEY
5
Round 9 on 2017/06/26 at 13:00
No.
SNo.
Team
Res.
Team
SNo.
1
5
TURKEY
–
BELARUS
10
2
6
UKRAINE
–
EGYPT
4
3
7
RUSSIA
–
UNITED STATES
3
4
8
NORWAY
–
INDIA
2
5
9
POLAND
–
CHINA
1
Team Pairings. Women
Round 1 on 2017/06/17 at 15:00
No.
SNo.
Team
Res.
Team
SNo.
1
1
UNITED STATES
–
UKRAINE
10
2
2
INDIA
–
GEORGIA
9
3
3
POLAND
–
AZERBAIJAN
8
4
4
EGYPT
–
VIETNAM
7
5
5
RUSSIA
–
CHINA
6
Round 2 on 2017/06/18 at 15:00
No.
SNo.
Team
Res.
Team
SNo.
1
10
UKRAINE
–
CHINA
6
2
7
VIETNAM
–
RUSSIA
5
3
8
AZERBAIJAN
–
EGYPT
4
4
9
GEORGIA
–
POLAND
3
5
1
UNITED STATES
–
INDIA
2
Round 3 on 2017/06/19 at 15:00
No.
SNo.
Team
Res.
Team
SNo.
1
2
INDIA
–
UKRAINE
10
2
3
POLAND
–
UNITED STATES
1
3
4
EGYPT
–
GEORGIA
9
4
5
RUSSIA
–
AZERBAIJAN
8
5
6
CHINA
–
VIETNAM
7
Round 4 on 2017/06/20 at 15:00
No.
SNo.
Team
Res.
Team
SNo.
1
10
UKRAINE
–
VIETNAM
7
2
8
AZERBAIJAN
–
CHINA
6
3
9
GEORGIA
–
RUSSIA
5
4
1
UNITED STATES
–
EGYPT
4
5
2
INDIA
–
POLAND
3
Round 5 on 2017/06/21 at 15:00
No.
SNo.
Team
Res.
Team
SNo.
1
3
POLAND
–
UKRAINE
10
2
4
EGYPT
–
INDIA
2
3
5
RUSSIA
–
UNITED STATES
1
4
6
CHINA
–
GEORGIA
9
5
7
VIETNAM
–
AZERBAIJAN
8
Round 6 on 2017/06/23 at 15:00
No.
SNo.
Team
Res.
Team
SNo.
1
10
UKRAINE
–
AZERBAIJAN
8
2
9
GEORGIA
–
VIETNAM
7
3
1
UNITED STATES
–
CHINA
6
4
2
INDIA
–
RUSSIA
5
5
3
POLAND
–
EGYPT
4
Round 7 on 2017/06/24 at 15:00
No.
SNo.
Team
Res.
Team
SNo.
1
4
EGYPT
–
UKRAINE
10
2
5
RUSSIA
–
POLAND
3
3
6
CHINA
–
INDIA
2
4
7
VIETNAM
–
UNITED STATES
1
5
8
AZERBAIJAN
–
GEORGIA
9
Round 8 on 2017/06/25 at 15:00
No.
SNo.
Team
Res.
Team
SNo.
1
10
UKRAINE
–
GEORGIA
9
2
1
UNITED STATES
–
AZERBAIJAN
8
3
2
INDIA
–
VIETNAM
7
4
3
POLAND
–
CHINA
6
5
4
EGYPT
–
RUSSIA
5
Round 9 on 2017/06/26 at 13:00
No.
SNo.
Team
Res.
Team
SNo.
1
5
RUSSIA
–
UKRAINE
10
2
6
CHINA
–
EGYPT
4
3
7
VIETNAM
–
POLAND
3
4
8
AZERBAIJAN
–
INDIA
2
5
9
GEORGIA
–
UNITED STATES
1
---