'Women Power' at the 3rd "Simply Chess MOMS" Aamantran Rapid & Blitz Tournament!
3rd "Simply Chess MOMS" Aamantran Rapid & Blitz Tournament was held on 24-June-2017, Saturday in an A.C. hall in Hotel Aamantran, RTC crossroads, Hyderabad. The tournament attracted 120 participants and was organised completely by mothers of chess playing kids in the city. From tournament announcement to the closing ceremony, moms did it all! ChessBase India also supported the event by giving away ten three-month ChessBase Premium accounts.
Simply Chess Foundation (SCF) is a Non-profit organisation formed by a group of Telugu Rated Players from Hyderabad. It has been established as a gesture of giving back to the game of chess that has given them years of joy and knowledge. Its founding members include Mr. Surya Kotha, Sardar Amithpal Singh, FM Ramu Kandi, B.Rajashekhar, Ramesh Y, Kandi Ravi, Jakkamsetti Sandhya and M R K Murthy Sriram. SCF purely works towards promoting and popularising the game of Chess by taking it to masses and making it accessible to the needy and budding chess players by spending their time, money and efforts.
SCF is trying out different innovative ideas to promote the game. By conducting events/activities such as Street Chess events, Free Rapid and Blitz tournaments, interactive sessions with players and parents through Facebook-Live, it aims at guiding budding players strengthen their game. It also plans to conduct regular tournaments, coaching camps and workshops either fully free of cost or at a nominal entry fee to help young players enhance their theoretical as well as practical knowledge. In another of its innovative attempts to popularise the game of chess, they came up with the 3rd Aamantran Rapid and Blitz Chess Tournament.
After its previous tournament, SCF received a donation of ₹ 10,000 from Smt. Janaki Devi, a 68-year-old woman who is an ardent chess fan and an International Rated player. Having received this donation and seeing the enthusiasm of all the mothers of chess playing kids, SCF came up with the idea of this event and used the money donated by Smt. Janaki Devi for the prize fund.
Right from the first tournament announcement to the closing ceremony, everything was organised by this group of spirited chess moms. Women power was seen all around as the ladies took up the responsibilities of not just organisation but also arbitration. From the Chief Arbiter to the Chief Guest of the event, everyone involved (except some participants, of course) was a woman!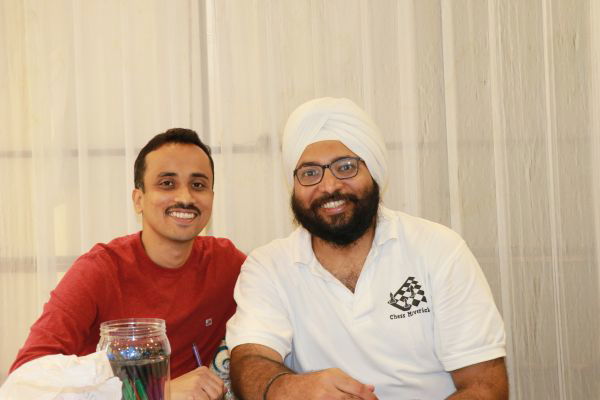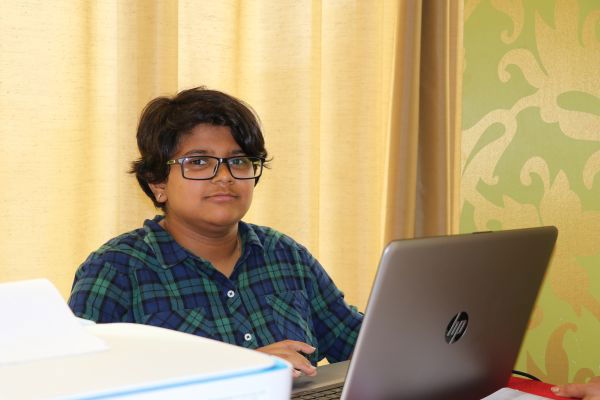 In the Open Rapid event, Viswanath Prasad won with a perfect score of 5.0/5. C Akira and L Vijay Kumar bagged the second and the third prize respectively. Both of them scored 4.0/5. Age category prizes were won by A Vishwanath and Gnanytha Netha in the U-13 category and by Arueran Raghuram and Dhanush Netha in U-11. In the blitz event, Sardar Amithpal Singh dominated the 59 player field and won the title prize.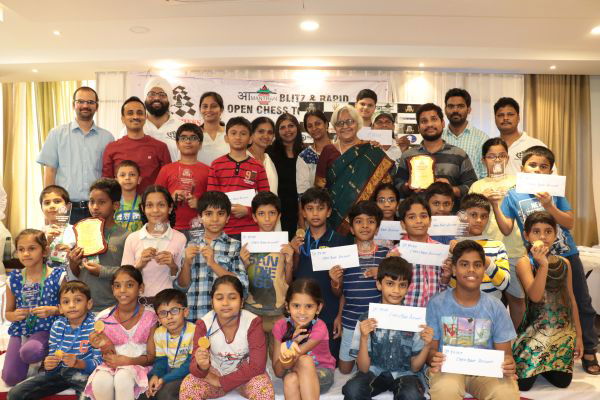 The competition was super-fierce in the U-10 rapid. After the fifth and final round, Sanketh Reddy and Sushanth Kamabathula were tied for first, both with a perfect score of 5.0/5! Since the progressive score tiebreak was applied, Sanketh Reddy was declared the winner while Kamabathula took the second spot. A point behind them was M Shreyas Reddy who finished third with a score of 4.0/5. There were also special prizes for the best performing U-7 boys and girls in this category. While Akshaj Sairam Kumar and Priyansh Reddy took the first and the second spot among boys, Hasini Kamabathula and Sahejdeep Kaur won in the girls' category.
ChessBase India would like to give a big shout out to all the super-moms and other ladies who successfully organised this event. We hope to see more such events in the future.
---