Welcome to the Nashik Rating, Prizes worth Rs.3,00,000/-, from 12th to 17 November, 2016
Morphy Chess Academy, Nashik will be organising the first International Fide Rating Chess Tournament at Nashik from 12th November to 17th November, 2016. Total prize fund of the event is Rs.3,00,000/- and the first prize is Rs.61,000/-. There are special cash prizes for the first ten winners in the below 1700 rating category (first prize Rs.11,000/-). Below1400 and unrated category also have the excellent prizes. In addition, special consolation prizes in the age group Under-7, Under-9, Under-11 & Under-13 are instituted to promote these youngesters.
Dormitory accommodation for first 100 outstation participants will be provided. Organisers are also going to make food available at the venue at a subsidized rate. It is also pertinent to mention that only first 350 players will be entertained on first cum first serve basis.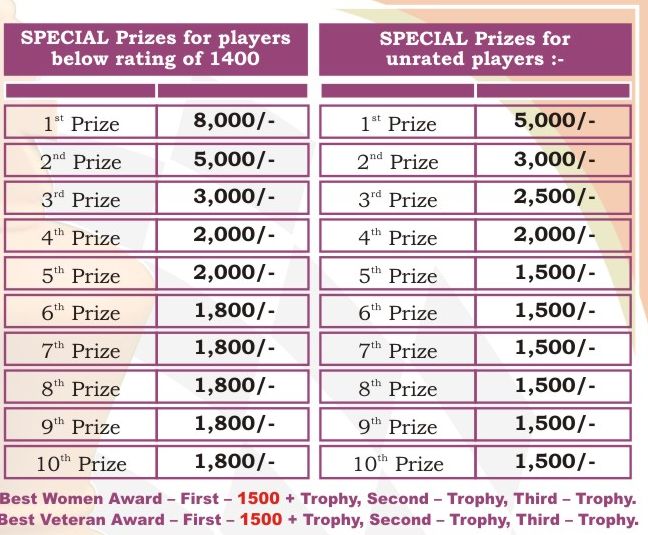 Starting rank
Why play in Nashik? 
There are several good reasons to play nashik tournament:
Sightseeing  -
Nashik is on the bank of Godavari river and hosts one of the largest relligious gatherings in the world known as MahaKumb. Religious places like Panchavati, Ramkund, Ramghat, Bhaktidham, Kalaram Temple, Sitagumpha, Tapovan are at the walking distance from the venue.
Trimbakeshwar, one of the 12 Jyotirlingas, is just 25 kms away from Nashik while Shirdi is around 80 kms away.
Vani, Saptashrungi Mandir is also a very good place having Rope-way facility and one can experience scenic beauty.
The Gargoti Museum is just 25 Km away, which houses a collection of mineral speciments and the place one should at least see once in life. 
Climate – The weather in Nashik is expected to be pleasant during the tournament. 
Biggest chess attraction in Nashik 
One of India's best player Vidit Gujrathi, with a rating of 2686, lives in Nashik.
How to reach Nashik?
Nashik is well connected with rail, road & air. It is 180 KM away from Mumbai & 210 Km away from Pune. It is on the direct train route of Mumbai-Delhi (Central Railway), Mumbai-Kolkata. Directs trains are available from Nashik to Delhi/Punjab, Ernakulam (Kerala), Goa. From Shirdi (80 KM from Nashik) and Manmad, trains are available to reach almost all parts of India. Nearest air-port is Mumbai.
Download the prospectus from here
Important contact details:
---