Ilamparthi A R and Pranav Anand are World Under-14 and Under-16 Open 2022 Champions
Pranav Anand added another accolade to his name after becoming India's 76th Grandmaster. He drew his final round game to clinch the Gold in World Youth Under-16 Open. That is not the only Gold medal India won at this event. Ilamparthi A R also won a Gold medal in the Under-14 Open category. He defeated Filip Magold (ROU) in the final round to finish with 9.5/11. He also won the Anish Giri Deathmatch scholarship worth ₹200000 which was announced yesterday after the boy claimed the Gold. The 12-year-old is also gaining 114.4 Elo rating points. 16/18 Indian participants are gaining rating. The highest gainer is Kanishka S. She is gaining a mammoth 282.4 Elo rating points. Photo: David Llada
India has a new GM Anand who has become a World Champion
15-year-old Pranav Anand both literally and figuratively had a Golden week. First he became India's 76th Grandmaster on 15th September and then he clinched the Gold on the following day. One could not have asked for a better finish after becoming a GM. With the exception of Under-16 Girls, in the remaining five categories, all Gold medalists won decisively, having a minimum of a half point gap with the Silver medalists. However, in the Under-18 Girls section, WIM Mariam Mkrtchyan (ARM) scored 11/11 which means she has won all her games. She finished 2.5 points ahead of the runner-up.
Magold - Ilamparthi, Round 11
It is not just about how you attack in a given position, it is also about how you provide resistance to your opponent's attacking advances. Something Filip Magold (ROU, 2267) learnt it the hard way against Ilamparthi A R (2269). The game continued 28...Nxf2 29.Rxf2 instead Qxf2 was a better choice 29...Qe3 the game has already started going out of White's hands. 30.Rd7?? Bc8 the better continuation was 30...Ba6 31.Rxa7?? was the final mistake.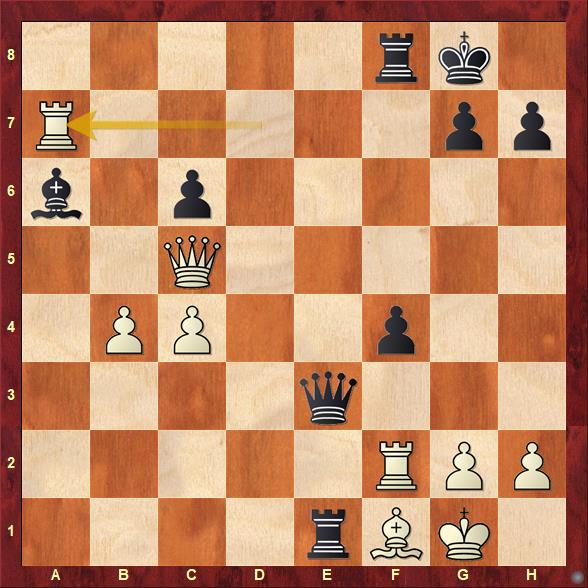 Can you find out the winning combination which Ilamparthi executed in the above position to become World Under-14 Open champion?
As announced yesterday on our fb page, World Class player and Netherlands no.1 Anish Giri has donated ₹200000 from his Deathmatch prize winnings to Ilamparthi A R. This is surely going to inspire Ilamparthi to do more well in his future endeavors.
Under-16 Open: Pranav Anand - Augustin: 0.5-0.5
IM Pranav Anand (2494) did what he was required to do. He drew with FM Augustin Droin (FRA, 2408) comfortably to clinch the Gold. He finished with a score of 9/11, a massive 1.5 points ahead of the field.
Replay Round 11 Under-14 Open games
Replay Round 11 Under-16 Open games
Round 11 results in all categories
Details: Under-14 Open and Under-16 Open
Final standings in Under-14 Open
Final standings in Under-16 Open
Individual performances of all Indian players
| | | | | | | | | | | | | | | | | | | | | | |
| --- | --- | --- | --- | --- | --- | --- | --- | --- | --- | --- | --- | --- | --- | --- | --- | --- | --- | --- | --- | --- | --- |
| SNo | | Name | Rtg | FED | 1 | 2 | 3 | 4 | 5 | 6 | 7 | 8 | 9 | 10 | 11 | Pts. | Rk. | Rp | K | rtg+/- | Group |
| 9 | | Ilamparthi A R | 2269 | IND | 1 | 1 | 1 | 1 | 1 | ½ | 0 | 1 | 1 | 1 | 1 | 9,5 | 1 | 2484 | 40 | 114,40 | Open 14 |
| 52 | | Bagwe Gaurang | 1984 | IND | 1 | 0 | 1 | 0 | 1 | ½ | ½ | 1 | ½ | 0 | ½ | 6 | 45 | 2046 | 40 | 47,20 | Open 14 |
| 56 | | John Veny Akkarakaran | 1971 | IND | 1 | 1 | 0 | 1 | ½ | 1 | ½ | 0 | 1 | 1 | 0 | 7 | 16 | 2265 | 40 | 169,60 | Open 14 |
| 1 | IM | Pranav Anand | 2494 | IND | 1 | 1 | ½ | 1 | ½ | ½ | 1 | 1 | 1 | 1 | ½ | 9 | 1 | 2543 | 10 | 7,70 | Open 16 |
| 2 | IM | Pranesh M | 2437 | IND | 1 | 1 | 1 | ½ | 1 | 0 | ½ | ½ | 1 | ½ | 1 | 8 | 5 | 2468 | 10 | 4,60 | Open 16 |
| 32 | | Krishnan Ritvik | 2222 | IND | 1 | 1 | 1 | 0 | ½ | 0 | ½ | 0 | ½ | 1 | 1 | 6,5 | 28 | 2193 | 40 | 11,20 | Open 16 |
| 34 | FM | Harshad S | 2218 | IND | 1 | 1 | 0 | 1 | 1 | ½ | ½ | ½ | 0 | 0 | 1 | 6,5 | 24 | 2184 | 20 | 10,20 | Open 16 |
| 20 | CM | Soham Kamotra | 2381 | IND | 1 | 1 | ½ | 0 | 1 | 0 | 1 | 0 | 1 | 1 | ½ | 7 | 14 | 2378 | 20 | 1,40 | Open 18 |
| 10 | | Mrittika Mallick | 1845 | IND | 1 | ½ | 1 | ½ | 1 | 1 | ½ | 1 | 0 | ½ | 1 | 8 | 4 | 1888 | 40 | 34,00 | Girls 14 |
| 37 | | Anupam M Sreekumar | 1627 | IND | 1 | 0 | 1 | 1 | 0 | 1 | 0 | 1 | 1 | 1 | 1 | 8 | 7 | 1901 | 40 | 160,00 | Girls 14 |
| 50 | | Pragnya H G | 1505 | IND | 0 | 1 | 1 | 1 | 1 | 0 | 1 | ½ | 1 | 0 | 1 | 7,5 | 8 | 1867 | 40 | 189,20 | Girls 14 |
| 76 | | Amulya Guruprasad | 1278 | IND | 0 | 1 | 1 | 1 | 1 | 1 | 1 | 0 | 1 | 0 | 0 | 7 | 14 | 1920 | 40 | 256,40 | Girls 14 |
| 43 | | Boramanikar Tanisha S | 1740 | IND | 1 | 0 | 1 | ½ | 1 | 0 | ½ | 1 | 0 | 0 | ½ | 5,5 | 42 | 1835 | 40 | 68,00 | Girls 16 |
| 4 | WIM | Rakshitta Ravi | 2238 | IND | 0 | 1 | 1 | 1 | ½ | 1 | 1 | 0 | 0 | 1 | 1 | 7,5 | 8 | 2118 | 20 | -19,40 | Girls 18 |
| 37 | WFM | Bhagyashree Patil | 1945 | IND | 1 | ½ | 0 | 0 | 1 | 0 | 1 | 1 | ½ | 0 | 0 | 5 | 46 | 1809 | 40 | -48,40 | Girls 18 |
| 58 | | Rindhiya V | 1786 | IND | 0 | ½ | 1 | 1 | 1 | 0 | 1 | ½ | 1 | 0 | 0 | 6 | 25 | 2168 | 40 | 182,80 | Girls 18 |
| 68 | | Kanishka S | 1552 | IND | ½ | 1 | 1 | 0 | 1 | 1 | 1 | 1 | 0 | 0 | 1 | 7,5 | 6 | 2234 | 40 | 282,40 | Girls 18 |
| 79 | | Susmita Bhowmick | 1179 | IND | 1 | 0 | 0 | 0 | 0 | 1 | 0 | 0 | 1 | 0 | ½ | 3,5 | 74 | 1441 | 40 | 51,60 | Girls 18 |
Links
---