World Youth 2022: Pranav Anand becomes India's 76th Grandmaster
15-year-old IM Pranav Anand became India's 76th Grandmaster by winning against IM Emin Ohanyan (ARM) in Round 10 of World Youth Under-16 Open. He is now just a draw away from winning Gold. Ilamparthi A R is also on the verge of winning Gold in Under-14 Open category. He is also in a sole lead 8.5/10. However, he must win his final round game to not leave his fate on tie-breaks. Mrittika Mallick, Amulya Guruprasad and Anupam M Sreekumar - all three are at 7/10 each. Mrittika has the best tie-break among the medal contenders. She must win the final round game and hope a few results go in her favor to earn a medal. Photo: Rupali Mullick
Pranav and Ilamparthi fingertips away from Gold
A little over a month after Pranav Venkatesh became India's 75th Grandmaster, the 76th GM is also another Pranav. 15-year-old Pranav Anand hails from Karnataka. He is currently trained by IM V Saravanan. The teenager earned his last two GM-norms in eight games. He just needed to cross the 2500 rating barrier which he did in the penultimate round of World Youth Under-16 Open 2022. We will share his journey towards the coveted GM title in a separate article.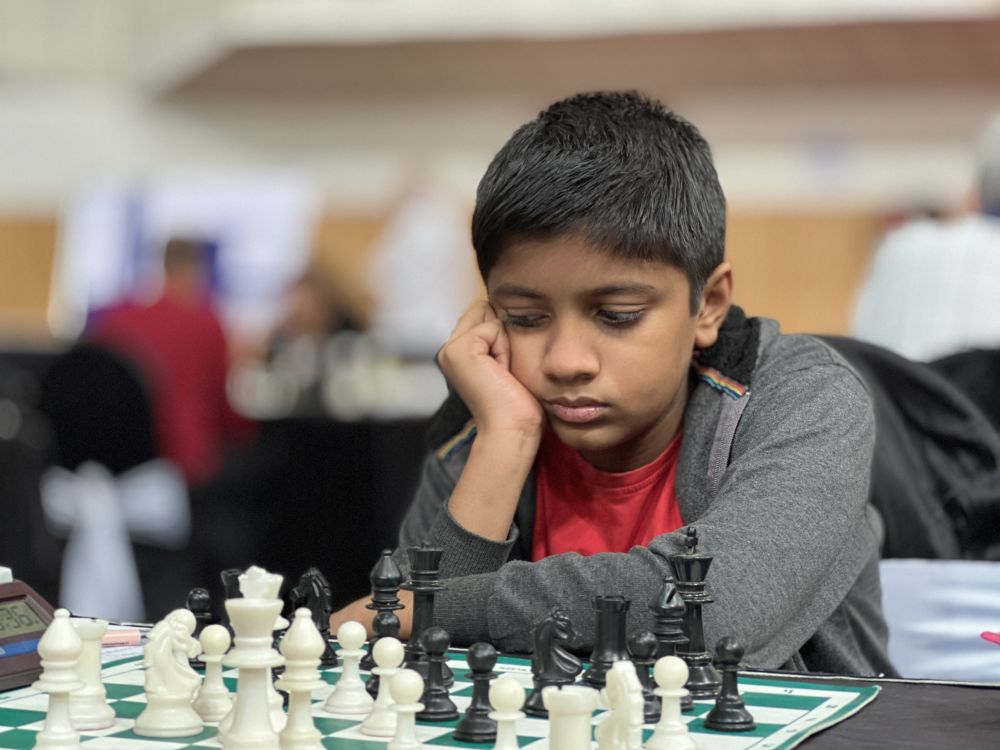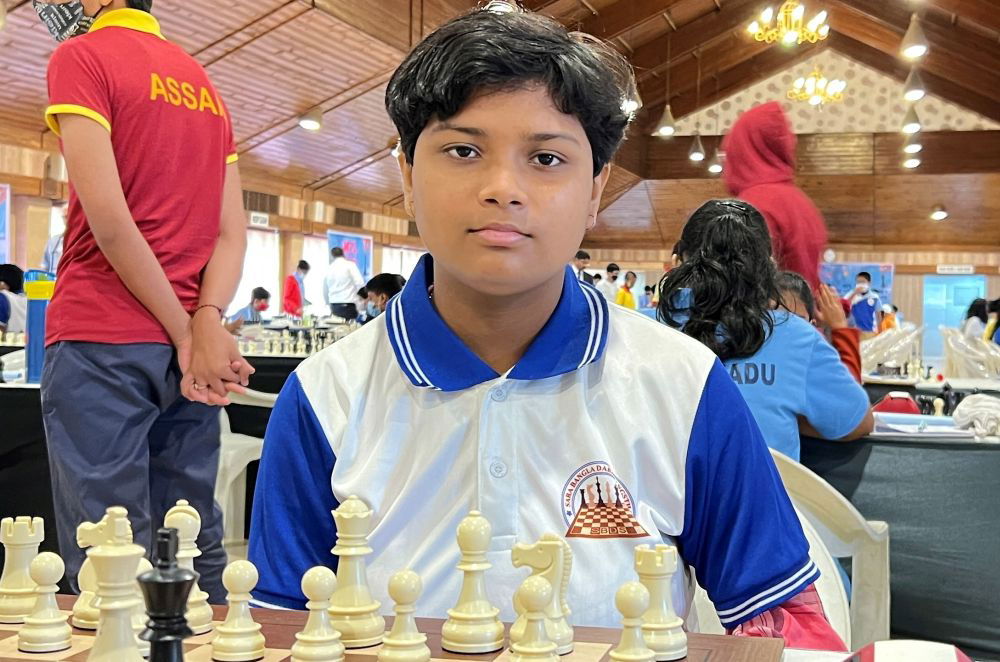 Under-14 Open: Ilamparthi A R 8.5/10
Ilmparthi has taken sole lead 8.5/10 by winning against CM Cnejev Vladimir-Alexandru (ROU). A win in the last round will make him a clear champion and earn the Gold, whereas a draw will mean everything depending on FM Jakub Seemann (POL)'s result.
Battulga - Ilamparthi, Round 8
White should have capture the knight on e6 on the previous move, 25.Rxe6 Nxe6 26.Qxe6 Qxh5 is still better for Black. However, 25.Rad1 just allowed Black to disintegrate White's kingside 25...f3 26.Rxd4 Nxd4 27.Re7 Ne2+ 28.Kf1 fxg2+ 29.Kxe2 Rxf2+ and White resigned as checkmate is inevitable one way or the other.
Under-14 Girls: Mrittika Mallick 7/10
Mrittika Mallick, Amulya Guruprasad and Anupam M Sreekumar are at 7/10 each. Since Mrittika has the best tie-breaks among all top contenders, she has the best chances of scoring a medal. She needs to win the final round and a few results need to go in her favor to earn her a medal.
Under-16 Open: IM Pranav Anand 8.5/10
IM Pranav Anand became India's 76th Grandmaster by defeating IM Emin Ohanyan (ARM). He just needs a draw against FM Augustin Droin (FRA) to clinch the Gold.
Ohanyan - Pranav, Round 10
29.Nd2 gave up the control of the d4-square e4 30.Nb3 Ne6 31.Bc4 Qc7. Even if White had exchanged his bishop for the knight at e6, it would have barely affected the outcome. Soon the knight made its way to a better place at d3. Black was completely winning positionally. Pranav arguably scored the most important win in the tenth round of World Youth Under-16 Open 2022 as it not only helped him move one step closer to win the Gold but also made him the latest Grandmaster of the country.
Replay Round 1-10 Under-14 Open games
Replay Round 1-10 Under-14 Girls games
Replay Round 1-10 Under-16 Open games
Round 10 results in all categories
Details: Under-14 Open, Under-14 Girls and Under-16 Open
Round 11 pairings in all categories
Details: Under-14 Open, Under-14 Girls and Under-16 Open
Links
---