World Amateur 2023: Kartavya Anadkat and Sham R secure Silver, Bronze for Velavaa Ragavesh
FM Abilmansur Abdilkhair (KAZ) scored an unbeaten 8/9 to win Gold at World Amateur Championship in Under-2300 Open category. He finished a full point ahead of the rest. Kartavya Anadkat and FM Marko Fadi (EGY) scored 7/9 each. Kartavya won Silver and Marko Bronze according to tie-breaks. Amarsaikhan Dashtogtokh (MGL) clinched Gold with a perfect 9/9 in Under-2000 Open. Sham R scored 7.5/9 to secure Silver. Velavaa Ragavesh edged past seven more players on tie-breaks to win Bronze medal scoring 6.5/9. The total prize fund of the tournament was €15000. The top three prizes in U2300 Open were €2000, €1500 and €1000 along with a cup and medal each. For U2000 Open, they were €1500, €1000 and €500 with a cup and medal each. Photos: Oman Chess Committee
Sham secures Silver in both Asian and World Amateur U2000
Despite suffering a loss in the second round against Ernesto Barrientos (PAR), Kartavya Anadkat made a strong comeback by scoring 6/7 in his last seven games to secure Silver in U2300 Open section. In U2000 Open category, Sham R suffered his sole loss against the eventual champion, Amarsaikhan Dashtogtokh (MGL) in the sixth round. Then he won the next three games to win the Silver. Almost two months ago, he had also won a Silver in the Asian Amateur Championship 2023. Bronze medal winner, Velavaa Ragavesh's sole loss was also against the eventual Gold medal winner, Amarsaikhan.
U2300 Open: Silver - Kartavya Anadkat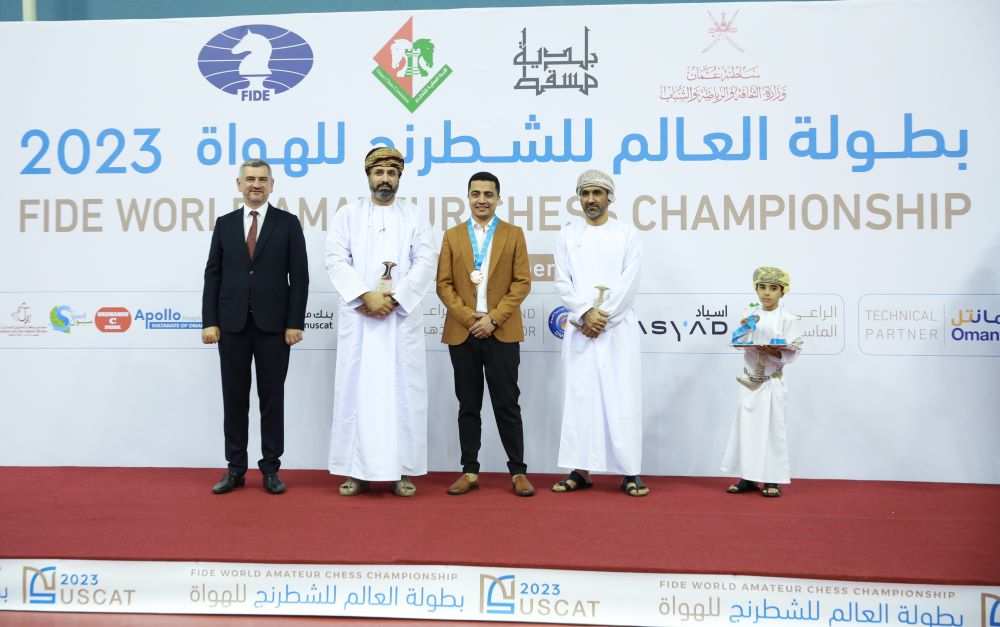 U2000 Open: Silver - Sham R and Bronze - Velavaa Ragavesh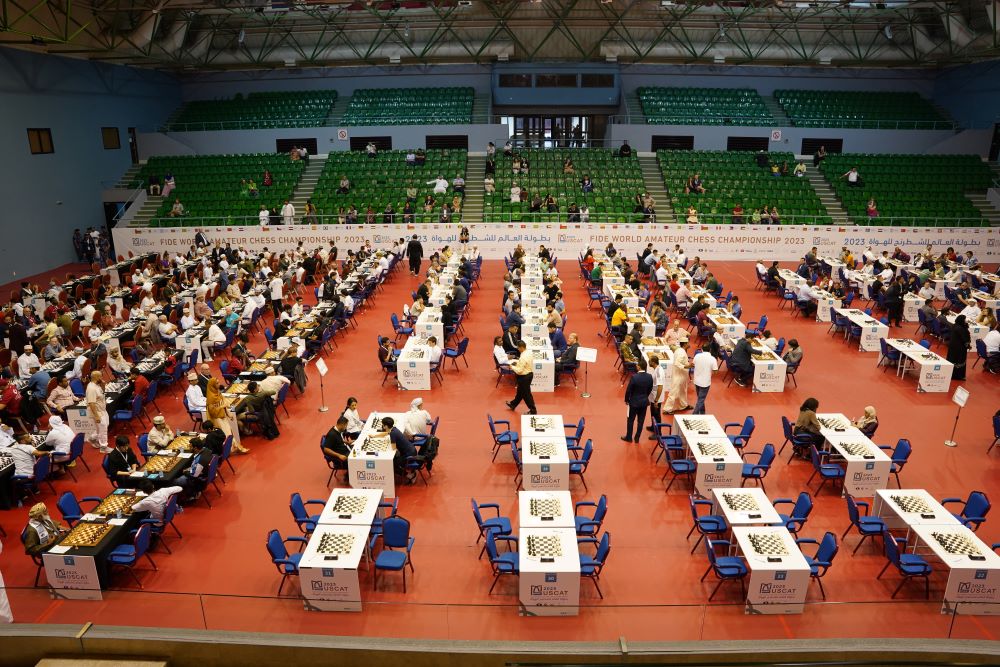 A total of 66 players from 33 countries in the U2300 category and 82 players from 36 countries in the U2000 category took part, in this nine-day nine round Swiss-league World Amateur tournament which was organized by Oman Chess Committee in Muscat, Oman from 2nd to 10th November 2023. The time control of the event was 90 minutes + 30 seconds increment from move no.1.
Replay all available U2300 games
Replay all available U2000 games
Final Standings in U2300
| Rk. | SNo | | | Name | sex | FED | Rtg | Pts. | TB1 | TB2 | TB3 |
| --- | --- | --- | --- | --- | --- | --- | --- | --- | --- | --- | --- |
| 1 | 5 | | FM | Abdilkhair, Abilmansur | | KAZ | 2228 | 8 | 0 | 49,5 | 49,5 |
| 2 | 15 | | | Anadkat, Kartavya | | IND | 2147 | 7 | 0 | 48 | 47 |
| 3 | 6 | | FM | Fadi, Marko | | EGY | 2221 | 7 | 0 | 45,5 | 45,5 |
| 4 | 37 | | | Mahindrakar, Indrajeet | | IND | 2000 | 6,5 | 0 | 49,5 | 48 |
| 5 | 13 | | CM | Sodbilegt, Naranbold | | MGL | 2151 | 6,5 | 0 | 48 | 46,5 |
| 6 | 25 | | FM | Muhammed, Shuaau | | MDV | 2072 | 6,5 | 0 | 45 | 44 |
| 7 | 7 | | FM | Buchnicek, Petr | | CZE | 2219 | 6 | 0 | 45,5 | 45,5 |
| 8 | 34 | | | Barrientos, Ernesto | | PAR | 2014 | 6 | 0 | 45 | 42,5 |
| 9 | 10 | | CM | Avila Bautista, Roberto Al | | MEX | 2209 | 6 | 0 | 41,5 | 41,5 |
| 10 | 40 | | | Asanakunov, Zhumagazy | | KGZ | 1982 | 6 | 0 | 41,5 | 41 |
Final standings in U2000
| Rk. | SNo | | | Name | sex | FED | Rtg | Pts. | TB1 | TB2 | TB3 |
| --- | --- | --- | --- | --- | --- | --- | --- | --- | --- | --- | --- |
| 1 | 33 | | | Amarsaikhan, Dashtogtokh | | MGL | 1836 | 9 | 0 | 53,5 | 57,5 |
| 2 | 36 | | | Sham, R | | IND | 1828 | 7,5 | 0 | 48 | 48,5 |
| 3 | 7 | | | Velavaa, Ragavesh | | IND | 1957 | 6,5 | 0 | 49,5 | 53,5 |
| 4 | 44 | | | Fandi, Mazen. | | SYR | 1790 | 6,5 | 0 | 46,5 | 50,5 |
| 5 | 14 | | | Khazhatuly, Alikhan | | KAZ | 1930 | 6,5 | 0 | 45,5 | 49,5 |
| 6 | 9 | | CM | Heinichen R., John Derek | | PAR | 1951 | 6,5 | 0 | 45 | 47,5 |
| 7 | 66 | | | Spiridonov, Kirill | | KGZ | 1701 | 6,5 | 0 | 44 | 48 |
| 8 | 48 | | | Ravil, Pernekhan | | KAZ | 1764 | 6,5 | 0 | 43,5 | 44 |
| 9 | 69 | | | Punit, Indora | | IND | 1696 | 6,5 | 0 | 41 | 45 |
| 10 | 13 | | | Badamkhand, Norovsambuu | w | MGL | 1937 | 6,5 | 0 | 38,5 | 41,5 |
Links
---