Asian Amateur 2023: Kumaresh clinches Gold, Silver for Sham in U2000
18-year-old Kumaresh A scored an unbeaten 8.5/9 to win Gold at Asian Amateur Championship in Under-2000 Men category. He finished a full point ahead of the field. 19-year-old Sham R scored 7.5/9 to secure Silver. Anshu Kr. Pathak scored 6/9 to secure Bronze in the Under-1700 Men category. The total prize fund of the tournament was US$ 7500. The top three prizes in U2000 Men were $1200, $800 and $500 each. For U1700 Men, they were $800, $500 and $300. All prizes were accompanied by a trophy and medal each. Photos: UAE Chess Federation
U1700: Anshu Pathak claims Bronze
It has been a successful Asian Amateur Championship 2023 for the Indian players as India claimed a Gold, Silver and Bronze medals. The Gold medal winner, Kumaresh A is a student of Hatsun Chess Academy in Sivakasi, Tamil Nadu as mentioned by the revered IA R Anantharam in his report published earlier this month.
Kumaresh - Sham, Round 4
Sham R's (1751) 23.b5? discover attack backfired as his opponent Kumaresh A (1703) played 24.cxb5! sacrificing his bishop to create a passed pawn. 24...Qxa7 25.bxc6 Rxe2 26.Nd4 Bxd4 27.Qxd4 White eventually went on to win the game. It took slightly longer as he did not play precisely.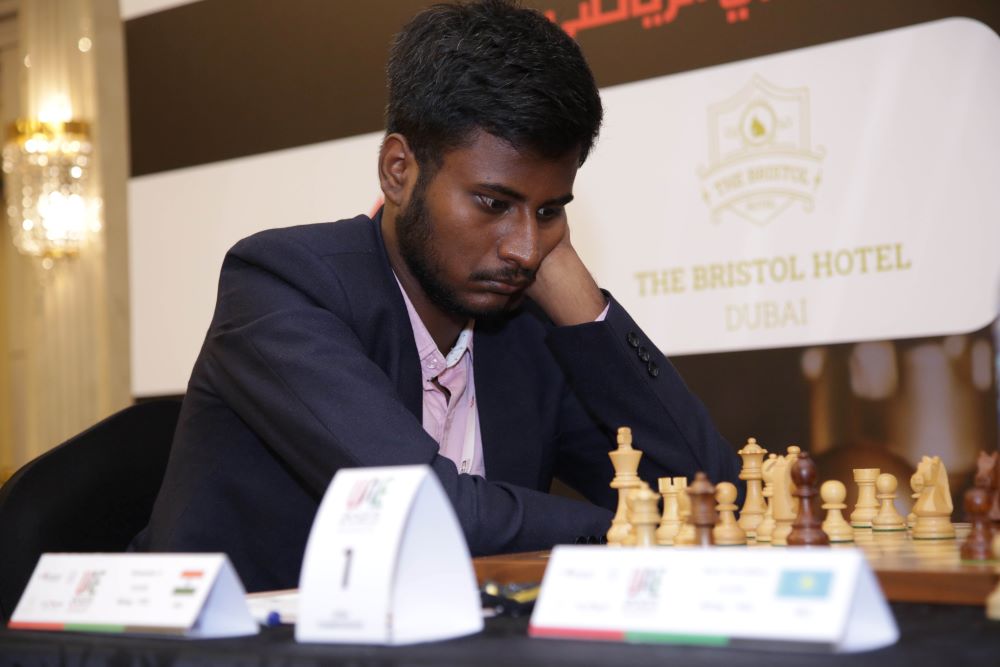 A total of 113 players in the Men from 26 countries and 40 players in the Women's section from 14 countries took part, in this seven-day nine round Swiss-league Asian Amateur tournament which was organized by UAE Chess Federation in Dubai, UAE from 28th August to 3rd September 2023. The time control of the event was 90 minutes + 30 seconds increment from move no.1.
Replay all available Men games
Replay all available Women games
Final Standings in Men
| | | | | | | | | | |
| --- | --- | --- | --- | --- | --- | --- | --- | --- | --- |
| Rk. | SNo | | Name | FED | Rtg | Pts. | TB1 | TB2 | TB3 |
| 1 | 52 | | Kumaresh, A | IND | 1703 | 8,5 | 52,5 | 55 | 0 |
| 2 | 45 | | Sham, R | IND | 1751 | 7,5 | 46,5 | 50,5 | 0 |
| 3 | 25 | | Ravil, Pernekhan | KAZ | 1844 | 7 | 48 | 52 | 0 |
| 4 | 14 | | Khazhatuly, Alikhan | KAZ | 1895 | 7 | 46,5 | 50 | 0 |
| 5 | 6 | AGM | Cayaba, John Vincent | PHI | 1963 | 7 | 46,5 | 50 | 0 |
| 6 | 50 | | Alhejab, Meshal | KUW | 1711 | 7 | 44,5 | 48,5 | 0 |
| 7 | 37 | | Baisynov, Islambek | KGZ | 1780 | 7 | 39 | 41 | 0 |
| 8 | 61 | | German, Santiago | PHI | 1636 | 6,5 | 42 | 46 | 0 |
| 9 | 22 | | Kordya, Anas | PLE | 1856 | 6,5 | 37,5 | 41 | 0 |
Final standings in Women
| | | | | | | | | | |
| --- | --- | --- | --- | --- | --- | --- | --- | --- | --- |
| Rk. | SNo | | Name | FED | Rtg | Pts. | TB1 | TB2 | TB3 |
| 1 | 3 | WCM | Rouda Essa, Alserkal | UAE | 1775 | 8 | 46,5 | 50 | 0 |
| 2 | 17 | | Gamage, Desandhi Dhihansa | SRI | 1495 | 7 | 48 | 51,5 | 0 |
| 3 | 1 | WFM | Al Maamari, Wafia Darwish | UAE | 1882 | 6,5 | 46,5 | 50,5 | 0 |
| 4 | 4 | | Kiani, Rahil | IRI | 1769 | 6,5 | 41 | 43,5 | 0 |
| 5 | 10 | | Mansurova, Mumtozbegim | UZB | 1599 | 6 | 47,5 | 52 | 0 |
| 6 | 9 | | Amulya, Guruprasad r | IND | 1633 | 6 | 46 | 50 | 0 |
| 7 | 7 | | Sachi, Jain r | IND | 1690 | 6 | 43,5 | 46,5 | 0 |
| 8 | 13 | | Mariam, Essa | UAE | 1570 | 6 | 42,5 | 44 | 0 |
| 9 | 15 | WCM | Tharushi, T H D Niklesha | SRI | 1521 | 6 | 41,5 | 45 | 0 |
| 10 | 27 | | Ahoud, Eisa Bashkardi | UAE | 1225 | 5,5 | 37 | 38,5 | 0 |
Links
---