From 2015 Elo to an IM + one GM norm in ten tournaments
The last time we reported about Vardaan Nagpal he had reached a rating of 2501 from 2015 in just two months. This time within a month, he played three closed Round Robin events in Serbia in the month of January, scored all three of his IM norms and also his maiden GM norm. He thus becomes an IM. From a rating of 2015 crossing the 2500 Elo mark, gaining three IM norms and one GM norm takes a lifetime for many. Vardaan has done it in ten tournaments. We have the report with all the details of Vardaan's last five events.
The career graph of Vardaan Nagpal is quite unbelievable. The Delhi boy achieved his FIDE rating at the age of 10 and it was 1419 in the year 2012. For the next five years he struggled like a normal chess player and reached a rating of 2015 in May 2017. 600 points five years is a good achievement but nothing spectacular.
But from June 2017 to July 2017, in just two months, Vardaan gained 495 Elo points and reached a rating of 2510!
Vardaan played five tournaments and with a k-factor of 40 gained 114 Elo in First Saturday May, 119 in Salento Open, 61 in First Saturday June, 99 points in Balaton closed Round Robin in Hungary, and 102 at the Montcada Open in June 2017. Vardaan's journey from 2015 to 2510 has been covered in the ChessBase India article here.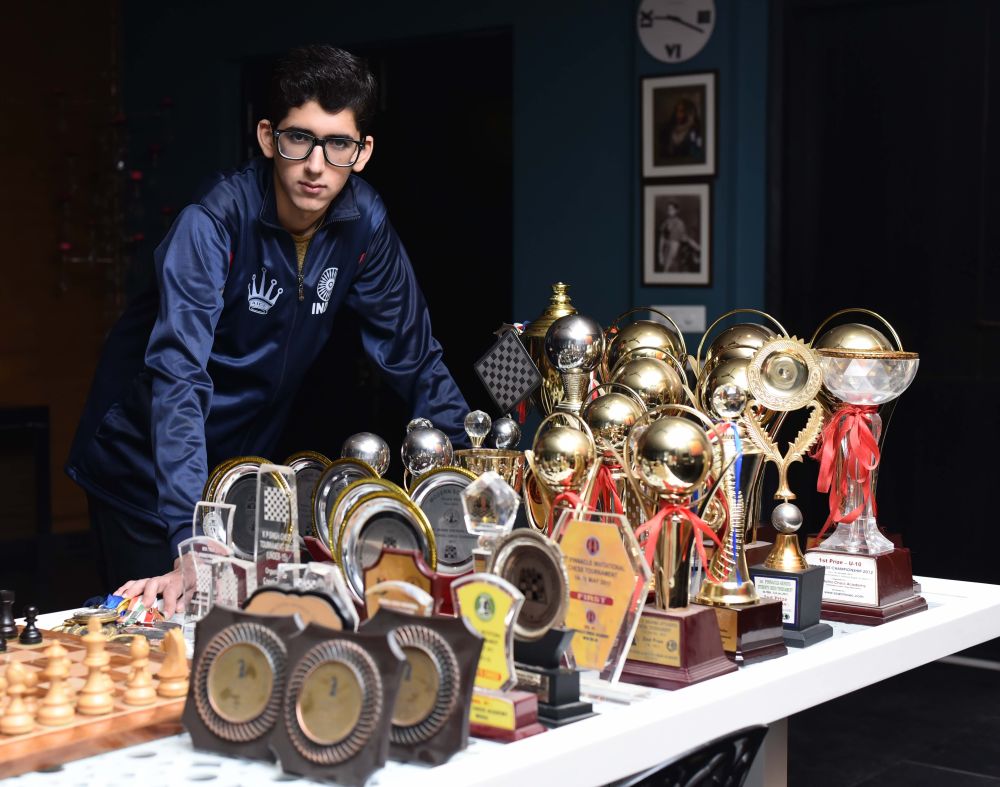 Within two months from being one of the thousands of players in India in the 2000 Elo zone, Vardaan had propelled himself ahead of some of the big names in Indian chess like Stany, Thejkumar, Praggnanandhaa, Nihal Sarin etc. What was he to do next?
Vardaan took a break of four months. After that he chose the approach to play in closed Round Robin events. The first one he played was in Montenegro in November - the third Saturday and he lost 38 Elo points.
Replay all games of third saturday Montenegro in November
Replay games of Vardan from First Saturdy December
It seemed as if Vardaan would bleed a lot of points. Losing 64 Elo points in two tournaments is a lot when your k-factor is 10. If he had the same k-factor of 40 (when he gained 495 Elo points) he would have lost 256 ratings points. But the k-factor being 10 ensured that Vardaan's rating was 2446.
Usually third Saturday conducts only one tournament every month in Montenegro. But in the month of January they conducted three events back to back in Serbia. 8-13th January was the first one, 14th-19th of January was the second one, and 20th to 25th January was the third one. Vardaan scored three IM norms from these three events and also a GM norm in the final one.
So, in five events Vardaan Nagpal has become an IM. He has also scored his first GM norm. The surprising part is that he hasn't played in any open events. Five closed events - Three in Serbia, one in Montenegro and one in Hungary. It will be interesting to see if Vardan continues with the same strategy of playing closed tournaments to achieve his remaining two GM norms, or would he play in open events. As he has already crossed 2500 once, getting a GM title would require him only two GM norms.
Vardaan has sent us two of his annotated games which we present to you:
Previous articles on Vardaan Nagpal on ChessBase India:
From Elo 2015 to 2501 in two months!
---