The Badshah turns 30!
The CEO of ChessBase India IM Sagar Shah turns 30 today! Well, what's the fuss about that? Avathanshu Bhat pens down what makes Sagar special for him and the entire chess community. The man who had a dream, and set out to make that dream a reality. There were decisions that were taken, milestones that were overcome and old plans that were improvised. It was never easy, and he could never have done it without the backing from those lovely people. Don't forget to read the wishes of all his close friends and family! Yes, this is quite a long article, but we feel that it definitely couldn't have been any shorter without losing the personal touch of so many different people. Enjoy!
"You can join my class after six months, Avathanshu. You are not ready yet."
This was unexpected and I couldn't hide my dismay. Admittedly, after my six moves of scuffed Bogo Indian, I'm astonished now to think that 6 months is what I got and not more. Yet, 7-year old me felt I had done a reasonable job, and that would have been my last meeting with him, had Amruta not taken me for her class.
It was as if we were destined to meet each other and for all of this to play out the way it had now. Was it a class? Technically yes, but in reality it was three hours of chess nirvana! How innovative can a person be when it come to a chess class? Yet Sagar always had something fun planned out, sometimes including taking everyone to the chess movie Queen of Katwe, or putting us through on a Skype call with Daniel King, or a refreshing Kho-Kho game at the end of the class, or cops and robbers at the local park. Did I forget to mention his excellent life lessons scattered through a class?
ChessBase India had yet to come about, but this isn't about it. Sagar's motivation for chess itself took a footing way back, when the pieces had a great feel to them and made him happy to play as a youth around the age of 10. His parents would take a solid stance to support him in all of his endeavors no matter how bizarre they may be, and his coach Mahesh Ved was one of the many prominent faces in Sagar's chess career, and would be responsible for the chess spirit Sagar has today. There was a lot of competition and a long way to go at the time, but he didn't let that enter his mind when he was on the board. His love for the game would go a long way from there. Through crevices and slopes, and the twists and turns of a winding river, Sagar would forage through these all, and nothing would stop him from pursuing that which he loved. So he kept at his chess with a strong determination and a great mindset. His hobbies at the time were many, and his relationship with his brother was as strong as it would ever be. Their mother, Jayshree Shah, recalls them almost never getting into a quarrel, except a couple of times when Ronak would call Sagar 'Dabeli' (the reasons for the usage of this nickname is as of present unknown). It was also common knowledge to the family that if you needed to know anything about WWE, Sagar was the right person to ask (aged 3). He knew all the specifics of each and every one of the players. What a talent to be proud of!
It can be said that both Sagar and his brother Ronak were gifted with a unique dedication. They would habitually get straight A's in their exams. Alongside his love for Chess, Sagar would also develop a knack for badminton (which he became pretty strong at) as well as a desire to follow in his father's footsteps, academically. That itself is a very ambitious sentence to read, but to Sagar was easily resolved with focus and faith that anything was possible. Becoming a Chartered Accountant (CA) was a big goal to strive for, but he was sure that he could attain if he kept at it persistently.
Until fate decided to test him for where his true passion lay.
In his 7th grade, at a time when he was equally potent at badminton and chess and would regularly take coaching for both, Sagar sustained an injury on his leg. The doctors would tell him that it would take 6 months for it to heal, and that he shouldn't stress it too much. This meant that Sagar was left with a cruel decision to make; between badminton and chess. Both were his forte, and both of his coaches would take the stance of their corresponding sport. Eventually, after long thought, Sagar chose chess, and would take that with him in all the years to come ahead. As we all know now, it proved to be one of the greatest decisions he would ever take.
In 2008, Sagar began to get know Amruta Mokal a little bit more. They would find common ground as both chess players, and would habitually travel for tournaments across the globe. Amruta would recall Sagar sending love letters as well! "How beautiful the world would have been if everything would be simple but to understand the beauty everything would have to become complicated!"
Amruta would become a great influencer in his life and would change the way he would look at things for ever since. No matter what Sagar's next course of action was, be it chess or coverage, Amruta would loyally follow him with that. She would be Sagar's best companion throughout all of his endeavors.
It is 2014. Sagar has had some of the best years ever, by getting married to the love of his life and receiving his IM title. Everything was on an upward gradient, and things kept on getting better. Around this time, the happily married couple would together go on trips all across Europe to play, play, play. They were rather invested in the chess spree and would be on the move.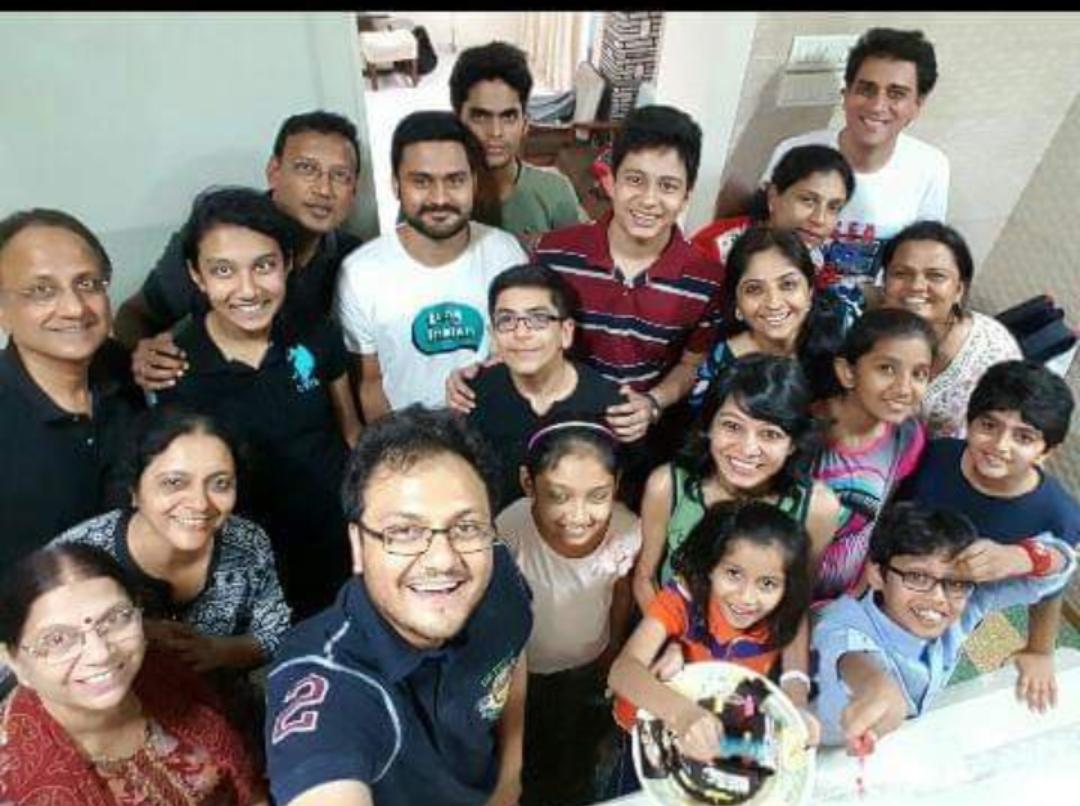 I remember attending Sagar's group sessions around that time, and with the 9-10-person group, who I became very fond of, I would have lasting and happy memories of a simple time. I also vividly remember being told more and more as the year went on that the classes had been rescheduled or cancelled for a month altogether. However, he would ensure that he would keep us busy with a lot of homework that he sent via mail, some of them about classwork, others where you had to come up with your own projects. It is such a nostalgic memory, having lunch together and the slight but meaningful punishment when you weren't attentive in his class (just me?). I would always assume that when they went for longer spans of time it was just temporary, and that when Sagar and Amruta would return it would all be a happy reunion and it would continue like nothing had ever taken place.
What was unbeknownst to me at the time was that Sagar was taking an interest in writing. Actually, I knew he always loved to share his thoughts on chess with the world, in the form of his personal blog and the occasional videos on his own YouTube Channel, where he would post of various odds and ends, like that of his own innovation, 'chogging' which was a cross between chess and jogging, a unique activity which involved solving positions blindfold while jogging at your local park, then coming home and analyzing it further. Admittedly, these videos gained no more than 20-30 views, and would otherwise be rather demotivating, but Sagar saw the bright side of things, which was the chance that at least one of the 30 had learned something from these videos. These hobbies would shape up to create Sagar's interest in the journalistic side of things more potent. His interest in such things grew, and he yearned to try something else. It was a new start.
In between these trips to Europe, he visited the ChessBase Office in Hamburg, Germany, to meet the Founder of ChessBase Gmbh. Frederic Friedel. Sagar also recorded a DVD, titled Learn from the Classics. Sagar then began writing more and more in general, and would take the advice of Frederic when he needed it to perfect and polish his style of writing. This was how he fine-tuned his skills and made it appealing to be read by ChessBase India's viewers; at the time few, but growing. A rudimentary YouTube Channel by the name of ChessBase India soon popped up, with some interviews of top players in it. It was a very much sought-after idea, to promote chess in India, ever since Anand rose in the Chess World. Sagar saw this potential, took his chances, put all his energy into a budding project, and with the help of his loving wife and amazing employees, he was able to turn it into the full-fledged media company it is today, with its own massive followers and viewers.
"Sagar Shah is not just a strong chess player and teacher, but also a generally very dynamic person, full of ideas and plans. He built the Indian subsidiary of ChessBase to the Indian Centre of chess information. A great business associate and a great friend, one of my best in chess. One day nearly six years ago a young strong chess player submitted an article for the ChessBase news page. We started publishing many wonderful articles by Sagar, who went on to found ChessBase India and became like family."
These were the words of Frederic when recalling the first time Sagar began to publish articles for both websites. He remembers Sagar as being full of energy and vigor, just as he is today. And I think those are what really proved to be his best qualities: The willingness to dedicate time, effort, money, energy, and everything he could to strive towards what he felt was best. His habit of looking for young talents in the chess crowd, finding out about the obscure stories of chess players from all parts of the country, and above all his readiness to help them when they needed it the most is one of the reasons why ChessBase India is able to thrive; because of the able man that leads it.
Amruta says, "He is the most transparent, selfless, and simple guy I have known! Full of passion for life. He sees more good than bad, he senses more positive than negative, the reason why he is able to observe and genuinely appreciate even the minute things of so many lives. People who don't know him well think it is fake but believe me it's not. More than talent, his seven qualities of adaptability, consistency, ethics, hard work, spontaneity, flexibility and having no ego has got him to his every day dream of spreading chess and helping people. Its almost 12 years now since I have known Sagar. I am glad to have witnessed such an inspiring journey of not just his life but his depth of trying to understand life. His stories of being selfless which nobody knows, makes me believe he is a valuable human to this world. More people tell him that he is lucky to have me, but I believe that I am luckier to have found the one who made my love worthy!"
I have always been rather introverted when it came to expressing my thoughts and feelings to someone. It was always very self-consciously that I would talk to people I knew a little bit, let alone someone I had never met. Sagar was the one who showed me a new path, a different way to go about things. I vividly remember him calling me put during one of Amruta's private classes with me, wanting to discuss a rudimentary article that I had sent. I had never intended anything big with it, but it was Sagar who convinced me that it would be perfect on the front page of ChessBase India. He was the one who gave me the boost that I needed. And these acts of selflessness on his part are never short either. Countless times have I seen him go out of his way, put aside all his pending calls and articles just to sit with a person he barely knew to help them in however way he could. I always respect that about him, as he is always willing to give a chance to those that need it. It is rare that one comes across such goodwill in their day to day life, and I hope that everyone gets a chance to experience such a bewildering feeling, to be assisted at the time when you could use it best. The endless number of virtues that Sagar shows out of habit is something that continues to catch me by surprise and awe to this day. And for that, I will forever be thankful for the rest of my life.
As Sagar's father Dharmen Shah once said, "He would've been one of the many CA's of the Country, but right now, he is one Sagar Shah of ChessBase India."
Congratulations to another year, another challenge, another milestone. Wish you a very happy birthday!
Wishes from the close ones:
This section is dedicated more to all the wishes and support from all those that are near and dear to Sagar since the last few years. They have all played a role in his life, and a very significant one at that. You can find their messages to Sagar here below:

Vidit Gujrati, who has known Sagar for over ten years very closely.

He has always loved chess and has been a hard-working person. I remember how fascinated he used to get when analyzing or playing chess. One can see his dedication even now, when he relentlessly is working very hard & starting a revolution with chessbase India. But for me this is secondary. The most impressive quality about Sagar is his very kind & helpful nature. In many of the situations I have seen him go out of his way to help people genuinely. And this compassionate side of his personality is very inspiring! Personally, he has always looked out for me like a friend and cared for me like a big brother & I cherish this bond a lot! I just want to wish Sagar lots of happiness & good health, always be smiling & cheerful as you are! Happy birthday Sagar!

Prathamesh Mokal, International Master and Sagar's brother-in-law

We all love hearing stories from Sagar, be it about Amruta or Sagar or about the whole of chess world.

The latest fad for us has been enjoying a lot of card games with him and a special moment comes to mind when he was singing a rap song about a particular card during one such session

R. Praggnanandhaa, Grandmaster

I Wish you a Happy Birthday to the energetic and enthusiastic chess lover Sagar Shah!!

Have a wonderful year ahead!

Kartik Mohan, Sagar's dear friend and international dance choreographer.

This year there are new moves new strategies new checkmates but what didn't change till date is our game.

You're are growing like a sagar

And sagar ke kinare dil ye pukare

Wish you a very happy birthday!

Ashwin Subramanian, engineering manager at Intel Corporation and Sagar's close friend.

My best memory of Sagar was meeting him on April 15th 2018! I had been in touch with Sagar via e-mail since Nov 2017 and when I noticed that he was at Bangalore for the Akshayakalpa Karnataka State Chess Championship I wrote to him asking if we could meet! He told me to stop by the next day and I was very excited about meeting him as I had learnt a lot from his instructive chess videos and also admired his work with Chessbase India a great deal! I visited the event with my wife Aruna and daughter Anjana and he received us very warmly! I told him about my upcoming ACO Amateur World Chess Championship event and how I was preparing for it. So he took me aside along with my daughter Anjana who is also a chess player, found an empty board and told me that he wanted to assess my tactical/calculation ability. I was super nervous! 😂 After a couple of puzzles he told me emphatically - "stop everything else and focus on solving difficult positions to improve your calculation" He told me candidly that it will be the most valuable way I can spend the remaining 15 days I had to prepare for the event. I took his advice very seriously and solved >1000 puzzles over the next fortnight! And it really paid off as I won the 1600-1800 category I played! He was amongst the first person I messaged after my win! Since then we've been constantly in touch and have had wonderful moments together! Wish you a very happy birthday Sagar!! Have a wonderful day and year ahead!! Best wishes to you on your special day from me and my family!!

Shahid Ahmed, senior editor and coordinator

I have a lot of good memories with Sagar, here is the best one - it is from this past Kolkata Grand Chess Tour 2019.

At the conclusion of final round, Sagar asked me to get ChessBase DVDs signed by the players. Although I have met most of the players already by then but meeting them at the players room and walking up to them was quite nice. This is one of my opportunities Sagar has entrusted me over the years. I wish him a very happy birthday and hope we continue moving forward and he keeps entrusting me with many more things in the near future.

Niklesh Jain, Head of ChessBase India Hindi

सागर शाह ! नाम ही काफी है ! और यह सच है ! सागर नें मात्र कुछ सालो में ही शतरंज को इतना दिया है जितना शायद ही भारतीय शतरंज को कभी किसी नें पहले दिया हो और मुझे गर्व है की मैं सागर की टीम का हिस्सा हूँ । शतरंज के अलावा सागर मेरे लिए एक दोस्त के तौर पर बेहद खास है एक ऐसा इंसान जिसके मन में सबके लिए सम्मान है चाहे वो छोटा हो या बड़ा। वो आज भी कुछ ना कुछ सीखने को उत्सुक है । जन्मदिन की बहुत शुभकामनाए दोस्त ! खुश रहो, स्वस्थ्य रहो सफलता तुम्हारे पीछे यूं ही भागती रहेगी !

Angela Frank, Sagar's Hermana.

Sagar Shah hermano! Ese quien trabaja incansablemente, quién está atento si los demás ya comieron pero él no tiene tiempo para el suyo. Gracias por el maravilloso ser humano que eres, feliz cumpleaños!!!

Sagar Shah hermano! The one who works tirelessly, who is worried if the others have already eaten but he has no time for his. Thank you for the wonderful human being you are, happy birthday!

Rupali Mullick, Chess mom and Sagar's dear friend

Sagar. The coach, the guide, the mentor. The person who knows what to say and when to say it. The person who is always there to listen to the woes of a chess mom, and the sagas of a chess player who is demotivated with a loss and ecstatic with a win! Sagar always has the perfect anecdote to share at the very moment you need it, that helps you put things in perspective and accept one's situation! Sagar is all inclusive, always helping anyone that needs his help. Sagar thank you for being the best mentor and we are lucky to be a part of your family!

Nongsha Angom, Broadcast manager

I owe so much to Sir for this 2nd innings of my life. They say the world is divided into the quantitative and qualitative people. The analytical and the creative. The science folk and the artsy folk. The objective and the subjective. Very rarely one comes across those who not only endeavor to appreciate both, but also have the audacity to express their prowess in both and Sagar Sir is one such. Wishing him tons of happiness and good health.




Satanick Mukhuty, Social Media manager and author

I have been working with Sagar sir for quite some time now and it has been a pleasure to know him and learn from him. What I admire the most in him is the patience with which he is able to deal with people and situations. I can tell you that he has been incredibly patient with me and despite all my flaws has really helped me grow in the past few months. I think he is very empathetic and understands and accepts people for who they are.

The other amazing thing is his ability to work tremendously hard. Everyone knows about the excellent work ChessBase India has been doing to promote chess in the country. A large part of it is indeed because of him. He is easily the hardest working person I have ever known and honestly I would give anything to have even a third of the work ethic he has!

I wish a very happy birthday to him and hope that he continues to inspire me the way he has for many more years to come.

Atul Dahale, a close friend of Sagar who used to travel to tournaments with him all the time.

"Hey Sagar bhai! Wish you a very happy birthday.

We have climbed the 3rd floor now, I hope 30's will bring some great experiences in your life! You are doing great in spreading chess in the world, keep doing that.

But I miss to see you playing in tournaments, I still remember those days when we enjoyed going to tournaments together and enjoyed our games. At some time, I would like to see that determined, focused and dedicated chess player across the board! Grandmaster bananeke sapneko phirse jagao Sagar bhai!

Kaam ke sath sath tabiyat ka bhi dhyan rakhna, aur Dominos ka pizza jaroor khana..haha.. chal then enjoy your day!"

Kishan Gangolli, India's top visually impaired player.

Many many happy returns of the day Kabir Khan. As a coach he is like Kabir Khan of Chakde India movie. His method of coaching maybe harsh but very effective. May the god give you long and healthy life. May the god give you more energy to transform Chess in India. Once again Happy birthday.

Aryan Joshi, India's top visually impaired player.

Sagar sir is a great mentor and very friendly. Whenever I tell him about my problems he always has solution for it. The most important thing which he always suggestd is to work hard and be consistent. The two tournaments in which he was coach of Indian Team, world team championship at BULGARIA and world junior championship at POLAND he taught us many things about chess and life as well, I personally had great time with him during these tournaments.
---